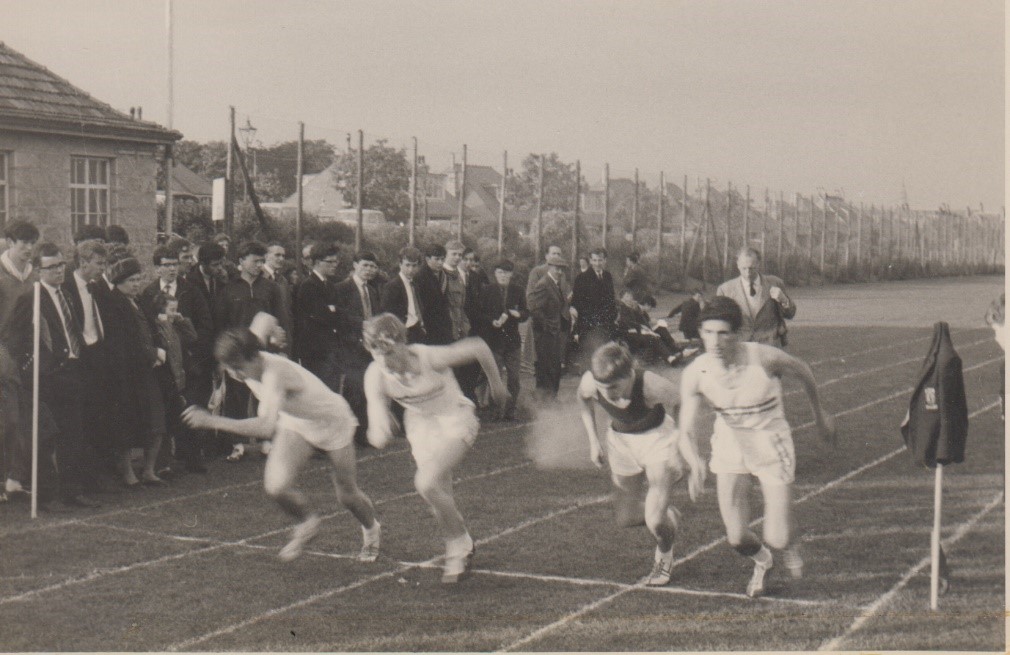 Running is the most marvellous sport at any speed you can manage. Get outside and enjoy fresh air, nature and the joy of moving!
ABERDEEN GRAMMAR SCHOOL – One Mile v Aberdeen Academy 1965 at Rubislaw grass track. 3rd but personal best.
After slow-twitch muscles ensured total failure in primary school sports day sprints, secondary school introduced 880 yards, which was more suitable. Then the Mile, which was even better. Eventually I won the Senior Mile; and competed over the distance for my school versus another, which featured two harder-training, faster athletes. Revenge was to be mine before long, however. Moral: when young, find your event, do some proper training and improvement is almost certain!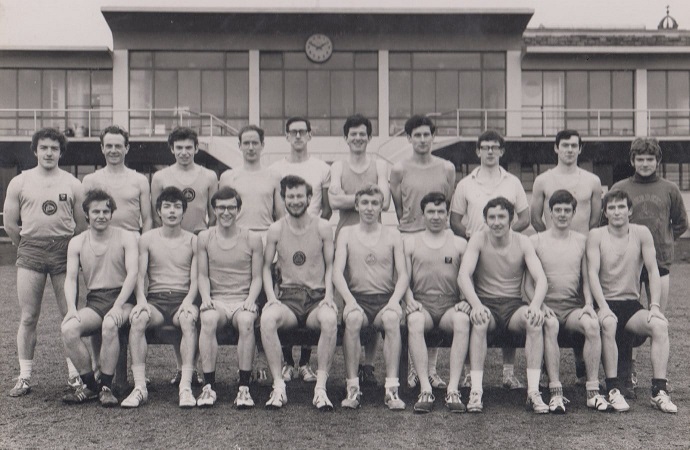 ABERDEEN UNIVERSITY HARE & HOUNDS – team photo 1969, outside Kins College Pavilion. Captain.
Although running is essentially an individual experience, physically and psychologically, it can be enhanced by (inevitably competitive) training and socialising with team-mates. But not too often! Learn to train mainly on your own: recovery sessions or harder ones.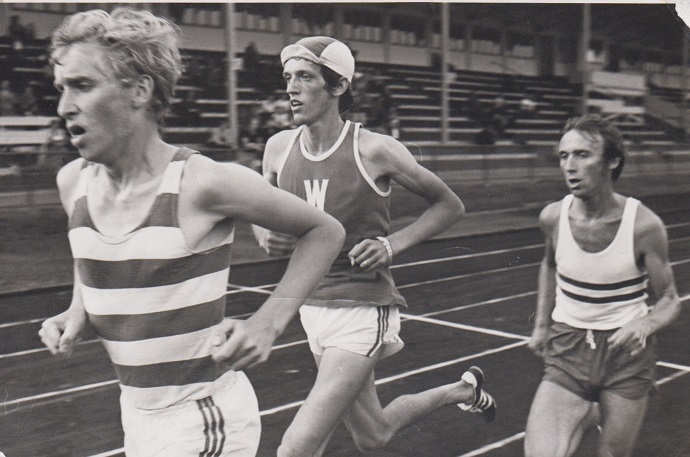 VICTORIA PARK AC – Turku, Finland 10,000m 1972. Finished second but personal best.
Pekka Paivarinta in the cap. World XC champion in 1973! Same track where Chris Chataway paced John Landy to break Roger Bannister's One Mile record in June 1954?
If you are young and running well, but a superior athlete is coasting along behind you, really push the pace and at least make them work harder. Front-running is exciting and you may record a good finishing time, even a personal best. In the future, you may well gain revenge on 'classier runners' when, inevitably, they have a bad day. Wait long enough, and anyone beats almost everyone at least once!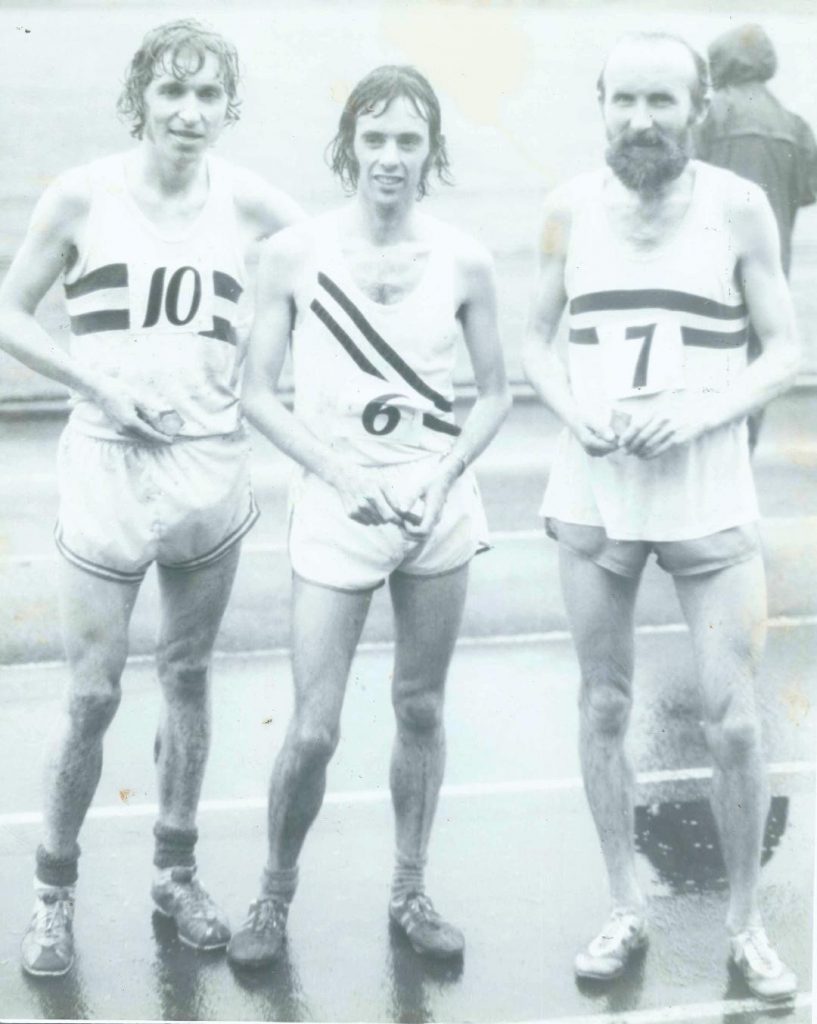 EDINBURGH SOUTHERN HARRIERS – after the 1975 Scottish Track 10 Miles at Carluke in the rain. Second but personal best.
Colin Youngson, Doug Gunstone, Martin Craven.
Try to race over all sorts of distances – explore the sport. As your experience becomes greater, you will find the events which suit you best. Do consider having a go at District and then Scottish Championships!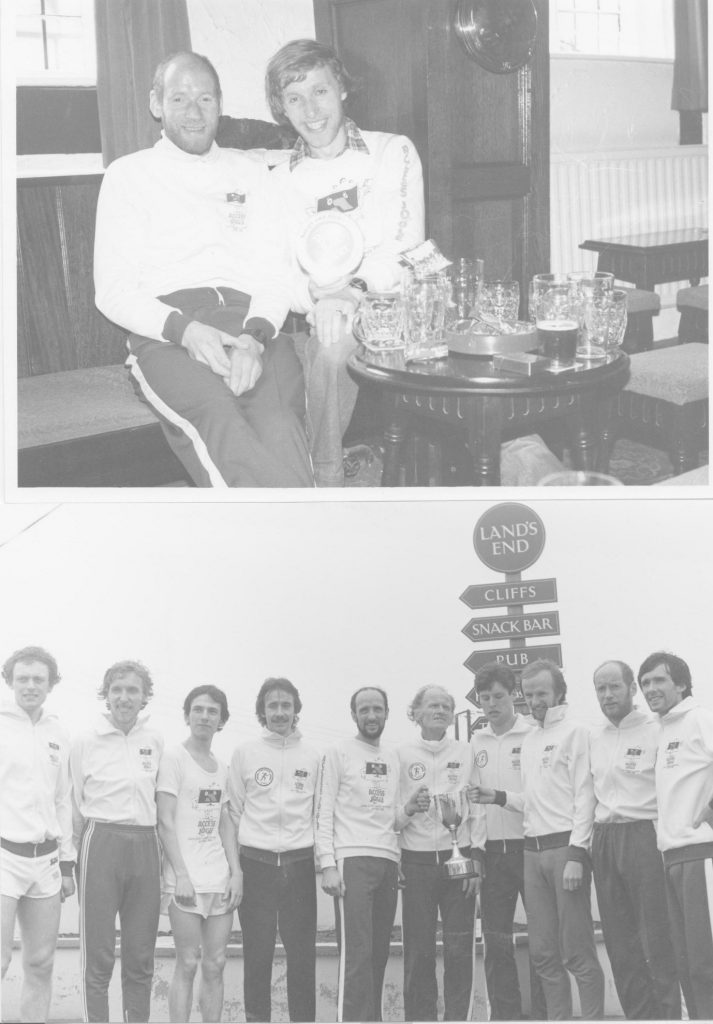 ABERDEEN AAC – Jogle 1982. With Don Ritchie; and team at Land's End. Event Record broken.
Road Relays, especially utterly exhausting, multi-day events, are tough, surreal, weirdly hilarious and memorable. Team bonding (via individually-experienced but mutually understood suffering) may lead to respect and friendship which can last for decades. Testing physical and psychological limits can be a significant aspect of distance running; although it is a great relief that most races are much shorter!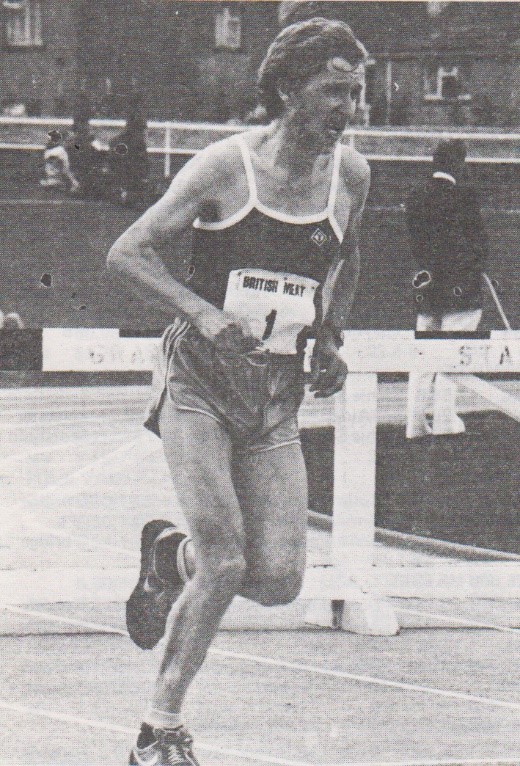 ABERDEEN AAC: 1982 Scottish Marathon Championship gold – last straight at Grangemouth.
Not many long-distance runners possess a genuine sprint at the finish. However, especially in a successful marathon, even without close competition, a hard push for the tape can be mustered, when a decent time seems possible. Tactical surges in the final quarter of the event can also lead to breaking away (or overdoing the effort and hitting the no-glycogen 'wall'!)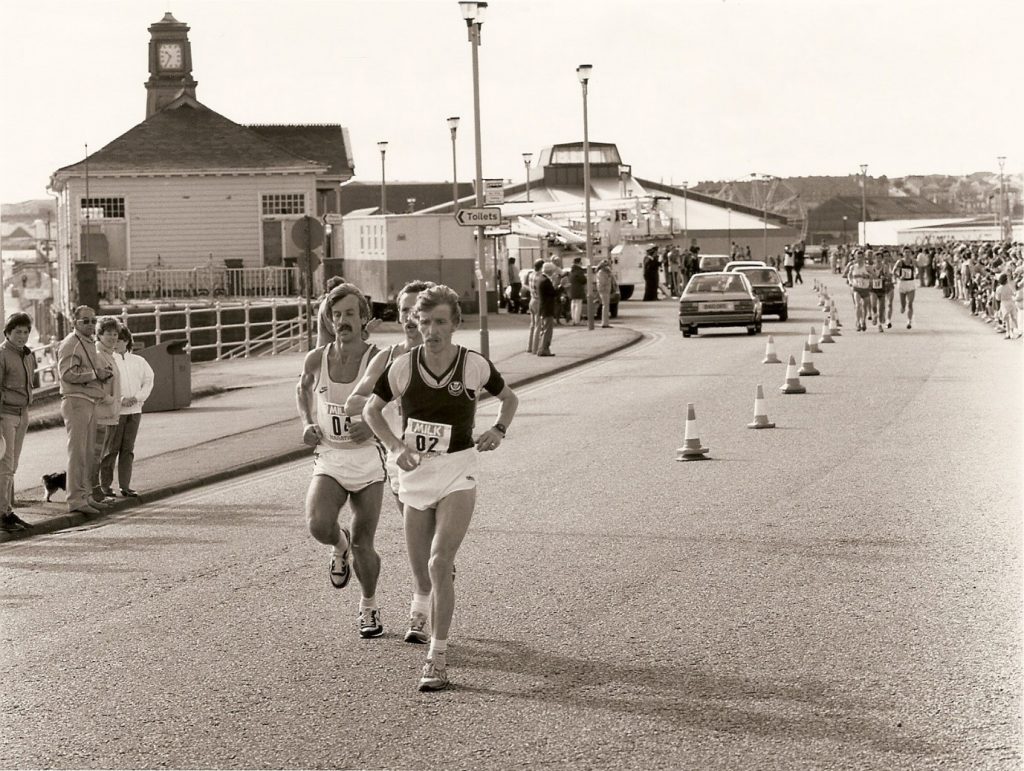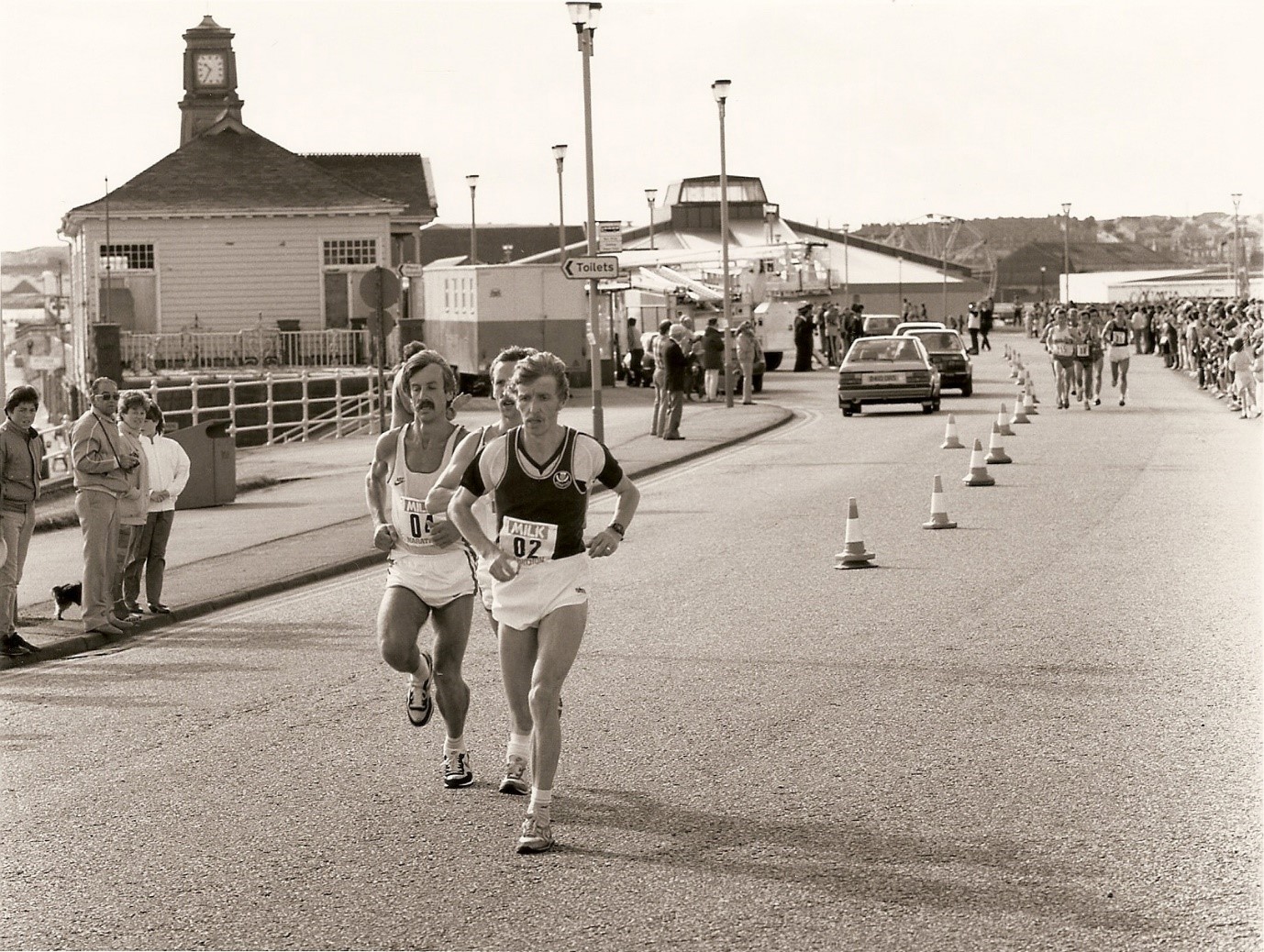 ABERDEEN AAC – 1985 Aberdeen International Marathon lead group. Finished second.
As a proud Scot, to represent my country in an international marathon, was always important. Never managed an individual victory but counted in several winning teams. It was always good to meet runners from England, Wales, Northern Ireland, Eire or the Continent. For Male and Female Veterans/Masters, the annual 5 Nations Cross-Country event is the greatest fun. 'Reborn' every five years, with a fresh chance to make the team: what an incentive to get fit!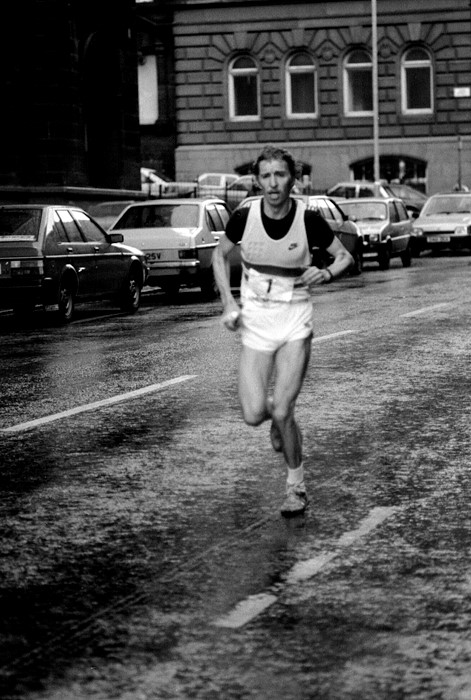 ABERDEEN AAC.
Even compared to the Scottish Marathon Championship, the dramatic Edinburgh to Glasgow Road Relay was my favourite race – I was lucky to take part 30 times, with triumphs, good or mediocre runs and disappointments. This photo is of the last stage – 'the Glory Leg' – in 1986, when my age was 39. The baton was passed, along with an uncomfortably small lead, but I enjoyed one of those rare days when everything clicked and, with that year's fastest Stage 8 time, came home well clear, to ensure Aberdeen's second victory.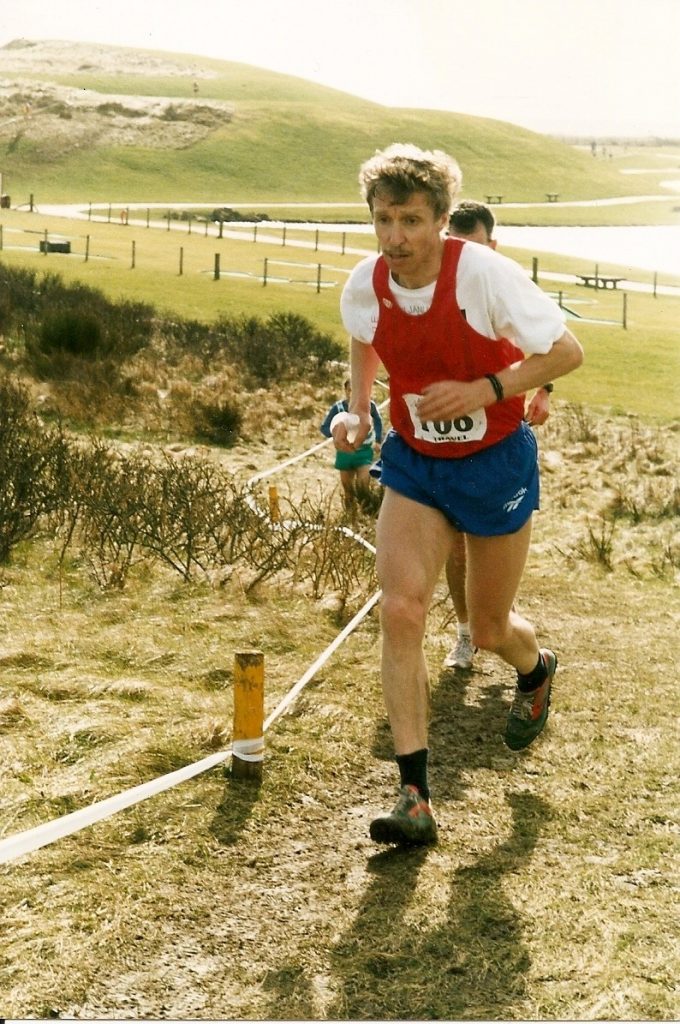 METRO ABERDEEN R.C. / VETERAN – British Veterans XC M45 gold 1995 at Beach Park, Irvine.
Reaching the age of 40 opened a new dimension to my post-peak but still keen running career. It can do the same for anyone. There are Scottish Masters championships in cross-country, track and field and road running. If you do well in some of those, maybe experience British, European or World Masters competition. Just as much 'tough fun' as personal best racing, but somehow less serious and therefore friendlier. A runner is a runner, fast, slow or medium: this sport is for everyone! For some athletes nowadays, post-40 (or even post-70) may actually be your peak, especially on the age-graded tables.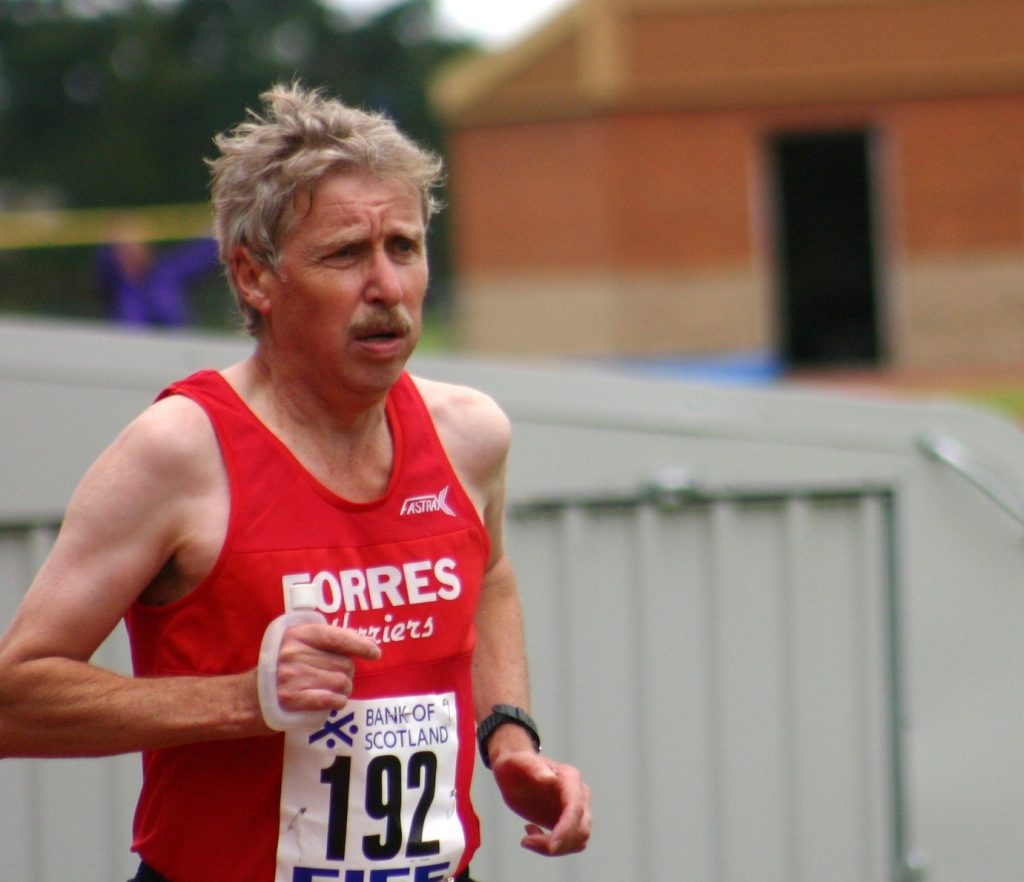 FORRES HARRIERS – Scottish Veterans 5000m M60 gold in 2010 during a gale at Pitreavie.
As the decades pass, distances you can actually push hard over (rather than plodding round carefully, trying to avoid injury) become shorter and shorter – maybe 3k, 5k or 6k cross-country. Track events may hurt, if personal worst times are avoided. In a gale-force wind, it can be worth the effort, especially if age-group rivals are 'blown away'!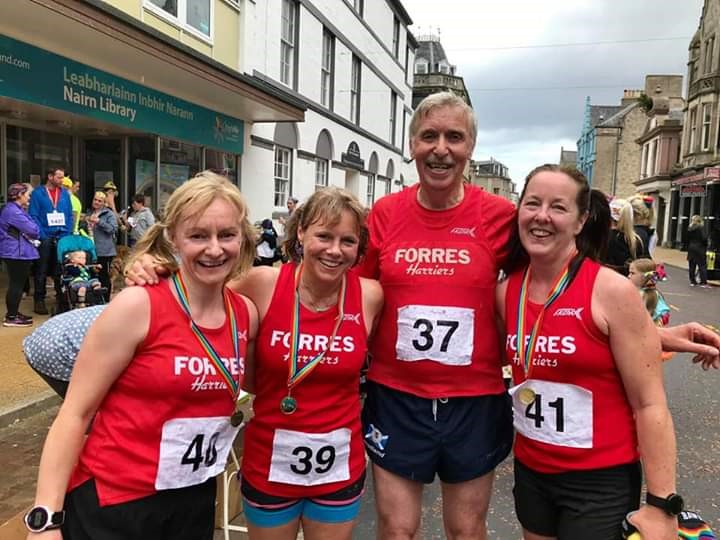 FORRES HARRIERS – after the 2019 'Run for Hamish 10 Miles' in Nairn.
Nowadays, although I am nearly always keen to get outside and try, it all depends on the state of knee, hip, sciatica, lower back, calf, Achilles: niggles or injuries. But after resigned acceptance that any more 'athletics' will be shuffling at best, so far I find that 'hard jogging' may, now and again, still be possible. Parkrun, 10k, short cross-country or a longer road race. It is always a pleasure to meet old runners and my clubmates from friendly Forres Harriers. So keep going as long as you possibly can!