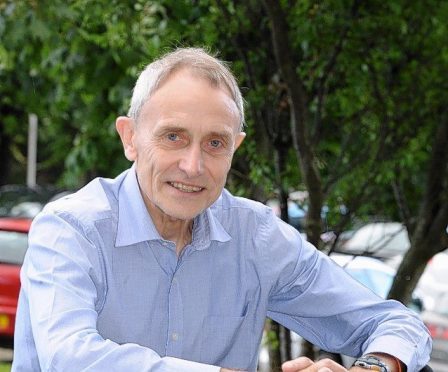 (Aberdeen Press & Journal: by Neil Drysdale)
He was the Aberdeen athlete who kept racing against the clock, setting new milestones and proving that age is just a number.
And he was also the man with the initials MBE – Meldrum Barclay Edwards – who ended up receiving an MBE for his services to sport and charity.
When his son, Myles, was married just last month, Mel Edwards, who has died of cancer, aged 76, found the inner strength to attend the wedding in Aberdeenshire, where he delivered a "powerful" speech.
Mr Edwards was born in the Granite City in 1942 and graduated in civil engineering from Cambridge University.
He subsequently enjoyed a prodigious international career, locking horns with many of the greatest names of his generation, including Commonwealth medallists Lachie Stewart and Ian McCafferty.
Renowned for his intensive training regimes of around 100 miles per week, his marathon personal best time of two hours, 18 minutes, 25 seconds would still place him high in the contemporary British rankings.
During a running career which spanned half a century, it was estimated Mr Edwards covered more than 100,000 miles and represented his country at distances ranging from six miles to the marathon.
Even when he was diagnosed with Myeloma in 2006, he refused to let the gruelling hospital treatment grind him down and, whether tackling charity challenges, coaching youngsters or pouring himself into new initiatives, his fellow athletes described him as an inspirational figure.
His international athletic colleague, Colin Youngson, a three-time Scottish marathon champion from Aberdeen, said yesterday: "When he became Meldrum Barclay Edwards, Member of the Order of the British Empire (or MBE squared, as he called it) no one could have deserved the honour more. Everyone admired and liked him.
"When he first contracted cancer, I visited him in his hospital ward and we laughed our way through my collection of Alf Tupper – The Tough of the Track – photocopies.
"I could add so many more memories. His tales of dawn jogging at Rubislaw, saying hello to the fox that trained there at the same time; so many charitable ventures into which he poured his heart and soul. The laughs, the exhilaration for life.
"He's gone at last, but unforgettable. I was very fortunate to know him."
In 2016, at 73, Mr Edwards raised £8,000 by running 100×100 metres in two locations in his home city.
The money will be used to buy specialist EyeGaze technology for Woodlands School in Aberdeen.
He had set himself the task of raising a greater sum than when he accumulated £7,500 for Friends of Anchor in 2012 by undertaking a 70-minute run on his 70th birthday.
He said later: "It was a very satisfying experience. This will help to purchase life-changing equipment for the wonderful children and teachers at Woodlands School.
"It has been a privilege to be involved. In my life, I would say I had two main challenges. The first was to make the Olympic Games marathon (I missed out by two places), and the second was not to be defeated by cancer in 2006.
"Now there is a third. And that's to ensure I do my best to provide life-changing facilities for children with severe problems."
Mr Edwards spent the final weeks of his life at Roxburghe House.
He is survived by his wife Kareen and Myles.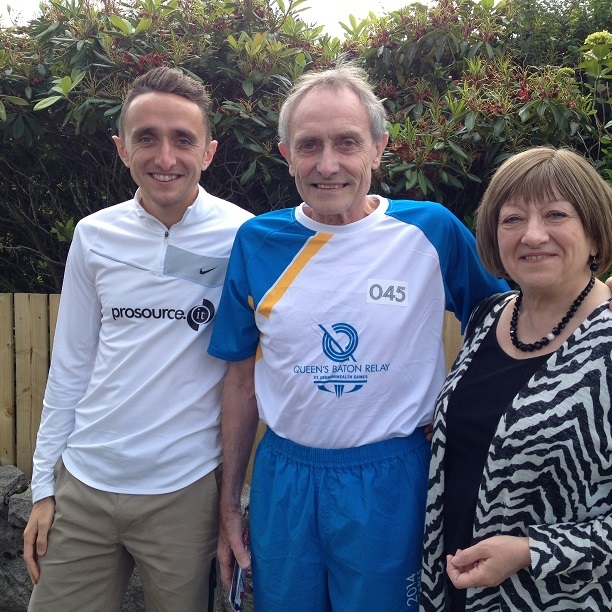 Myles, Mel and Karen Edwards, Mel in Queen's Relay baton uniform
(Athletics Weekly, by Roger Robinson and Mel Watman)
Perhaps the world's most zestful lover of running, and an old and dear friend, Mel Edwards of Aberdeen, died last week. In tribute, I ran a session of 16 x 2 minutes, the nearest I can now manage to the intense 16 x 800m we used to do in Cambridge in our twenties. Here is a written tribute, from which "Athletics Weekly" published excerpts, with my contributions supplementing the expert obituary by Mel Watman.
Mel Edwards, December 2, 1942 – November 8, 2019
by Mel Watman (former editor of "Athletics Weekly") and Roger Robinson (friend and training partner since 1964)
After a long and courageous fight against myeloma (a blood cancer), the Scottish marathon runner and cross-country international Mel Edwards died on November 8, aged 76. Born in Aberdeen in 1942, son of a sports journalist, he was inspired as a child by reports of Emil Zatopek, and then by watching the 1960 Rome Olympics on television. He started with the 440 yards, clocking 51.7 that year. He gradually moved up in distance, and defeated future greats Ian McCafferty and Lachie Stewart for the Scottish Junior Cross-country title. He also achieved personal best times of 4:11.8 for the mile and 13:48.6 for 3 miles.
A Master in Civil Engineering from Aberdeen and Cambridge Universities, and a member of Aberdeen AAC and Thames Valley Harriers, he placed second in the annual Cambridge v Oxford cross-country. Famed and feared for his hard training, he was a colourful leading member of an outstanding Cambridge vintage, which included the late Mike Turner, Tim Johnston, Roger Robinson, and fellow-Scot Alasdair Heron. His college room was decorated with a big banner, "Kingston or Bust," expressing his goal of making the Scotland team for the 1966 Commonwealth Games.
Injuries intervened, and he transferred to the marathon, making a notable debut in 1967, winning the Harlow event by nearly five minutes in 2:18:25, which remained his best. That time ranked him fourth Briton (and Scot), behind Jim Alder, Alastair Wood and Donald Macgregor that year, and he also posted his fastest 6 miles time of 28:27.0. His ambition was to make the 1968 Olympic team. He ran well to finish second to Japan's Kenji Kimihara (who would win the Olympic silver medal in Mexico City) on a sweltering day in the Windsor to Chiswick Polytechnic Marathon in 2:19:32, but he hadn't recovered sufficiently to place higher than seventh in the Olympic Trial in Cwmbran six weeks later on another hot day in 2:21:09.
After a layoff for a major injury, Mel became a major figure in hill racing, as well as continuing to race cross-country well enough to add Scottish Masters titles to the Scottish Junior one he won at 18. He also became an outstanding coach, meeting organiser, and all-round inspirational figure, widely admired in the Aberdeen region.
He was the regular coach with the "Run the Highlands" weekend courses that introduced many beginners to running. He covered more than 100,000 miles of running, many of them for fund raising in his later years. To mark the twenty-fifth anniversary of his happy marriage to Kareen, he ran the New York City Marathon, watched by their son Myles, who went on to become Scottish 1,500m champion and founder of the Gathimba-Edwards Foundation that helps Kenyan children.
Mel's response to the diagnosis of incurable myeloma in 2006 was typical. He resolved that while others would fight cancer as well as he did, no one would fight it better. He set records around his hospital bedroom, and later established and attacked a series of PSCR (Post-Stem-Cell Replacement) records on courses around Aberdeen.
Mel was much loved for his zest, irrepressibly positive attitude, and generous encouragement of all runners. He was described as setting out for each run "like a golden retriever that has just been let out of the car." (Roger Robinson in "New Zealand Runner"). Aberdeen friend and notable runner Colin Youngson described him to the "Aberdeen Press & Journal" as "a marvellous human being, one-of-a-kind: relentlessly optimistic, enthusiastic, energetic, dedicated, determined, uncomplaining, brave, and encouraging to many others." In his lifetime career in road traffic engineering, specialising in accident prevention, Mel showed as much fervour as with his running, and took pride in returning to work the moment he came out of hospital for life-threatening stem-cell replacement.
Appropriately for a man whose initials were MBE (Meldrum Barclay Edwards), he was honoured with an MBE (Member of the British Empire), for services to athletics and charities. Even better, Mel finally achieved his ambition of participating in the Commonwealth Games, when he was chosen among other sports celebrities to take part in the Queen's Baton Relay (equivalent of the Olympic torch relay) for the Games in Glasgow in 2014.
(The Scotsman: by Jack Davidson)
Mel Edwards Obituary
Born 2nd December 1942
Died 8th November 2019
Mel Edwards who has died aged 76 was a highly successful and extremely popular Scottish distance runner in a career spanning more than fifty years. Such was his lifelong passion for running that it would have been fitting had the song 'Born to Run' been penned with him in mind. A member of Aberdeen Amateur Athletic Club for many years, he garnered a haul of honours on the track, on the roads and hills and over the country. By 2005 he had accumulated over 100,000 miles of documented running in competition and training.
He figured in the Scottish ranking lists between 1960 and 1969 at all distances between the quarter mile and six miles, as well as the marathon. The latter event was arguably his strongest as he was 2nd reserve for Great Britain in the 1968 Mexico Olympics having set his best time of just over 2hrs.18 mins. in his debut run in 1967, placing him 4th in the British rankings.
He also won silver and bronze medals in the Scottish Championships at six and three miles respectively and won the English Universities three miles event in record breaking time. In 1964 he won the Scottish Junior Cross-Country title defeating rivals of the calibre of Lachie Stewart and Ian McCafferty, earning a Scottish vest for the International Cross-Country Championships. Later he also did long distance hill and fell running which augmented his honours collection including winning the Scottish Veterans' Hill Running Championship and setting a record for the 28-mile Cairngorm Munros event that stood for 23 years.
These are only some highlights of a career during which he also found time to be race organiser, coach and mentor to runners of all standards while contributing articles to various publications.
After his diagnosis with multiple myeloma in 2006 he vowed that cancer would not defeat him and in the intervening years raised significant sums for cancer care charities through sponsored runs and related activities. Another important aim was to contribute to 'improving life changing facilities for children with severe problems,' which he succeeding in doing by raising valuable funds for Woodlands School in Aberdeen.
Blessed with a good sense of humour and warm outgoing personality, he was a truly inspirational figure for whom the award of an M.B.E. in 2014 for 'services to athletics and charity' was richly deserved. His good friend, former marathon champion Colin Youngson recalled, "No one deserved the honour more, everyone admired and liked him, he enjoyed a laugh and had an exhilaration for life."
Meldrum Barclay Edwards was born in Aberdeen where he was brought up in Beechgrove Terrace, the only child of Freddy and Joy. Given his initials, he used to refer to himself jokingly as 'M.B.E. squared.'
His father was a headmaster at several Aberdeen schools, an all-round sportsman and in retirement became a sports journalist. Before marriage his mother was a clerkess. Mel could remember being inspired after listening on the radio to Emil Zatopek's feat of winning three gold medals at distance events in the 1952 Helsinki Olympics, the start of becoming hooked on running. Educated at Aberdeen Grammar School, the third of four generations to attend there, he set his sights on winning races at the annual sports, and in his final year achieved a clean sweep at quarter mile, half mile and mile.
His career was under way as a member of Aberdeen AAC when he began his studies in civil engineering at Aberdeen University which he also represented at cross country and athletics, winning a 'blue.' From Aberdeen he went to study for a Master's degree at Cambridge University where he ran on the track and over the country, earning a double 'blue.' Thereafter he completed post graduate studies in transportation at Newcastle University and undertook a research post at Southampton University before earning his livelihood as a road safety engineer.
Other running successes included East of Scotland titles at three miles on the track and at cross country, a highly creditable 4th place in the prestigious Morpeth to Newcastle Road Race and as the highest scoring member of the Aberdeen club team pipped by one point for the Scottish Cross-Country title. He also contributed fastest stage times in the iconic Edinburgh to Glasgow road race relay.
His mileage reached over 100 miles per week as he concentrated on the marathon in his attempt to reach the Olympics. With leg injuries hampering road running he continued with cross country enjoying success at veterans' level and began hill running, completing arduous races including the Ben Nevis, Lairig Ghru and the Swiss Sierre to Zinal 28 km. event.
In 2012 on his 70th birthday he ran '70 minutes at 70' for the Anchor cancer charity and in 2016, 100 x 100 metres in two Aberdeen locations to fund equipment for Woodlands School. He felt particularly honoured to run the Queen's Baton relay in Aberdeen for the 2014 Commonwealth Games.
In 1972 he married Kareen Anderson, a social worker/psychotherapist, with whom he enjoyed 47 years of happy marriage in Aberdeen during which they had son Myles, also an accomplished runner. Through Mel's running connections, Myles and Gideon Gathimba, a Kenyan athlete, founded the GathimbaEdwards Foundation to help disadvantaged children in Kenya, a cause close to Mel's heart.
Although he will be deservedly well remembered for his running feats, he has an extra special place in the hearts of many for his unremitting fight after his diagnosis to better the plight of others in similar circumstances, especially children. His family has been extremely touched with the extent of tributes from people whose lives he impacted positively. He is survived by his wife, son, daughter in law Mary and granddaughter Dahlia.