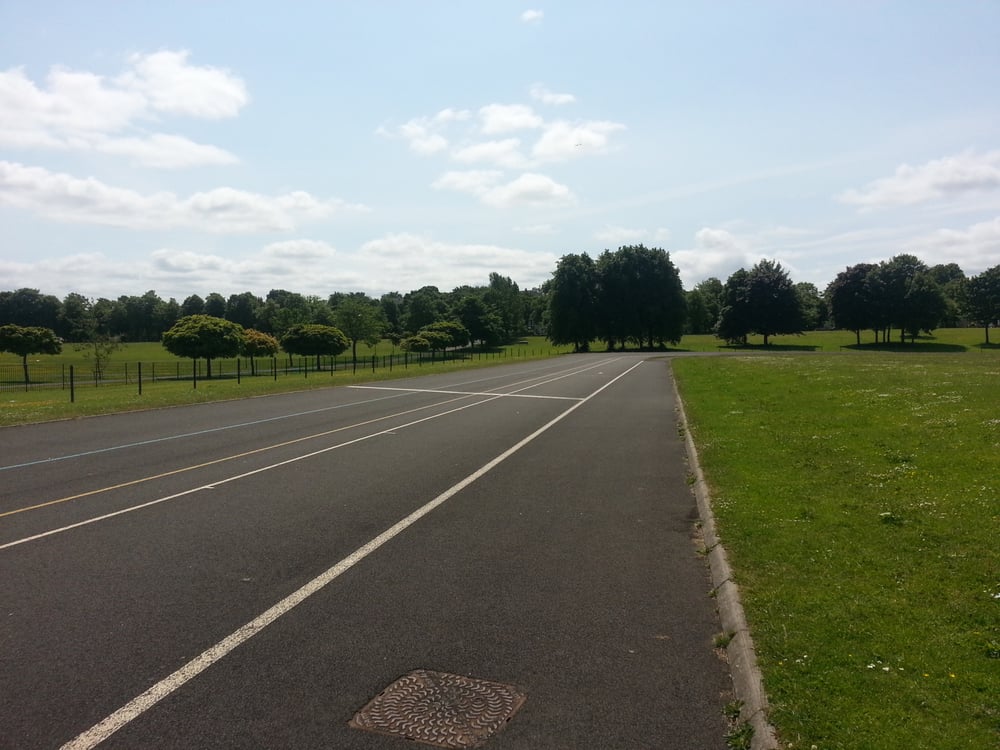 The Sports Centre at Bellahouston Park in Glasgow was an attractive venue for athletes from all over Scotland and was one of the reasons for the fall in popularity of the Nethercraigs Track on the south side of Glasgow. Both were served by the Corkerhill Railway Station and were on several bus routes but the difference was on the track surface. Following the Commonwealth Games in Edinburgh in 1970, any new track with any kind of synthetic surface was where they all wanted to train and on which they wanted to compete. The Bellahouston Park track was synthetic, 400m in distance ( as opposed to 440 yards), had 6 lanes and was open pretty well all the time. It had field event facilities and a water jump inside the track. There were two 'all-weather' tracks in the country, both in the east, at Meadowbank where the surface was red tartan and at Grangemouth where it was black Rub-Kor. This surface is coloured black and is a mix of rubber and a kind of bitumen and on first glance looks like tarmac. Athletes were totally forbidden from using any spikes longer than 5mm on it. It looked like an ordinary road or pavement on the track and the restriction on the length of spikes made it a better surface for distance runners than for sprinters as the times performed on it showed. Although it was beside the Sports Centre, it was theoretically separate but with the field events equipment stored there. There were no lights on the track but running alongside a fairly busy road, the street lights made it possible to use it in the dark. There was also some dim light spilling over from the Sports Centre itself.
The Running Track Directory website tells us that it was opened on 30th May, 1971. Bellahouston v City of Glasgow Ladies v Victoria Park v Law & District v Babcock & Wilcox v Greenock. Unfortunately the fixture clashed with the two men's district championships and the 'Glasgow Herald' published only selected results:
800m: 1. S Latimer (Law) 2:31.8; 2. M McKenzie (CoG) 2:32; 3. A McKenna (2:32.4). 1500m: 1. M O'Boyle (VPAAC) 4:51; 2. P Spence (Greenock) 4:57. Discus: Seniors: L King (Belllahouston) 115 ft; Juniors: I Munro (CoG)59 ft. Girls 800m: 1. J McGoldrick (Bellahouston) 2:42; 2. C Harvie (Babcock) 2:43. The match was won by City of Glasgow with 335 points with Bellahouston second on 295 points. These were very selective results but note that none of them were sprints.
That first season was quite successful with good times and distances being performed in a range of events – 800m, 1500 m and high jump were the ones that appeared most often in the national ranking lists at the end of the year. That it was a fast track for endurance runners was shown when on Wednesday, 11th August, in a 10000m race contained in a meeting organised by Victoria Park, the winning time was 29:44.0 by Gareth Bryan-Jones from Pat Maclagan of Victoria Park (30:04.8). Alex Wight (30:23.2) with Jim Wight and Alan Partridge also recording fast times in fourth and fifth. Even later in the year on 14th September in another midweek meeting, Junior Frank Clement recorded 1:52.8 for 800m in a close finish with Mike McLean who was timed at 1:52.4.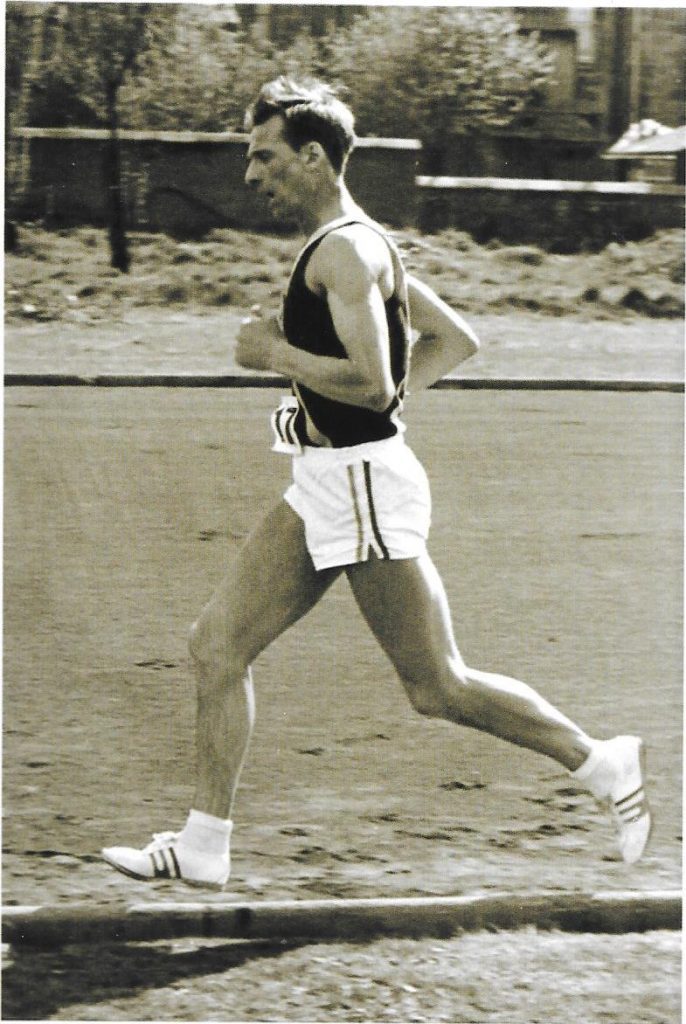 Jack McLean racing on the track at Bellahouston.
It was used for many SAAA meetings over the years and particularly by the Scottish Veteran Harriers Club. Bellahouston Harriers' Jimmy Irvine says: "The track at the Bellahouston sports centre was quite a good track to race on. It was a funny surface kind of Bitnumen, a bit harder than tartan more like road surface, I liked it . I managed to win the Scottish vets 10k on it 33:20 beating John Barrowman of Garscube . But it has now been made into a cycle track and has been taken over by them. I remember it was used a few times for the Western District championship, so it was well used by the athletics associations ."
The track was not exclusive to those from Glasgow: as already mentioned it was used by the Scottish Veteran Harriers Club (who also used the Sports Centre for changing, presentations, etc, for road races. Indeed the World Vets 10K and Marathon Championships were held from there with athletes from all over the world competing. The Dunbartonshire AAA Six Miles and then 10000m championships were also held on the Rub Kor track at Bellahouston. There were open graded meetings, inter-club fixtures, league matches and of course it was for a time the go-to for training for ambitious runners.
But then along came the red surfaces such as Olymprene for running tracks and what had been a state-of-the-art track was surpassed by more modern developments elsewhere. Just as Bellahouston had done for Nethercraigs, so such as Coatbridge and then Crown Point did for Bellahouston. The track was still used but it was used less and less until the rullers all but deserted it.
A recent note of facilities on offer at Bellahouston Park read as follows:
Sports facilities
Cycling Activity Centre
Two Bowling Greens: These are seasonal facilities and are subject to opening times.
18 Hole Pitch and Putt Course: These are seasonal facilities and are subject to opening times. Pitch and putt equipment can be obtained at the Bowling Green area.
Orienteering Course
Bellahouston Leisure Centre and Swimming Pool
An "All Weather" Hockey Pitch
An "All Weather" Running Track
Note at the foot of the list that there are both a running track and a cycling track with no indication that they are one and the same. Bearing in mind what Jimmy said in his comments, the following extract from the instructions for a Fun Run:
.At other times the course passes by the mixed parkland and ornamental gardens that have been a highlight of Glasgow's Premier Public Park for over 100 years. The start/finish area is located with the cycle track of Bellahouston Park which is located on the south/west side of the Park. Please note that the route may be subject to change.
It is now in a pretty bad state of repair. The surface has been chewed up and definitely won't take a spike. The lane markings are faded but at least six distinct lanes are visible all the way round with no extra lanes in the straight. Apparently the surface was damaged when the Sports Centre swimming pool was constructed. The earth they dug out was dumped in the centre of the track which is now a large grassy knoll although it was a redgra pitch.
To which Jimmy comments: Although it is chewed up and 'won't take a spike, it is referred to as 'the cycle track of Bellahouston Park'. The track is used almost entirely by cyclists now in the twenty first century but that does not take away from the history of the track which was used by many, many top class athletes.
Read a bit more about Nethercraigs (pictured) via the link below.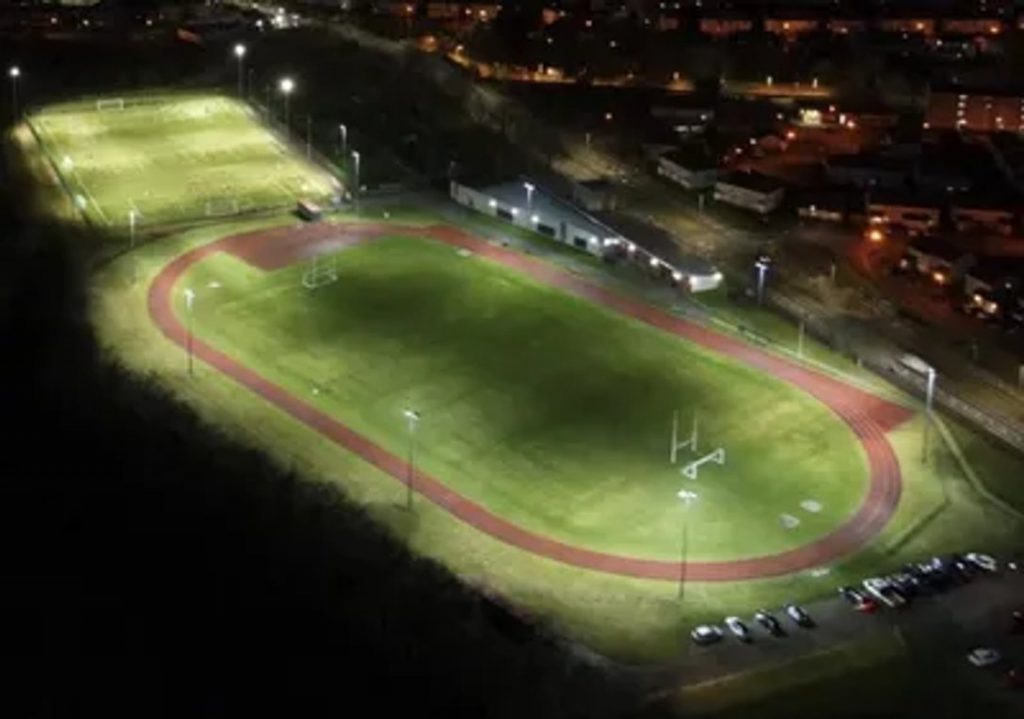 .Picture courtesy Hugh Barrow