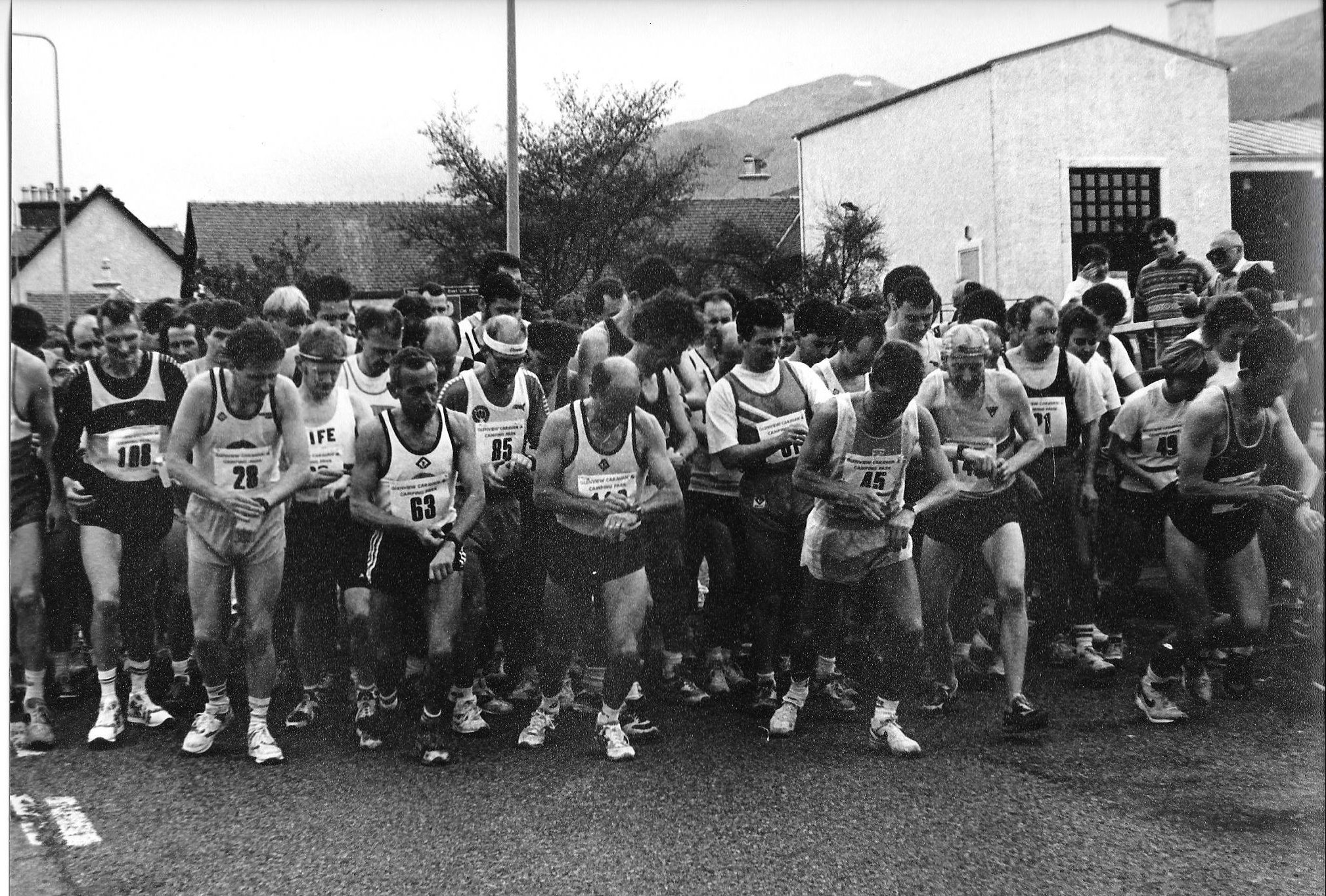 Start of the Lochaber Marathon 1983: all well-known marathon runners.
The marathon boom of the 1980's is known as a phenomenon but the real extent of the involvement in the event by the Scots is seldom understood. The photograph above has many good marathon runners but there may not be an internationalist among them! Athletes travelled from all over Scotland to run in a race where the weather was unpredictable and the interest of the selectors was slight. There were marathons organised and supported from Caithness in the north of Scotland all the way down to Galloway. The benefits to the individual were many – health, confidence and travel to parts of their own country that they would not usually visit. There were also benefits for the sport at national level – the event had never had so many fast runners over the distance – hundreds under 2:30 for the event – and this transferred to the international team and results in the event. On this page, Colin Youngson looks at four of the smaller races of the time. By the way, they weren't running the event for money or for glamorous prizes – Bobby Young in the photograph below shows what graft he got from the race –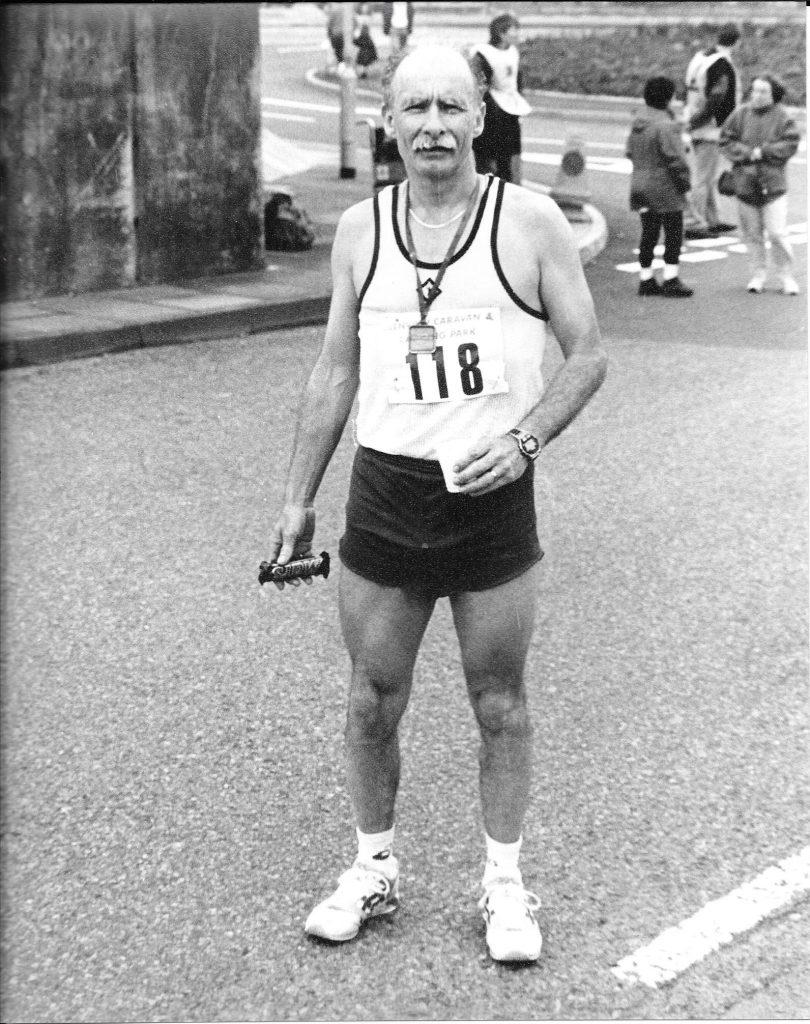 Fraser Clyne contributed the following three invaluable lists of 14 different Scottish marathons that took place in 1983, 1984 and 1984. To those can be added the Isle of Benbecula Marathon. Results are incomplete. If anyone has other memories, photos, newspaper reports or extra statistics, please email: cjyoungson@btinternet.com and they may be added to this post or the individual posts on Dundee, Lochaber, Motherwell, Loch Rannoch, Inverclyde, Moray, Edinburgh, Glasgow and Aberdeen.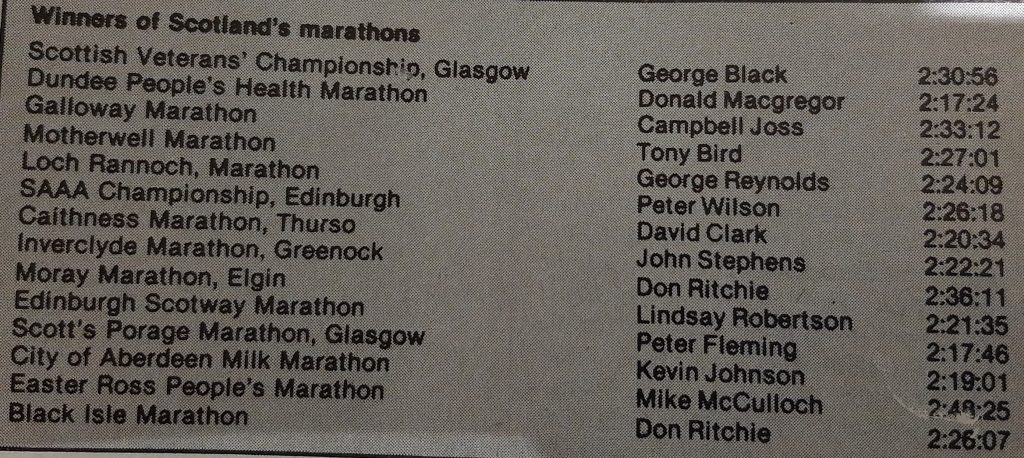 1983 list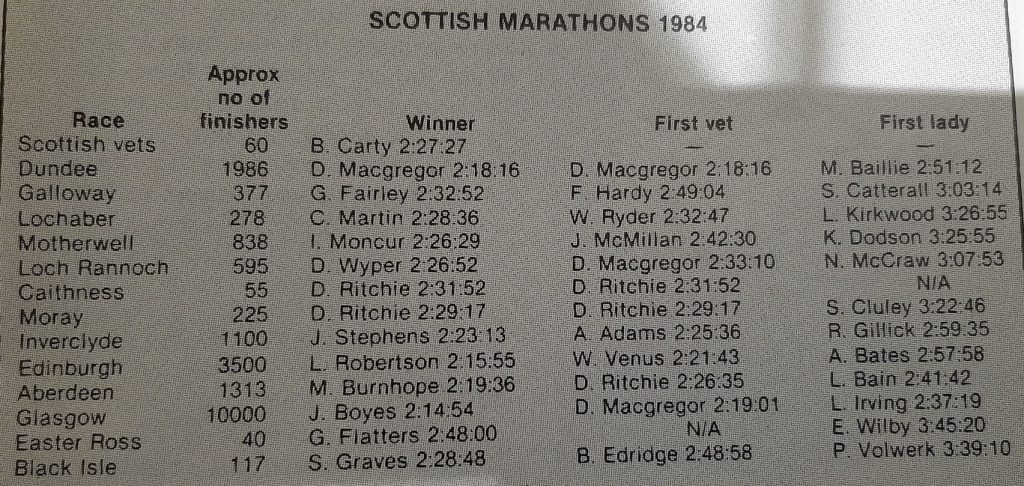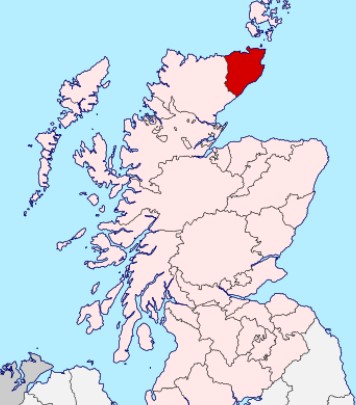 CAITHNESS MARATHON (JULY)
Linda Lamb ran it three times and was First Woman once. It seemed unusual to have prizes available for women. The weather could be too hot. The route involved two laps from and to Thurso. Up the back road to Halkirk then mainly downhill to Thurso, and repeat. Overall, this was a hilly course. Hilly.
Only half marathon 13/7/86; 29/5/88; 28/5/89
"The Caithness Marathon, the most northerly one on the mainland, ran for several years then, in 1986, changed to a half marathon, which still takes place." Caithness AC website.
2016 New Year Honours: "Marathon runner Sandy Gunn, from Thurso, has been recognised for his work as a coach. Sandy helped form Caithness AAC a number of years ago and his British Empire Medal award is a fitting tribute for unstinting work."
CAITHNESS MARATHON JULY 1981
This inaugural event was won in 2.35.23. Probably, Linda Lamb finished First Woman, just as she had in the first Black Isle Marathon in 1980.
CAITHNESS MARATHON 18/7/1982
Don Ritchie wrote: "On Saturday, the 17th of July, I drove up to Thurso to stay overnight with Sandy Gunn and his wife before the marathon that Sandy had organised.
On Sunday morning I received a shock when I realized that I had forgotten to pack my Karhu racing shoes, so I had to run the Thurso marathon in an old pair of Brooks Vantage trainers. Brian Turnbull and Sandy Keith went into the lead and I and several others followed closely. The pace felt easy and I was worried that we were going to run slowly all the way. By 6 miles some had dropped off and there were 4 of us left and shortly after this we were three. Sandy Keith and John Boulton (an Englishman from Weymouth) and I passed half way in 1-14-25 and I decided that it was time to increase the pace to see what I could do. Sandy dropped back but the Englishman came with me – thankfully he began to drop after 15 miles. From then on it was just a case of trying to keep a decent pace going.
My feet were quite badly cut up by the old shoes, but I was pleased to win and although my time of 2-30-53 was not very good it was 4-30 inside the course record. I found the race easy and had no problem with lack of energy, only lack of speed. John Boulton was second in 2-33-35 and R. Allemano 3rd in 2-48-11. First woman was Priscilla Welch from Shetland (in 11th place in 3-04-05) who at that time was stationed at Saxa Vord with her army husband. She would eventually go on to represent Great Britain in the marathon at the 1996 Atlanta Olympics, finishing 6th, a few months before her 40th birthday."
CAITHNESS MARATHON 17/7/1983 (Thurso)
Don Ritchie wrote: "In the Caithness marathon from Thurso, on the 17th of July, Dave Clark and Paul Kenney set a brisk pace and once I had joined them I began to feel uncomfortable, so after 1.5 miles I decided to drop back. I joined the second group of: Sandy Keith, Brian Turnbull, Willie Miller and Steve Cassells. Sandy dropped back by 7miles, as did Steve, so Willie, Brian and I passed 10 miles in a slow 56-42, and soon after this I began to drop and reached halfway in 1-14-28. John Boulton, who had been second to me the previous year, passed me soon after halfway. Willie dropped out at about 16 miles and I passed Brian at about 18.5 miles, despite running quite slowly. I finished 4th in a slow 2-37-04. Dave Clark (Verlea AC) ran very well setting a course record of 2-20-34, ahead of Paul Kenney (Inverness Harriers) 2-23-48 and John Boulton 2-34-55.
(Dave Clark went to Aberdeen University but lived in the Oxford area afterwards. He ran International Marathons for Scotland and Great Britain. 1983 started with third place (2:19:14) in Hong Kong on 22nd January, won by Jim Dingwall in 2:15:48, followed by 45th (2:16:06) in London on 17th April. Then on 29th May, fifth (2:18:19) in Geneva; on 3rd July a win in (2:21:51) in the Pennine marathon for which the prize was a trip with entry to the New York marathon. Only two weeks later he won the Caithness marathon in 2:20:34. Dave Clark was three months short of his fortieth birthday! Not content to rest he finished seventh (2:24:27) in the Adidas British Marathon in Bolton on 21st August. His veteran adventure was about to begin. He would prove to be a true 'Master', winning a World Veteran title over 25km; and winning the Masters division in big city marathons: New York and Boston, as well as second M40 twice in London.)
CAITHNESS MARATHON 15/7/1984
55 ran
Don Ritchie (Forres Harriers) wrote: "On the 6th of July 1984 I reached 40 years and entered the Veteran ranks, well before they were labelled 'Masters'. My first race in this new category was the Elgin Highland Games 10 miles road race on the 7th of July, where I finished 4th behind Simon Axon, Peter Wilson and Mike McCulloch. The following afternoon in the Macduff half marathon, after a gentle start I worked through to finish 3rd of the 96 finishers. The weather was again very hot, with the temperature reaching 82°F. Calum Murray won in 1-10-26 from Mike McCulloch 1-14-07 and I finished in 1-16-09. It was a new experience to be offered 'Vet prizes' in these 2 events.
The following weekend I resisted the temptation to run the Forres Highland Games 11.25 miles road race and instead, with Izzy, I drove up to Thurso for the Caithness Marathon, scheduled for Sunday the 15th of July and checked into the same hotel as last year.
I started the marathon cautiously, and the pace felt fine, but perhaps on the slow side. I passed 5 miles in 28-24 with Dave Taylor and then started to increase the pace. At Halkirk we had to face quite a strong headwind, so I was glad when Dave took the lead from about 9 miles to 10 miles, which we passed in 57-41. At about 11 miles Robin Thomas caught us and took the lead, but on the run down to Thurso, towards the end of the first lap, I increased the pace and Robin dropped back. Dave and I passed halfway in 1-14-28. Dave was starting to struggle on a hill so I increased my pace and pulled away at about 14 miles. I passed 15 miles in 1-26-16 and 20 miles in 1-54-28. The next section into the wind with a few stiff climbs was difficult but the miles rolled by quite quickly. I tried to stride out over the last mile, but could not increase my pace much. It was good to win this race again, although my time of 2-31-25 was rather poor. Izzy gave me my drinks: 'Mineral plus six' by Wander at 5 miles and every 2 miles after that and she was very encouraging. Robin Thomas (Hunter's Bog Trotters) was 2nd in 2-34-07, with his HBT team-mate Dave Taylor 3rd in 2-35-45."
CAITHNESS MARATHON 1985
Robin Thomas (HBT) 2.36.00
First Woman: Pam Volwerk (Lochaber AC)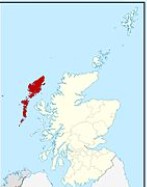 BENBECULA MARATHON
BENBECULA MARATHON (sometimes with a half marathon too)
17/5/86 J McKinley (Troon Tortoises AC) 3.01.19 (record)
First Woman: C Ronan (Army) 3.30.12
3/5/87
R Redpath (Livingston and District) 2.47.32 (record)
Ray Hubbard (Glasgow) 2.54.37
B Eldridge 2.59.55
First Woman: C Rohan (WRAC) 3.47.41
24/6/89
Steve Marsland 2.45.02 (record).
Doug Cowie (RAF) won the Half Marathon and remembered: "I had two visits to Benbecula (was second in the 1990 Half). I went there with RAF Benson, which at that time was the Queens Flight.
I was a member of a Service team called the Milocarians. Also running for that team were a couple of runners from RAF Benson, hence my invite.
The RAF and Army were there for the firing ranges, aircraft target practice.
The Half Marathon was one lap of the island, very exposed and around 10 miles you passed Stinky Bay…….the further out the tide was the stronger the stink! The Marathon was of course two laps.
The races were on Saturday, followed by a social at The Dark Island Hotel but it all closed down at 11.30 p.m. We simply retired back to base then and continued!
On Sunday, after a run, we could only go sightseeing. Because of the Outer Hebrides location, nothing was open on a Sunday.
The taxi driver apologised for the smell in his car when taking us to the hotel, since his last fare had been three sheep. You couldn't make it up! A VERY sociable weekend! The race was secondary."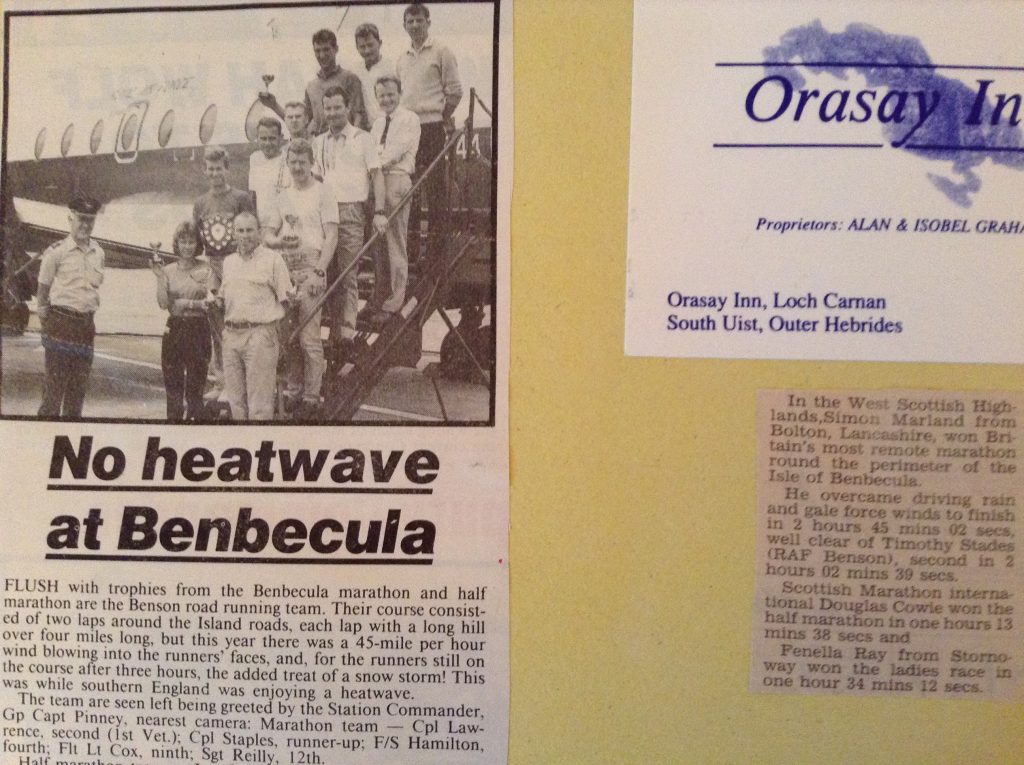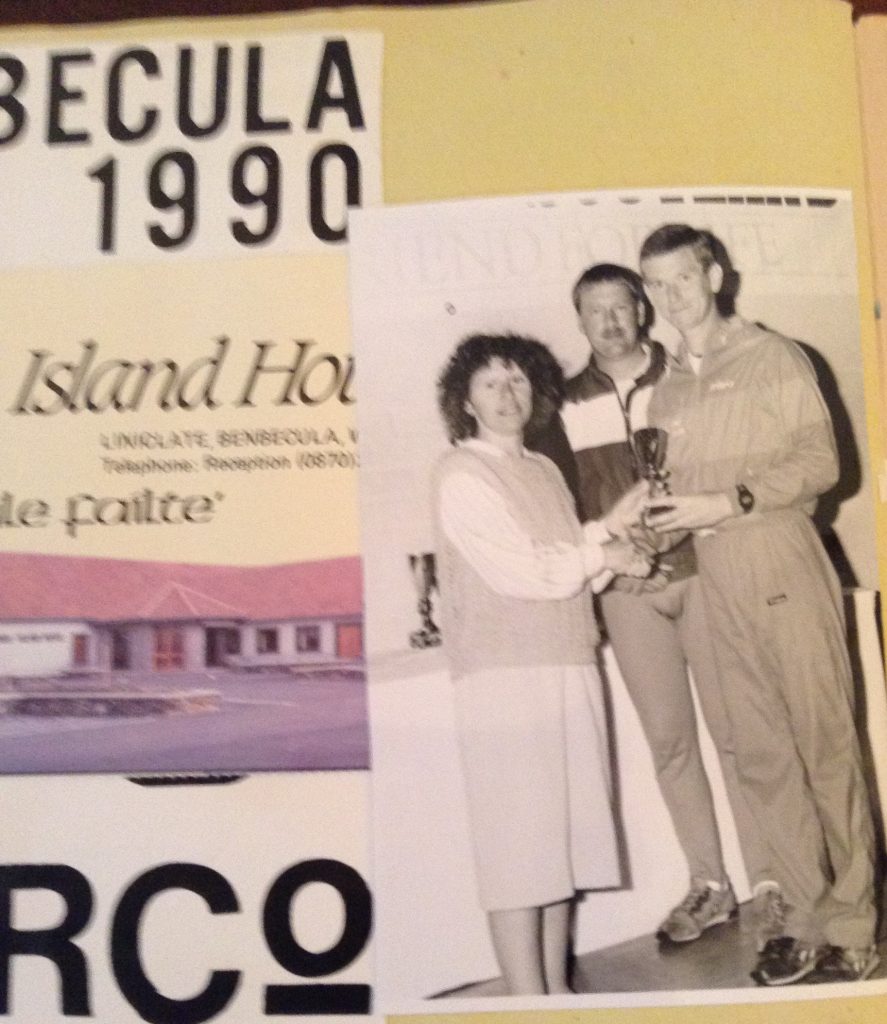 Benbecula Run 9/5/90
Marathon: W Reilly (RAF) 2.59.14
Isle of Benbecula Marathon 8/6/91
S Jeffrey 2.43.32 (record)
Benbecula Marathon 5/6/93
R Tulley (Kilbarchan) 2.57.09
(as usual, more runners completed the Half Marathon)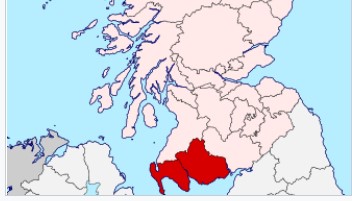 GALLOWAY MARATHON
GALLOWAY MARATHON 1983 (in June?)
Campbell Joss 2.33.12
GALLOWAY MARATHON 1984
Gerry Fairley (Kilbarchan) 2.32.52
First Woman: S Catteral 3.03.14
377 ran
GALLOWAY MILK MARATHON 28 April 1985
Peter Haworth 2.27.10
First Woman: Eileen Masson 3.10.35
GALLOWAY MARATHON 27 April 1986
Peter Haworth 2.31.33
Anne Pendlebury 3.06.34
GALLOWAY SEALINK MARATHON June 1987
Dave Wilson (Liverpool Pembroke AC) 2.29.30
Dave, an English International Marathon runner, described the course as tough and hilly – but he enjoyed these challenges. Andy Stirling (Falkirk) finished second.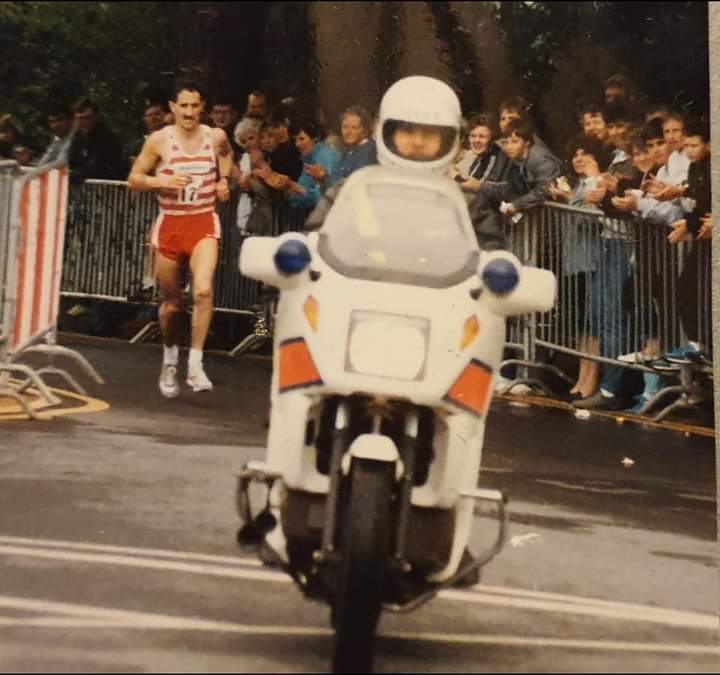 Dave Wilson approaching the finish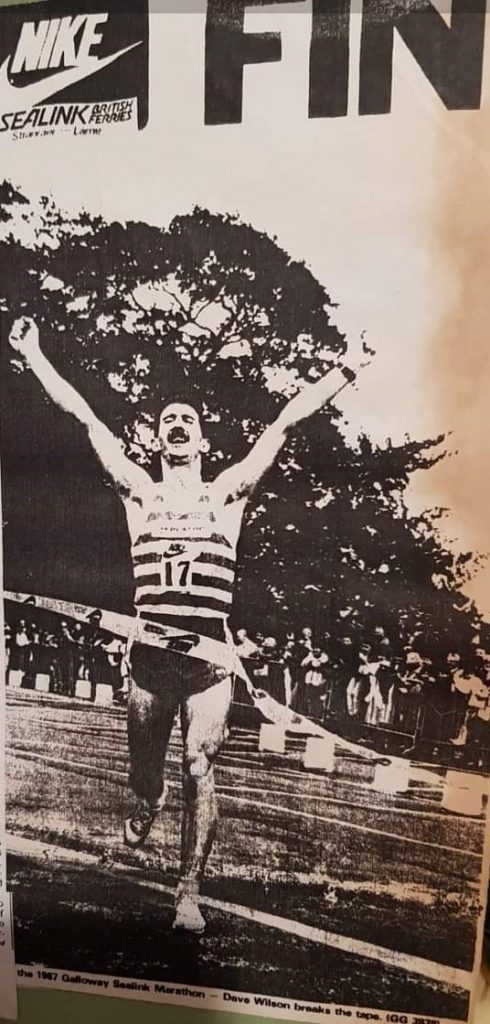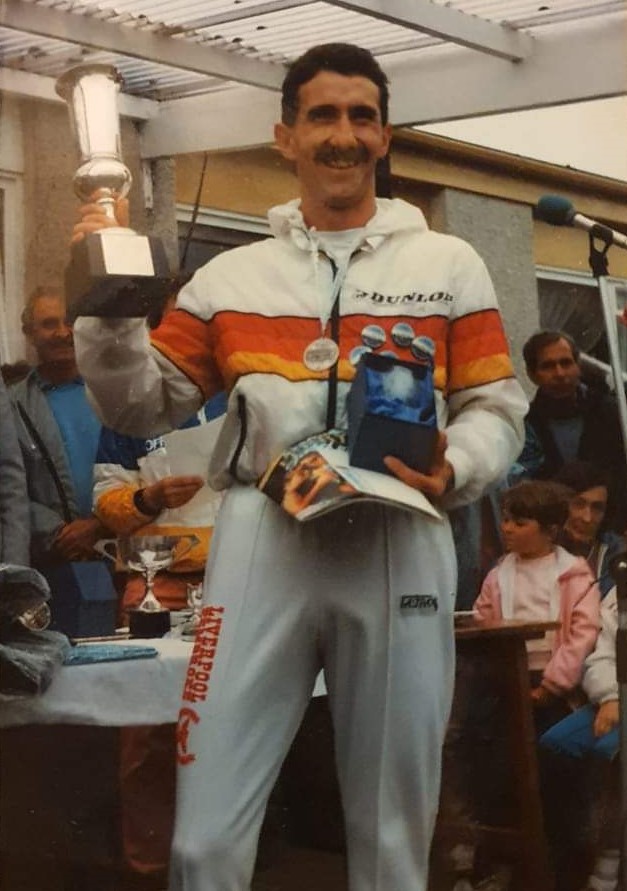 Dave with the winner's trophies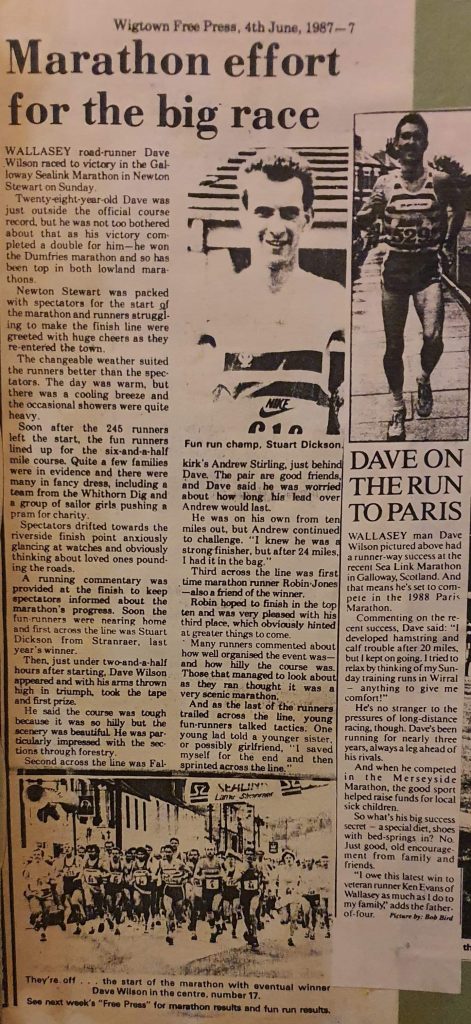 GALLOWAY SEALINK MARATHON 5/6/1988
David Fairweather (Cambuslang Harriers – Veteran) 2.32.06
First Woman: Liz McCrae (Galloway Harriers) 3.23.30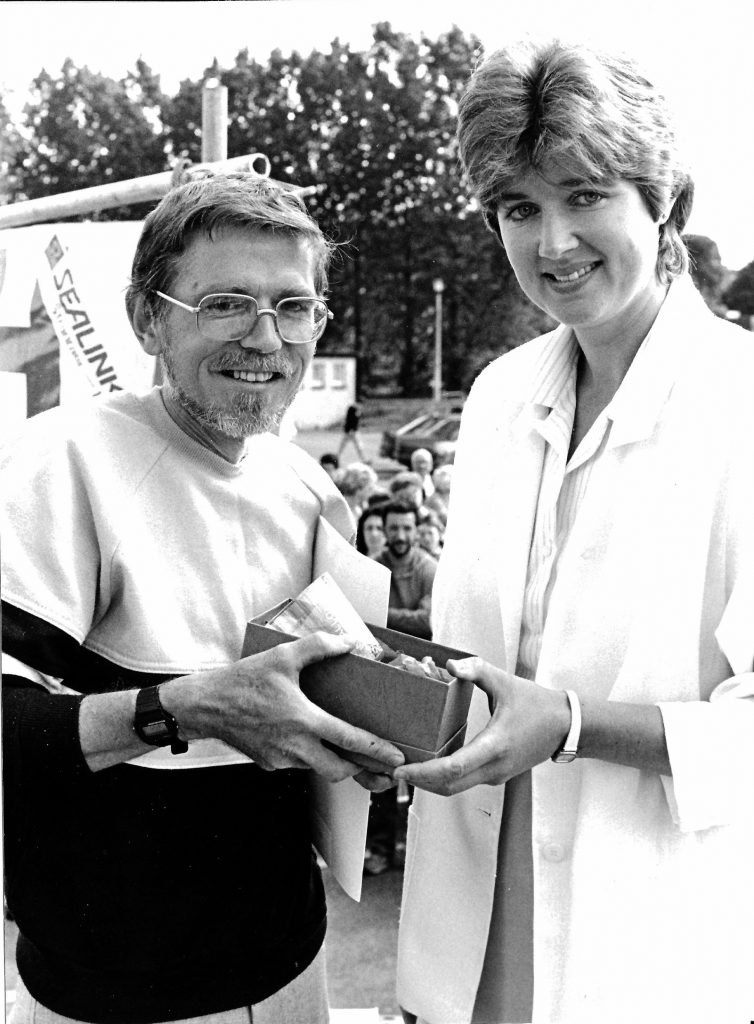 Davie Fairweather at the Dumfries Marathon prizegiving
Davie Fairweather remembered: "Although I had several disastrous marathons, where I hit the wall, I did manage to win one marathon from the front, without any problems. Early in 1988 I decided to run the last Galloway Marathon scheduled for 5th June, and my preparations went without a hitch.
When we moved from Carluke to Uddingston in June 1987, Bob Lennon persuaded me to change Clubs from Law & District AAC to Cambuslang Harriers. I'd been thinking of returning to Shettleston Harriers, that I'd joined in 1970 when I crossed the border to Scotland, but Bob was very persuasive, and he became my personal coach and mentor for many years. This article is a tribute in his memory, as he sadly passed away about 10 years ago.
I'd trained and raced hard with Dougie Frame, Jim Thomson, Hugh Forgie (sadly missed after fighting illness bravely for many years), Billy Dickson, Jim Rowley et al in Law & District AAC, but I moved up to a new level every Tuesday night for the weekly 8 miles Hampden Circuit with Cambuslang Harriers. Trying to keep up with Eddie Stewart, Alec Gilmour, Eddie McIvor, Barney Gough, Charlie Thompson et al was harder than most races! I was running road or cross-country races just about every other week throughout the 87/88 winter and then started building up mileage, including the weekly Hampden Circuit and a daily 6 mile run in my lunch break at work, with road races including 51.46 in the Tom Scott 10 in April. On 5th May I finished 16 sec behind Rod Stone in the 22 miles Edinburgh to North Berwick race in 2.04.23; 15th May I was 3rd Vet (73.15) in the Luddon ½ marathon; then I finished my preparations on 29th May with a warm down in the Motherwell Half Marathon, where I was 2nd vet in 73.48. I'd been averaging 80 miles weekly until the Luddon and then gradually winding down in preparation for Galloway!
Bob came with me and my family on the drive to Newton Stewart and he'd been psyching me up all the way there. I saw on the start-list that my main rivals Dave Wilson and Andy Stirling weren't running and, although it was quite a strong field, I felt very confident before the start. As we set off I thought the pace was too slow, and everyone was watching me and kicking my heels. I didn't want to be tripped, as I had been by Martin Coyne in the North Berwick Race, so I broke away after just 3 miles, up the hill out of Minnigaff. I felt good as I went along the very scenic undulating roads past Boreland and a circuitous route back to the A714 near Clachaneasy. It was warm and calm and I was just enjoying the run and even singing to myself! I went through 10 miles in 57.38, 15 miles in 1:26 and 20 miles in 1:55. My wife Theresa drove round the course with Bob and our girls. He handed me a drink at about 20 miles and he struggled to run alongside to pass it to me. He told me I had a big lead and should just relax and not burn myself out. I just kept going, and finished in 2.32.06, almost 5 minutes in front of Colin Kinnear from Dumfries – and broke the Vets' course record by 13 minutes!
1 David Fairweather (Cambuslang Harriers – Veteran) 2:32.06
2 Colin Kinnear (Dumfries RC) 2.37.01
3 Peter McDonald (Lancaster & Morecambe AC) 2.38.17
First Woman:
Liz McCrae (Galloway Harriers) 3.23.30
190 ran.
DUMFRIES MARATHON 12/10/1986
Dave Wilson (Liverpool PembrokeAC) 2.27.24
Second: Davie Fairweather (Cambuslang H) 2.28.15
First Woman: Kay Dodson (Law and District AC) 3.11.24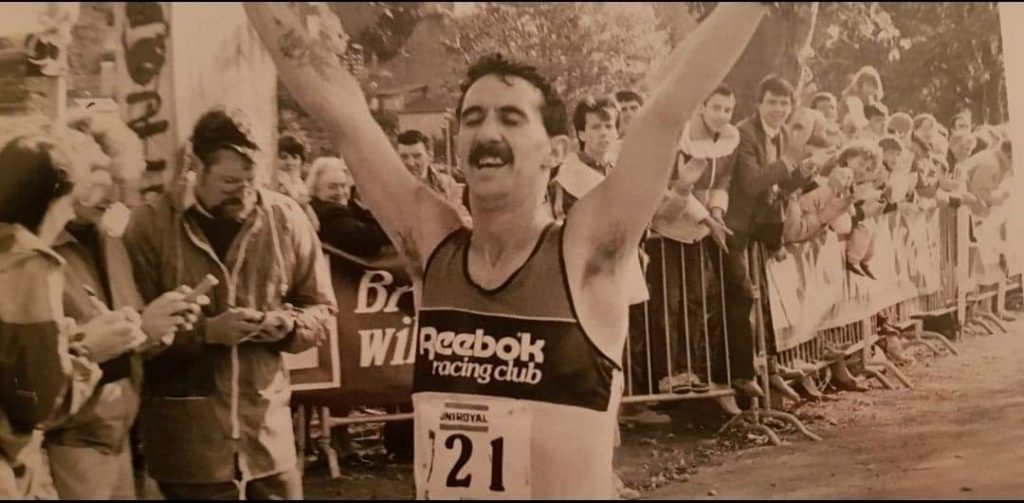 Dave Wilson winning the 1986 Dumfries Marathon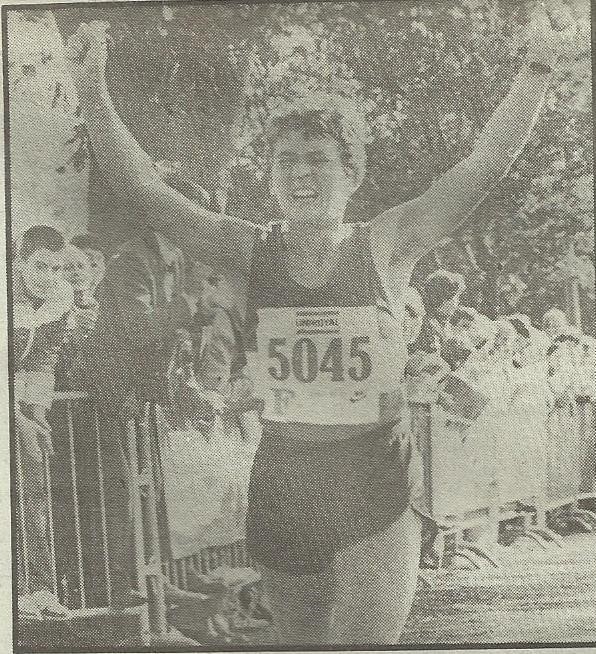 Kay Dodson crossing the line in the 1986 Dumfries Marathon
Kay Dodson wrote: "Three weeks after the Glasgow Marathon (where I recorded 3.03) on Sunday, October 12th, I ran the Dumfries Marathon just for fun, surprising myself by winning the women' s race in 3.11.24 in a spectacular sprint finish. Carolyn Brown (Dumfries Running Club) finished just seconds behind, with Kate Todd (Loudon Road Runners) less than a minute behind Carolyn. 70 seconds separated the first three women according to the official record. I never expected to have to finish a marathon with a sprint finish but I had done it! It was my fifth marathon win."
Davie Fairweather wrote: "I had a ding-dong race with Dave Wilson in the 1986 Dumfries Marathon. We ran miles together and had agreed to cross the line together, but I faded on the very last hill before the finish and told him to go on alone."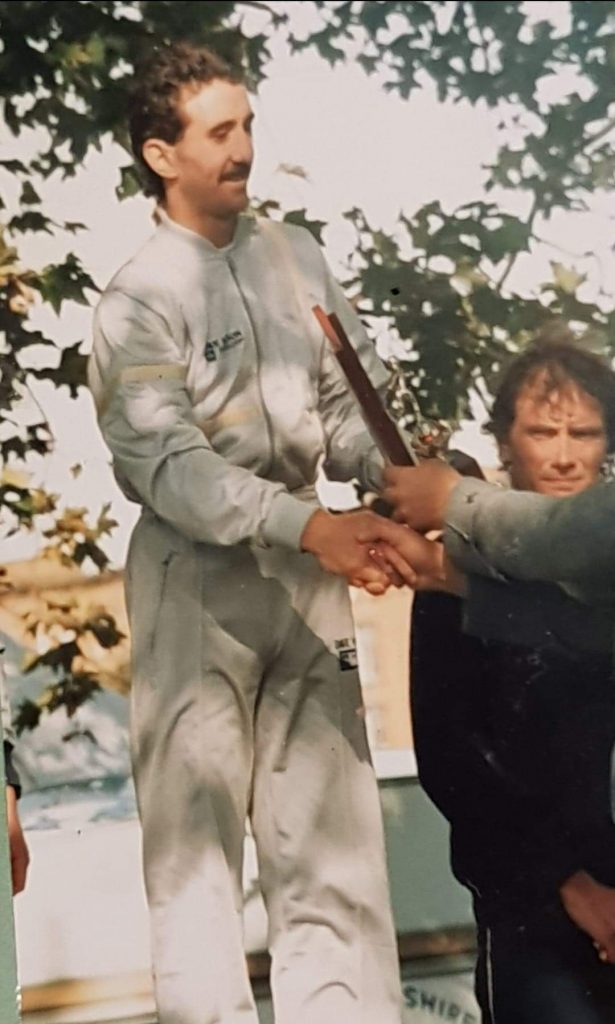 Dave Wilson on the podium
DUMFRIES MARATHON 26 March 1995
Richard Davidson 2.45.52
First Woman: M. McPhail 3.21.13
EASTER ROSS MARATHON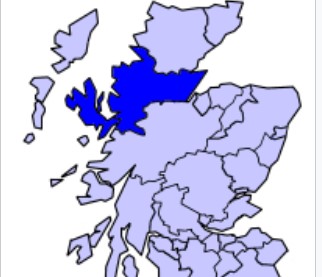 EASTER ROSS PEOPLE'S MARATHON 1983
Mike McCulloch (Forres Harriers)2.48.25
EASTER ROSS PEOPLE'S MARATHON 1984
Graham Flatters (Dundee Hawkhill Harriers) 2.48
First Woman: E Wilby 3.45.20
40 ran
EASTER ROSS PEOPLE'S MARATHON 1985
Ray Cameron (Black Isle AC) 2.42.41
EASTER ROSS MARATHON 3/5/1986
Mick Francis (Forres Harriers) 2.33.41 (record)
Ray Cameron (Black Isle AC) 2.35.43
J Oman (Wick) 2.40.17
(Mick Francis was a Scottish and British ultra-marathon International runner.)
First Woman: Pam Volwerk (Lochaber AC) 3.24.00