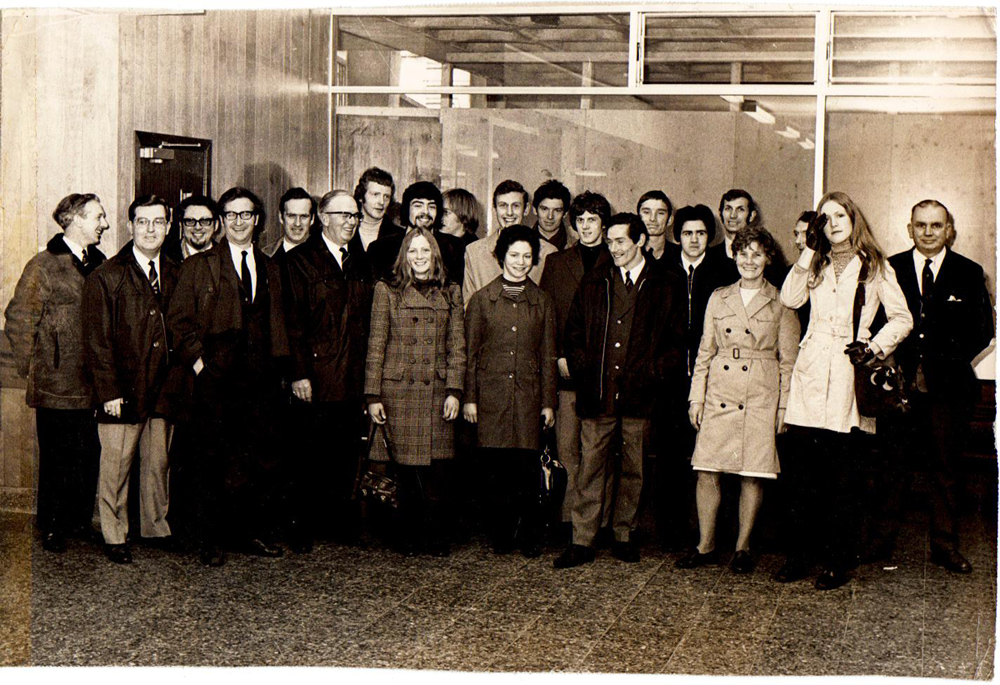 This picture includes Ronnie McDonald, Frank Clement, Lachie Stewart, Jim Brown. Norman Morrison, Dick Wedlock, Colin Falconer and Alistair Blamire
The years between 1945 and approximately 1990 were a golden age of Scottish distance running on the track, over the country and along the roads. The improvement in terms of quality and maybe especially in terms of depth was continuous with large numbers of quality athletes being produced. It was also a time when those who took part in the sport enjoyed high esteem in the eyes of the public as well as of other athletic disciplines. This is seen in varioous ways such as the holding of the national marathon championship at the annual Scottish track and field championships and the many international track and field events at which major international stars competed in middle and long distance races. The main stars in the Scottish athletics firmament such as Tom McKean, Frank Clement, Ian McCafferty, Lachie Stewart, Fergus Murray and Donald Macgregor are well known but such was the standard that many quality athletes never saw a Scottish vest or a championship medal and the compliment of calling a runner "a good solid club runner" really meant something. This and the following pages are an attempt to give some of these athletes the credit that is their due. As far as ranking athletes are concerned please note that all will be short but –
*Some will simply be listed because their career was short or for lack of information
* some will be slightly longer because there is more information available
* and others will have a link to a complete profile.
and also that –
there are also some athletes on the annual ranking lists who will be omitted alogether: English, Irish, Wesh, etc will be ignored unless they lived and competed in Scotland, whereas others who competed for Scotland in a significant Games despite not meeting the above criteria, will be listed.
To beging with we will note those listed on the annual rankings as listed on Arnold Black's excellent website www.scotstats.net. Additional information has been gleaned from Ron Morrison's official road running and cross country website, Colin Shields's book "Whatever the Weather", Arnold Black and Colin Shields's book "The Past is a Foreign Country", 'The Scots Athlete', and 'Scotland's Runner'.
Dealing with the topic in alphabetical order, we start, naturally with the letter A.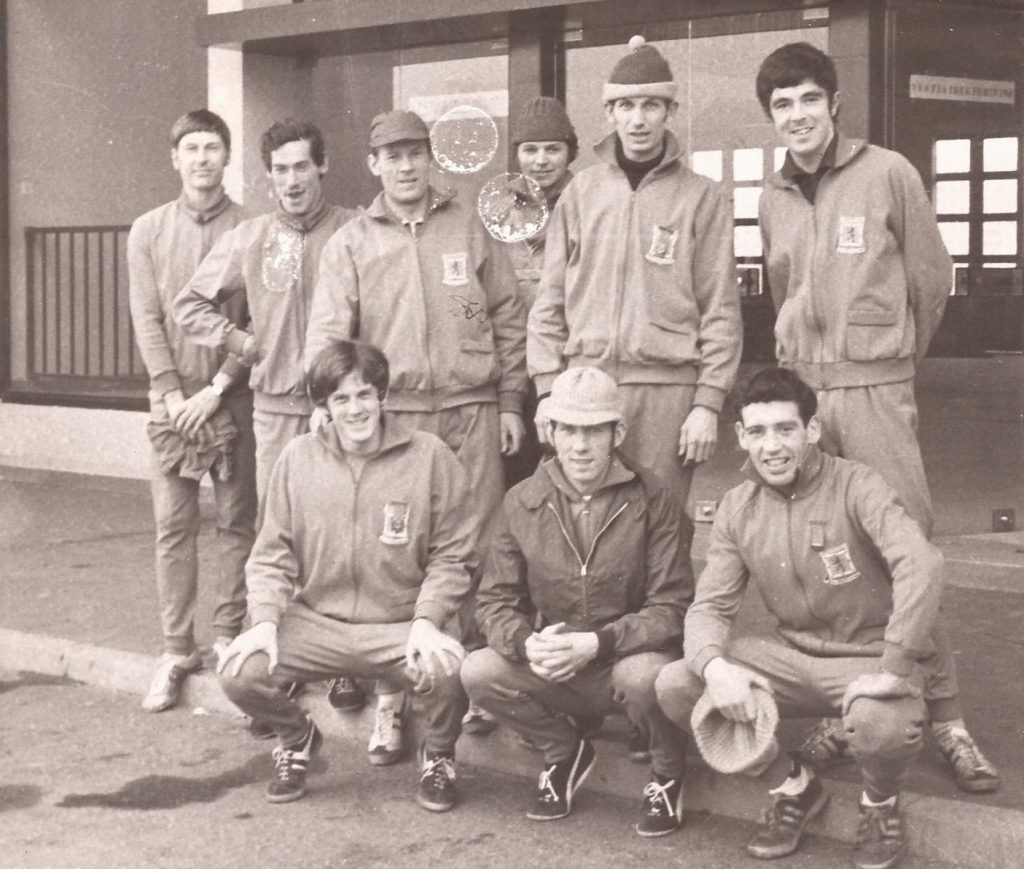 John Adair (Bellahouston, Linlithgow)
Personal Bests: 1500m: 3:56.6 1971; 3000m: 8:38.0 1970; 3000m S/chase: 10:08.8 1969; Marathon: 2:24:25 1985.
Jack Adair was a popular member of Bellahouston Harriers in the late 60's/early 70's who later moved to Linlithgow. Mainly a track runner with a talent for long distance he proved to be a good marathon runner when with Linlithgow in the early 1980's. While with the Glasgow club, he ran cross country and in the Edinburgh to Glasgow for a number of years. He still returns to Bellahouston Presentations and Dinners along with Frank Clement who also moved to Linlithgow.
Bob Adam (Falkirk Victoria Harriers)
Bob was a regular member of the team in the 1970's which included such as Willie Day, Willie Sharp, John McGarva and Andy Pender. He ran in the Edinburgh to Glasgow relay four times and was also a scoring runner in both District and National championships.
Allan Adams (Dumbarton) – see complete profile
Neil Agnew (Monkland Harriers, Clyde Valley AAC)
Neil was a good club runner who ran for Clyde Valley in the 70's and 80's, winning two gold medals in the Edinburgh to Glasgow, as well as racing in the National Cross-Country Championships and Road Relays.
Charles Aithie (Aberdeen U, Edinburgh, Oxford U)
Personal bests: 800m: 1:55.1 1977; 3000m S/chase: 9:20 1977 400m hurdles: 58.4 1973
Charles was a cheerful, athletic, talented young runner at Aberdeen University around 1970. Although lightly trained, he was fast on the track (800m/1500m) and also showed promise over the cross-country. He must have done post-grad work at Edinburgh and Oxford. He ran the 9.20 steeple in May 1977, under Oxford University. He may well have won a blue – if not he could not have been far off it.
Charles Aitken (Greenock Wellpark Harriers)
Aitken was a solid club runner on the roads and over the country in the 50's and early 60's . He ran in the Edinburgh to Glasgow nine times and in many cross-country teams at county, district and national level. The teams included such as the Stevenson brothers, Bill Stoddart, Frank Whitley and George King.
Jim Alder (Morpeth, Edinburgh AC) – see complete profile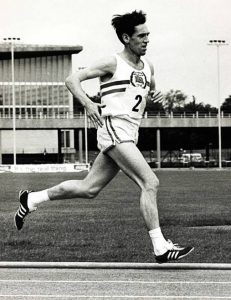 WT Allan (Edinburgh U, Kettering)
Personal bests: 3000m: 8:44.2 1969; 5000m: 14:59.2 1969; 10000m: 31:02.0 1971; 3000m S/chase 9:13.0 1968
Willie started off as a long jumper but became a very successful long dstance runner while at Edinburgh University. He won several honours in cross-country and road team competition while at Edinburgh. These included victory in the Scottish Junior Cross-Country Championships and the Edinburgh to Glasgow Road Relay in 1965 (where he was third fastest individual on the third leg), third place in the Scottish Junior Championships in 1966, first in the Scottish Universities Championships in 1967 and first in he Scottish Senior Championships in the same year. Willie's main event on the track was the steeplechase in which he was Surrey champion in 1970 and a best time of 9:13.0 set at the Scottish championships in 1968. After graduating in 1967 Willie moved to England and wenton to have a very successful career as a veteran. At his peak Willie ran 80-90 miles perweek in training, this included a long run of 16 miles on a Sunday, two fartlek sessions a week and twice daily training on five days.
David N Anderson (Greenock Wellpark Harriers)
Marathon: 3:09:19 1968
David was a stalwart of all endurance events including the marathon and ultra-marathons such as the Edinburgh to Glasgow point-to-point (he also ran in the Edinburgh to Glasgow relay for his club).
G Anderson (Bellahouston Harriers)
A very good cross-country runner, he ran for Scotland in the International CC Championships in 1947.
Robert Anderson (Cambuslang) – see complete profile
Andy Arbuckle (Monkland Harriers)
A long-serving member of Monkland after the War who was a good all-round distance runner on the roads and over the country.
Ross Arbuckle (Aberdeen, Cambuslang, Keith)
Personal bests: 800m: 1:53.5 1979; 1500m: 3:50.2 1988; 3000m: 8:11.21 i 1989
Ross represented Cambuslang Harriers for much of his career, but he started out with Aberdeen and ran for Scotland in the 1980 World Junior Cross-Country. Previously he had shown outstanding talent on the track as an Under-17 Youth (800m in 1:56, 1500m in 4:01.1 and 3000m in 8:42). As a senior he improved to 1:53.5 and 3:55.8. Ross won the three senior team medals with AAAC: bronze in the 1981 E-G; silver in the 1981 Six-Stage Relay and bronze in the 1982 National Cross-Country. With Cambuslang, he went on to win team gold in the 1988 National (thirteenth finisher), a full set of medals in the Cross-Country Relay, including gold in 1987, and bronze in the Six-Stage Relay. To this day he continues to be a modest, popular but very successful veteran athlete. He won several team gold medals in the National Veterans Cross-Country, and frequently represented Scotland in the annual Masters Home Countries Cross-Country International.
Richard Archer (St Andrews U) Eng
800m: 1:49.9 1985; 1500m 3:46.2 1985; 3000m: 8:01.5 1988; 5000m: 14:31.60 1988
Archer was a student at St Andrews University from 1985 to 1988 inclusive. His times are quite outstanding and he was placed 2nd in the SAAA 1500m in 1987, and 2nd in the SAAA indoors 800m in the same year.
Ian Archibald – see complete profile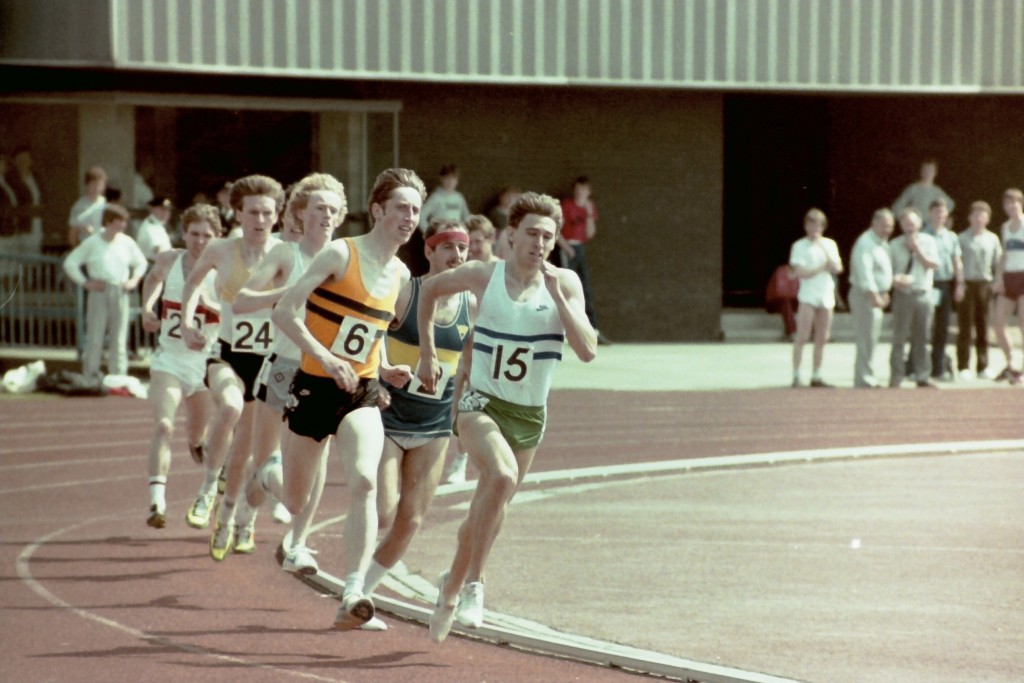 David Arnott (Pitreavie)
800m: 1:53.1 1988 and 1991; 1500: 3:50.4 1988
Ronnie Arthur (Greenock Glenpark Harriers)
A good half-miler on the track Ronnie had a good career as a Junior and young senior racing in District and National cross-country championships as well as in the Edinburgh to Glasgow relay.
John Asher (Glasgow University)
Three Miles: 14:45.1 1968
Stuart Asher (Fife)
Marathon: 2:28:57 1990
Des Austin (VPAAC)
James Austin (Clydesdale)
3000m: 8:28.5 1994; 5000m: 14:52.7 1994; 10000m: 30:53.2 1993; 3000m S/chase: 9:05.32 1994
James came into the sport as an under 15 in 1980 and was a useful half miler/miler running cross-country and Edinburgh to Glasgow as soon as he was eligible. It was only when he took up steeplechasing serviously in about 1988 that he drew himself to national attention. A district and are representative over the country he won two SAAA medals for the 'chase – second in 1996 and third in 1997 – and he gained a Scottish vest on the track over 5000m.
Simon Axon (Aberdeen, HBT) Wal
5000m: 14:38.1 1985; Marathon: 2:19:53 1986
Simon Axon was a Welsh Junior Cross-Country International who moved to Scotland and ran for Inverness Harriers before going to live and work in Aberdeen, and to join AAAC. He made his debut for North District in the 1984 E-G finishing fifth in a high quality Stage One. In 1985 he turned out for Aberdeen in the same race and was given the responsibility of tackling the long Sixth Stage for the team which finished sixth. In the 1986 Aberdeen team, Simon moved up three places to fifth on the difficult second stage, sixteen seconds behind the fastest time. Eventually Aberdeen AAC won by over a minute. In 1988, Aberdeen led from Stage Three onwards and Simon kept a healthy lead on Stage Seven which was just as well because the last leg runner had developed hamstring problems and only finished 21 seconds ahead. That was a second gold medal for Simon Axon and he added a bronze in 1989 when he moved past ESH on the final leg. In 1988 Simon had finished twenty second in the National Crocc-Country in the team that finished third.
He ran very well at longer distances too. He completed the 1986 London Marathon in 2:19:53. In 1987 he not only won the Inverness Half Marathon (65:44) in April, but also reduced his best time at Gateshead to an impressive 64:25 in June. Over 10K, he won the Aberdeen 10K in 1989 and 1990.