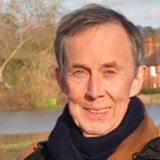 Des Austin was a very good road and cross-country runner with a best marathon time inside 2:20 but one who as a younger runner was not a stand-out performer. There were no big championship victories as an Under 13 or Under 15 or, indeed at Under 17. Des was good enough to complete the questionnaire for us and it makes an appropriate starting point.
Date of Birth: 15/2/1945
Club/s: Victoria Park, Manchester Harriers, Invicta, Highgate
How did you get involved in the sport to begin with? Athletics was not taken seriously at my school, but I started there going out for runs on my own. Was awful to start with, scraping into Glasgow University's second team and finishing nearly last in all my youths' and Inter-University races. It could only get better!
Personal Bests: 5000m – 14.34, 10K (Road) – 29.45, 10 Miles – 49.27, Half-Marathon – 65.33, Marathon – 2.19.19
Has any individual or group had a marked effect on your performances or attitude to the sport? Encouragement/advice from Vicky Park clubmates, especially the wonderful Andy Forbes, was crucial to improved performances.
What exactly did you get out of the sport? Testing myself, sense of achievement, making lifelong friends, travelling to interesting (and not so interesting!) places. Primarily, though, I ran, and still do, because I love running for its own sake – no other reason needed.
What do you consider your best performance? Fourth in Scottish Junior Cross-Country Champs 1966, behind three classy athletes – Ian McCafferty, Eddie Knox and Alistair Blamire, especially as I never thought of myself as a cross-country runner. Also enjoyed passing about 30 runners in the last 3 miles in first London Marathon to finish 18th.
Your least good? I won't even go there. Don't do negativity any more. No regrets!
Can you give some idea of your training? Big miles or high quality? Once I started working tried to keep things simple. 80-100 miles per week, mainly achieved through steady running to/from work, with long run at weekend and one session of fartlek.
Have you any thoughts on the sport today or its development? It's great to see so many people, of different shapes and sizes out running. Well done to Paul Sinton-Hewitt for starting Park Runs. I'll leave it to greater minds than mine to work out why the standard of distance running is so poor today in the UK.
Did you/do you have any heroes in the sport? Too many have had to be taken off my list now, I'm afraid. Lasse Viren was the first to go. Still more revelations on doping to come, on that I have no doubt. I do love watching Laura Muir race.
*
I first became aware of Des when, as a member of Clydesdale Harriers, I noted a frail-looking young entrant in the club's Youth Ballot Team Race of 1964 sitting on his own in Bruce Street Baths pinning numbers on a Glasgow University vest. There weren't many University runners who were still eligible to run as Youths. He was unplaced in the race. He next came to my notice in the Midland District championships at the Renton in 1965 when he finished 54th in the senior championships and out of the medals in the Victoria Park team that was second in the championships. Not bad bearing in mind how heavy that trail always was, the severity of the big hill and the fact that he was running against seniors and juniors. He followed this with 23rd in the national junior championships to win a team bronze in the four man Victoria Park team led home by Iain McPherson in 15th place. Others in the team were Pat Maclagan and John Lees.
*
The following winter season (1965/66) he was a member of the Victoria Park team that finished fifth in the District relay at King's Park, Stirling, on 30th October. The next big one was the Edinburgh to Glasgow eight man relay on 20th November where he ran the seventh stage in the team that finished third. He had the third fastest time on the stage, faster than Stark of Edinburgh Southern, Gillon of Edinburgh AC and other well known runners. In the traditional start to the new year he travelled to the Nigel Barge road race at Maryhill on 8th January. The club team was second, and Des was 12th behind Hugh Barrow (5th) and Pat Maclagan (10th) Back on the championship trail, he was second VP runner in the District championships proper, held on 15th January at Strathleven Estate, Dumbarton, when he was 16th, behind Pat Maclagan in ninth, one place ahead of John Lees, and two in front of Alastair Johnstone. The team won and it was only the first team gold for Des. His progress continued apace and he was fourth in the junior National at Hamilton Racecourse behind McCafferty, Knox and Blamire. This was the run that Des has said he considers his best. The three in front were all 'stars'. McCafferty was one of Scotland's best ever runners whether he was running on the track or over the country, Eddie Knox won gold, silver and bronze in the World Junior Cross Country championships and Alistair Blamire was an extremely talented athlete who represented Scotland on track and country. As far as the VPAAC team was concerned, he led team mates Reilly, Johnston and Lees to first team medals. He really was progressing in leaps and bounds. A bit unfortunate not to gain his international vest, he was probably just too old for the international junior age group and not yet established enough or far enough up to make the senior team.
That summer, 1966, was the only time he was ranked as a track runner when he ran six miles on the track in the good time of 30:37.6.
There were many county relay championships in the 1950's and 60's including a Glasgow Relay Championship and in October 1966 Victoria Park won comfortably with Pat Maclagan on the first stage finishing just behind Maryhill's Jim Brennan but Alastair Johnstone gave them the lead at halfway and Des and John Crawford increased the lead all the way to the finish. Later that month, 22nd October, it was the domestic Victoria Park championship and Des was fourth behind Barrow, McLaren and Maclagan. The moth ended with the Midland District Relay Championships at King's Park in Stirling on 29th October where Motherwell YMCA ran out the victors and the battle between Mills of Dumbarton and Middleton of Springburn for third place grabbed the attention of the press and spectators, Victoria Park was second team with Barrow, McLaren, Maclagan and Austin the men responsible. With the Edinburgh to Glasgow Relay looming, many clubs held trials to select their eight representatives. The Victoria Park trial was on 12 November and the result was a win for Hugh Barrow with Des Austin in sixth, one place ahead of Joe Reilly. This was to the second of his six runs in the relay and he was equal second fastest on Stage Seven and Victoria Park secured second place. Then in 1970 it was bronze once more after Des had run on Stage Four. The only other championship race coming up was the Glasgow championship and Victoria Park won it comfortably with six of the top eight runners. His second fastest time and sixth handicap placing in the club's Christmas Handicap towards the end of December ended the year for Des.
By then he had moved south to work running for various English clubs over the years – Manchester first, then Invicta (in Kent) and eventually Highgate Harriers in London. However Des Austin became serious about his running once more in the late 1970's. Running well south of the Border, he returned to run in the E-G in 1978 and promptly won his fourth team medal – silver this time, with Des tackling the exposed Stage Five straight into a blizzard, retaining second place and ending up third fastest, only ten seconds off the fastest. Five medals in five attempts was his record in 1980 when VP were third and he ran Stage Six. It is not true that after Des's Scottish club could only manage fourth in 1981 despite his efforts on classy Stage Six (sixth fastest), Des Austin refused to compete in the race again, since he had finally failed to win a medal!
By then the main focus for Des had become the marathon, although he finished a good fourteenth for Victoria Park in the 1978 senior national at Bellahouston Park. At this time he was the owner of 'Runners Need', a specialist sports shop in Camden, London. In 1979 he ran 2:24:58 at Harlow, finishing tenth. On schedule for 2:20 at 20 miles he then 'hit the wall' with a vengeance and vowed he'd never do another one. Not the first to ever make such a remark, I think! He was doing 7 minute a mile pace when Les Presland went flying past. That year he also ran 10,000m in 30:44.
In 1980 He ran the Preston to Morecambe in 2:19:30 to be second to Mike Critchley but 1981 was a very good year. Have a look at these:
2:20:16 in London for 18th
2:19:21 for 9th in Sandbach
2:23:20 in the British Pony Marathon in Bolton for 2nd;
2:19:19 in Glasgow where he was fifth.
The Glasgow time was achieved wearing the Scottish international vest: Jim McGlynn from Eire was less than a minute in front of him, with Alan Coles (Wales) second and Rod Stone (Northern Ireland ad Cambuslang Harriers), Colin Youngson, Des Austin and Alastair Macfarlane representing Scotland finishing closely together, Scotland won the team race and received specially inscribed SAAA gold medals.
Des Austin continued to record marathon times in the 2:20s for some years and as a veteran did very well
in Chicago (1985: 47th/2nd Master in 2:24:49). Chicago was also a very nice pay day with a cheque for several thousands of dollars!
London (1987: 74th/1st British vet/3rd vet overall in 2:24:14)
Boston (1988: 90th/6th Master in 2:28:38).
In 1988 he became owner of 'Runners Need' (as mentioned above) and by the time he sold the business in 2010 there were seven branches, and it has continued to expand.
It is all to common to see young athletes who do not succeed give up the sport before they even reach the ranks of Under 20's: Des is a lesson to them all. One of Scotland's Olympians at the start of the century was of the opinion that men succeed more from the lessons early failure than early success. It didn't take Des too long to learn from the lessons taught by the Glasgow University second team!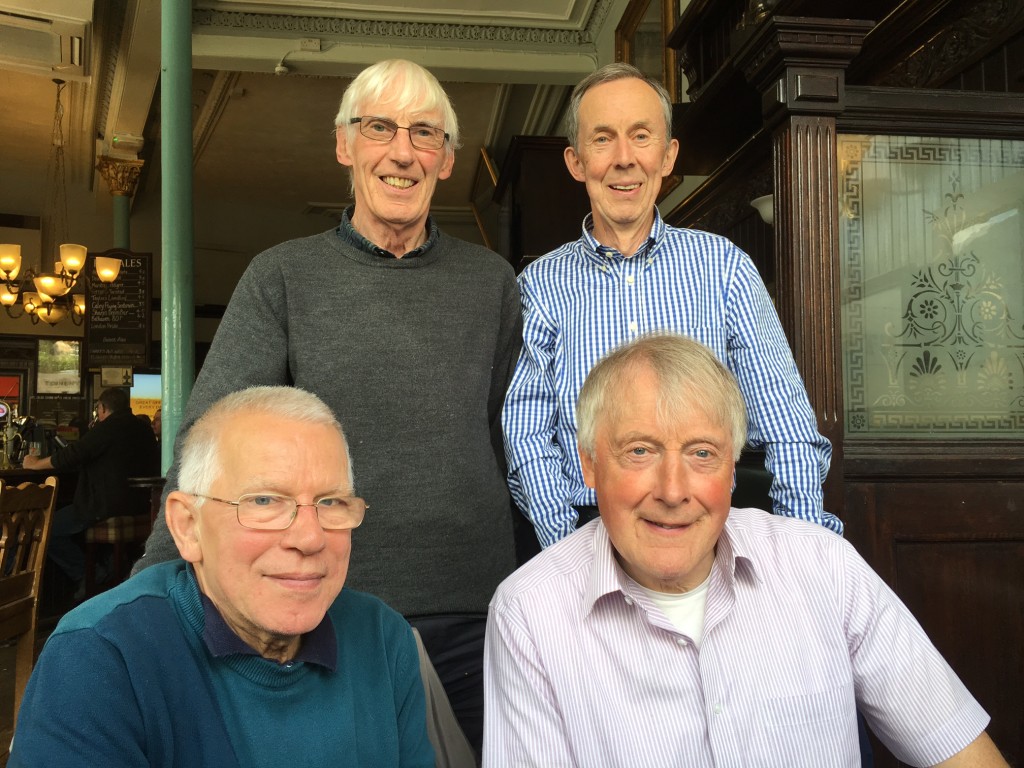 Hugh Barrow and Des at the back; Albert Smith and Alastair Johnston in front. September 2016
Des Austin – Marathon Career Record
| | | | | | |
| --- | --- | --- | --- | --- | --- |
| No | Date | Venue | Position | Time | Winner (Club) Time |
| 1 | 27 October 1979 | Harlow | 10 | 2:24:58 | Ian Ray (Salisbury) 2:16:04 |
| 2 | 19 July 1980 | Morecambe | 2 | 2:19:30 | Mike Critchley (Bolton) 2:18:17 |
| 3 | 29 March 1981 | London | 18 | 2:20:16 | Dick Beardsley / Inge Simonsen 2:11:48 |
| 4 | 21 June 1981 | Sandbach | 9 | 2:19:21 | Andy Robertson (Army) 2:14:23 |
| 5 | 23 August 1981 | Bolton | 2 | 2:23:34 | Stan Curran (Salford) 2:19:32 |
| 6 | 18 October 1981 | Glasgow | 5 | 2:19:19 | Jim McGlynn (IRL) 2:18:24 |
| 7 | 09 May 1982 | London | 52 | 2:22:28 | Hugh Jones (Ranelagh) 2:09:24 |
| 8 | 13 June 1982 | Gateshead (AAA) | 60 | 2:36:36 | Steve Kenyon (Salford) 2:11:40 |
| 9 | 17 October 1982 | Glasgow | 20 | 2:24:56 | Glenn Forster (ENG) 2:17:16 |
| 10 | 30 May 1983 | Gillingham | 2 | 2:23:56 | Terry Osborne (Royal Navy) 2:23:04 |
| 11 | 23 October 1983 | New York (USA) | 631 | 2:46:00 | Rod Dixon (NZ) 2:08:59 |
| 12 | 20 October 1985 | Chicago (USA) | 47 | 2:24:49 | Steve Jones (WAL) 2:07:13 |
| 13 | 02 November 1986 | New York (USA) | 398 | 2:48:05 | Gianni Poli (ITA) 2:11:06 |
| 14 | 10 May 1987 | London (AAA) | 74 | 2:24:14 | Hiromi Tanaguchi (JAP) 2:09:50 |
| 15 | 18 April 1988 | Boston (USA) | 90 | 2:28:38 | Ibrahim Hussein (KEN) 2:08:43 |
| 16 | 23 April 1989 | London (AAA) | 130 | 2:28:12 | Douglas Wakiihuri (KEN) 2:09:03 |
| 17 | 22 April 1990 | London (AAA) | 198 | 2:30:42 | Allister Hutton (Edinburgh SH) 2:10:10 |