Name: George Black.
Clubs: Fife AC – Scottish Vets – Glasgow Nightingale Cycling.
Date of Birth: 23rd November 1939.
Occupation: Retired.
How did you get involved in the sport? Could not afford a bike!
Has any individual had a marked influence on your attitude or individual performance? Very many, including Bill Stoddart, Bill Scally, Willie McBrinn, Jimmy Moore, Max Jones, Jim Dingwall, Steve James, Emmet Farrell, Gordon Porteous, Davie Morrison, Bobby Young, Pete Cartwright and Davie Fairweather.
What exactly do you get out of the sport? Fun and friendship.
What do you consider your best ever performances? Winning the European Duathlon Championships in 2007. Running a 2.30 marathon only 15 months after my first run.
Your worst? I try to forget them.
What unfulfilled ambitions do you have? To win individual gold at the Veterans International XC. Set 100 year old best time for the marathon.
Other leisure activities? Cycling. Sleeping.
What does running bring you that you would not have wanted to miss? Friendships. You get to know a person's character during long hard training sessions together.
Can you give some details of your training? This has varied according to age and target race etc. Everything from 13 weeks averaging 128 miles a week, to long spells of short high-intensity runs with an average of 19 miles a week. The latter might include 20x400m with 15 seconds 'recovery'. My record week totalled 196 and a half miles – and I almost went out again to reach the 200!
Currently I run between 30 and 40 miles per week, with nothing too severe so that I might avoid injury.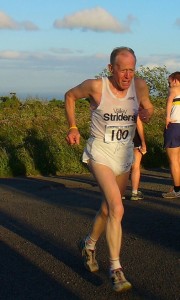 George Black in the 2012 Tour of Fife
Below is a long letter from George about his unusual and very successful athletic history.
"Until I began working shifts aged 21, I was a good club racing cyclist. My cycling at the time was mainly track and time trials. Aged 20 I managed 12th in the Scottish Best All-Rounder competition, over distances of 50 miles, 100 miles and 12 hours. I realised I had good endurance: my 12 hours distance was 248 miles – still a club record. At 22 I stopped cycling, got married, we had two children and I took no exercise other than occasional rounds of golf. I weighed 14 stone 12 pounds at one point, but mainly 12 stone 12 pounds.
Aged 42 I went out for a jog with a friend, hated it and was happy I caught a cold after a second run and had an excuse to stop – this was November 1981. In January 1982 I decided to try again but struggled to cover half a mile in a local park. A friend, Gordon Campbell was a Clydesdale Harrier, and told me about the Scottish Veteran Harriers. I went to Woolworth, bought a pair of 'training shoes' for £4 and began training at night. Gordon encouraged me and soon I was running up to 14 miles in the morning, several days a week.
I learned that the Vets Marathon Championships was being held in Glasgow on 21st March 1982 so thought I would give it a go. The Thursday before this event I went for a run in East Kilbride and met the wonderful Jimmy Moore, who caught up and slowed down to encourage me. He told me he was going over to Bellahouston to watch the race and agreed to give advice.
This was my first ever running race – a bloody marathon!
When I heard there were 'feeding stations' I thought I would be receiving bananas etc but of course discovered it was only water. Jimmy introduced me to three old guys and told me to stay with them and I would be okay – Davie Morrison, Gordon Porteous and Emmet Farrell (a legendary trio of World Veteran Champions). What an introduction to the sport! The marathon took place on a lovely day and I had an enjoyable run in great company, finishing in 3 hours 19 minutes. The winner was Bill Stoddart in 2.30, after a hard-fought contest with Andy Brown.
I was hooked but my right hip was sore so I had a week off and bought a pair of New Balance 660, which cost over £30. Next I began training with East Kilbride AC under Jimmy Moore's guidance and improved rapidly. In July I won the North Tyneside Peoples Marathon in Whitley Bay. This was for runners who had not broken 2.50. My time was 2.46.
I could not understand why a runner I caught with half a mile to go was trying so hard to beat me, as I thought we were outside the top ten. Obviously he knew we were racing for the win.
In August I managed 2.44 in the Inverclyde Marathon; and in September had my first track race – the Vets 10,000m at Coatbridge (3rd in 34.30). Bill Scally won in 33.33 from Dick Hodelet.
The first official Glasgow Marathon took place in October and I finished 60th in 2.36. I had no idea how high up I was, and in fact estimated somewhere inside the top 500, since masses had sprinted off and disappeared up the High Street at the start.
During Winter 1982/1983 I trained with a group of friends. I averaged 128 miles a week for 13 weeks, including 'double headers' at weekends with Charlie McDougall, another former cyclist. We ran over the Glasgow Bellahouston marathon course on four successive Sundays, all of them under 2 hours 50 minutes. This was after a long run the previous day.
In March 1983 I returned to the Vets Marathon Championship at Bellahouston and won by 12 minutes on a very windy day by in 2 hours 30 minutes. Willie McBrinn ran two laps of the three lap course with me before I discovered he was using it as training for the London Marathon and only intended doing the two laps. Thanks, Willie!
Willie duly went to London and set the current British over 55 marathon record. After he turned 60, he also broke the British record for that age group at the Lochaber Marathon.
A change of jobs meant more responsibility and travel but in July 1985, at the age of 45, I managed to run a 71 minute half marathon at Musselburgh. The best part of that day was beating Peter McGregor and getting my name added to the 'book' he kept of people that had beaten him. Yes – a result!
My job took me south in 1988 and I joined the Leeds Valley Striders in identical circumstances to when I joined East Kilbride. I told my wife I was going out for a run and would look for another runner to find out about local trails. I met Max Jones who took me under his wing and introduced me to his club.
Probably my best year was 1995, when I was 55 years old. That February I ran an out and back road ten miles in 56.36. In March I contested the Hull 20, finishing in 1.58.06, which is still the British age group record. My five mile splits were 29.12, 29.11, 30.23 and 29.20. I ran with Jim Dingwall who was living in Hull. I did not realise it at the time but sadly it was the last occasion I would meet this fine man. (Back in October 1982 I took part in the Scottish Vets half marathon at Grangemouth and was amazed to see Jim marshalling a Vets race out in the wilds. That year he had finished the London Marathon 5th in 2.11 and yet was still willing to help out at a Vets event!)
In March 1995 I was second in the over 55 British Vets XC Championships, behind Steve James, which was no disgrace. That October in the British Vets XC Relay I was fastest M50 individual, recording 19.21 for 6k.
Other achievements included the following. Three wins (aged 50, 70 and 75) at British Vets half marathons. Three individual silver medals for Scottish Masters in the British and Irish XC International. First places in Scottish Vets Marathons; and in Cross Country Championships.
My best age-graded performance was in December 1996 at the Abbey Dash in Leeds. At the age of 57 I ran 10km in 34.49 which was rated at 91%. The course was remeasured later and found to be 50 metres too long.
I was a member of the British Masters gold medal team at the 1991 World Championship marathon in Turku, Finland.
Other Personal Bests included one mile road in 4.54 at 45; 2 miles road in 9.59 at 46; 3km track in 10.13 at 47; 4 miles road in 21.36 at 53; 5km road in 16.48 at 55; and 5 miles road in 28.28 at 57. Another race I remember well was the 1983 Piccadilly Radio Marathon in Manchester, when I finished first M40 in 2.36.
In Cycling, I won the over 60 Scottish Road Race and also the Series. In the British over 60 road race I finished third. In addition I was age graded winner of the Lennon Trophy and the Boomerang Trophy.
In Duathlon, I won the 2007 over 65 European Championship. In the 2010 World Championships I was second over 70. I enjoyed numerous British and Scottish age group wins from over 60 to over 75. In fact in these championships I was only beaten once since I learning about such events and making my debut in 1999. Why not try Triathlon? I'd probably drown.
After having a heart attack in January 2014, I had a stent fitted. Many veteran athletes have had the same operation and I call us the Stenturions! I was told to continue training and racing. Would we have survived had we not been so fit? "
[After this setback, George Black was second M75 in the 2015 British and Irish XC International, only four seconds behind the age group winner. Then in March 2016 in the East Hull 20, George set a new British M75 20 miles road record, and was also first M70 by just 23 seconds. His official time was 2.50.12, which beat the previous record, set a week earlier, by 11 minutes 48 seconds. This means that he currently holds the British records for 20 miles aged 55 (1.58.06) and M75. Amazing durability! (Ed.)]
[On 29 October at the St Andrews Park Run, with a time of 21:46, George recorded the first sub-22 minute Parkrun recorded by a 75+ in Britain. Thirty minutes earlier in England, Roger Wilson had established the previous record! However in November at the 2016 Masters XC International in Glasgow, Roger got his revenge by winning the age category, with George a meritorious second yet again. George wrote "I was more pleased with the team silver, which none of us expected. What can you say about the wonderful M80 Walter McCaskey!"]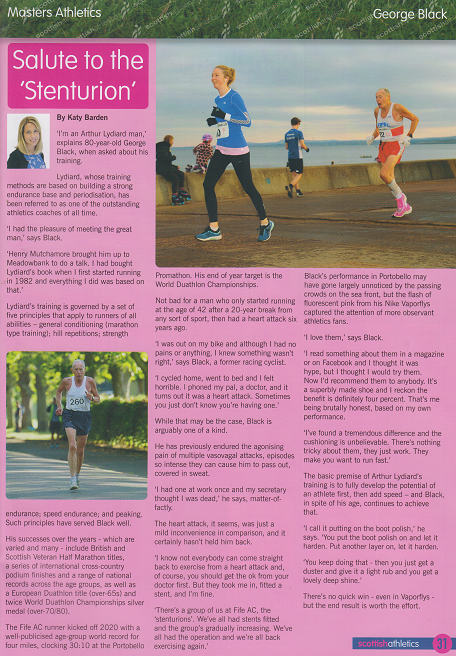 (From Scottish Athletics, Spring 2020)