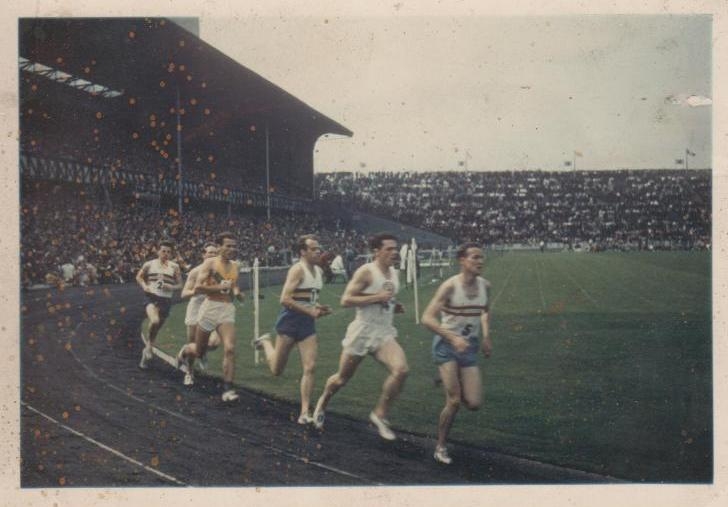 Steve Taylor leads Graham Everett, Derek Ibbotson, Laszlo Tabori, Ken Wood and Stan Taylor at Ibrox in the Mile in 1960
Looking at athletics memorabilia is fascinating: we learn not only about the events in which an athlete has been competing but also about the wider field of athletics at that time. Scottish athletics in my lifetime has undergone any changes but none more so that in the type of competition offered to the athletes or to the range of competition either. We have Andy Forbes' programmes and cuttings elsewhere on the site and what we have here are some of the photographs and programmes from Steve Taylor's collection.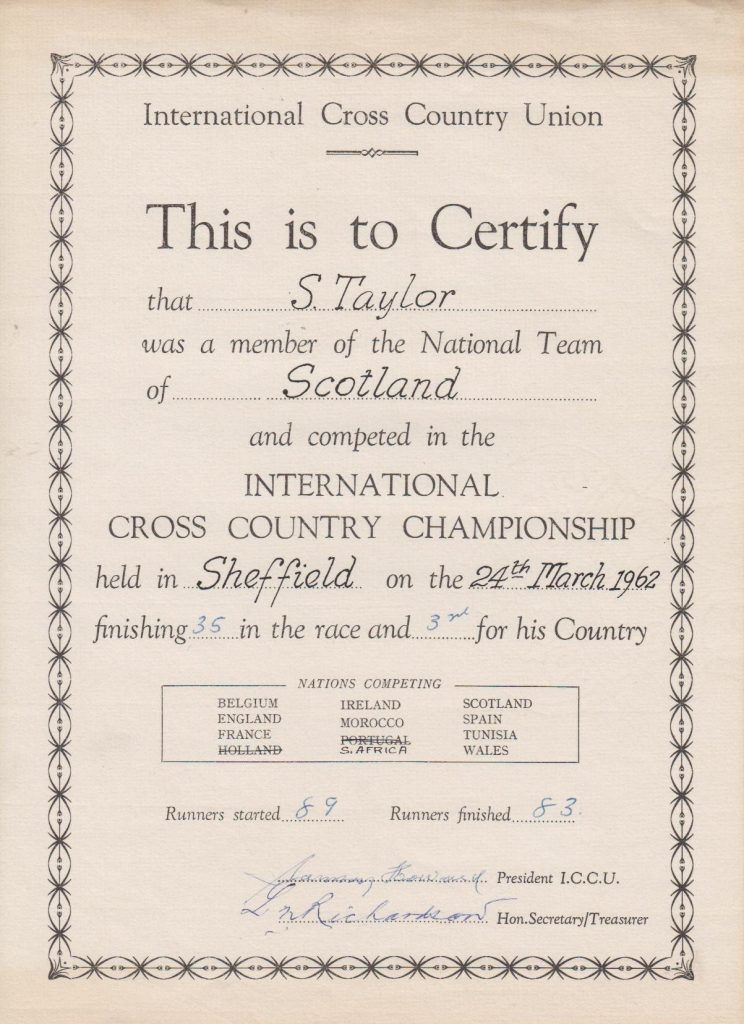 Certificate for thirty-fifth place in the International Cross-Country in 1962: He was third Scot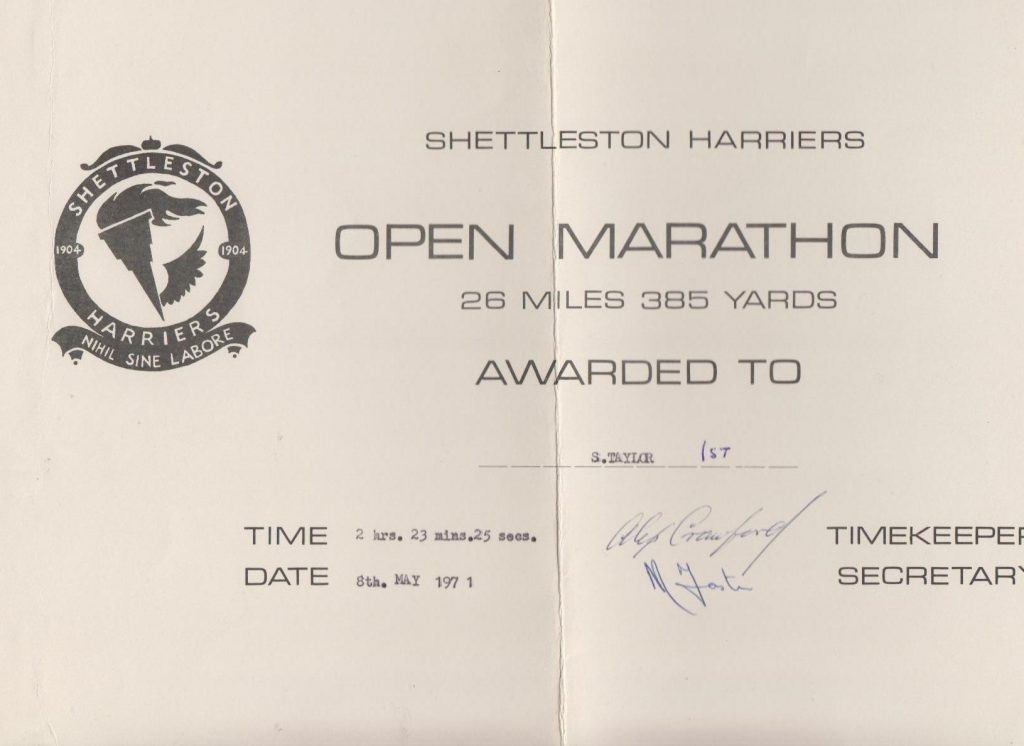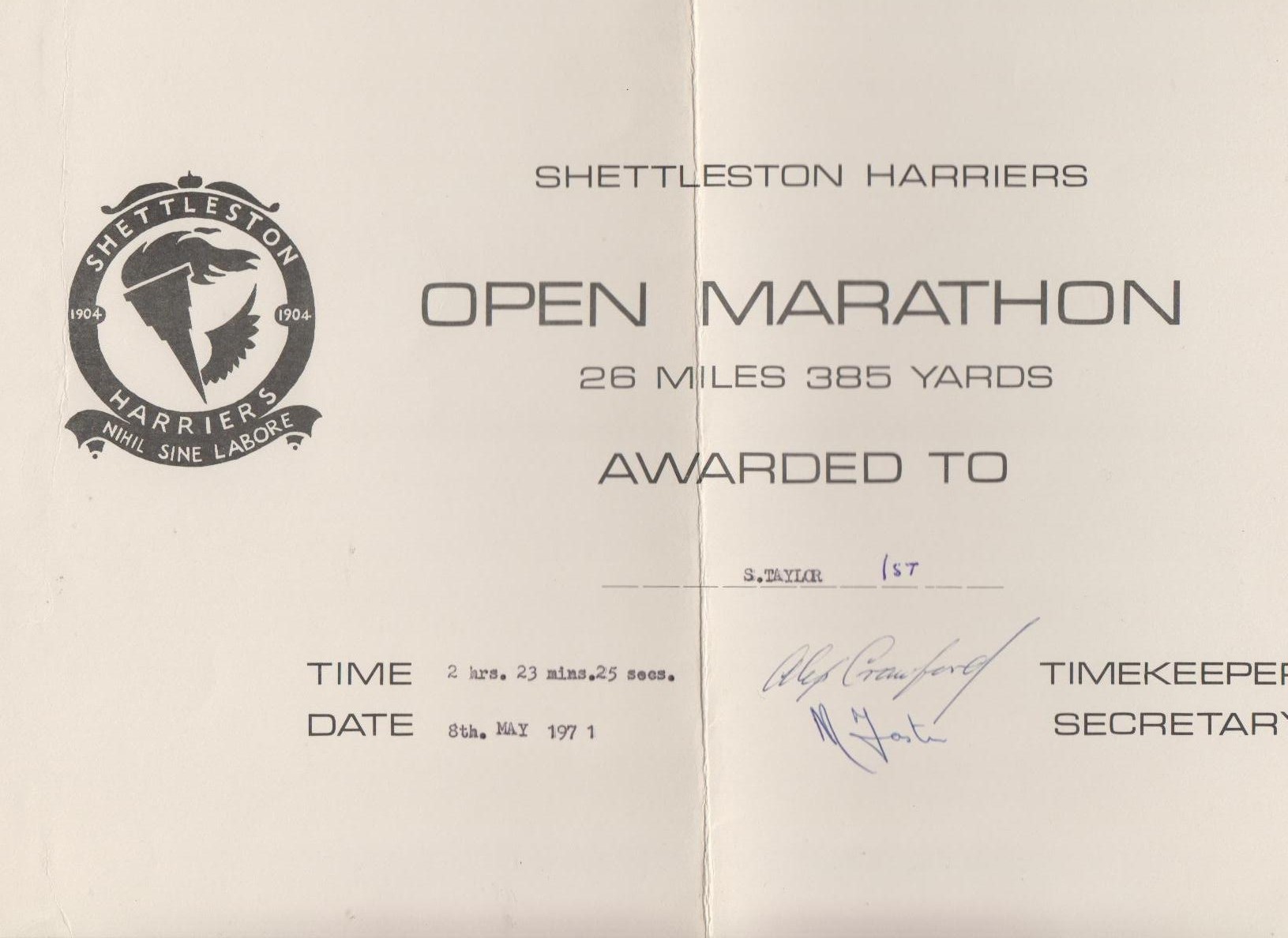 Certificate received after winning Shettleston Marathon in 1971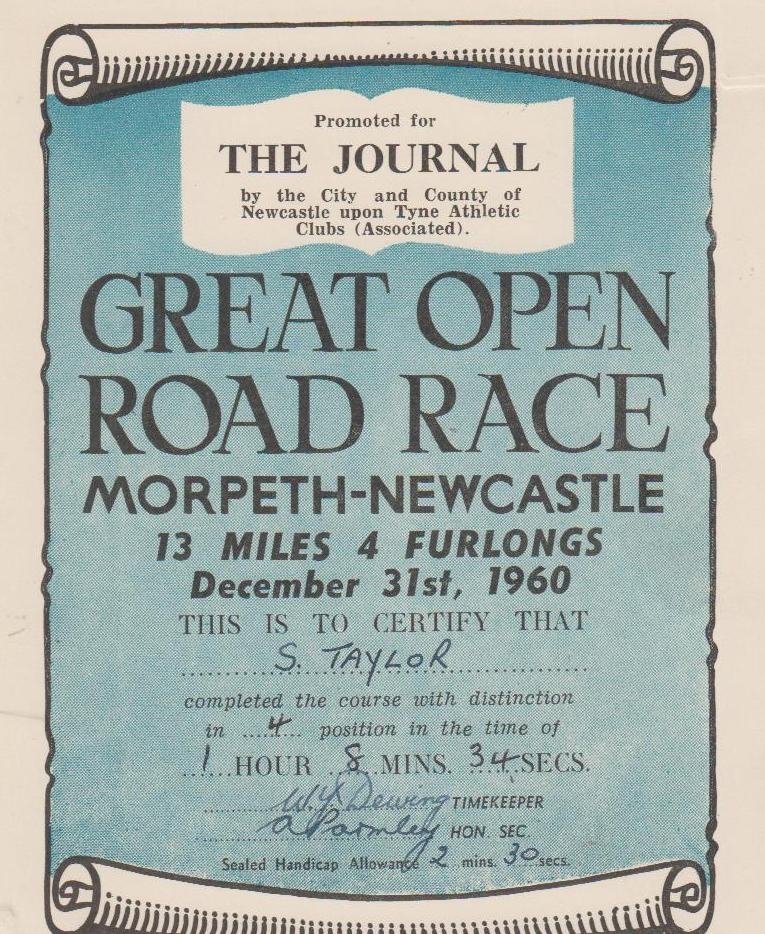 Certificate for fourth place in Morpeth to Newcastle, 1960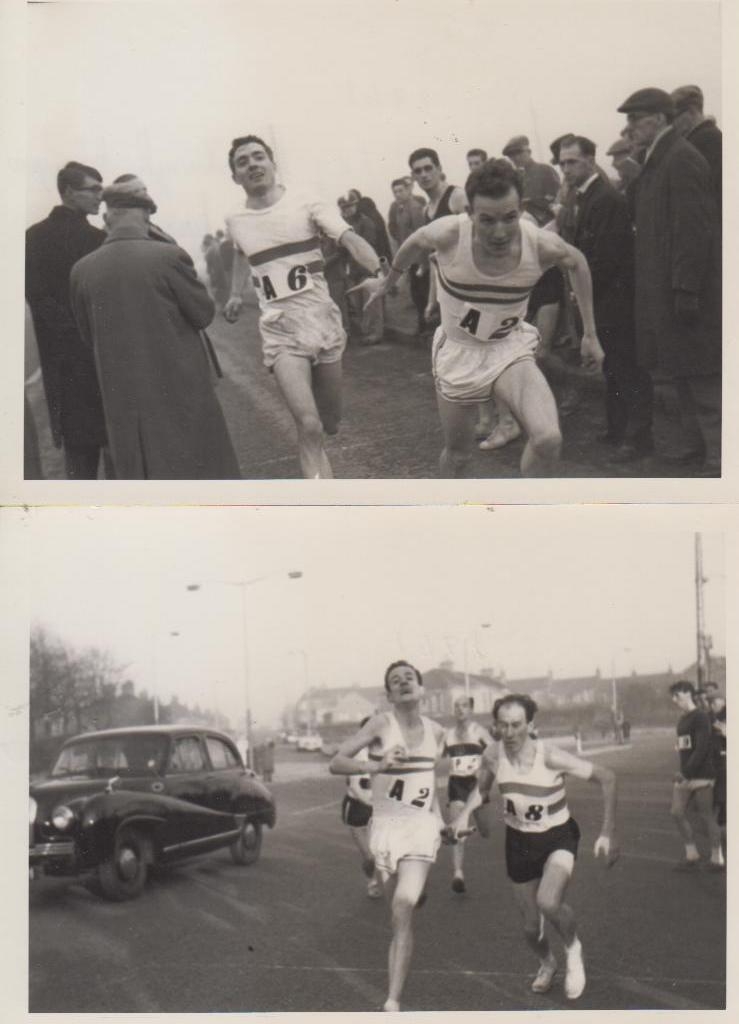 1961 E-G for Aberdeen AAC: Top Duffy to Taylor, Below Taylor (3rd fastest on stage 6) to Howie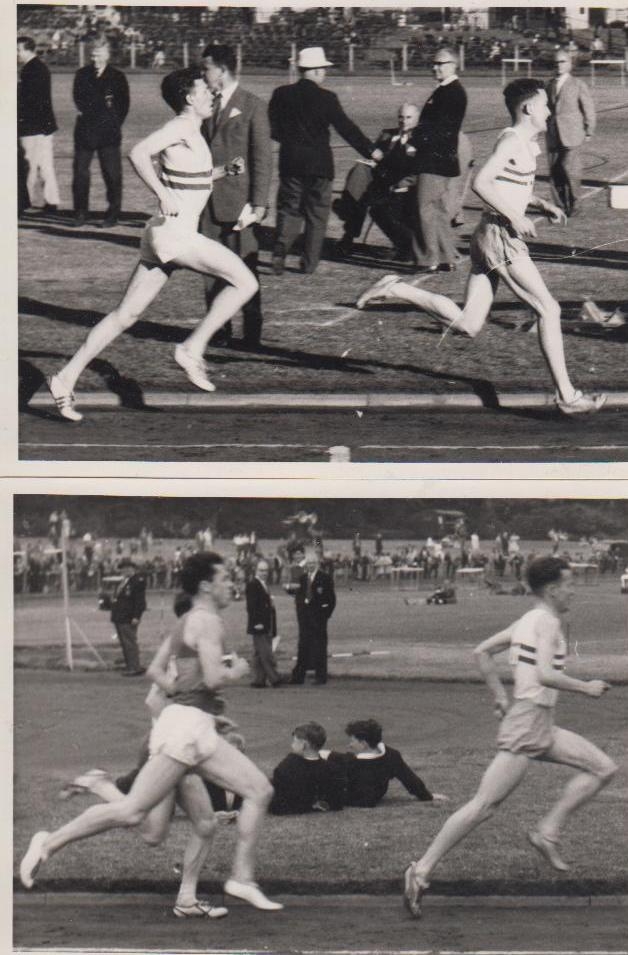 SAAA Mile, 1960: Top leading Ken Ballantyne in the Heat; below leading Graham Everett in the Final (Steve was second)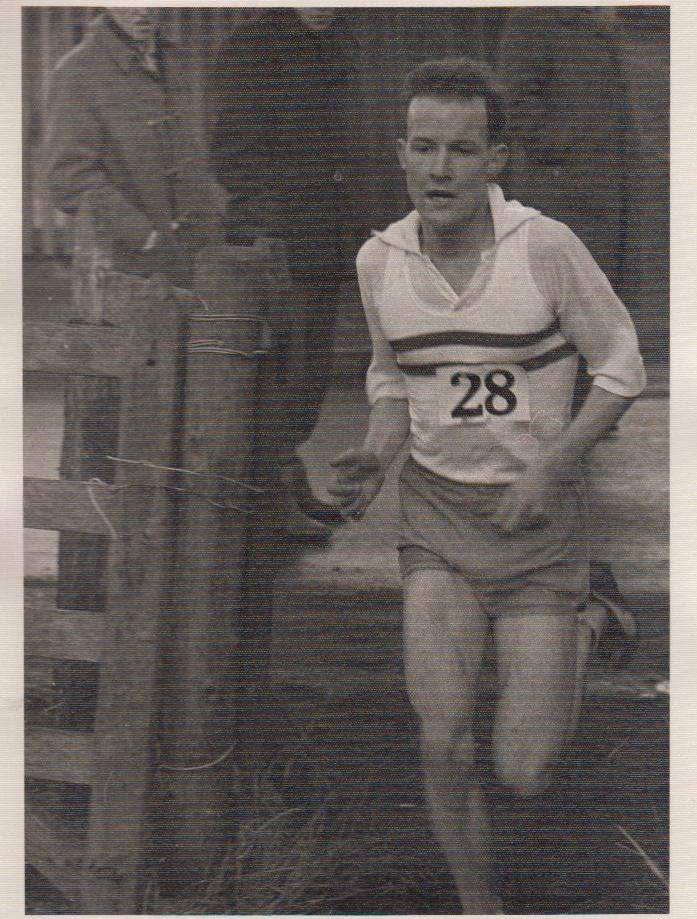 En route to victory in the Carry Cup Trophy Race (Aberdeen v Dundee Cross-Country)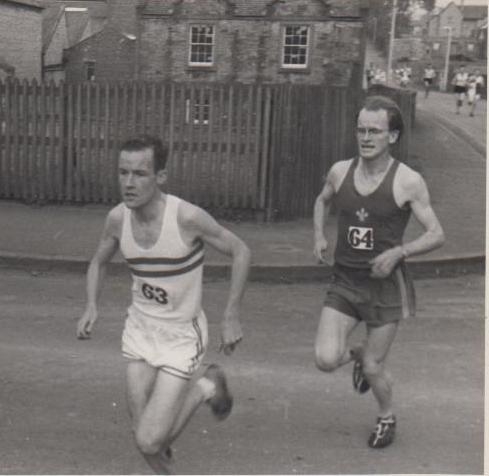 North East CC League, Dundee 1961. Leading from Alastair Wood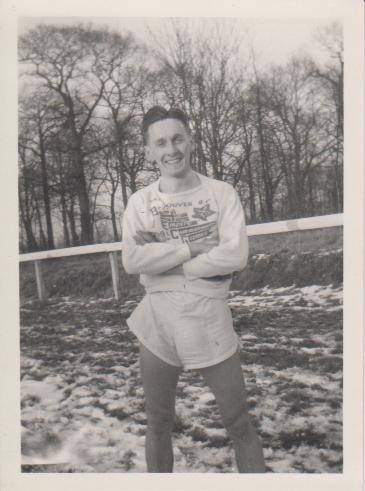 Joe McGhee at Hamilton Race course before the SCCU Champs, c 1957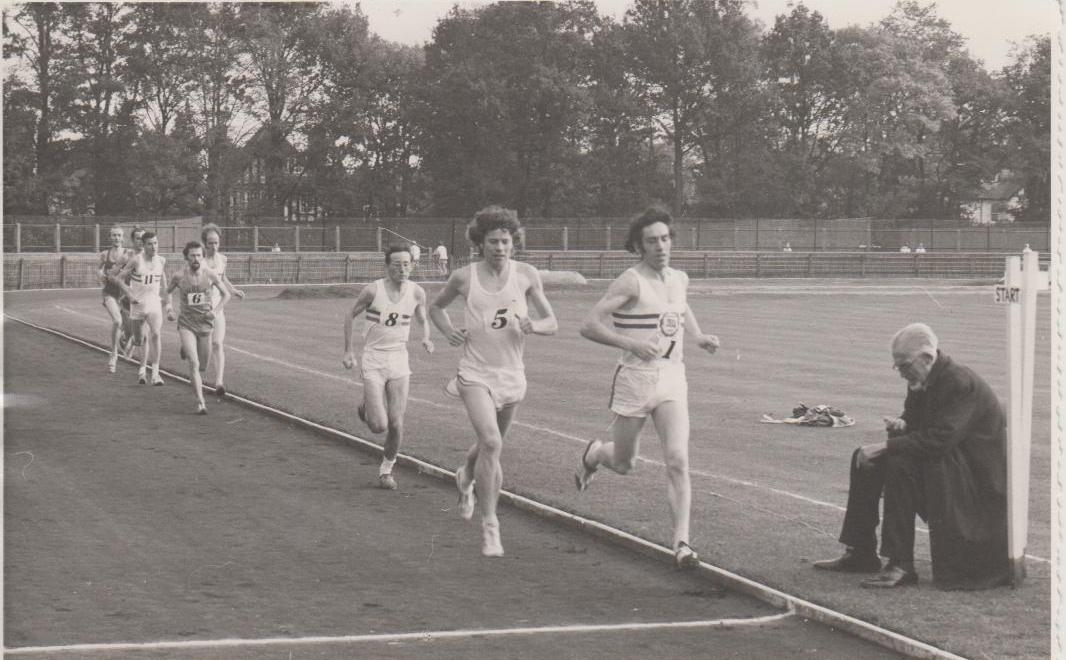 1972, Walton on Thames. RRC 20 miles track race shortly after the start. Jim Alder (1) set a new UK best of 1.40.50. Steve (11) finished 5th.
Don Ritchie, the future ultra running great, was 6th. Don is just in front of Steve in this photo. In front of Don is Ian Macintosh (6), who won the 1978 SAAA marathon
This programme front cover is for the 1960 International at Hamilton Park Racecourse.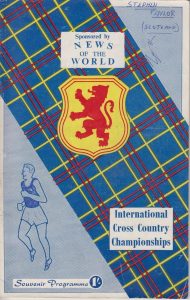 .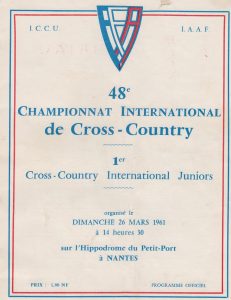 .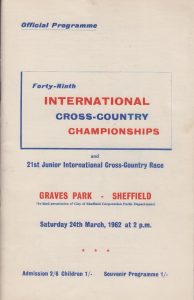 .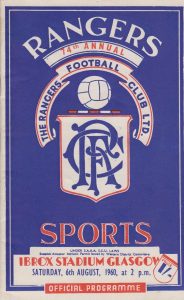 The Rangers Sports was a wonderful meeting with top athletes competing on the same track and sharing the dressing rooms with the regular Scottish runners who were competing in handicap races.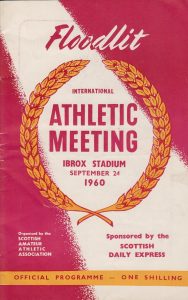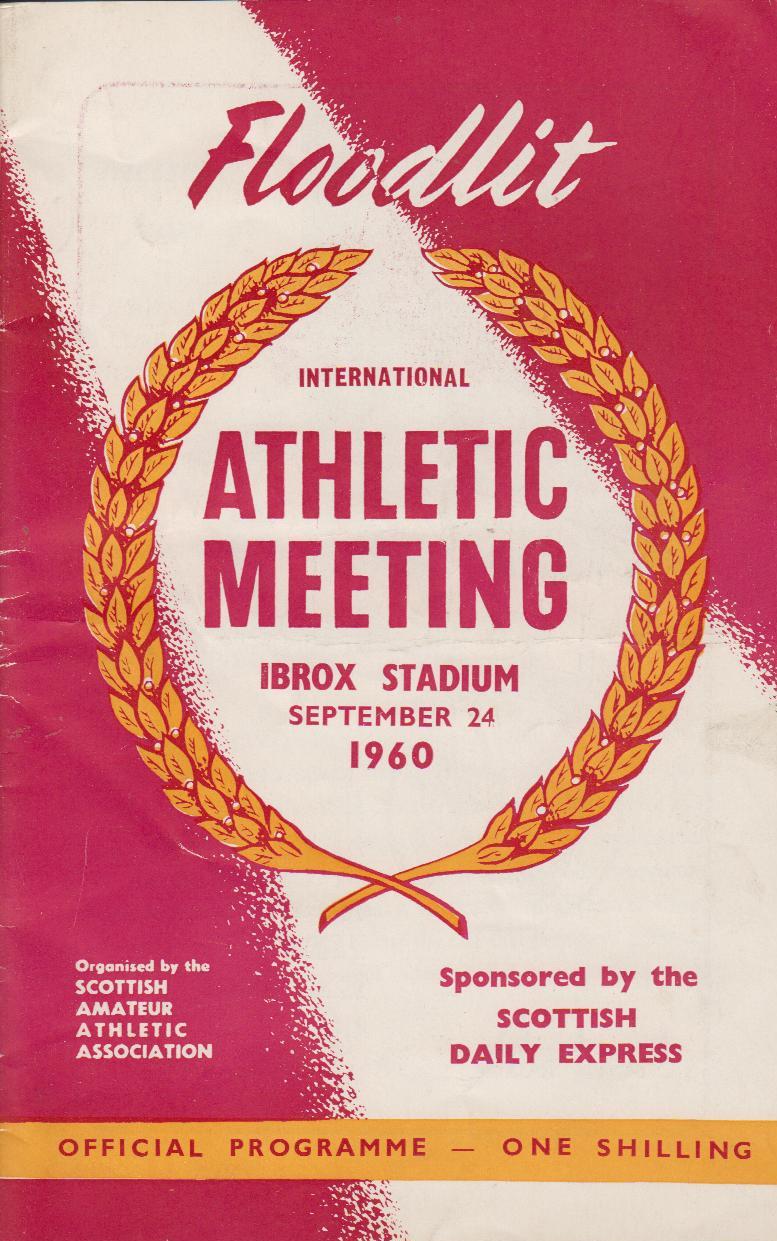 This is a particularly interesting one in that it was one of the very first floodlight meetings in Scottish athletics. Many of the runners from the just-finished Rome Olympics. There were many athletics meetings originating in the 1920's where Olympic athletes came to Glasgow after the meeting before returning home: one of my first meetings was in broad daylight but included such as Lindy Remigino, Herb McKenley, Arthur Wint and others on their way home from Helsinki. These days have gone but it must have been a wonderful experience for Steve to run at such a meeting.
Colin says: "In 1960 many Olympic stars came to Glasgow. Steve had watched them in Rome and here he was the pacemaker in the Mile! Bill Dellinger (who in 1964 was third in the Olympic 5000m) won in front of Graham Everett, Laszlo Tabori and Mike Beresford, with Steve 5th in front of Max Truex (USA) etc. The three miles featured – in finishing order – Albie Thomas (Aus), Gordon Pirie, Nyandika (the first successful Kenyan), Frank Salvat and Alastair Wood. The 440 yards featured Otis Davis (1960 Olympic 400m gold), Robbie Brightwell and Mal Spence. The Women's sprints included Australia's 1956 Olympic 100m/200m (and 1964 400m) victor Betty Cuthbert. Steve also collected some autographs and, for my own collection, I have printed out folk like Thomas, Tabori, Dellinger, Truex, Derek Ibbotson plus several top Scots and English."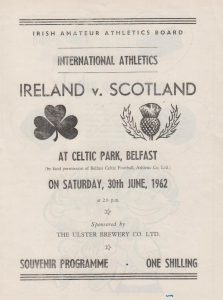 There were often such international fixtures against the smaller nations such as Iceland and the other Scandinavian countries and they were great occasions for the athletes, and the spectators but it seems that there are no facilities for such fixtures in the twenty first century.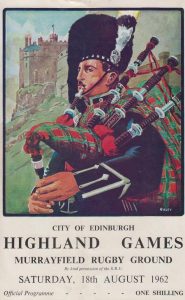 The Edinburgh Highland Games, traditionally held on the short, grass track at Murrayfield, also attracted the very best athletes and there were some surprisingly good times run in dire conditions there.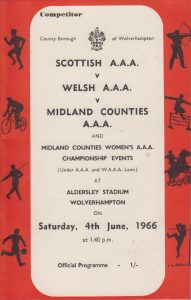 .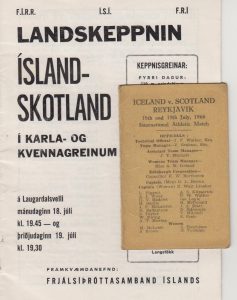 .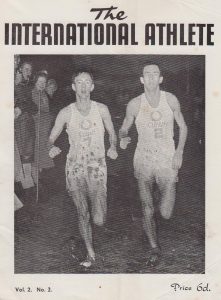 This was one of a series of attempts to have a dedicated athletics magazine in Scotland. This one was edited and produced by Walter Ross as a successor to the first rate 'Scots Athlete' magazine.
The two athletes pictured, both running cross-country for Cambridge University, are Mike Turner and Herb Elliott, the legendary Australian miler.
.