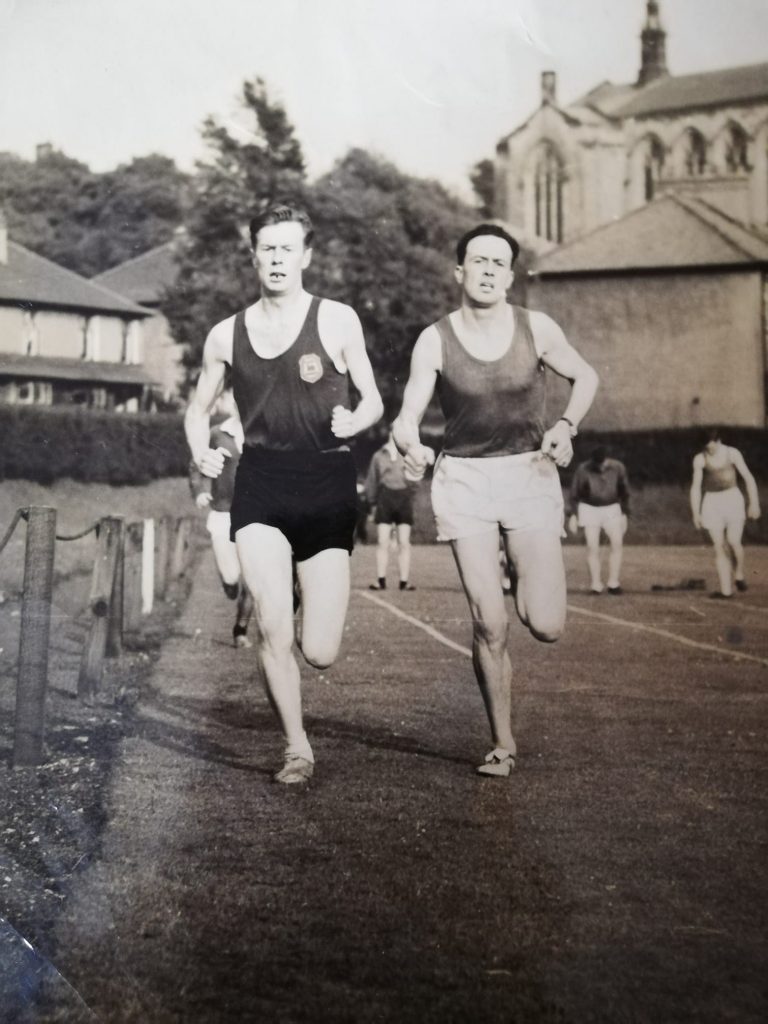 The picture above shows Ronnie Macdonald of Maryhill Harriers on the left with Graham Everett of Shettleston Harriers on the right training together at Balgray in the West End of Glasgow in 1960. Graham would go on to win the SAAA Mile title eight times from 1959 and represent Scotland on the track and over the country. Ronnie would have a good career as a runner but not quite as illustrious as Graham's although both men would go on to serve their clubs and Scottish athletics for decades.
Ronnie joined Maryhill Harriers in 1947 and stayed with the club all his life. He was an honorary club member, an honour only given in recognition of service to the club. Ronnie did serve the club well – as a runner, as an administrator, as an official, as a coach and, like all club men of his generation, in ways that do not fit into any of these categories.
As a runner, he performed well right from the start. In season 1948/49 he won the Mitchell Shield which was presented for the club's Youth (Under 17) championship. Two years later he won the Rangoon Trophy which went to the first club Junior athlete to finish in the National Championship. He is however better known as a cross-country man and his best years as a runner were the 1950's. If we look at his performances over that period in the Edinburgh to Glasgow Relay and the National Cross-Country Championships we see this.
Edinburgh to Glasgow Relay National Cross-Country Championship
| Year | Stage | Performance | – | Age Group | Place | Place in Club Team |
| --- | --- | --- | --- | --- | --- | --- |
| 1949 | 7th | 8th – 8th | – | Youth | 35th | 1st |
| 1950 | 5th | 12 – 10 | – | Junior | 56th | 4th |
| 1951 | 4th | 17 – 15 | – | Junior | 17th | 1st |
| 1952 | 5th | 11 – 10 | – | Junior | 31st | 3rd |
| 1953 | 5th | 11 – 10 | – | D N R | – | – |
| 1954 | 4th | 14 – 10 | – | Senior | 94th | 5th |
| 1955 | D N R | – | – | Senior | 114 | 5th |
| 1956 | 5th | 18 – 18 | – | Senior | 130 | 6th |
| 1957 | D N R | – | – | Senior | 123 | 6th |
| 1958 | 4th | 15 – 17 | - | Senior | D N R | – |
| 1959 | D N R | - | - | Senior | 104 | 3rd |
| 1960 | 5th | 18 – 19 | – | Senior | 154 | 6th |
You can see that over the period he ran in 9 Edinburgh – Glasgow Relay Races at a time when the standard was very high – Victoria Park, Shettleston and Bellahouston Harriers all had very strong teams for instance – only twice did he drop a place but over 7 races he picked up no fewer than 10 places. He ran in two after the 50's – in 1961 he he ran on the 5th stage and in 1962 on the 8th stage. Over the country, he was a scoring runner for the club in the national in every race during this period and was in the first three home for the team four times.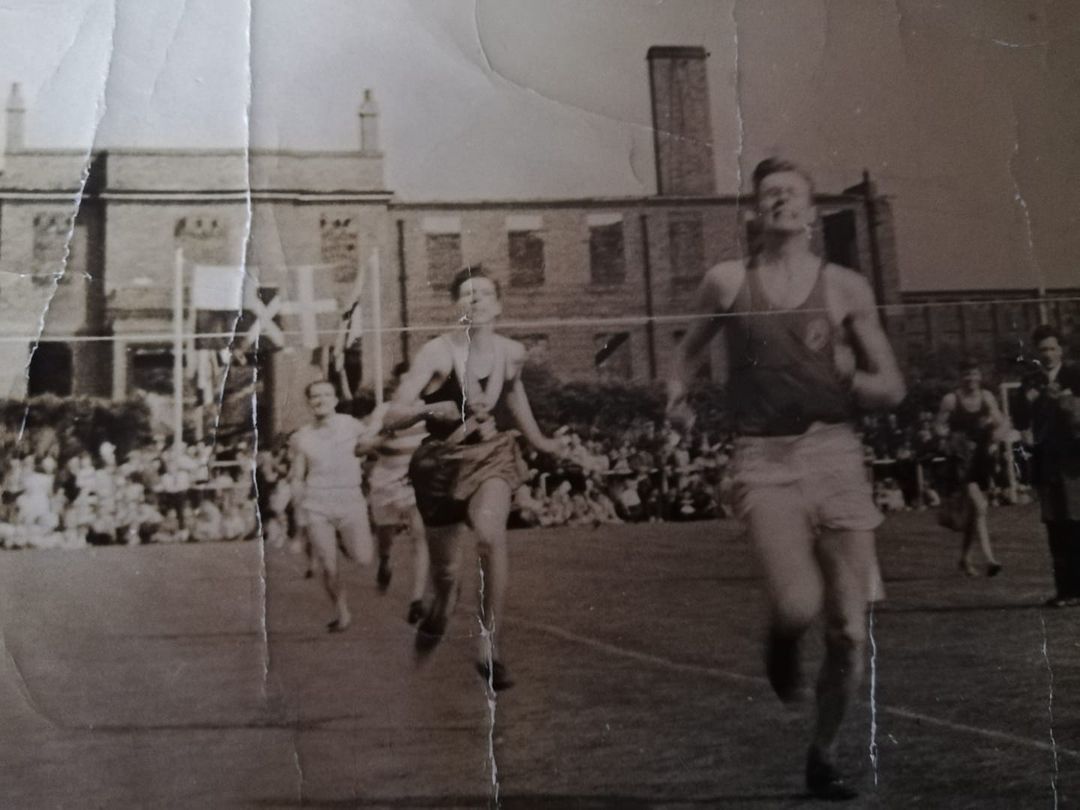 Ronnie winning the handicap mile race at Singer's Sports in Clydebank
On the track, Ronnie ran in almost all of the Sports meetings: Highland Games, championships at club, local, district & national levels as well as club events. There was a fair degree of success too as the medals on this page show and, at a time when money never changed hands and prizes were in kind rather than cash, one of his trophies was a Westminster chiming clock. He ran in the Glasgow Police Sports as well as in the Rangers Sports at Ibrox, two of the biggest meetings in Britain never mind Scotland. One of the best supported meetings in Glasgow at the time was the Transport Sports at Helenvale track and he was there too. He did of course run in the Maryhill Harriers club championships and some of the medals won are shown on this page.
The photograph from Singers Sports above is very interesting. The runner in the Bellahouston Harriers vest with the St Andrews cross is a chap called Henry Kennedy who emigrated to Canada soon after this and ran for that country in the 1954 Empire Games in Vancouver. He ran in the three miles and finished 11th out of the 20 entries, one place behind Al Lawrence of Australia, in 14 minutes 20 seconds. He was four places behind Scotland's Ian Binnie. The summer season does not only cover track & field; there is also a comprehensive hill running programme. Ronnie was involved there too: he tackled Ben Nevis no less. He ran in 1968 finishing in a time of 3:04:04 and in 1969 he finished in 3:16:43.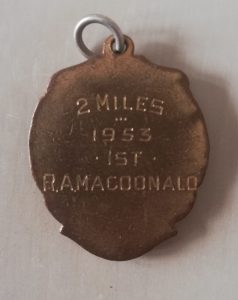 Club Two Miles Championship, 1954
By 1970 he had been running since 1947 – 23 years – on all surfaces using shoes that for many years were simply plimsolls with no padding or cushioning at all. Ronnie was a big man and consequently he was starting to have trouble with his knees. They would eventually stop him running seriously although he could still be seen out training with Maryhill team mate Tommy Harrison. When the Scottish Veteran Harriers appeared on the scene in 1970, Ronnie embraced the concept of age-related competition and joined in as enthusiastically as he could. John Emmet Farrell spoke of the 'approximately twelve apostles who were in at the start of the movement' and Ronnie was one of them. The first Scottish Veteran Harriers race at Pollok Estate on 20th March 1971 was held over 5 Miles. Approximately 30 runners from an entry of 42 took part, which included eight teams. There were age categories for Over 40, Over 50 and Over 60. The races were a terrific success – at one point a 39 year old runner was allowed to run for a year as a "pre-vet"! Ronnie ran as many as he could – eg in 1977 the SVHC published race results which included Ronnie in the following results:: in a 10 miles at Grangemouth on 9th April, he was timed at 76 minutes exactly; in a 5000 metres run at Bellahouston on 15th June where there were two races (an A and a B), he ran in the A race and was clocked at 19:43, and in a 10,000 metres on the track at Bellahouston on 7th December, he ran 43:45.
He ran in open and veteran races at home in Scotland and abroad too. For instance, further afield,
there was a world veterans 25K race in the Isle of Man on 20th May, 1973, where he finished 242nd of 500 finishers in 1;50:31. There were athletes from 23 countries taking part. In addition to the home countries of Scotland, England, Wales and Isle of Man, there were teams from Germany, Belgium, France, Luxembourg, Italy, Holland, Poland, Austria, Czechoslovakia, Norway, Sweden, Finland, Canada, USA, Japan, Korea and Australia. The teams are mentioned because veteran championships would keep growing – by 1979 in Bolton there were all these countries plus. The vets movement was worldwide and Ronnie embraced the whole concept while not abandoning the domestic scene. Indeed his club had many members who enthusiastically supported Veterans (or Masters) athletics – names like Emmet Farrell, Gordon Porteous and Tommy Harrison were top class competitors in this form of athletics.
he took part in the first World Masters Championships in Toronto in 1975, and in the World Masters 25K Road Race in Glasgow in the 1980's. He also competed in the Shot Putt in the Scottish Veteran Harriers Championships.
in Bolton in 1979, there were World Vets 10K and 25 K races. He ran in both. In the former he was 349th of 791 finishers in 41:39, and in the latter he was 432nd of 632 who completed the course, his time being 1:56:26. By now there were athletes from Guyana, Venezuela, New Zealand, South Africa, Lebanon and Romania in addition to those who had competed at Isle of Man in 1973.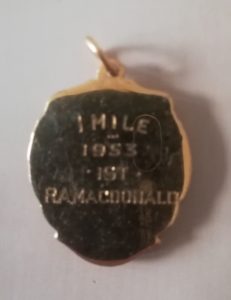 Club 1 Mile Championship Medal, 1953
At home, The SVHC Magazine in 1977 had the following results : In a 10 miles at Grangemouth on 9th April he was timed at 76 minutes exactly; in a 5000 metres run at Bellahouston on 15th June where there were two races (an A and a B). he ran in the A race and was clocked at 19:43; and in a 10,000 metres on the track at Bellahouston on 7th December, he ran 43:45. On the country he ran in almost every vets championship and in 1978 he he was 58th at Irvine Moor – four places and 11 seconds ahead of his training partner Tommy Harrison.
He was also operating in the wider sphere of athletics administration at this time. Although Ronnie was a runner, there was more to his contribution to the sport than that. The 1950's was a time when most members followed the belief that "you did what your club needed you to do". It was also usual for club members to attend the club's Annual General meetings and for there to be nominations "from the floor" for the various committee positions. Ronnie followed this pattern and, he was elected club Secretary for season 1957/58 – a mere ten years after joining the club as an Under 17. For some reason he missed the following season but was elected again in 1959/60 and 1960/61 as Club Captain. He stepped back a bit for a year and was a General Committee member in 1962/63. He went on to hold every post of any significance in the club and was President in 1968, the year of the club's 80th birthday celebrations. The page from the club handbook below indicates the quality of committee members at the time – George Dallas. George Barber, Gordon Porteous, Tommy Harrison, David Bruce, Freddie Graham were all significant contributors to Scottish athletics.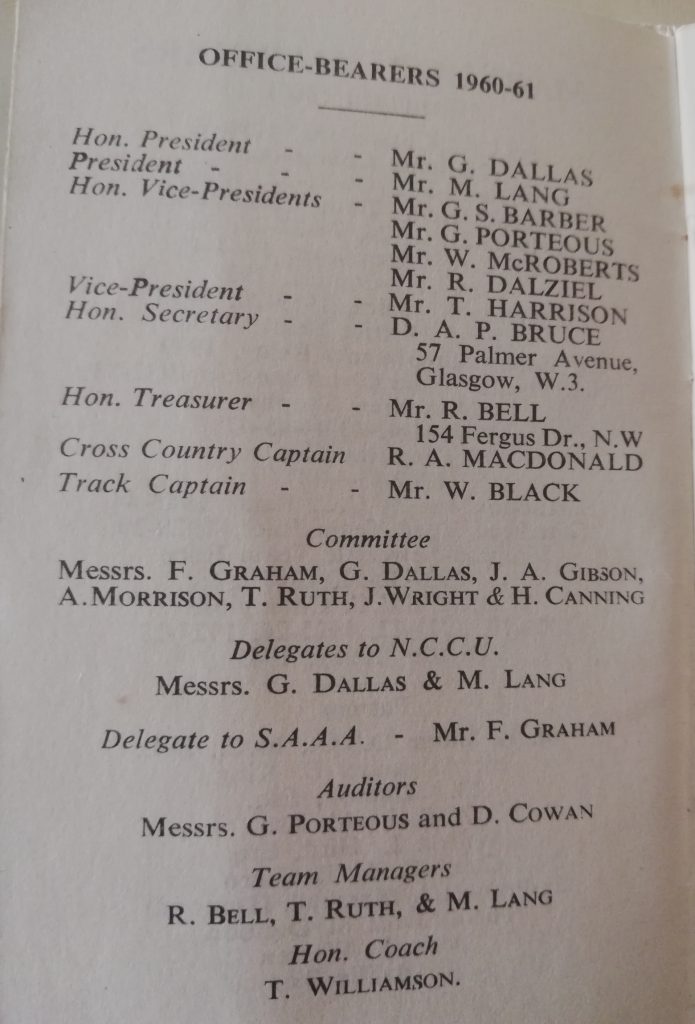 Ronnie worked his way up through the stages on club, County, West District, and National Cross-Country Union Committees. These led to him officiating at Cross-Country races from club events to national championships. In the District and National Championships he worked all through the 70's and 80's, usually as one of a team of recorders or with the Area Control Stewards. The other major event of the winter season was the Edinburgh to Glasgow eight stage Relay and there he also officiated, usually as a recorder on two stages of the race. Of course as an experienced and established member of the SCCU, he was also one of the selectors for National teams, and travelled with them to the race. Within the club, he was one of the principal organisers of the Nigel Barge Road Race, the second longest running event on the winter calendar with only the Beith New Years Day race being of an older vintage.
Ronnie had several qualities that are sadly lacking in many officials in most sports: first, he was a very good organiser; second, had a sense of proportion; third, he had common sense; fourth, he was always clear in what he had to say – no obfuscation, deliberate or otherwise. And of course having been a runner he understood the sport from the competitors point of view. A wee story:
At the 1985 National Cross-Country Championship at the Jack Kane Sports Centre in Edinburgh, one of our club members arrived early and declared the team for the Senior Race. There was a good athlete there who unfortunately was not in the programme but the chap collecting the team numbers gave him the number of another athlete who was not going to be there. The chap ran in the other athlete's place. The chap ran well. This was spotted and a complaint raised. Two of us from our club were summoned to meet a disciplinary panel in Glasgow the following Tuesday where we met a three man panel, one of whom was Ronnie. Two of them were very picky and sticky, telling us that we shouldn't have done it. In vain we told them that it was an unauthorised alteration to the club team and then Ronnie spoke in his usual good mannered, good humoured fashion and said something like: "Every team manager, if he is being honest, will tell you that at some time or other he runs an athlete under someone else's name. But if you are going to do it, make sure that you don't use the name of someone who has run several times for Scotland, and make sure he doesn't interfere with the race!" And that was it. After minimal discussion, we promised to discipline the errant club member who declared the team, were warned not to do it again, and that was it. That was Ronnie dealing with the matter in a good, common-sense fashion. There was no lecture, he just listened to what was being said, and then cut through the waffle and that was issue dealt with, and did it in a manner that offended neither the panel members nor the club representatives.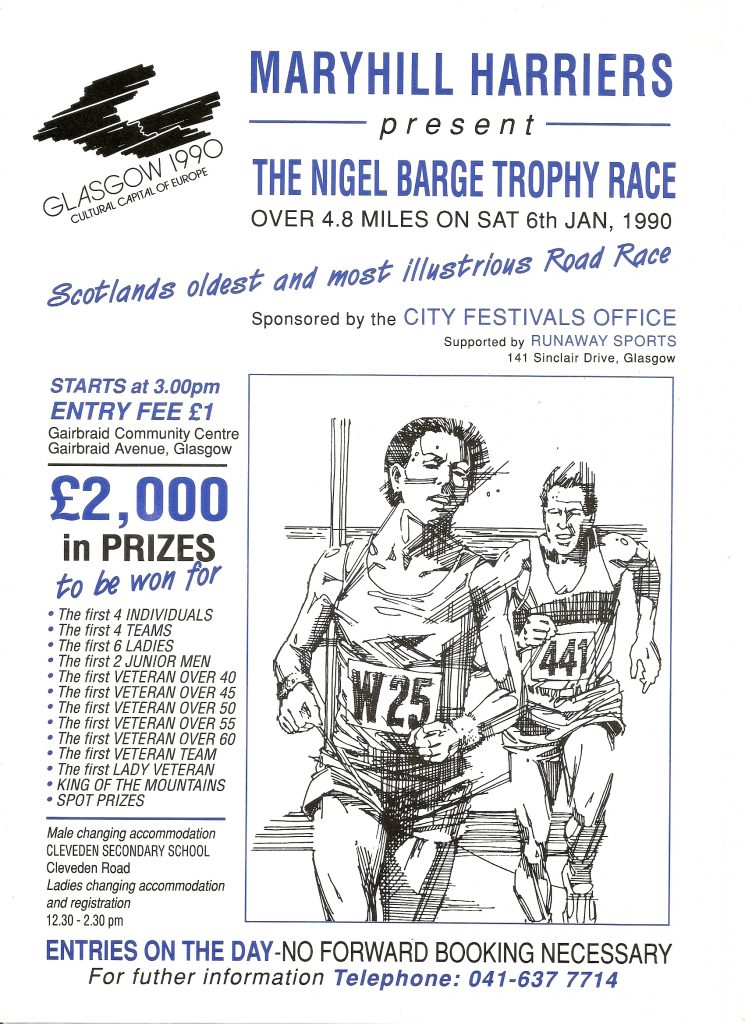 But it should be noted that he could be a tough negotiator when he had to be. For instance, in season 1971/2 when the SCCU granted a permit to Springburn Harriers for their Springburn Cup race to be held on the first Saturday in the New Year – traditionally the date for the Nigel Barge – there was what the politicians would call a 'frank exchange of views' between the club and the governing body. Some of the correspondence was carried out by Ronnie. This was not his usual or preferred method of working however. eg at a time when the 'amateur code' ruled and prizes had to be 'to the value of' rather than simply money being awarded, Ronnie waited until the January Sales began, then went round the local shops to buy the prizes for the Nigel Barge Road Race (and often talked them into giving him an extra discount because it was for a good local cause). His 'people skills' were of the highest order!
He was also imaginative coming up with ideas for races like the Christmas handicap race round Postie's Park in Dumbarton for Council employees (he worked in the Council Offices there) with extra awards – such as for the runner who most accurately forecast his time round the course.
When the International Cross Country Union held their World Cross-Country Championships in 1978, Ronnie was asked to take charge of the production of the programmes which he did with his usual efficiency and the printer's blocks are shown below.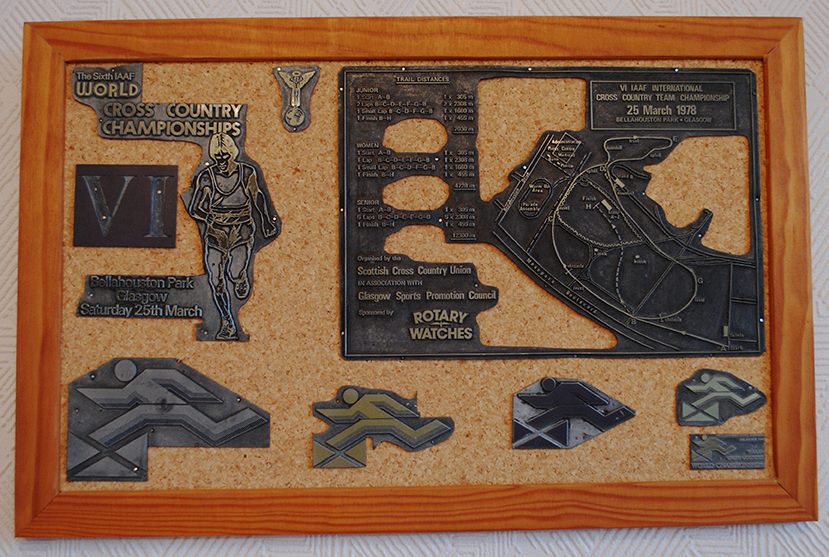 Busy all the way through the 60's and 70's he was also listed in the 1977 SAAA Handbook as:
Grade 1 official for Track, for Throws, and for Jumps. These were three different qualifications, each having a different pathway to Grade 1.
Club Coach for Middle Distance, Sprints and Relays. (There were three grades of coach – Assistant Club Coach, Club Coach and Senior Coach. Club Coach was approximately equivalent to the current Level 3 qualification.)
Ronnie was always a person who would encourage and help athletes as much as he could and in any way that he could. Peter McGregor of Victoria Park tells me that at an inter-club fixture, early in Peter's career in the sport he was told by Ronnie "stay with me and you'll be OK." Valuable encouragement at the start of a career that would lead to many excellent races and several sub 2:30 marathons.
Although he did not coach a squad of his own as a squad, he would help others to develop their skills and to enjoy their sport. But, being Ronnie, it was not a case of uttering well-sounding homilies, or well-worn cliches: he went to the courses, learned a bit about the events and helped in a practical way. His coaching continued until at least 1990 when he appeared in that year's AAA Handbook as a club coach for both Sprints and Middle Distance running. His long time friend and sparring partner Des Yuill tells us that Ronnie had a camper van that he used to 'take runners to races, near and far'.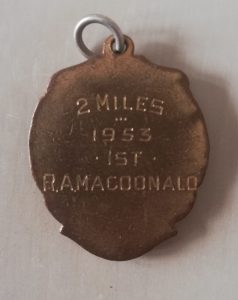 Club Two Miles Championship, 1953
As a track official he obviously worked at meetings large and small – highland games, local sports, championships and track leagues. As a grade 1 official he was often asked to officiate as a referee – mainly on the track. One of the requirements for a club in any of the track leagues is that they provide a quota of officials as well as cover as many of the events taking place as possible. Ronnie filled in in both categories – qualified officials are worth their weight in gold to a team manager at these meetings, and to have a Grade 1 on the books is possibly worth his weight in platinum. When officiating at a highland games, Ronnie could often be seen working at the high jump: after all he had a Grade 1 for field events too!
He also officiated at international fixtures on all surfaces – below is his official's pass for the 1970 Commonwealth Games at Meadowbank, and he also worked at the 1986 Games at the same venue. In 1986 he was one of the recorders for the marathon. And, of course, as a long-standing member of the SCCU, he officiated at cross-country international and representative meetings.
The 1990 SAAA Handbook tells us that he was still listed as a Grade 1 Official- but by now it was only for Track events, he had dropped the Throws and Jumps. At that time it was possible to keep yourself listed as an official but with an asterisk added which was marked 'inactive'. Many took that decision but Ronnie was still active though – 53 years after joining the club. He was certainly still officiating at cross-country and road races and an active member of the Scottish Cross-Country Union.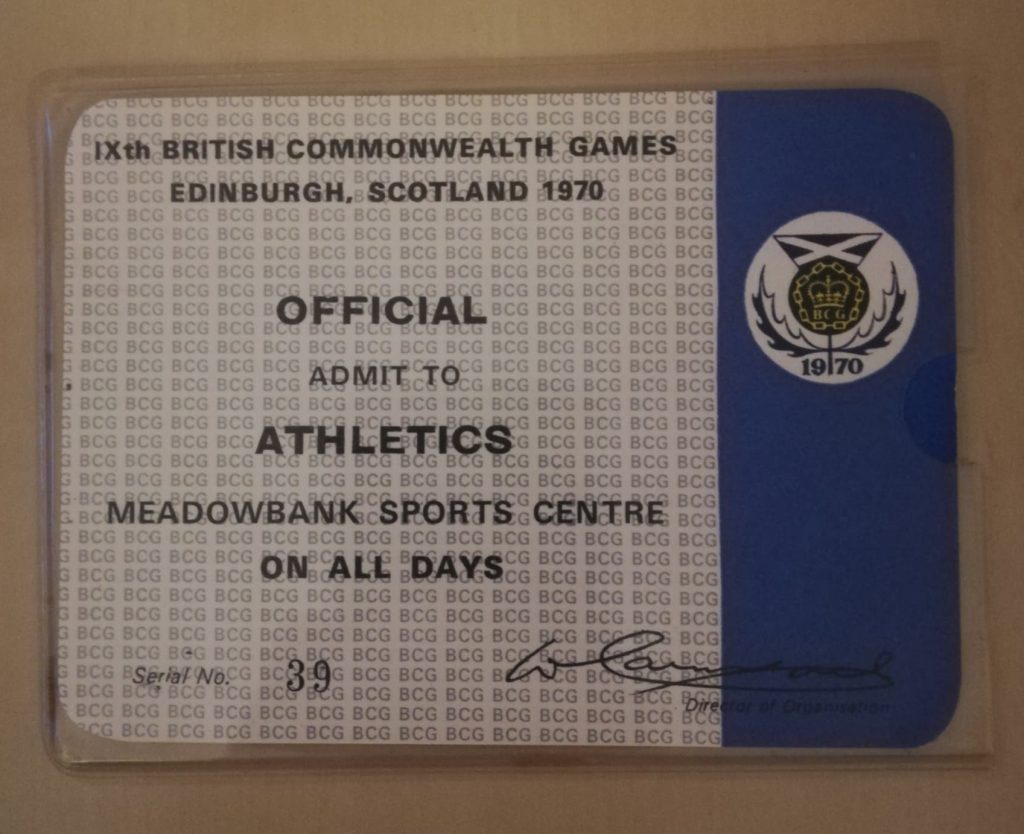 As a member of Maryhill Harriers for his entire time in the sport, he contributed his share – and more – to the sport locally in Glasgow and across the nation's athletics communities. At the time of the club's centenary celebrations Ronnie displayed another talent – he designed special mugs for the celebration. They came in red and blue; there is one illustrated below.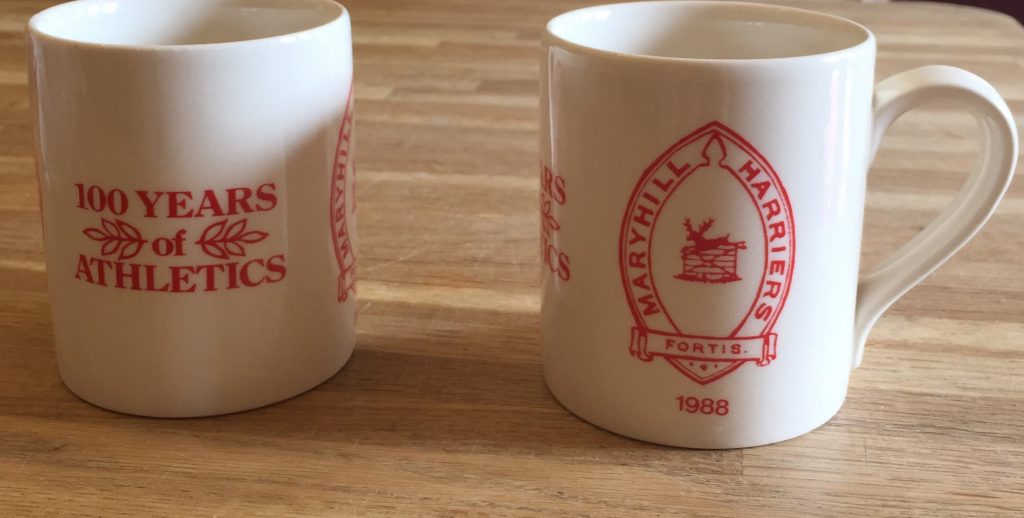 We said at the start that Ronnie was justifiably made an Honorary Life Member of the club. He was a man who enjoyed his time in the sport, and really did make a difference on many levels.