MOTHERWELL YMCA HARRIERS: THE RISE AND FALL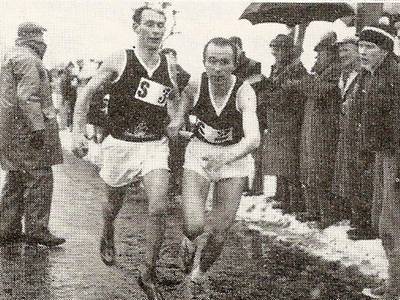 John Linaker to Bert McKay, Edinburgh to Glasgow, 1962
(**Several Motherwell YMCA Harriers have been profiled more fully on this website: Andy Brown, Alec Brown, John Linaker, Dick Wedlock and Ian McCafferty, as well as Willie Marshall in the Veterans section. Many thanks to Colin Shields for the many quotes below from his excellent SCCU Centenary book.)
Team performances in the Edinburgh to Glasgow Road Relay are sure indications of club strength. Motherwell YMCA Harriers demonstrated this between 1949 and 1968.
In November 1949, two men named Willie Marshall ran – on Stages One and Seven. However they were not father and son. On the Third leg, A. Brown took part for Motherwell – Andy's father?   However the team finished 20th out of 22.   In 1950 they could only field four men and so were 20th and last, with A. Brown on the Third leg again.  However they had been given a good start, with 6th place on the First Stage, by A. Brown Junior! Andy was not quite 18 years old when he and his father were team-mates in the E to G. In 1951 they improved to 14th, with Andy Jnr second on Stage One and promising young David Nelson on Six. However they trailed in 20th and last in 1952. They were 18th in 1953, with Andy Brown on Two and former Scottish International Willie Sommerville on Six.
Their next appearance in the Blue Riband of the winter season was in 1956, when they finished 12th of the 20 invited teams. Notable athletes included Tom Scott, John Poulton, Willie Marshall and Andy Brown, who were all be in winning Motherwell YM teams several years later. In 1957 the same four were present, as well as Bert McKay (who was to be a real mainstay for the club). Tenth place showed slight improvement. Those five also featured in 1958, when sixth place was secured. 1959 produced fifth place and the first fastest stage times for Motherwell – W. McKnight on 3, Andy Brown on 6 and Tom Scott on 8. (Tragically, Tom Scott died in a traffic accident in March 1961 and, at the end of this Edinburgh to Glasgow section, there are details about the famous Tom Scott Memorial 10 miles race, which continues to be contested 55 years later.) It was fifth again in 1960, when Davie Simpson made his first appearance. Then in 1961 the club won their first medals with third place; their new recruit John Linaker making an immediate impact by breaking the record on classy Stage Two, recording 28.54.
Motherwell YMCA dominated the great race during 1962 to 1964. Colin Shields described this very well in "Runs Will Take Place Whatever The Weather" his Centenary History of the Scottish Cross Country Union 1890-1990. It seems appropriate to quote from that invaluable book.
"The drawbacks of a November race were fully illustrated in 1962, when polar conditions of thick snowdrifts stopped the bus carrying runners from Glasgow getting through to the start at Inverleith Park in Edinburgh. The pre-race favourites Motherwell YMCA Harriers could not get their designated runner to the start line and reserve Brian Hodgson stepped in to save the day. Running over a new first stage necessitated by new traffic arrangements, Graham Everett (Shettleston) set a new record of 27 minutes 28 seconds with Hodgson finishing 10th a further 55 seconds behind the leader. Running in bitterly cold conditions, Motherwell improved from then on. Moving up to sixth on stage three they were behind Teviotdale Harriers for whom John M. Hamilton (future SAAA and SCCU President and Scottish International team manager) recorded the third fastest stage time of 21 min 57 sec. Andy Brown improved by 23 seconds on the 1957 fourth stage record to finish third, and his young brother Alec and John Linaker gained further places, to bring Motherwell into a 40 second lead by the end of the sixth stage. Bert McKay equalled the seventh stage record to open a gap of more than 2 minutes over Edinburgh Southern Harriers and it was left to John Poulton to bring Motherwell home to their first ever victory in 3 hours 44 minutes 25 seconds.
Motherwell won for the next two years but continued to do it the hard way. The following year it was again as late as the sixth stage when John Linaker went into the lead from Aberdeen AAC, for whom Alastair Wood was now running after his sojourn with Shettleston. Bert McKay, having equalled the seventh stage record the previous year, bettered it by 24 seconds to establish a two minute lead and George Henderson brought them home 41 seconds slower than the previous year. Aberdeen AAC won their first ever medals in third place and Edinburgh University, in fifth place, received the special set of 'most improved' medals. In a reversal of roles, East District clubs filled six of the first ten places in the race, confirming a vast improvement of standards in that area.
Motherwell's final victory in 1964 was achieved with the addition of Ian McCafferty and Dick Wedlock to their already strong team. They helped Alex and Andy Brown, Bert McKay, Willie Marshall, Davie Simpson and John Poulton to victory in their slowest winning time of 3 hours 46 minutes 1 second. Edinburgh University, with the basis of their remarkable team now in place, but still lacking the final competitive polish they were soon to acquire, finished runners up."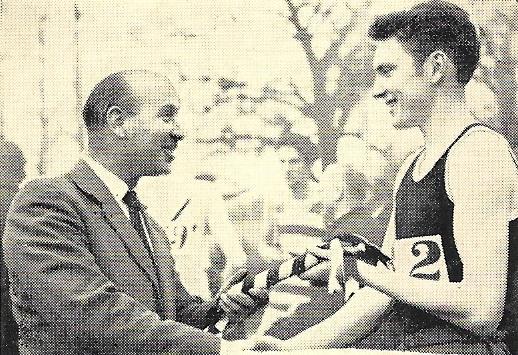 Alex Brown receiving the baton from Ron Bacchus of the News of the World
An in-depth look at the full results for Motherwell's three victorious E to Gs indicates other details worth mentioning. Alec Brown, Davie Simpson, Willie Marshall, Andy Brown and Bert McKay were ever-present. Many fastest stage times were set. In 1962, Andy Brown on 4 (record), Alec Brown on 5, John Linaker on 6 and Bert McKay on 7 (equal record). In 1963, Andy Brown on 4, Davie Simpson on 5, John Linaker on 6 and Bert McKay on 7 (record). In 1964, Alec Brown on 1, Andy Brown on 4, Davie Simpson on 5, Ian McCafferty on 6 and Dick Wedlock on 7. Members of winning teams, in stage order, were as follows. 1962: Brian Hodgson, Simpson, Marshall, Andy Brown, Alec Brown, Linaker, McKay and Poulton. 1963: Alec Brown, McCafferty, Marshall, Andy Brown, Simpson, Linaker, McKay and George Henderson. 1964: Alec Brown, McKay, Marshall, Andy Brown, Simpson, McCafferty, Wedlock and Poulton.
For the 1965 relay, Colin Shields tells a dramatic tale. "Edinburgh University, facing the fact that never, since the first race in 1930, had a University team won the event, were still quietly confident. They had good reason, for a month earlier they had filled the first two places in the East District Cross Country Relay Championships, with Fergus Murray being fastest at 13.03 and the slowest runner in their 'B' team recording 13.52. This gave them the incentive for success in the event, where a full complement of eight top runners is needed with no weaknesses. The 1965 race was a remarkable one, with stage records set in seven of the eight stages, and an incredible course record of 3 hours 36 minutes 32 seconds for the University team. The improvement of 7 min 15 sec on the previous time was the largest reduction of the course records in the history of the race. The University runners recorded three of the stage records, with Alistair Blamire setting a new time of 27 min 01 sec on the opening stage; Olympic 10,000 metres runner Fergus Murray running an outstanding sixth stage in 31.07, taking 1 min 18 sec off the previous record and covering the 7 mile stage at an average speed of 13.4 mph; and Jim Wight took 39 seconds off the seventh stage record with his time of 27.30. The standard of the race was tremendous, with Motherwell YMCA second in 3.37.52 and Victoria Park AC 3.38.02 also bettering the 3 hours 40 minutes barrier and the next five teams being under 3.50."
Without doubt, conditions were favourable in 1965, with a following wind. Certainly EUH&HC were a formidable young outfit but Motherwell fought bravely, never lower than third, and with Alec Brown moving them into first on stage two and Andy Brown smashing his own stage four record with a fantastic time of 27.37, which regained first place. This record remained unbroken until new records were required for Stages 3 and 4 in 1980 (for some reason 3 was lengthened and 4 consequently shortened).
In 1966, Motherwell finished a valiant third behind EU and Victoria Park. The faithful five, Andy, Willie, Alec, Davie and Bert were still in the team, plus Peter Duffy and John Poulton. Ian McCafferty featured too but not John Linaker or Dick Wedlock. Sadly, in 1967 Motherwell slumped to 16th, with only Bert and Willie of the old guard persisting. 1968 was the last appearance of Motherwell YMCA Harriers in the E to G. 19th place must have been a disappointment for stalwarts Willie and Bert, but the superbly talented Ian McCafferty had opted for the new Law and District A.C., Dick Wedlock was starring for Shettleston Harriers (the club he had run for before joining Motherwell) and John Linaker had reverted to Pitreavie and was past his formidable peak, although he was to be an excellent veteran athlete in decades to come. (N.B. After he rejoined Shettleston Harriers, Dick Wedlock ran for Scotland in the International XC Championships four times and also won the Senior National in 1969. He went on to represent his country in the 1970 Edinburgh Commonwealth Games 10,000m.)
William Marshall (Willie, born 12/12/1927) was a real club stalwart, definitely talented but lightly trained. This cautious approach was more than justified when, after the age of 50, he won many road and track age group titles in Masters events – not only Scottish but British, European and World championships. Undoubtedly, he was a World Class Masters runner at distances from 800m to 25km. Further details are in his profile in the 'Veterans' section of the website.
The first mention I can find of William Marshall in the records is in November 1949, when he ran the First Stage of the Edinburgh to Glasgow Road Relay. He wore the vest of Motherwell YMCA Harriers, and it is fair to say that the club struggled at that time. In the 1956 Relay, Willie ran (his favourite) Stage Five, and Motherwell improved to 12th. Marshall ran Five again, every year from 1957 to 1962 – and his club recorded the following placings: 10th, 6th, 5th, 3rd and 1st! YMCA stars included Andy Brown and his brother Alec, Bert McKay, Tom Scott, Davie Simpson and, later on, John Linaker, Ian McCafferty and Dick Wedlock. No wonder they became the top club in Scotland. During their first victory in 1962, Willie Marshall ran Stage Three and gained five places. Motherwell YMCA won again in 1963 and 1964 (with Willie running 3); and in 1965, when Willie ran Five, ended up second to the superb Edinburgh University Hare and Hounds team, led by Fergus Murray. YMCA were third in 1966 (Willie on Three). However by 1967 the bubble had burst, and they finished 16th (with Willie on Four); and in 1968 could only manage 19th, when he ran the First Stage at the age of 40. Nevertheless, William Marshall must have been very proud to have played a stalwart part in the rise and fall of such a splendid club; and to have won three gold, one silver and two bronze medals in the wonderful E to G.
Willie Marshall went on to run the E to G for Clyde Valley AC in 1977 and 1978. Then in 1982 both Willie (aged 54) and his son David (a good road runner too, unsurprisingly) were selected for the CV team! Having both parent and 'child' taking part in this classic event was very unusual indeed but may have been a Motherwell YM tradition e.g. Andy Brown and father in 1950!
There follows information from the Tom Scott 10 mile race website.
"This race is run to perpetuate the memory of Tom Scott, a young man, whose life was tragically cut short when he was fatally injured in a motor traffic accident on Friday 31st March 1961. He had been travelling south with the intention of competing in the Doncaster to Sheffield Marathon which was due to take place on Easter Monday of that weekend. Unfortunately, the car in which he was a passenger collided with a HGV on the A74 at Beattock Summit.
 Tom, who was 29 years of age at his death, was a very fine long distance runner from Law Village. He was a member of Motherwell YMCA Harriers Club and from 1953 to 1955 he was their club champion. Tom often competed for the YMCA in numerous events and was a member of three winning teams in the Scottish YMCA Championships. Being an enthusiastic and keen competitor Tom often competed in major events throughout Great Britain and was frequently chosen to represent Scotland in British Title Races.
Being a dedicated member of the Harriers fraternity Tom's ambition was to represent his country in the marathon at the Olympic Games and towards this end he was in training and competing. In order to increase his weekly mileage Tom ran to and from his workplace in Motherwell. He was therefore a familiar figure in the streets of Motherwell & Wishaw as he made his way – in fair weather or foul – either to his home in Law or to the factory in Motherwell.

At the time of his death Tom was an employee of AEI-Motherwell and it was suggested by some of his colleagues, especially those with an interest in athletics, that it would be fitting that some sort of race be established and to be run annually in his honour. As a result of a collection among his workmates a committee was formed with the objective to establish this race as one of the leading Road Races in Scotland.

The first Tom Scott Memorial Race was held in 1962 and ironically it was won by one of Tom's team mates and fellow worker at A.E.I. – A. H. Brown. Andy, who also came from Law Village, won the event in a time of 50:33.

Since that inaugural race in 1962 – as can be seen from the results – many fine runners have graced this event (it's a who's who of Scottish middle & long distance runners). 
Surely the aims and objectives of the original committee have therefore been realised with Scottish Olympians, European Contenders & Commonwealth Gold & Silver Medallists not only taking part, but winning this event – a fitting tribute to one who gave so much time and energy to his sport."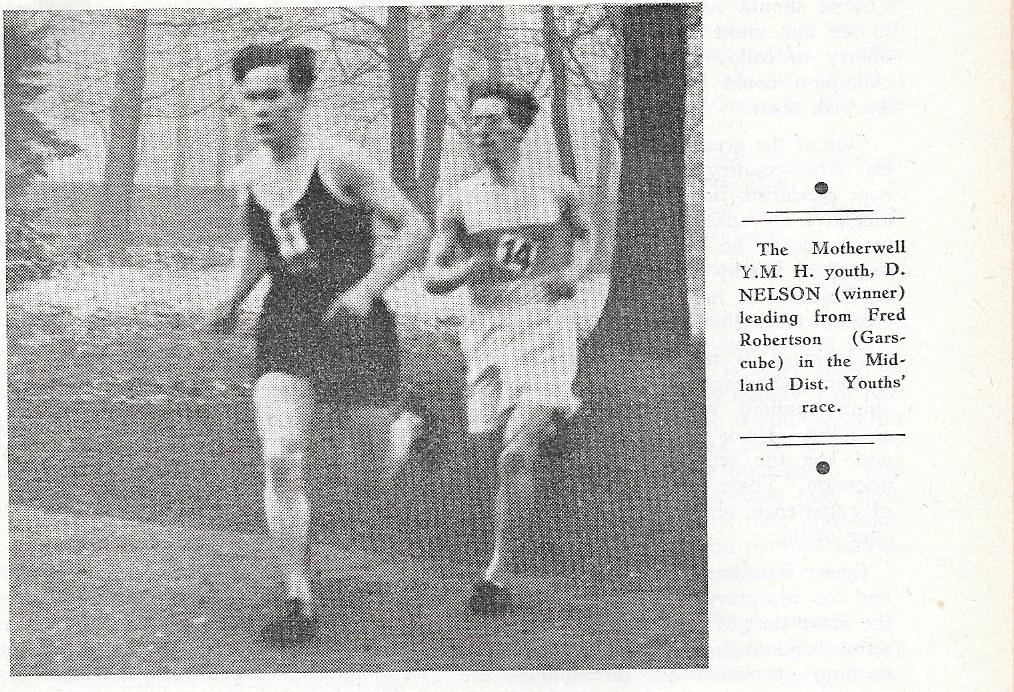 Cross Country running is at the heart of distance running in the winter season and the District and National Championships the main events.
After the Second World War, several distinguished Motherwell YMCA Harriers ran for their country.
W.S. Sommerville (Willie) ran for Scotland in the 1946 International at Ayr Racecourse, where he was a counter in 33rd place; and also in 1947, after finishing 5th in the Scottish National.
James Fleming (the 1948 Scottish One Mile champion) ran brilliantly in the 1949. Colin Shields tells the tale very well. "The National was held at Ayr Racecourse, with heavy rain in the 24 hours before the event contributing to the gruelling nature of course conditions which were judged to be the worst for 30 years. Uncovered barbed wire fences resulted in numerous competitors finishing bleeding profusely, and a stream out in the country beyond the Racecourse, which had to be crossed three times, was rendered hazardous because it was swollen and in spate. With both banks a sea of mud, from which no correct take-off could be achieved, this dangerous obstacle meant icy immersion each time and had an adverse effect on many competitors.
On this most trying and difficult course, James Fleming (Motherwell YMCA Harriers), the Scottish One Mile champion, displayed tenacity and strength as well as speed, and fought an exciting battle over the final mile with James Reid (West Kilbride AAC). The lead changed hands many times, with each runner passing the other along the finishing straight, before Fleming brought out reserves of strength Reid could not match to win by 25 yards, with John Emmet Farrell (Maryhill H) maintaining his remarkable record of finishing in the first three on every occasion since 1937." James Fleming went on to run for Scotland in the 1949 ICCU Cross Country Championships, where he was a counter in 37th place.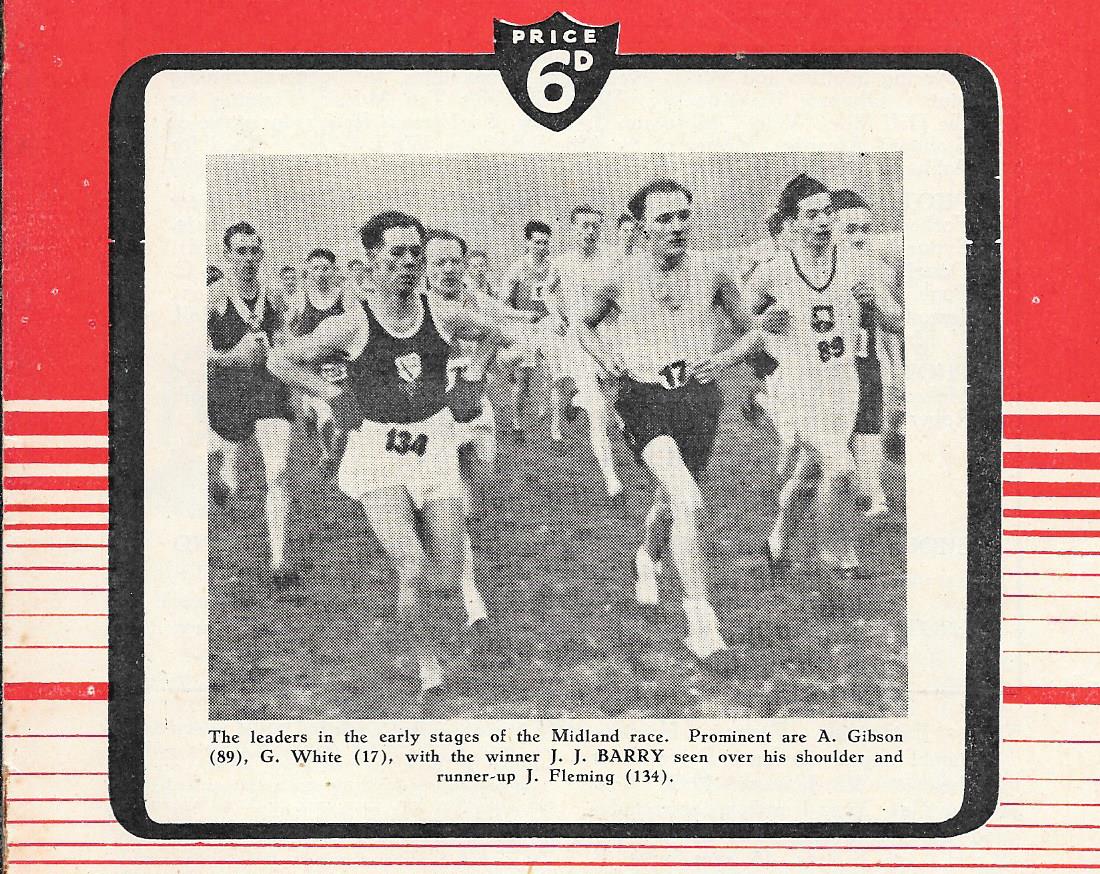 Jim Fleming (134)
David Nelson ran for Scotland in the 1952 International at Hamilton Park Racecourse. He had been selected because he had been a runaway winner of the Junior National, finishing 300 yards in front of Donald Henson (VPAAC) and future cross country great Andrew Brown (also Motherwell YM). The International was held at Hamilton Park Racecourse. David Nelson ran well to finish 29th and fifth counter for the Scottish team, which finished fourth – a good performance.
Davie Simpson was ninth in the 1962 Scottish National and subsequently ran for Scotland in the International at Graves Park, Sheffield, where he finished 66th.
Bert McKay was fourth in the 1963 Scottish National and went on to represent his country in the 1963 International in San Sebastian, Spain, where he was a counter in 68th place.
John Linaker ran for Scotland in three Internationals: 1963; 1966 in Rabat, Morocco; and 1968 in Tunis. He was a counter in 1963 (36th) and 1966 (34th).
Colin Shields wrote: "The record number of appearances for Scotland in the International Cross Country Union Championships in the period 1903 to 1972 is held by Andrew Brown of Motherwell YMCA Harriers. He competed on 12 occasions (1955 – 56 – 58 – 60 – 61 – 62 – 63 – 64 – 65 – 66 – 67 – 68) between 1955 and 1968, missing only 1957 and 1959. He was a counter in the Scottish team on 10 of the 12 occasions and was the leading Scot to finish on 3 occasions in 1962, 1963 and 1964." Perhaps Andy's finest International Championship performance was in 1962 at Graves Park, Sheffield. "After a bad patch during the middle of the race, Brown was back in 24th position at the start of the final one and a half mile lap of the race. With a strong finishing surge he tore his way through the field, gaining fifteen places to finish 9th, just 29 seconds behind the winner, Gaston Roelants (Belgium)" (a great cross country runner who was to win the 1964 Tokyo Olympic Steeplechase gold medal.)
Alec Brown ran for Scotland in two Junior Internationals (1963 – 11th) and 1964 – 7th) and three Senior Internationals: 1965, 1967 and 1968. He was a counter in 1965 (78th) and 1967 (60th). Alec's two Junior Internationals led to outstanding success for the Scottish team, which won bronze medals in 1963 and silver medals in 1964, just one point behind the winners, the Auld Enemy, England.
Ian McCafferty ran for Scotland in seven Senior Internationals: 1965, 1966, 1967, 1968 (10th and first Scot), 1969 (3rd and first Scot), 1970 and 1972. In addition he ran the Junior International in 1964 and easily won the title!
Andy Brown's cross country exploits are well described by Colin Shields in the SCCU Centenary book. In the Midland District Championships, he won the Senior race in 1962 and 1963 (when Ian McCafferty won the Youths race) and led Motherwell YMCA Harriers to the team titles.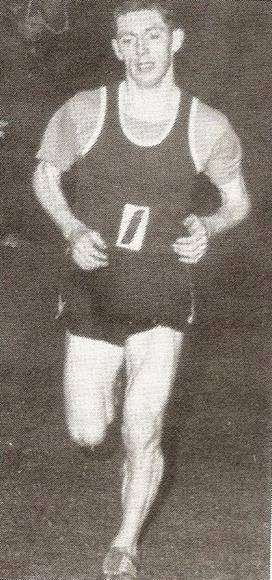 In 1964 and 1965 Midland District Championships, the precocious Ian McCafferty not only won the Senior titles but also the Junior ones, leading Motherwell to their third and fourth team win in succession. Between 1961 and 1967, the club also showed complete dominance in the Midland District Four Man Cross Country Relay by winning it seven times in a row.
In the Senior National Championships, Andy Brown became champion in 1958 at Hamilton Racecourse. Colin Shields again. It was "a tough test of strength and stamina in which the course was extended to include the rough countryside between the racecourse and the River Clyde. Brown finished fifteen seconds in front of Scotland's top miler Graham Everett, with newcomer Alastair Wood finishing in fourth position behind John Russell (Victoria Park) who led his club to a narrow team victory over Bellahouston Harriers."
John Linaker (who had previously finished first, running for Pitreavie AAC, in the 1960 Scottish Junior) won the Senior title in 1963, when Motherwell YM also secured the team title. "The Motherwell pair, Brown and Linaker, together with Alastair Wood (Aberdeen) went into an early lead, drawing well clear of the field. Running together as a group they were out on their own with just a mile to the finish when Brown, hoping to regain his title, broke clear with a strong burst. But his rivals were faster finishers than him, Linaker being SAAA Steeplechase champion and Wood the 3 Mile champion, and they overtook him with half a mile to go. Linaker timed his finishing burst to perfection, winning by ten yards from Wood, with Brown third a further ten yards behind. With the great start of having three runners in the first four (Bert McKay was fourth), Motherwell won the team championship for the first time since 1908. But it was no walkover, since Motherwell had to wait anxiously for their final counter, John Poulton, to finish in forty-fourth position. Southern's Kenny Ballantyne had been their sixth counter. However Motherwell's top three decided the issue and they totalled 108 points to win by just eight from ESH." Motherwell's fourth and fifth counters were Davie Simpson 18th and Brian Hodgson 38th.
Ian McCafferty won the Senior National at Currie in 1972…….. The favourite was Jim Alder, who was out for his third successive title. McCafferty made a determined effort from the start, and built up a 50 yard lead by half distance. Over the next 3 miles, Alder made up the gap and, with a mile to go, had established a 40 yard lead. A big ploughed field had to be crossed just half a mile from the finish and here, contrary to all expectations, McCafferty proved the stronger. He closed the gap on a tiring Alder, and opened up on the flat, grassy surface of the finishing straight to sprint home to a 6 second victory over the defending champion in one of the best and most exciting finishes seen in the National for many years."
Ian had previously become Youth National champion in 1963, succeeding his team-mate Alec Brown, who had been victorious in 1962. In fact it was Alec who had convinced his friend Ian to join Motherwell in 1963, so that the club could field a complete Youth team! Colin Shields wrote: "Such was the rough and ready entry of McCafferty to athletics. He was later to become one of the greatest talents in Scottish, British, European, Commonwealth and World middle distance running. In his first season, he ran brilliantly and the rapid flowering of a unique talent was underway."
Ian McCafferty won the Junior National in 1964 and 1965. His finest performance in that age category was in 1964 at the Junior International Championship at Leopardstown Racecourse, Dublin. Colin Shields reported as follows. "McCafferty displayed his sharpness by winning the Junior title. He went into the lead from the start and dictated the pace throughout to win by 25 seconds – the largest victory margin in the history of the race –  and became the first Scot to win this title. Backed by club-mate Alec Brown 7th and Joe Reilly 9th, McCafferty led Scotland (17 points) to second team medals, just one point behind England in what was to be our best ever attempt to win the International Junior team championships." (Five years later, as a member of Law & District AC, running for the Scottish team in the 1969 Senior International Championship at Clydebank, Ian McCafferty produced another great run on a testing, hilly course to finish third against world class opponents. This was the best individual performance by a Scot since James Flockhart's 1937 victory in Brussels.)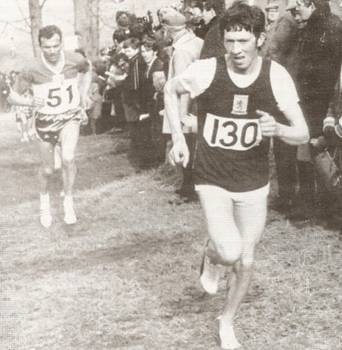 Ian McCafferty
Although Willie Marshall was in no doubt that road was his favourite surface; followed by track; and only then country (especially mud), he did finish 58th in the 1964 Senior National, which made him Motherwell's fifth counter and helped to secure team bronze.
In the 1978 Scottish Veterans Cross-Country Championships, William Marshall (running for Clyde Valley AC) won his first title at M50. The following year he lost a close battle with Hugh Mitchell of Shettleston. However Willie returned to the gold standard in 1980 and was champion again in 1981.
When he turned 60, for four years he had no close rival, and (representing Motherwell YMCA once more) won four successive Scottish Veterans XC championships (1988-1991). Between 1993 and 1996 (running for Cambuslang) Willie reigned supreme and won another four titles, in the M65 age group. In total, he had collected an amazing 11 individual gold medals in this prestigious annual fixture!
An unusual race participation for William Marshall took place in November 1993 at Lord Trehearne's Estate outside Cardiff, when he ran for Scottish Veterans in the annual Five Nations International Cross-Country. The Scottish M60 team: Hugh Gibson, Willie Marshall and Pat Keenan (who packed well in 5th, 6th and 8th) won silver medals.
Andy Brown made a comeback as an M40 Veteran in the 1981 Scottish Veteran XC championships and finished second to Martin Craven (ESH) and with Bert McKay and Willie Marshall making up the Clyde Valley team they won the team race.
He returned the following year, 1982, and turned the tables on Martin when he became Scottish Veterans XC M40 champion and Martin Craven finished second.
Not only that, when the Clyde Valley team finished second in the Senior National in 1982, the six counters were Ron McDonald, Jim Brown, Brian Gardener, Peter Fox, Joe Small and Andy Brown.   Doing the sums we arrive at an age of 49 for Andy in that team.   One of his team mates that day describes him as 'the hardest of hard men.'
Then in 1993 and 1994 Andy Brown won the M60 title in the Scottish Veterans XC.
On the Track, Motherwell had many successes after the Second World War, although from 1966 several of their athletes went on to star for other clubs, especially Dick Wedlock and Ian McCafferty.
In 1948 James Fleming (Senior National XC winner a year later) won the SAAA One Mile championship while representing Motherwell YMCA Harriers.
A.H. Brown (universally called Andy, born 11/12/1932) was 22 years old when he first won a SAAA silver medal in the 1955 3 Miles championship. The legendary Ian Binnie (Victoria Park AC) won the race. In 1956 Andy was second again, this time beaten by Adrian Jackson (Edinburgh University). Andy went on to obtain a bronze medal at this distance in 1959, and silver again in 1963. However his success was greater at 6 Miles. Although he was second to Binnie in 1955 he won the 1956 and 1957 Scottish championships. Alastair Wood (Aberdeen AAC) ensured that Andy was runner-up in 1959 and 1961. The redoubtable Andy Brown regained first place in the 1963 6 Miles, well in front of his new club-mate John Linaker; and was second to Fergus Murray (Edinburgh University) in 1965.
After a very long and successful career, Andy Brown's record as a track athlete came to a surprising but very impressive conclusion. As an M60 runner, in 1993 he set a tremendous Scottish Masters M60 indoor record for the 3000 metres of 9:54.02 and in 1994 an equally fine outdoors record for 5000 metres of 16:48.44. These were world leading times but Andy Brown remained as modest and inspirational as ever.
Robert W. McKay (Bert, born 13/12/1935) was a very influential club member – universally liked and respected. He gave freely advice and motivation. On the track he ran well between 1961 and 1972, with personal best including 4.08.7 for One Mile, 8.57 for Two Miles, 13.58 for Three Miles, and 14.24.4 for 5000m. Bert won four bronze medals in Scottish championships, for the Mile in 1962 and 1963, 5000m in 1969 and the Track Ten Miles the same year. His contributions to E to G success have been noted already.
John H. Linaker (born 16/11/1939), who was originally from Lancashire in England. However his parents came to Rosyth in Fife when John was a baby. From 1956 he ran for Pitreavie AAC in Fife. This club was only registered for Track and Field; and from 1958 Cross Country as well. When he represented Motherwell, he was living and working in that area. John Linaker became a vital force in Motherwell YM's great success between 1961 and 1964.  He first appeared in the annual Scottish Track ranking lists in 1959 with promising performances in the Mile, Two Miles, Three Miles and Steeplechase. It soon became clear that the Steeplechase was his best event. Indeed he won the Scottish championship six times, more than anyone else in the history of the event: in 1960, 1961, 1962, 1963, 1965 and 1966. In the 1966 Empire and Commonwealth Games in Kingston, Jamaica, he finished a meritorious seventh in the final. His excellent personal best 8.41.61 was set that day – three seconds faster than the Scottish National record held by Lachie Stewart. In addition he won a silver medal in the 1968 Six Miles (recording 28.17.2), and two more Steeplechase medals – silver in 1959 and bronze in 1967. Then in 1968 he ran the marathon in 2.21.19.5. Other bests included 4.09.5 for One Mile, 8.59 for Two Miles and 13.40.6 for Three Miles.
From 1986 onwards, in the M45, M50 and M55 age groups, John Linaker made a comeback to Veteran athletics, setting an impressive range of Pitreavie AAC records for 800m, 1500m, 3000m, 5000, and 10000m and the London Marathon in 1997 in a fantastic M55 time of 2:40:46.   In 1990 he won the M50 title in the Scottish Veterans Cross-Country Championships.   He won three M55 Scottish Veterans titles in succession from 1995 – 1997.   In addition in 1992 he won the M50 800m and 1500m in the Scottish Veterans Indoor Championships.   He coached his daughter Isobel who broke the Scottish Under 15 records for 800m and 1500m in the early 90's and was selected for the European and World Schools Championships. [John's wife and Isobel's mother was Esther Linaker (nee Watt) who won the SWAAA 100 yards in 1960 and 1961, and 220 yards in 1960 and 1962. She also held the 100 yards Scottish record (11.2)]. No wonder Isobel was a talented athlete!
A.P. Brown (Alec, born 9/9/1944)) was Andy's brother but almost 12 years younger. On the track he showed early promise and ran a decent 2 mile time in 1962 at 17 years of age. Perhaps his best track race took place in 1967 when he finished third in the Scottish Six Miles championship, behind Lachie Stewart (Shettleston) and Mel Edwards (Aberdeen AAC).
David Marshall, Willie Marshall's son wrote about his Dad's Veteran career on Track and Road. Willie's major achievements were as follows. 1989: he broke M60 World Indoor records for 1500m (4.49.5) and 3000m (10.18.6), while winning British Indoor titles. In the same year he won the 1989 European M60 10k on the road. 1993: he set another World record (M65) in winning the Scottish Vets 3000 Indoor in 10.32.28. He also won the British 5000m, setting a British record. Then he was first in the M65 European 10k Road championship in the Czech Republic; as well as winning the Half Marathon the following day! 1994: he won the World Vets M65 10k and 25k titles in Canada. 1995: he was first in the M65 European 10k in Spain (37.14); and also victorious in the Half Marathon (1.23.37), again on the following day. 1998: he won the World M70 10k road in Japan; and broke the World record in the British indoor 3000m. 2000: he won the M70 World 10k road title in Spain (39.57).
Bert McKay, who was a very important influence on the success of Motherwell YMCA, said: "Willie seemed to be a very light trainer but took part regularly in fast pack runs at the club on Tuesdays and Thursdays. He was a nice man, quiet and apparently frail but obviously much tougher than he looked. I remember one particular 5 mile road run I had with Willie just a week before one E to G. I was in good form but could not drop Willie at any time during the run! He was a lot better than he showed when he was younger."
Peter Duffy (who was a really good hill-runner and also won a medal in the Scottish Marathon Championship) said: "I was a team-mate of Willie's at Motherwell YMCA. On the road he was too fast for me and had a beautifully smooth, flowing style. When I was a club member (from the 1966 E to G), he only trained on his own and did not run at all on Sundays, due to strong Christian beliefs. He was respected for this and his fine running in the E to G."
Ian J. McCafferty (born 24/11/1944) was one of the finest Scottish middle distance athletes of all time. Immensely talented, on his day he ran brilliantly on track, in the country and on the road. His Track progress makes fascinating reading. He won the SAAA One mile three times – in 1964, 1965 and in June 1967 (racing at Pitreavie, while still representing Motherwell YMCA Harriers before he switched to Law and District AC), he set a Native record of 4.02.3). Then in 1969, down south in Reading, he won a titanic struggle with fellow Scots Ian and Peter Stewart (Birchfield Harriers). McCafferty won in 3.56.8 to become Scotland's first sub-4 minute miler and set a Scottish National record. In 1970 in Edinburgh he set a 1500m National record of 3.44.1.
Unsurprisingly Ian McCafferty won the 1970 Scottish 5000m title and also achieved Scottish records at 2 Miles (a Native record of 8.42.2 in Glasgow 1965; and a National record of 8.33.2 in London 1967 – this was also a European and British record.); 3 miles (13.12.2 in Kingston, Jamaica 1966 and 13.06.4 in Dublin 1967, setting a British record behind the great Ron Clarke of Australia); and Native and National records for 5000m (13.29.6; and later 13.23.4 in Edinburgh 1970, which at the time was the fourth fastest 5000m time ever run.). He also set a Scottish Native record for 3000m of 8.02.4 in Edinburgh 1970. He won three AAA Indoor titles: at 2 miles in 1967; and 3000m in 1968 and 1969. In February 1967 Ian opted to miss the Scottish National XC so that he could run for Great Britain against France in an Indoor meeting in Lyon, where he won the 3000m in a British record time of 7.56.6.
Ian represented Great Britain in the 1972 Olympics (5000m finalist) and the 1967 European Indoors (5th in the 3000m). He ran for Scotland in the 1966 (5th in the 3 miles) and 1970 Commonwealth Games (6th in the 1500m and second in the 5000m). His finest moment was the Commonwealth silver medal in Edinburgh 1970, when so many of us remember his tremendous battle down the finishing straight against his Scotland team-mate Ian Stewart, with Olympic legend Kip Keino of Kenya left trailing behind. A truly famous moment in Scottish Athletics history!
In conclusion. How did Motherwell YMCA Harriers achieve so much, especially between 1961 and 1966?
Bert Mackay recalled. "Our club was very small, with no more than twelve senior (serious runners). But luckily most of the twelve were good quality athletes. We all worked five days per week and sometimes did not meet until the race on the Saturday. When we did meet on a club night we always ran very hard over seven to ten miles on the road in the winter; and in the parks in the summer as we had no running track. Routes were nearly always hilly trails, for Motherwell is on the side of the Clyde Valley."
Very good quality, Scottish International athletes: Andy and Alec Brown, McKay, Simpson, Linaker, Wedlock and McCafferty. Marshall and the other E to G and National cross country medal-winners were quite a support act too!
Willie Marshall remembered that, when he started running, his clubmates were very welcoming and encouraging.
Peter Duffy ran well to finish sixth on the First Stage for Motherwell in the 1966 E to G, when they secured team bronze medals. He was living in Wishaw at the time, so most of his training was to and from work. However on Tuesdays and Thursdays he drove to Bert McKay's house for a training session, usually with four other guys. In the lighter nights ran to a small park and often did ferocious 200 yard repetition sessions! On Sundays, Peter, Bert and others (including the future Scottish marathon record-holder, young John Graham, who Bert was mentoring) might run for two and a half hours.
Peter remembers how Bert was a genuinely friendly, helpful person and it was a pleasure to train with him (apart from the repetitions).  Peter also liked Andy Brown, who was kind enough not to race away from him in training and who was very well respected because of his tremendously successful racing. When he was on form, Andy had a beautiful style with, it seemed, a ten-foot long stride! Peter also liked his young club-mate, the sensitive but immensely talented Ian McCafferty.
In Autumn 1966, Dick Wedlock rejoined Shettleston and John Linaker rejoined Pitreavie. Then someone in Law village started up a running club (Law and District AC) and since Andy and his brother Alec had been born there, and Ian lived there, they changed allegiance in Autumn 1967. Several other Motherwell Harriers joined Law and District AC, along with many youngsters from the village. Unfortunately, this led before long to the demise of MYMCAH.
Nevertheless, as this article should have made clear, Motherwell YMCA Harriers enjoyed several years of Scottish supremacy and the club played an important part in the development of a number of top class Scottish athletes.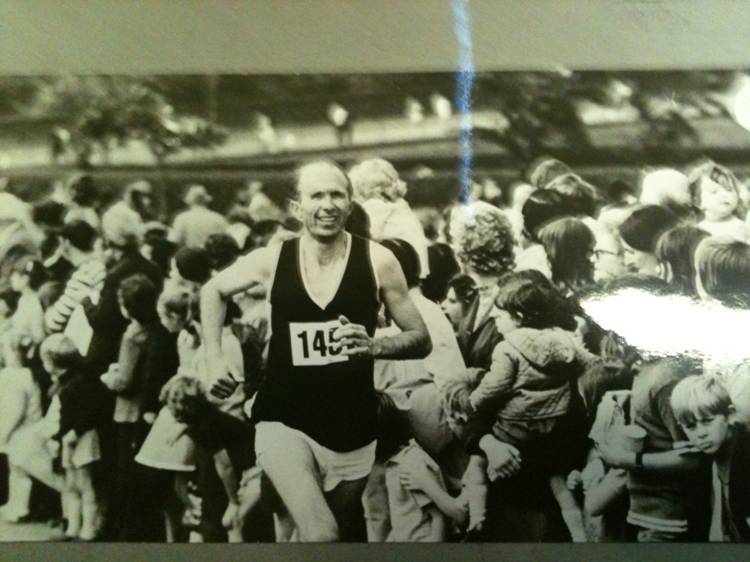 Bert McKay