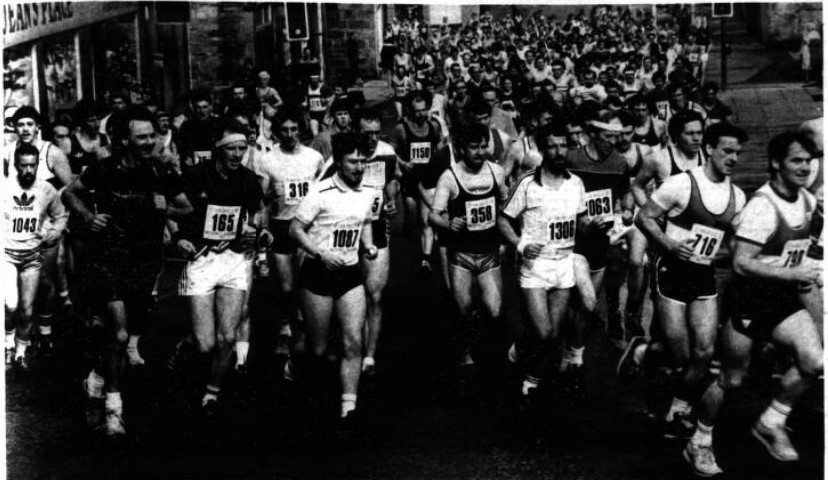 MOTHERWELL PEOPLE'S MARATHON
1983: 15th May. The event started and finished at Wishaw Sports Centre. 956 finished.
The Glasgow Herald reported briefly: "Tony Bird (Greenock Wellpark Harriers), a missionary home on leave from Africa, defeated a field of over 1300 runners to win the inaugural Motherwell People's Marathon yesterday in a personal best time of 2.27.01. On a hilly route described as the toughest marathon course in Britain, he finished half a mile ahead of David Fairweather (Law and District AC) who recorded 2.29.38, with Brian Carty (unattached) taking third position in 2.32.57. Ian Moncur (Forres Harriers/Clyde Valley AC) was fourth in 2.34.50. Lynda Stott (Aberdeen AAC) won the women's prize when finishing 25th in 2.46.47, becoming the third fastest Scotswoman over the marathon distance."
The Wishaw Press and Advertiser reported in greater detail.
The headline was: THE EARLY BIRD CATCHES MARATHON VICTORY.
"First to cross the line was University teacher Tony Bird who completed the extremely tough course in just 2.27.01. Tony, a member of the Greenock Wellpark Club, did not look like a man who had just run over 26 miles and, within seconds of crossing the line to great cheers, he was able to talk freely about the race and the course. At 33, Tony was running in only his second marathon, having finished in a respectable 28th place in last year's Glasgow event. A keen cross-country runner, Tony had regularly been covering 60 miles each week in training and he was delighted with his success."
He commented, "I am really pleased. To finish in first place after only my second trip over the distance is much better than I had hoped for. I am really delighted." Tony thought the course was very tough and hilly but he thought that the organisation was first class. He said, "Everything went smoothly and I felt there were enough refreshment stops. Although I thought there were too many hills for a marathon, I am still very pleased with my time."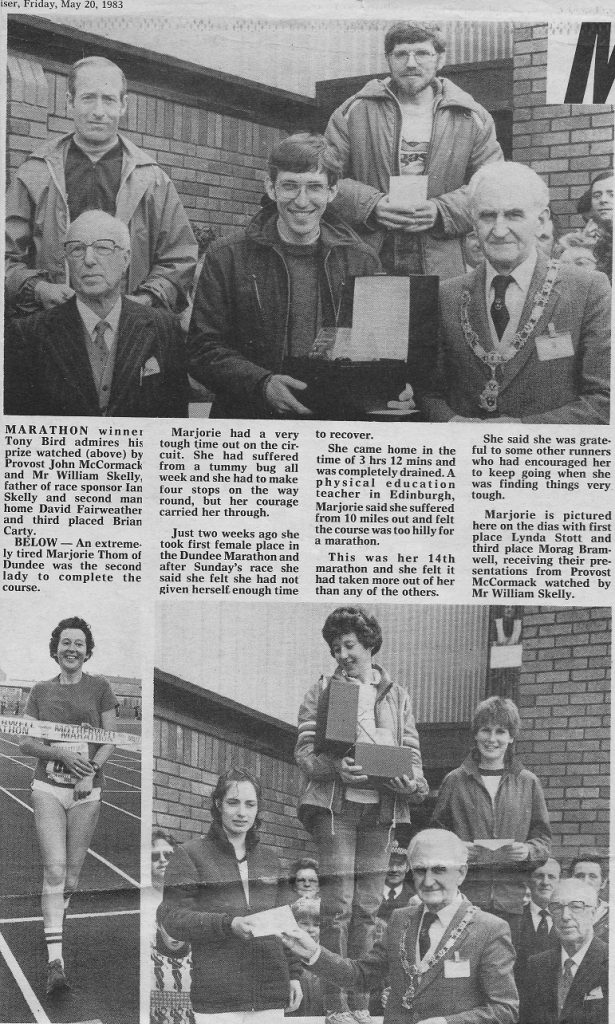 Lynda Stott said, "I just felt really good and relaxed today and everything went well. The course was quite tough with a lot of strength-sapping hills but I just kept going and it is great to be first woman home. The organisation has been very good and there were enough drink stops and plenty of people to cheer us on. It really encourages you to keep running when you get very tired."
Under her married name of Lynda Bain , she ran for Scotland in the 1985 World Cross and for GB in a 1984 marathon in Czechoslovakia, then set an outstanding Scottish National Record of 2.33.38 in the 1985 London Marathon. In 2020, Lynda remembers that the Motherwell Marathon, "was a bit up and down. It was a very friendly event and I spoke to a few folk as we ran round. A bizarre thing which I remember was the drinks – they had water and orange squash on offer all the way round and I took turn about of each. I really enjoyed getting the squash as I am not a lover of water (still try to avoid it even now)."
David Fairweather remembers, "The inaugural Motherwell Marathon was held on 15 May 1983, starting & finishing at Wishaw Sports Centre, sponsored by Ian Skelly Motors.

The race started at 9 a.m. and Jim Rowley (Law & District) quickly went into the lead on the road to Bogside. From there we went by back roads to Allanton, Bonkle and Newhouse. Jim had stayed in front on his own, but we caught him before Newhouse, and a small group including Tony Bird (Greenock Wellpark), Brian Carty (Shettleston H), Ian Moncur (Clyde Valley AC) and myself sped downhill through Holytown to Mossend.
Tony broke away, and I found myself on my own along Calder Road. I struggled a bit up the road through Forgewood to Motherwell, but with a police motorcycle escort and encouragement from the crowd, including my family, I kept going to Wishaw, finishing over 2 mins behind Tony, and over 3 mins in front of Brian Carty. The race was well-organised, and the weather was quite good, but it was a pretty hilly course and hard going in some places. Actually, most of the course was easier than expected, until the last four miles, when a combination of the uphill run and the headwind made it difficult."
1984: 20th May. The Wishaw Press and Advertiser reported.
"At exactly 9 a.m. on Sunday morning, Provost John McGhee, assisted by Chief Judge Robert Peel, started the second Motherwell District People's Marathon. Hundreds of spectators lined the start at Alexander Street to see the runners set off on the 26 miles 385 yards long circuit. Conditions were ideal as the fastest men lined up at the front with the women, slower athletes and fun runners bringing up the rear. Right at the back of the field were two wheelchair competitors Alex Paton and Michael McReadie.
By the time that the first runners had reached the one mile stage at Wishaw Cross, a pack of four runners, which included the eventual winner, had already made a significant break….. All of these men had done well in the race last year, so they all knew what to expect and had probably picked their attacking spots in advance……"
By 14 miles, Andrew Stirling dropped back and looked like he was feeling the pace. The toughest part of the course was approaching. After the Newhouse climb and a chance to recover slightly, there was a three miles gradual uphill which suited the strength of Ian Moncur (Clyde Valley AC) and it was here that he made a decisive break. David Fairweather (Law and District AC) 'hit the wall' and did well to fight on and finish fifth in 2.34.18. (David recalls, "I don't remember much about the race, except that I was a marked man, and had to do a lot of work at the front, eventually 'hitting the wall' at 22 miles in 2:02:05.")
As Ian Moncur entered the arena with a substantial lead, he received great applause from the spectators and managed to put on a spurt for the finish. His time – 2.26.29 – was a course record by 32 seconds. He was almost two minutes clear of Billy Dickson (Law and District AC) in 2.28.11, with Andrew Stirling (Bo'ness Runners) in 28.57 a further 45 seconds behind in third. Pat McErlean (Aberdeen AAC) was fourth in 2.31.45.
Strathclyde policeman Jim McMillan won the Veteran's prize in 2.42.30. First woman to finish was Kay Dodson (Law and District AC) in 3.25.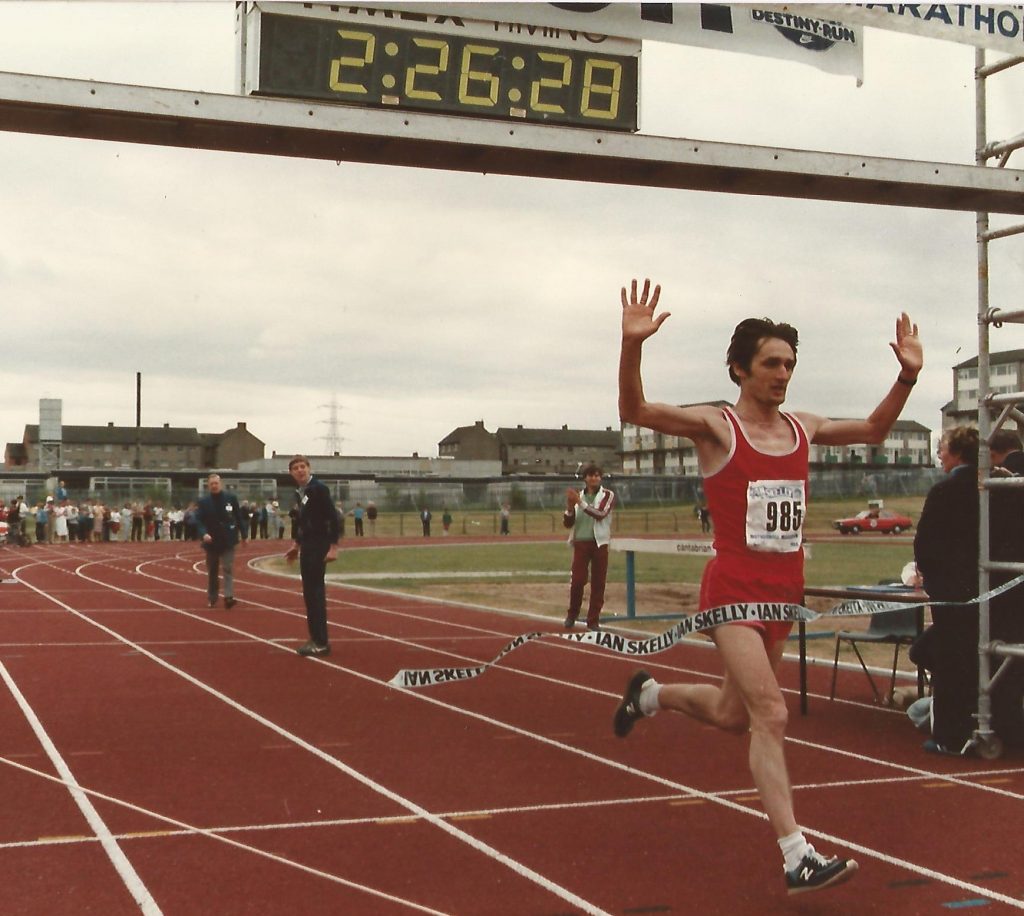 Marathon winner Ian Moncur was a teacher and worked in Elgin, although he came originally from Holytown. In 1982 he became the North District Cross-Country champion. His time in the Motherwell Marathon was four minutes slower than his personal best (2.22.09) achieved at the 1982 Glasgow Marathon, but he felt that the local marathon was a more challenging event because of the hills and consequently was pleased with his time.
He commented, "Last year I had tackled a very hard race just a couple of weeks before the marathon and I suffered for it. This time I was better prepared and it all went according to plan. I was feeling good at the 20-mile stage and thought that, if I could put in a little more effort I could draw away from the other lads and that is exactly what happened. The last six miles were very tough but I managed to keep going and it is great to win."
In 2020, Ian remembered, "Motherwell was the only Marathon I actually won. I was second twice in the Moray Marathon at Elgin behind Don Ritchie and Alastair Wood; lost narrowly to Don McGregor at Loch Rannoch; and also finished second in the 1985 Motherwell.
However, Motherwell was my local marathon, and the course went through my village of Holytown, so family and friends would gather to encourage me as I went past. I ran the Motherwell marathon 3 times finishing 4th, 1st and 2nd. In the 1984 race I was determined not to set the pace as I had faded badly over the last few miles the previous year. Davie Fairweather set the early pace followed by his Law and District clubmate Billy Dickson and I tucked in behind. The three of us soon broke away and established a sizeable lead. I made my move on the long hill up from Bellshill to Motherwell (one of my regular training routes) and finished strongly this time. Billy Dickson was 2nd but Davie faded to finish 5th. Andy Stirling (Bo'ness Runners) ran a well-judged race to take 3rd. with Pat McErlean (Aberdeen AC) 4th."
1985: 19th May. 475 competitors started. Charlie McDougall (East Kilbride AC) won in 2.26.53. Last year's winner, Ian Moncur (Clyde Valley AC) was second in 2.27.34. David Fairweather (Law and District AC) was third in 2.27.43 and won the award for first Veteran. Kay Dodson was first woman home once again, this time improving to 3.11. Veteran Jim McMillan (Strathclyde Police AC) finished in 2.38.20.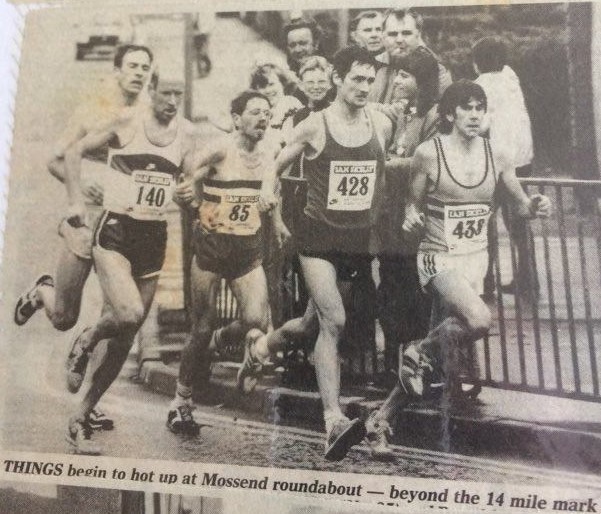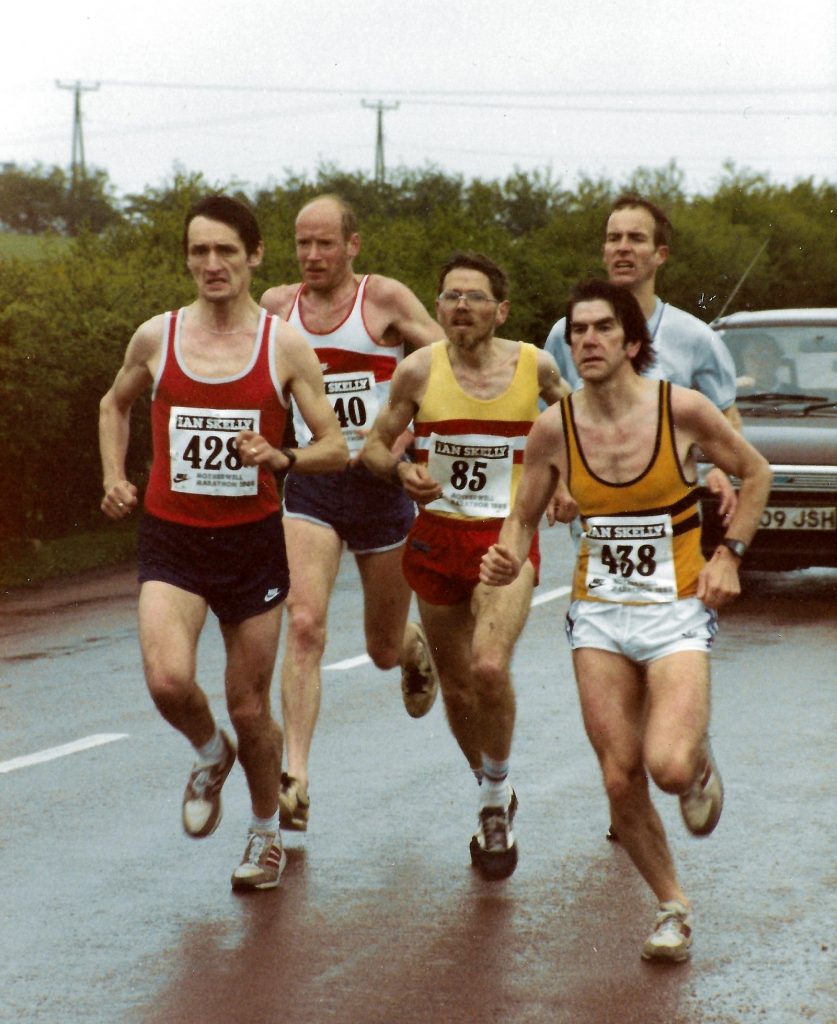 Left to right: Ian Moncur, Donald Ritchie, Davie Fairweather, Charlie McDougall, with Ernie Walker behind.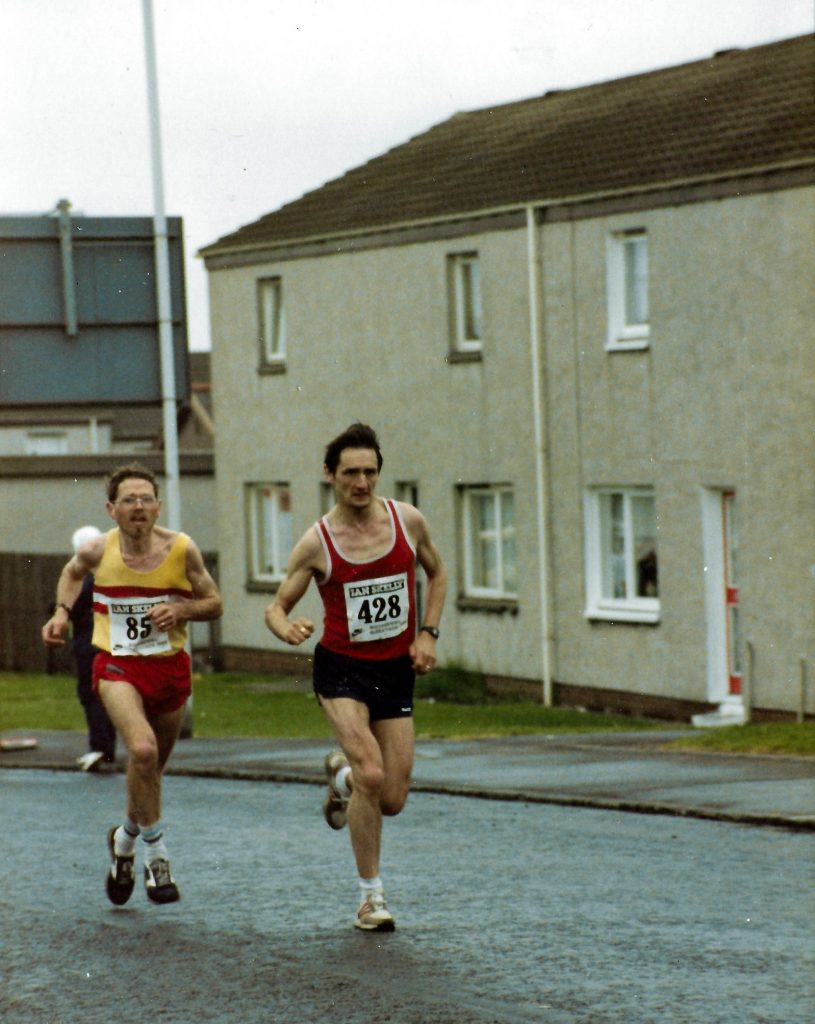 Ian Moncur about to move away from Davie Fairweather
The Wishaw Press headline was "TRUE GRIT CHARLIE IS 1985 MARATHON DARLING". The report started as follows: "Sheer contempt for pain gave Charlie McDougall victory in Sunday's Motherwell Marathon. For the 36-year-old East Kilbride runner waited until some tough hills at the 21-mile mark before he made his break for glory."
Charlie McDougall remembers: "Before I became a runner, I raced on a bicycle for 16 years. I trained with Robert Millar twice a week and our cycle team was very strong. [Robert Millar was the first man from Scotland (and Britain) to win the King of the Mountains jersey in the Tour de France.] My cycling background was very useful in becoming a good runner.
I got really fit by running many long hard miles. When the Motherwell Marathon came around, I told three people that I was going to win it. Now I had never said anything like this before. But the power of the mind really kicked in. I did not know who else was there till I arrived at the race. Okay, I saw Ian Moncur and Don Ritchie there, but I said I'm still going to win it. During the first few miles I heard someone say to Don, "How far ahead will you be today when you win it?" Anyway, a long time and many miles later, there were only a few runners left and we came to a short but steep hill. I went to the front and I could hear everyone else really breathing hard. I thought that there was a longer steeper hill around the corner and, when we got there, I was away! I did look back to see Ian trying to close me down but no chance. I was off on my own to win it. Afterwards, Davie Fairweather said that he thought I was mad when I surged away like that. I replied, "Who won the race, then?" A few weeks later, I went down to Blackburn in England and won that marathon too, on another very hilly course."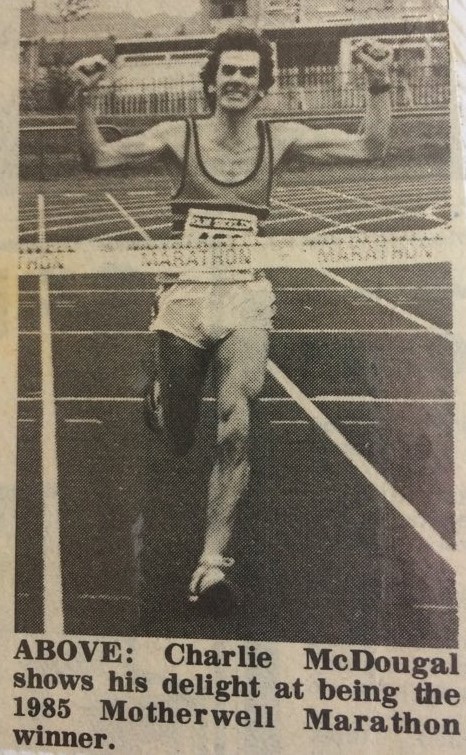 Donald Ritchie wrote in his training diary: "The weather was pretty unpleasant, with slight rain and a headwind. For a while I felt fine and the pace seemed easy, but it began to pick up at around seven miles and our group thinned to five as Mike McCulloch and Dave Taylor dropped behind. After Newhouse roundabout we started running quite fast on the downhill stretch through Bellshill and Holytown. At about 18.5 miles Charlie McDougall surged away and our group began to split up. Ian Moncur and Davie Fairweather went after Charlie, but I began to feel weak and had to ease back. I managed to get back to them on the long downhill past Ravenscraig into Motherwell, but I was dropped soon after. From then on it was just a question of plugging away and hoping that I might feel stronger again. I was reasonably pleased with my run, as it was not a do or die effort. I was not distressed after finishing; I just could not run fast enough. Probably I was running marathons too close together (London; Dundee a week later; and Motherwell three weeks after that!) I finished fourth in 2.28.04."
David Fairweather recalls. "This race was memorable for the freezing conditions and the strong leading group, who worked very well together. Charlie McDougall broke away near Mossend, by which time it was snowing! He did really well to stay clear, but was obviously the strongest runner. The finishing times were pretty good, considering the conditions and I did my best time for the race. The late Don Ritchie MBE from Moray Road Runners was 4th not far behind me. Only 4 weeks earlier, in London, he had run a near PB 2:21:26, aged 40! A week after London he had run 2.26.35 in the Dundee Marathon. He was a truly great runner and I was proud to be in his company in the Motherwell race."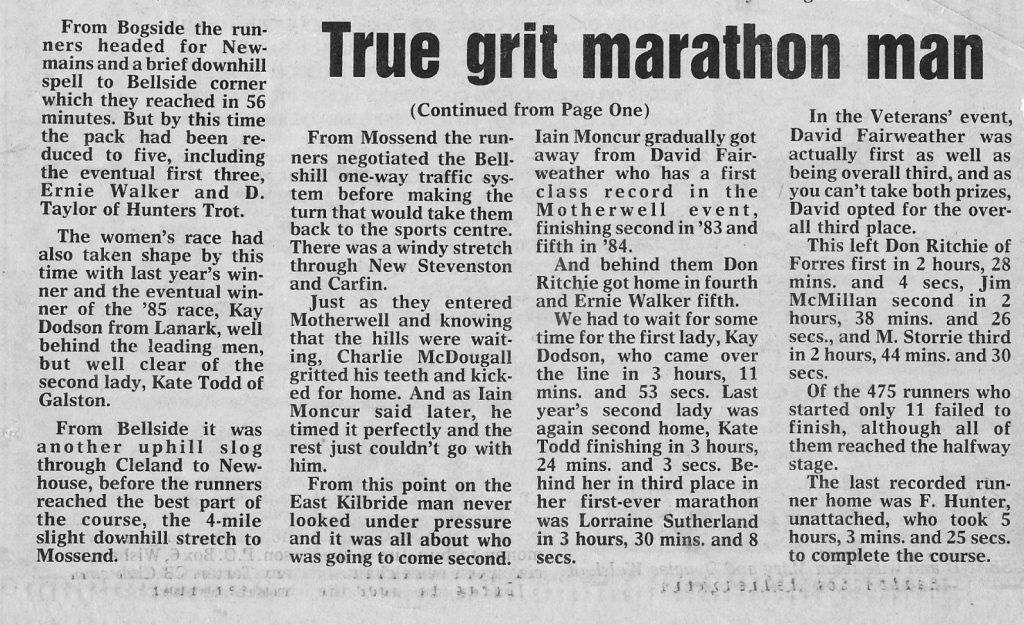 Part of the 1985 race report
1986: 18th May: This was the fourth and last occasion that the Motherwell Marathon was raced.
Andy Stirling (Bo'ness Runners) won clearly in 2.31.21. He went on to be a very good ultra-distance runner, winning the 36 miles Two Bridges race (from Donald Ritchie) in 1991 and again in 1993. He won the Scottish Veterans hill running title four times.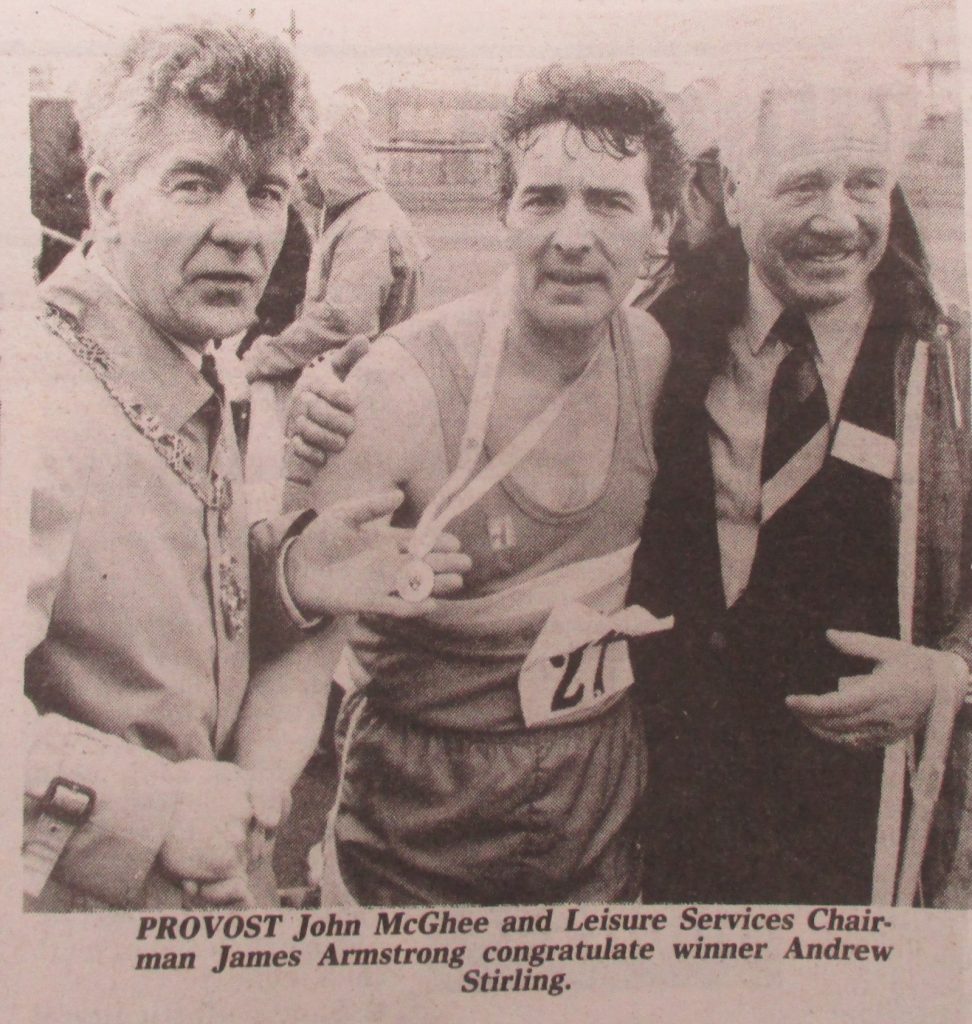 Davie Fairweather (Law and District AC) was second (and first Veteran again) in 2.34.20 – this very competitive athlete – outstandingly good as a Veteran – had completed with distinction all four Motherwell Marathons. Third place went to James Malone (London: 2.40.42), followed by H. Ilgunas (2.42.07). Davie Kirkwood (Wishaw) was first Veteran. Kay Dodson, strong and consistent as ever, finished first woman for the third year in succession, with a time of 3.09. Only 134 finished.
Davie recalls, "I don't remember much about this race. I think Andy Stirling and I ran most of the race together, but I was dropped well before the finish and it was my slowest time for the race."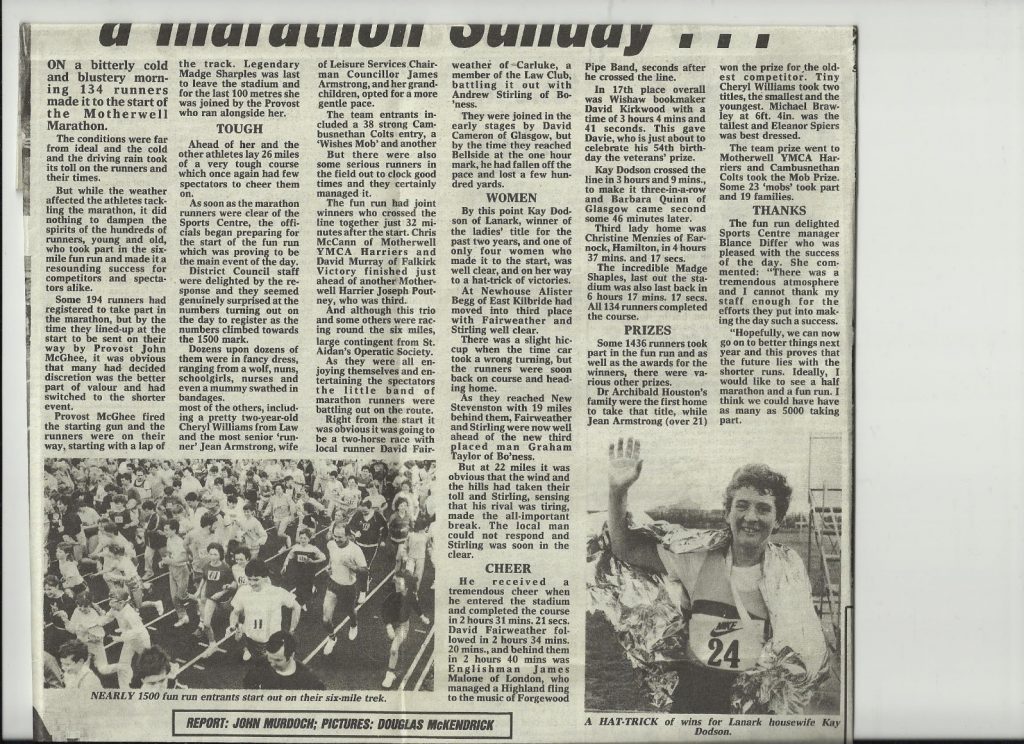 (24th May 1987)
From then on, the race became a Half Marathon. Unfortunately, on this occasion, the course was short (12.25 miles)
1 Alan Robson (Edinburgh Southern H) 63:42
2 Martin Coyne (EAC) 63:58
3 Billy Dickson (Law & District) 66:11
4 David Fairweather (Law & District) 66:33)