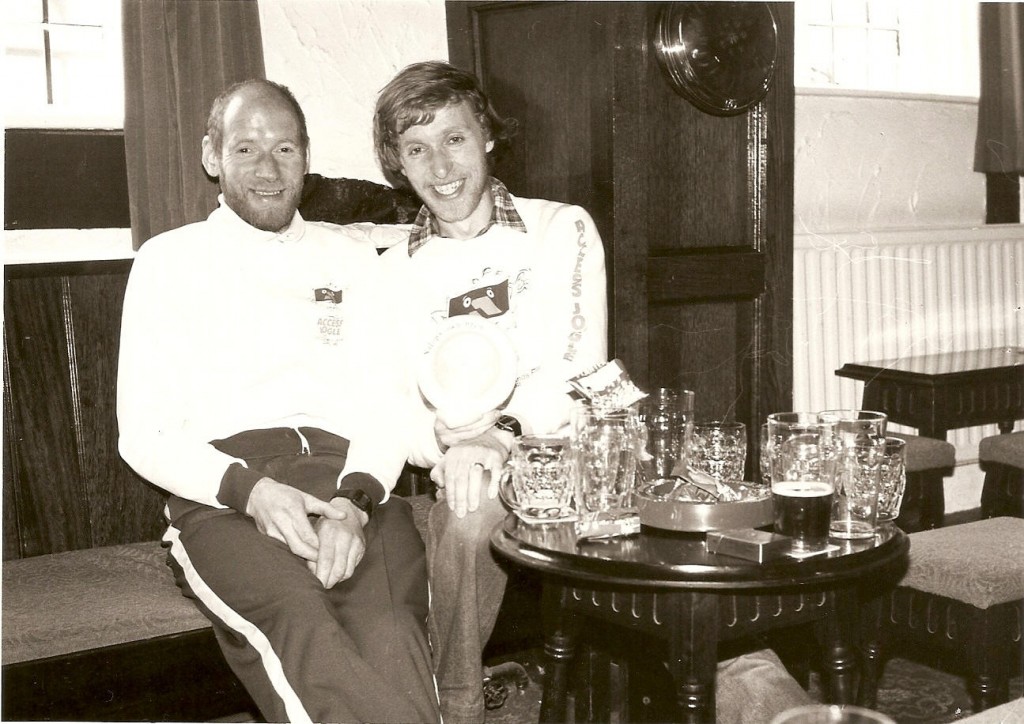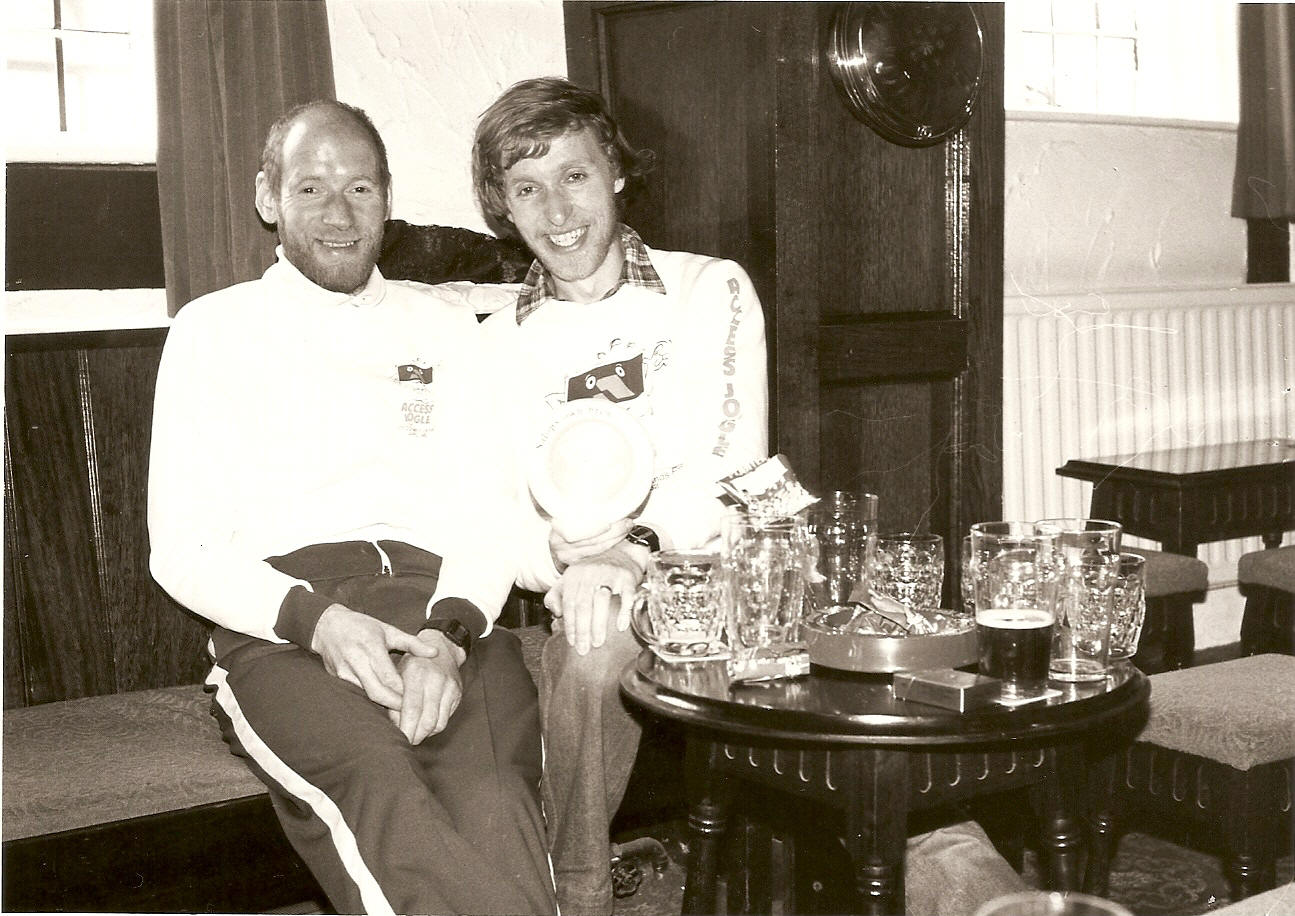 Don Ritchie, left, winner of five of the first six Moray Marathons
The oldest still running marathon in Scotland, the first Moray Marathon was held in 1982 and since then it has developed into a 3 in 1 running event incorporating the Marathon, Half Marathon and 10K Road Races. In 2014 the venue was changed from the Cooper Park to the Glen Moray Distillery, and was run on a different course.
The 2006 event celebrated the 25th anniversary of the marathon with Simon Pride (Forres Harriers) finishing in 2:39:53 to win the event for the 5th time and Kate Jenkins (Gala Harriers) first woman home in 2:58:29 to win her 8th Moray Marathon. (Kate went on to win this marathon an amazing 14 times!)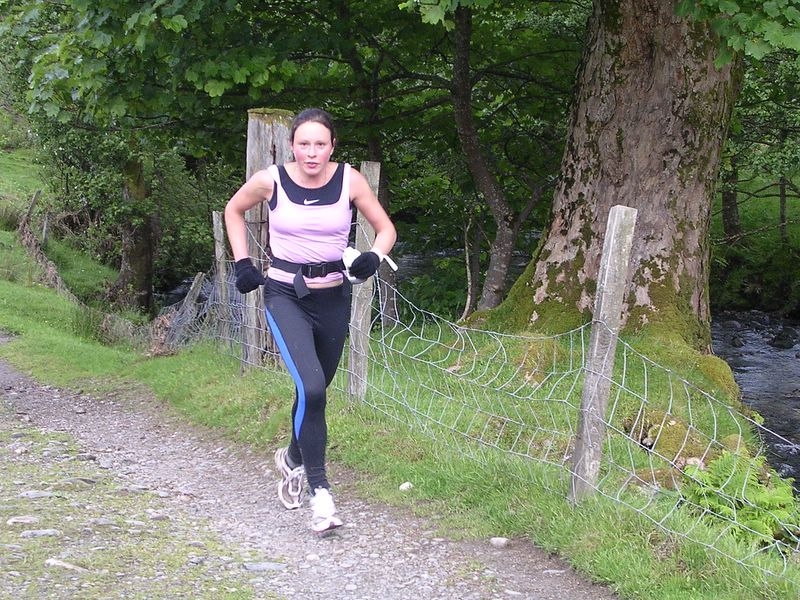 Kate Jenkins: 14 times winner of the Moray Marath0n
The marathon was part of a real festival of running wit associated 10K and half-marathon events. The marathon results are below and the results of the other two races are available at these links: The Moray 10K The Moray Half-Marathon
1982

2.29.36

Don Ritchie

Forres Harriers

C Wallach

U\A

1983

2.36.11

Don Ritchie

Forres Harriers

Eileen Forbes & Morag Thow

U\A

1984

2.29.17

Don Ritchie

Forres Harriers

3.22.46

Sheila Cluley

Forfar RR

1985

2.41.15

Graham Flatters

Dundee Hawkhill Harriers

3.14.32

Morag Taggart

Pitreavie

1986

2.36.45

Don Ritchie

Forres Harriers

3.15.17

Margaret Robertson

Dundee RR

1987

2.31.50

Don Ritchie

Forres Harriers

2.51.09

Frances Guy

Belgrave H

1988

2.40.35

Mick Francis

Forres Harriers

3.22.45

Margaret McDonald

Peterhead RR

1989

2.31.58

Charlie McIntyre

Fraserburgh

3.10.08

Sheila Catford

1990

2.28.29

Eric Seedhouse

City of Hull

3.11.25

Margaret Robertson

Dundee RR

1991

2.38.18

Ron Kirkton

Milburn Harriers

3.44.09

Fiona Nicholson

Forfar RR

1992

2.25.38

Fraser Clyne

Metro Aberdeen

3.14.30

Trudi Thomson

Pitreavie

1993

2.30.10

David Lancaster

Rowantree Club, York

3.13.15

Diane Harvey

Tipton Harriers

1994

2.33.31

David Lancaster

Rowantree Club, York

4.03.36

Marion Cumming

Aberdeen AAC

1995

2.34.43

Alan Reid

Peterhead AAC

3.06.49

Lynda Bain

Garioch RR

1996

2.37.15

Allan Stewart

Moray Roadrunners

3.22.13

Linda Trahan

Garioch

1997

2.29.39

Fraser Clyne

Metro Aberdeen

3.18.07

Kate Jenkins

Carnethy

1998

2.29.04

Simon Pride

Keith & District

3.20.12

Kate Jenkins

Carnethy

1999

2.46.37

David Lancaster

Rowantree Club, York

3.03.56

Kate Jenkins

Carnethy

2000

2.21.17

Simon Pride

Keith & District

3.04.21

Kate Jenkins

Carnethy

2001

2.28.34

Simon Pride

Keith & District

2.49.43

Trudi Thomson

Pitreavie

2002

2.38.48

Brian Fieldsend

Inverness Harriers

3.01.26

Kate Jenkins

Carnethy

2003

2:34:08

Jamie Reid

Ron Hill Cambuslang

3:09:18

Kate Jenkins

Carnethy

2004

2:36:49

Simon Pride

Metro Aberdeen

3:07:48

Jenny Robertson

Metro

2005

2:32:22

Ian Fisher

Altrincham AAC

3:08:18

Kate Jenkins

Carnethy

2006

2:39:53

Simon Pride

Forres Harriers

2:58:29

Kate Jenkins

Gala Harriers

2007

2:33:11

Jamie Reid

Cambuslang

3:10:43

Kate Jenkins

Gala Harriers

2008

2:43:11

Niku Millott

Metro Aberdeen

3:02:06

Kate Jenkins

Gala Harriers

2009

2:41:47

Martin Ferguson

Edinburgh AC

2:57:59

Kate Jenkins

Hunters Bog Trotters

2010

2:45:57

Steven Reid

Fife AC

3:01:30

Kate Jenkins

Hunters Bog Trotters

2011

2:44:12

Gareth Mayze

Teviotdale

3:00:17

Kate Jenkins

Hunters Bog Trotters

2012

2:48:15

Paul Carroll

Clydesdale

3:03:25

Kate Jenkins

Hunters Bog Trotters

2013

2:39:17

Tony Jackson

Perth Roadrunners

2:53:52

Ellie Greenwood

2014

2:45:40

Wayne Dashper

Forres Harriers

3:21:47

Elaine Sheridan

Garioch RR

2015

2:46:26

John Hammond

Carnethy Hill Running Club

3:16:12

Debbie Moore

N/A

2016

3:16:14

Connell Drummond

Kilmarnock Harriers & AC

3:21:05

Mary McCutcheon

Giffnock North AAC

2017

Cancelled
Course records (Finish at Cooper park 1982-2013)
Marathon

Men – Simon Pride – Keith & District – 2 h 21 min 17 s

Women – Trudi Thomson –Pitreavie AAC 2 h 49 min 43 s

Half marathon

Men – Graham Crawford – Springburn Harriers – 1 h 06 min 09 s

Women – Lyn Harding – Houghton AC – 1h 14 min 58 s

10 K

Men – Chris Hall – Aberdeen AAC – 29 min 46 s

Women – Lyn Harding – Houghton AC – 33 min 58 s
Course records (Finish at Glen Moray Distillery since 2014)
Marathon
Men – Wayne Dashper – Forres Harriers – 2 h 45 min 40 s (2014)
Women – Debbie Moore – Unattached – 3 h 16 min 12 s (2015)
Half marathon
Men – John Newsom – Inverness Harriers – 1h 12 min 55 s (2015)
Women – Sarah Liebnitz – Inverness Harriers – 1 h 22 min 10 s (2014)
10 K
Men – Gordon Lennox – Forres Harriers – 33 min 10 s (2014 & 2015)
Women – Sarah Liebnitz – Inverness Harriers – 38 min 16 s (2016)
A SELECTION OF RACE REPORTS
Don Ritchie, the legendary ultra-distance runner, wrote the following in his training diary. "On Sunday the 15th of August 1982, I ran the first 'Moray Marathon' in warm and windy conditions. I went into the lead at about 6 miles and pulled away from Ian Moncur and John Robertson, passing 10 miles in 54.30 and 15 miles in 1.21.04. I was running well and felt good. In Lossiemouth I began to feel tired and had difficulty with the strong headwind by the harbour. I passed 20 miles in 1.49.58. Over the last four miles I found the conditions difficult and was getting dehydrated, so my pace dropped considerably and I was glad to reach the finish in 2.29.36. Alastair Wood (former European marathon record-holder) came through for second in 2.35.02, well ahead of Ian Moncur, who finished in 2.43.48.
There was a feeling among the runners that the course was over-distance, so I would have to try to get it measured by a Jones Counter, on a bicycle calibrated over a measured mile. Adrian Stott from Edinburgh, an accredited course measurer, agreed to assess the course so he, Elgin marathon runner Duncan Davidson, who also had a Jones Counter and a calibrated bicycle, and I cycled the course on a summer evening. The measurement indicated that the present course was 315 yards beyond the standard marathon distance, so the route would be modified for the next edition of the race." (Donald always treated the Moray Marathon as merely a hard training run – but still won it five times!)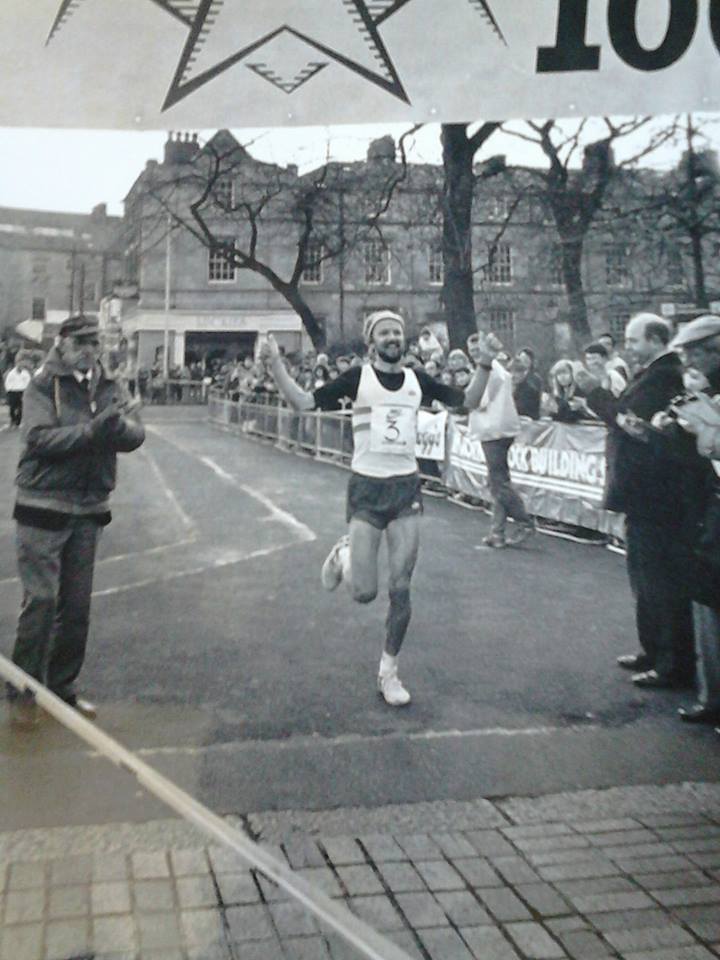 Fraser Clyne (Metro Aberdeen Running Club, above winning in Morpeth) was a couple of weeks short of his 37th birthday when he travelled to Elgin for the 1992 Scottish Championship race. The event, held along with a 10km and half marathon as part of the Macallan Moray Festival of Running, was organised by Moray Road Runners. It started and finished in Elgin's Cooper Park and the course followed a series of quiet rural roads past Burghead and Lossiemouth. This was the furthest north the championship had ever been held.
Although Clyne was taking part in the championship for the first time he still wasn't taking the event too seriously. His training diary reveals that 90 miles had been run in the seven days before the Moray race so he was hardly well rested for the challenge.
John Duffy of IBM Spango Valley (formerly of Greenock Wellpark Harriers – and later of Shettleston Harriers) got the race off to a spritely start on a bright but breezy day. The stiff climb out of Elgin after two miles resulted in a slowing of the tempo and soon a small group which included Duffy, Clyne, George Reynolds of Forres, Aberdeen-based New Zealander Stuart Mills, Ayr's Alistair Stewart and the Teviotdale pair Nicol Maltman and Andy Fair settled in at the head of the field. Duffy seized the initiative approaching the 12 mile mark by increasing the pace and quickly pulling away from the group which immediately began to break up. Clyne allowed the Spango Valley man to open a lead of 100 metres before setting off in pursuit. The Aberdeen athlete quickly pulled in his rival and swept past to open up a gap which stretched to almost three minutes by the end of the race. Clyne coasted home in 2.25.38. It was the slowest time he had ever run for a marathon but a course record nonetheless. Duffy collected the silver medal in 2.28.25 and Mills was a clear third in 2.30.16.
'I just did enough to win,' Clyne said at the time. 'I wanted to win the title but I also didn't want to interrupt my training which is aimed at the California International Marathon in December.' (Clyne later ran 2.20.5 in the American race).
Trudi Thomson of Babcock Pitreavie AC, who would later become an international class marathon and ultra-distance runner, won the women's race in 3.14.30. Fiona Nicholson and Clare Slatter were well behind in second and third respectively.
1995 featured a very close race in the Moray Marathon. David Lancaster (York), who won the Moray Marathon in 1993, 1994 and 1999, and was involved in a competitive battle to retain his title. He finished third this year in 2.35.30. Ultra-distance star Alan Reid (Peterhead AAC), with a tremendous sprint, won in 2.34.43 from George Sim (Moray Road Runners) in 2.34.45. Lynda Bain (Garioch Road Runners), a former GB Marathon International, finished first woman in 3.06.49.
The Moray Marathon was the chosen venue for the Scottish Marathon Championship in 1997, so Fraser Clyne travelled to Elgin to bid for a fifth title in 1997 at the age of 42. Interest in the championship had dwindled to an all-time low and even some of the people involved with the organisation of the event were unaware it had been given championship status. 'When I handed the trophy over to them before the start of the race an official asked what it was for,' Clyne said.
The race itself was over within the first two miles. On a warm and blustery day Stevie Ogg of FMC Carnegie Harriers kept with Clyne for a little more than ten minutes before dropping well off the pace. Clyne, who had been worried by a foot injury in the preceding weeks, was able to relax and cruised away to win by more that ten minutes in 2.29.39. Ogg achieved his aim of securing a London qualifying time when finishing second in 2.39.39; while Londoner Steven Kovacs seemed bemused at receiving a championship bronze medal after taking third place in 2.45.18 – it was the slowest medal-winning time for more than 30 years.
Kate Jenkins of the Carnethy Hill Running Club was a convincing winner of the women's race when recording 3.18.07 to finish well ahead of Pat Donald of Deeside Runners (3.44.38) and Val Goldie of Milburn Harriers (3.51.48).
David Lancaster won three times: in 1993 (2.30.10, well clear of the opposition); 1994 (2.33.31); and 1999 aged 42 (2.46.37) on a very hot, humid day which made the marathon 'a gruelling slog'. He was also third in 1998, behind Simon Pride and Sam Graves from Fife AC.
The 1999 report had the headline: "Lancaster does it the hard way". He 'came home ten minutes clear of the field'. 'This was Lancaster's first race as a veteran and he had to win it the hard way by running solo for most of the race. "The main thing," he said, "is the mental anguish of being on your own the whole way. Mentally it is very hard, but the good thing about the Moray Marathon is that there is plenty to see en route." For the last five years, David Lancaster has been a regular visitor to the Moray 3 in 1 event, which also incorporates a half marathon and 10k. He combines the race with a family holiday in the area."
"Despite the heat taking its toll on her legs by the finish, Kate Jenkins clinched her third successive Moray Marathon Ladies' Championship win in style. She was delighted to run a personal best of 3.03.56, which was good enough for fifth place overall. The Carnethy Hill Runner is the reigning Scottish Ladies' Hill Running Champion and completed an amazing 40 miles on the hills just a week before tackling the marathon.'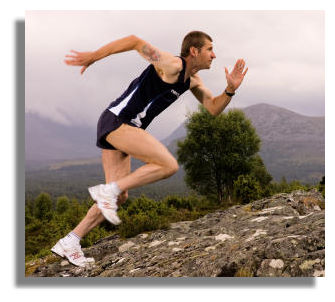 Simon Pride (Keith and District, above) enjoyed his greatest triumph in May 1999, in France, where he won the World title with a UK road best of 6 hours 24 minutes 05 seconds. It was a superb performance which took the ultra-marathon world by surprise. Even more surprising was Simon's decision a year later not to defend the World title. 'I need a break from ultras,' he said at the time. He decided to concentrate on marathons for a while and, when the opportunity to bid for a Scottish title on his home patch presented itself, Pride was in no mood to miss out.
He was determined to win the 2000 Scottish championship – and equally keen to break the Moray Marathon course record of 2.25.38 set eight years earlier by Fraser Clyne. He achieved both with plenty to spare. Running on his own for almost the whole way, he took advantage of perfect conditions to stop the clock at 2.21.17. It was the quickest winning performance in the championships since 1984, the biggest winning margin ever, and was just 14 seconds outside his personal best set in London four months earlier.
Martin Ferguson (City of Edinburgh) was more than two and a half miles behind in second place (2.35.49) and Nick Milovsorov (Metro Aberdeen), who was 'training for the Amsterdam marathon later in the year' collected bronze in 2.40.04.
Kate Jenkins (Carnethy), who earlier in the summer had set a women's record for the 95 miles race along the West Highland Way, in which she finished second overall, added another title to her growing list of endurance achievements, by taking the Scottish Women's Championship in 3.04.21. Carol Cadger (Perth) won silver in 3.12.24 and Averil Dudek (Perth) struck bronze in 3.18.34
(Simon Pride's concentration from 2000 onwards on the marathon distance paid dividends. He recorded an excellent personal best of 2:16:27 in the 2001 London event and represented his adopted country, Scotland, in the Manchester Commonwealth Games marathon in 2002, finishing 16th.)
The 2001 Scottish Marathon Championships, for both Men and Women, started and finished in Elgin, as part of the Moray Marathons series on September 2nd. The Athletics Weekly report by Fraser Clyne was as follows.
"Simon Pride (Metro Aberdeen RC) retained the Scottish marathon title with a comfortable victory over a field of 162 runners, but women's champion Trudi Thomson was in tears at the finish after missing the Commonwealth Games qualifying standards in tough conditions.
Pride, who clocked a Commonwealth qualifying time of 2.16.29 at London earlier this year, eased round the windswept course to finish in 2.28.34, well ahead of Martin Ferguson (City of Edinburgh – 2.32.50), who collected the silver medal for the second year in a row.
Ferguson had bravely tried to hold on to the former World 100km champion for much of the race but Pride proved to be much too strong over the last six miles. Robert Davidson (2.42.55) was third, while fourth placed Terry Coyle (2.43.48) was top M40.
The result virtually guarantees Pride a place in the Scottish team for next year's Commonwealth Games in Manchester. He said, 'I felt quite comfortable but there was a very strong headwind in the closing four miles which made things difficult. The time was unimportant. I just wanted to win and I've achieved that, so now I can relax. I'm happy.'
Pride also led Metro Aberdeen Running Club to the team title on a day when the North-East outfit also won the half marathon and 10k team trophies.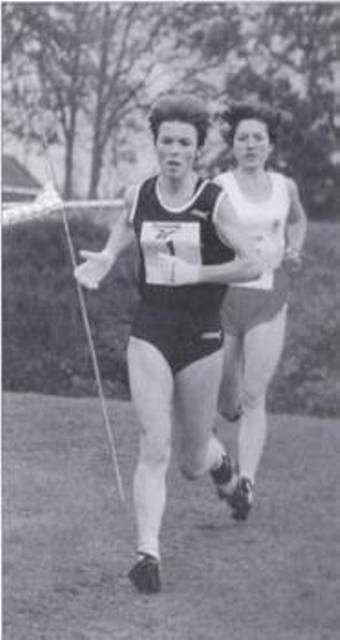 Trudi Thomson (Pitreavie AAC, above) became Scottish Women's Marathon Champion, but came to the Moray race hoping to get the Games qualifying standard of 2.40 and the strong winds ruined any hopes she had of achieving that mark. She said, 'I so wanted to get the standard. It was very hard in the first ten miles but, despite that, I was still on schedule at 20. Then it all fell away. I am so disappointed. I cannot believe how tough it was at the finish.'
Thomson, who was beaten by only six men, took little consolation from the fact that her 2.49.33 broke the course record of 2.51.09, set by Belgrave's Frances Guy in 1987. Carol Cadger (Perth Strathtay) was second in 3.20.57 and Scarlett Courtney (Milne's) took third spot in 3.21.54."
Carol Cadger was a durable athlete who won the Scottish 50km title four times, in 1998, 1999, 2000 and 2002.
In 2003 Jamie Reid reduced his ten mile time to 48:51. Then on 31st August in the Elgin Moray Marathon in Elgin, over a much slower course, he retained his Scottish title in 2:34:08, still three minutes ahead of his closest rival James Snodgrass (Kilbarchan AAC – 2.37.20), with Andreas Merdes (Lothian RC 2.39.58) third.
2007: In Elgin, at the Moray Marathon, the Scottish Women's Marathon title was won, for her fourth and final time, by Kate Jenkins (Carnethy HRC – 3.10.43); in front of K. McKinnon (Carnegie H – 3.16.27); and L Schumacher (3.18.09).
Jamie Reid (Cambuslang – 2.33.11) won his third Scottish Marathon title, gaining revenge on Simon Pride (Forres H – 2.33.46). Bronze medallist was David Gardiner (Kirkintilloch – 2.38.07).
Jamie Reid wrote very frankly about this race: "My most recent Scottish title was at Elgin in 2007 where I had my first marathon victory over Simon Pride. The previous day, my girlfriend Roisin and I had driven north as she was competing in a a six-a-side shinty tournament near Inverness for her club, Tir Connail Harps from Glasgow. I spent the afternoon watching the tournament, drinking diluting juice and eating large amounts of cake! Afterwards we drove to a B&B in Elgin where we checked in and went out for a meal. We settled for some pizza and relaxed talking about the shinty that afternoon and the race the next day. I wasn't really nervous as I wasn't expecting much as recent races hadn't gone particularly well. I had hit the over-training button again as I had logged a tremendous mileage (maximum of 144 miles per week), switching to this after my best ever fifth place at the National Cross-Country Championships in February. It hadn't improved me, only made me worse. Never mind, I entered the marathon, hoped for a solid run and then I could look forward to the autumn relays – my favourite part of the season. The morning of the race we had coffee in the hall after picking my number up. I saw that Simon Pride was entered, along with Adam Reid from Peterhead and David Gardiner from Kirkintilloch whom I knew fairly well.
Early pace was slow as the four of us settled down and let the countryside pass by. The day was warming up and there was little wind. I managed to get some drinks from Roisin as the race progressed, with the pace beginning to pick up as we passed Burghead (c14 miles). Simon and David pulled away and I knew it was too fast for me. In the distance I could see Simon moving ahead of David, but as we neared Lossiemouth, I could see I was gaining some ground. The sun by now was shining fiercely and I could sense a silver medal. I managed to pass David in Lossiemouth offering words of encouragement to each other, and I now looked to see how far ahead Simon was. He was out of sight.
Still, always believe – funny things can happen in the marathon. I finally caught sight of him as we entered the woods around 20 miles and I checked his lead in seconds. I can't remember exactly but it must have been at least a minute. After a mile or so, I checked again – it was now around six or seven seconds less. A quick calculation in my head told me it would be close if we maintained the same pace, so I pushed on. Three miles to go, I could see Simon more clearly now and I calculated I could catch him by the end if we both maintained the same pace. Roisin was at this point in the car and she drove quickly back to the finish.
Every step was taking me closer to Simon now and the Scottish title was back in my head. What will happen when I catch him? How much has he left? Is he tiring or just unaware that I'm coming through? I caught Simon just as we entered the outskirts of Elgin, around a mile to go, and I decided to give it a push on to try to discourage any attempt to try to stay with me. Thankfully for me it worked and I went on to win in 2:33:11 with Simon not far behind and David taking bronze – marathon title Number Three! A slow time for all three of us, and perhaps highlighting the dropping standard, but it was one of the few marathon races I've run which had been tactical and a real 'race'. I knew that, due to injuries, Simon had been past his best (although he had won the Scottish Masters M35 title in 2006), and neither David nor I had been at our peak, but it remained a very happy day for me. The rest was spent celebrating with ice-creams in Lossiemouth before driving south to Aviemore where we spent the night and I stuffed myself with burger and chips, washed down with chocolate fudge cake and ice cream!"
2014: Fraser Clyne reported on the controversial (and very last) race: "Kilmarnock's Connell Drummond got more miles for his money than expected when winning the Glen Moray Marathon at Elgin. Race organisers were left with a major headache after runners were directed off the proper course in the early stages of the race. Despite the best efforts of everyone involved to resolve the situation, the competitors ended up running anything from two to four miles over the prescribed regular 26.2 miles distance.
Drummond, who has a best time of 2.41.13 set at London in April, reckons he ran closer to 30 miles after completing the route in 3.16.14. He said, "I was hoping to run faster than I did at London but obviously that was never going to happen once we were put the wrong way. I was leading at the time but when they tried to sort things out I found myself behind a whole pile or runners. I reckon I had to pass 15-20 guys to get back into the lead and I'm just happy to win, although the finishing time doesn't mean anything now."
Mary McCutcheon (Giffnock North) was second across the line in 3.21.05, while John Goodall (Keith and District) finished third in 3.25.11. Elaine Armour (Bracknell Forest) was second woman in 3.49.23 and Carol Massie (Fraserburgh Running Club) was third, first over-50, in 3.49.45."