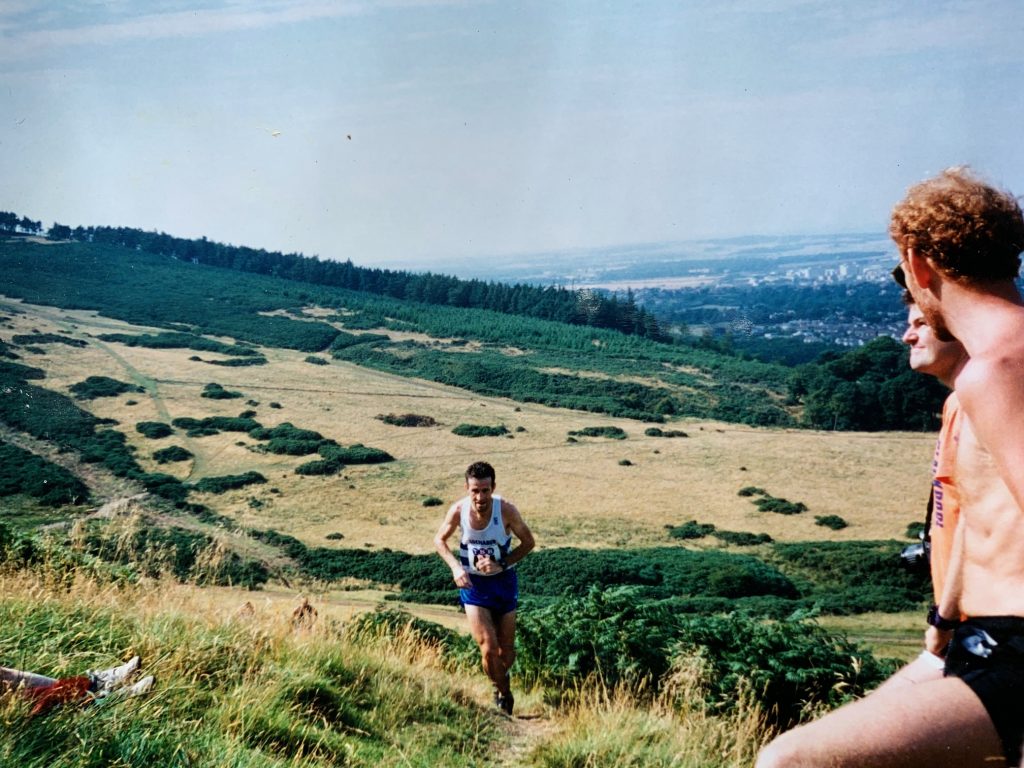 John Hepburn with Denis Bell in the foreground looking on
John Hepburn is a remarkable figure – a very good endurance runner with very good performances on the road, over the country and in the hills to his credit. Starting off with Dundee Hawkhill Harriers (and he still has this membership) he ran in all the major events open to him – District and National relays, district and national championships, the Edinburgh to Glasgow relay and all the classic road races such as the McAndrew, the Scallys, the Morpeth to Newcastle into the bargain. He ran well and would have been a real asset to any team in the country. Then he discovered the hills and they became the focus for his endeavours thereafter, to the extent that he won international vests and ran 21 Ben Nevis races! A good, dedicated and thoughtful athlete he ran for Scotland along with and against some of the very best in the world. We have some of his photographs here (see the links at the foot of the page) and he has answered fellow hill runner Denis Bell's questionnaire. It is a model of its kind giving information his motivation at various points in his career, information on all aspects, his thoughts on training and so on.
Denis himself says of his kindred spirit that: People like John make the history of the sport
* He has a broad background.
* He has been with 2 wonderful clubs for 40 years.
* He has won accolades and vests and been a stalwart.
*He ran superbly and has been committed to helping others by basic coaching and incredible administrative work.
As a person, he is a very honest upstanding man, with a passion for 'the hills' and utterly reliable.
Without people like John, the sport of athletics would be severely diminished'
To which we can only say "Hear, hear!" Click on the link above to go to the page itself, and use the links below to see the photographs.
John Hepburn's Photographs: 1 John Hepburn's Photographs: 2 John Hepburn's Photographs: 3