Wikipedia states: "Robbie Simpson is a British male long-distance runner who competes in marathon and mountain running events. He was a silver medallist at the 2014 European Mountain Running Championships and a bronze medallist at the 2015 World Mountain Running Championships. Representing Scotland, he won his first international marathon medal (a bronze) at the 2018 Commonwealth Games.
Simpson has competed five times at the European Mountain Running Championships (2009, 2012, 2013, 2014, 2015) and five times at the World Mountain Running Championships (2008, 2009, 2012, 2014, 2015). He won the 2016 and 2018 editions of the Jungfrau Marathon and ranking in the top twenty at the 2016 and 2017 London Marathon. He holds a personal best of 2.14.56 for the marathon." (There is more detail on the wiki page.)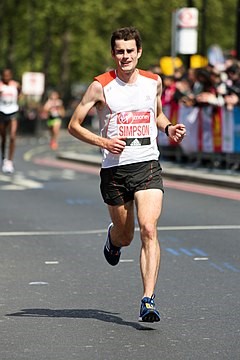 Robbie during the 2017 London Marathon
2015 World Mountain Running Championships at Betwys-y-Coed, Wales:
Individual bronze: Robbie Simpson. Team bronze: Great Britain (Robbie Simpson 3rd, Andy Douglas 6th, Chris Smith 10th, Thomas Adams 27th.
Second in the 2011 Commonwealth Mountain Running Championships at Llanberis, Wales.
As an under-15 in 2006, Robbie Simpson ran track events between 400m and 3000m in Aberdeen, Inverness and Grangemouth, where he finished fourth (4.22.09) in the 1500m at the Scottish Schools Championships.
In 2007, as an under-17, he improved his times and added 5000m and Cross-Country.
In 2008, still under-17, he raced 29 times (including 15 hill races), winning the Aboyne Hill Race, Scolty, and finishing fourth in the British and Irish Junior Championships, with three under-20s ahead of him. This gained selection for the World Mountain Running Championships at Crans Montana, Switzerland.
From 2009, (DO READ HIS POWER OF 10 PAGE) his International Hill Racing career continued to flourish, along with a number of 10k road races, winning the Ballater 10 miles and taking part in the UK Cross Challenge in Liverpool.
Since then, apart from Robbie's many successes on the hills and mountains, he was: first under-20 in the 2011 East District XC; at under-23 won the 2013 Great Edinburgh XC (Scottish Inter-District Championships) title; won a silver medal at the 2013 Scottish National XC Championships; won the 2013 Tom Scott 10 miles and the Jim Dingwall Round the Houses 10k; won the 2014 Inverness Half Marathon (66.03); the 2018 Inverness Half (64.27); in the London Marathon ran 2.15.38 in 2016, 2,15.04 in 2017, 2.14.56 in 2019 and 2.15.26 at Kew Gardens in 2021.
Robbie SIMPSON (14.11.91) Banchory Stonehaven, Deeside Runners
2016 Mar 2:15:38 4th in the annual Scottish rankings
2017 Mar 2:15:04 3rd
2018 Mar 2:19:36 First
2019 Mar 2:14:56 3rd
Championship Record:
Commonwealth Games 2018 Marathon (3rd).
Great Britain: 2nd Marathon 2017.
Scottish: 1st Marathon 2017
One Junior Scottish XC International: 2013 Celtic Nations at Cardiff. Robbie finished 7th (third Scot) and Scotland lost narrowly (on countback) to Wales but beat Ulster.
Two Senior Scottish Road Internationals:
At Armagh in 2015 over 5km;
On 15th April 2018 at Gold Coast, Australia: Commonwealth Games Marathon, bronze medal in 2.19.36.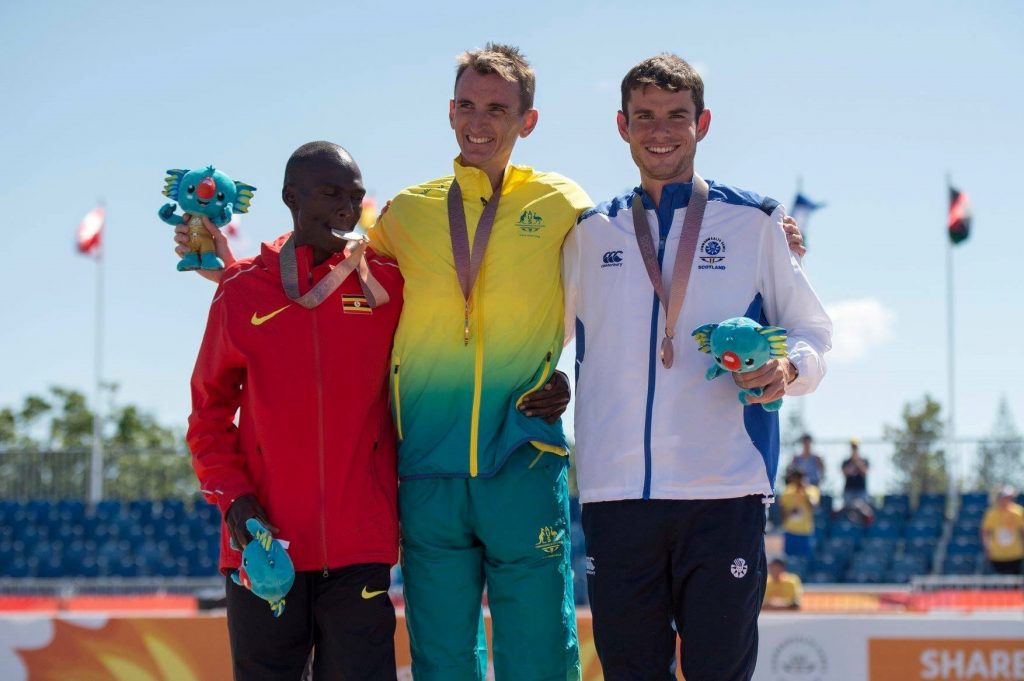 Photo by Bobby Gavin.
On his Facebook page, Robbie Simpson wrote:
"Here's a (fairly lengthy) blog about my time in Australia for the Commonwealth Games and the build-up period over the winter. I've been terrible at keeping people updated so this is long overdue!
After the last mountain running season, I switched my training towards marathon with the hope of being picked for Scotland for the Commonwealth Games team. When the news did come that I was in the team in December it was a huge boost. I'd had 2-3 weeks of getting over a slight injury and once the team selections came out I didn't notice it again! Towards the end of 2017 I'd been struggling with my form, I thought things were going well in training but every time I underperformed in the races and it made me doubt if I was going in the right direction.
I had a 5-week training camp to look forward to in Spain at the start of 2018 and that was where I was determined to get things on track. I was staying with Dan Studley who was training for a half marathon so we linked up on some of the sessions which helped a lot. The place we stayed was a small town in the mountains called Calasparra which turned out to be an amazing place for running with trails, roads and delicious local rice! After a few weeks of 120 miles a week and some big sessions I felt a lot more confident. Dan went on to run a big PB of 64.23 so I knew the sessions we'd done had been solid.
Coming back to Scotland in February was nice, but it was only 5 weeks until leaving for Australia so I just had to tick off the big sessions day by day. To begin with it was great but I remember doing a session of 6 x 2km when the snow started heavily. By the last two reps the roads were covered in 10cm of wet snow and on the hilly bits and tight corners I was sliding around all over the place! That snow didn't last long but then the Beast from the East came shortly after and interrupted things again.
At that point there were just a few key sessions I needed to do before my half marathon at Inverness and then it would be another 5 days before I finally got to Australia and avoided the never-ending winter! So I flew to Barcelona for five days and got my last hard training done in the sunshine instead of wading through more snow. Inverness was one of my most satisfying victories. After months of never quite knowing if I was in good shape, I ran a PB and new course record of 64.27. Then it was job done in Scotland and just a case of adapting to the climate in Australia in the final four weeks to the marathon…
I didn't quite appreciate how hot and humid it would be, especially coming from a cold winter when 5 degrees has felt like a hot day! The first days were tough, just running easy. It's better I don't say how slow my first interval session was! After 9 days out there, I did a 2hr 15 long run with tempo running at the end and I faded so badly that the last part (which was meant to be the quickest) was barely faster than the easy pace I started at. In that run I'd lost around 4kg through sweating and that was after drinking every 10-15 minutes. It was useful to learn these lessons early on so we could come up with a strategy to keep as cool as possible. Myself and Callum had a few ideas involving white caps and ice or any way we could get it. During this time, I stayed in an apartment with the other Scottish endurance guys and it was great to learn how everyone prepared and see how hard they work.
After two weeks in Australia something changed overnight and all at once I was able to handle the heat. I still sweated tons but my pace didn't drop off suddenly when trying to run hard sessions. This gave me extra confidence as it got closer to the race. The final sessions went brilliantly and it felt like things were coming together nicely. Even better was that we'd managed to source a pile of white Salomon caps to use in the marathon to keep us cool. Moving to the Athletes' Village and being around thousands of other athletes was a bit of a shock after a month of hiding away on a training camp with a few other guys! The best thing was the 24-hour canteen with all kinds of foods (including cereal!).
Race day was meant to be the hottest day of our trip to Australia, a max of 32 degrees. After the four weeks out there, we decided that it was an advantage that it was hot, since we should be better adapted than others and not running scared. We also had the confidence to adapt our race strategy and run slower while others may run too quick too soon then overheat. It's easy saying that now but it was impossible to predict how things would play out and I never would have predicted the outcome that happened.
Once the race had started, I let the lead pack go at 5km and tried to maintain a constant effort throughout, gradually reeling people in over the second half but keeping a bit in the tank for the last push from 35km onwards. I got so much support when people saw my Scotland vest as they'd seen Callum leading a few minutes (or at least 5 minutes!) earlier – it actually gave me a big boost to know he was doing so well. At 39km I would have been around 6th but I'd heard the leader had stopped (hoping it wasn't him) and I could see two guys within reach. I wasn't able to do the maths at that point but luckily someone said a medal was possible for the guy I was about to overtake so I realised it could be mine.
I stayed focused on my goal of catching the next runner before the end; luckily there were a few small hills to look forward to which helped. Soon after getting into 3rd, I saw it was Callum on the ground and it was a horrible feeling. At that stage I didn't know how serious it was or what exactly was wrong but saw he had medical with him. Seeing the footage afterwards was a lot more distressing.
The only option was to get to the finish as fast as possible and make sure Scotland could still get a medal. There was a lot going through my head at that point so, when I finally reached the finishing straight in third place, after everything that happened it was surreal. It was pure joy but mixed with a feeling of sadness and concern for Callum. My girlfriend and my parents were out there supporting me and it was amazing to enjoy that success with them after the hard work over the years and many setbacks on the way!
A few others who I really appreciated the support from in the build-up and on race day – Fraser Clyne for the encouragement and support over many years and the pre-race message saying the tough conditions would suit me and a result like this would be possible. Mike Johnston for joining me on the bike during every session in Australia with drinks, support and also keeping an eye on my training progress. Callum for the advice, encouragement and entertainment in the build-up. I look forward to seeing his return and future medals. Joe Morwood – for the early morning off-road runs and company in the final key sessions. To the guys I stayed with, in the Team Scotland training camp (Guy, Chris and Jake) and the rest of the athletes and support staff for looking after us, especially Peter Matthews for arranging that post race pizza! And finally, to everyone who supported me over the years to this point and everyone who was there on the streets of Gold Coast or watching at home. And thanks to Bobby Gavin for the brilliant photos.
Now I've had a few easy weeks and plan to get back on the mountains for the summer. Thanks for reading!"
(In the 2019 European Mountain Running Championship, 23 year-old Jacob Adkin (Edinburgh University, Keswick) secured an excellent individual gold. He was backed by fellow Scots Robbie Simpson (7th) and Andy Douglas (9th) and GB won team gold.)