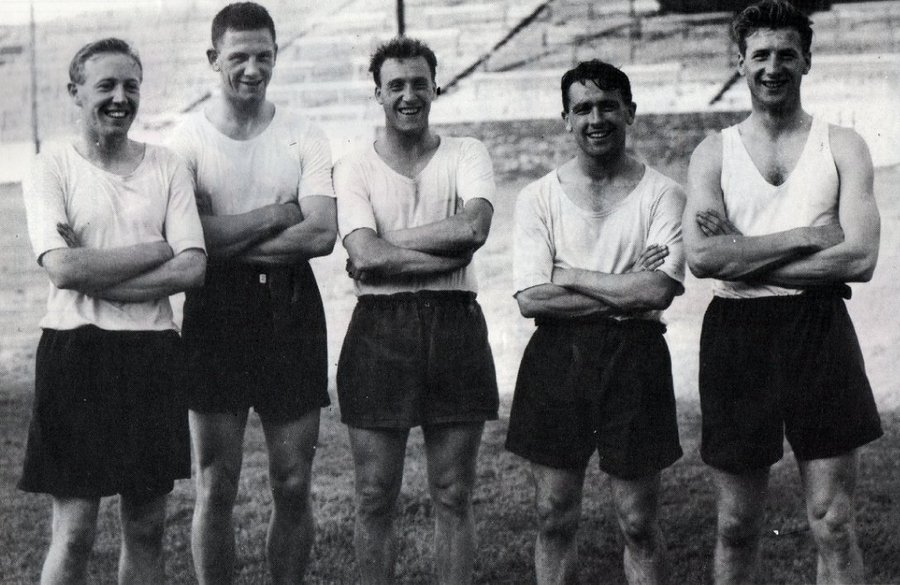 John Freebairn (second from the left) with some Partick Thistle players in the late 1950's
I first met John Freebairn in the late-80's when I was Group Coach for 5000/10000 metres and he filled the same position for the Shot Putt. He was a Senior Coach for Shot and Discus and a Club Coach for Javelin at that time and had been a professional athlete during his days as a competitive athlete. He had also competed in University athletics and been a professional football player. As Jack Davidson said in an article in the Scotsman, "Versatility was his byword, perhaps to the extent of preventing him from fully fulfilling his sporting destiny. Still, performing with distinction at venues so iconic yet so contrasting as Wembley and Braemar would, for most, be more than notable markers along the road to acquiring a weighty set of sporting laurels." The article by Davidson is quite excellent and can be found at
https://www.scotsman.com/sport/athletics/interview-john-freebairn-goalkeeper-and-athlete-1-3249118
John Freebairn started off in Kilsyth and has never really strayed from the area, he still lives there. He came from a fairly active sporting family – his father had been a pupil at Dollar Academy where he won the school long jump at age 16 with a leap of 16 feet 6 inches; his aunt was also very athletic and won many sports events. As a boy, he and pals in Kilsyth were into a variety of activities. As for John himself, Jack Davidson's article tells us that "Apart from kicking a ball, rudimentary pole vaulting using a clothes 'stretcher' (ie a clothes pole) over burns and fences was one pastime, while performing hop, step and jump across street junctions was another. Sprint practice along the local railway track using short steps over the sleepers, foreshadowing modern football training methods, was yet another"
He was always a fast runner and won the Primary School sports before going on to secondary school. A pupil at Kilsyth Academy and a six foot high jumper, he won the Scottish Schools High Jump in his final year, and was also goalkeeper for the Scottish Schoolboys' team. Always a bit of an all-rounder, he could have won several events at the SSAA Championships but the rules forbade any pupil entering several events. He had a job with Tay Salmon Fisheries that entailed rowing people up and down the loch and he put on a stone and a half of muscle 'in no time at all'. A member of the YMCA he won the YMCA high jump at the age of 17 with a clearance of 5′ 11″ at Ardeer on 28th May 1956. The YMCA Championships were always a well supported meeting and at tat one the wonderful Scottish and GB hurdler DK Gracie from Larkhall won the 100 yards and Bert McKay of Motherwell won the 880 yards with Andy Brown winning the Mile.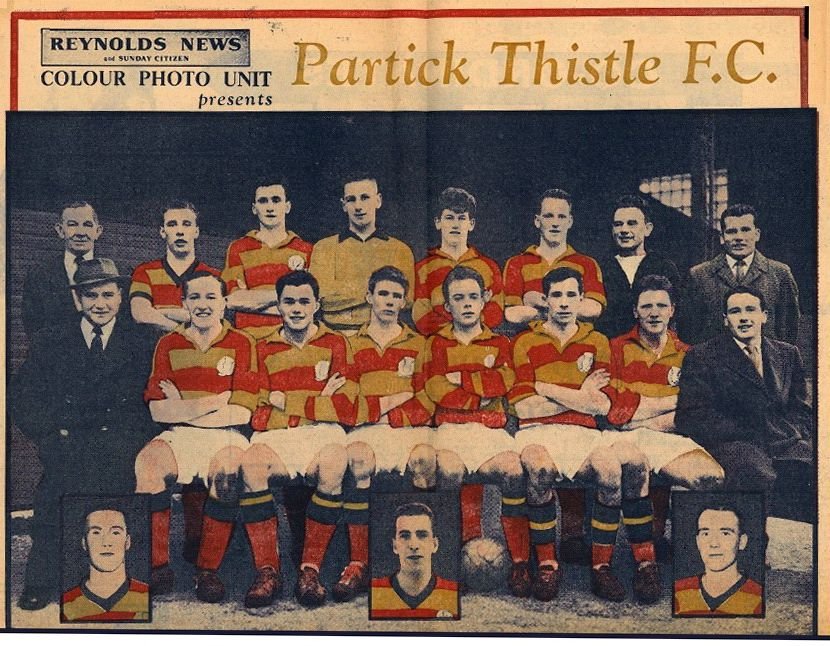 John's wearing the yellow jersey!
Football was always there though. The Scottish Schools team in which he played, lost to England at Wembley, losing 0-1 but only because "our forwards missed sitter after sitter". Caps for the Scottish Youth team followed playing alongside Billy Stevenson, later of Rangers, Liverpool and Scotland, and Johnny Macleod, later of Hibs, Arsenal and Scotland. Jack Davidson's article continues:
Despite a number of clubs wanting to sign him, Freebairn was determined to go to university to study civil engineering. Keen to retain his amateur status because of athletics, he played some games as an amateur for Airdrie with players such as Doug Baillie and Ian Macmillan. In these days, any suggestion of an athlete being paid tainted him and spelled the end of his amateur career."
When he went to Glasgow University he came under the wing of the great throws expert Fraser Riach. John was a good and enthusiastic pupil and Fraser was a good coach and he improved tremendously – his distances went up to 60m with the javelin, 50m with the discus and 14.5 m with the shot. Add in the skills that helped him win the Schools high jump and his natural speed, and you had a decathlete of no mean ability. Then when the Glasgow University team went to a match at St Andrews and the pole vaulter couldn't be there, he was asked to do the pole vault. His only previous experience was using the clothes pole to get over the burns and dykes in Kisyth as a boy but he had a go – and cleared in excess of 11 feet. In 1958 he was good enough to compete in the AAA Decathlon. Before that he had won three events in the GUAC Championships which were well covered in the Glasgow Herald:

The events covered both jumps and field events.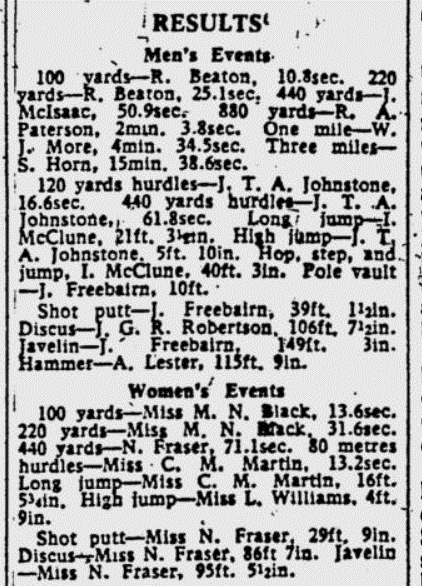 But money had always been a bit of a problem – he had his first tracksuit when he was 16 and he was still using it ten years later. Again, football came into the equation, and as Davidson says:
Once his university course was under way in Glasgow, he combined keeping goal for the students with representing them at athletics. In 1958, he took part in the AAA's decathlon championship, his debut in any kind of decathlon. In a field bolstered by overseas athletes, he finished a very creditable fifth. He gained three Scottish Amateur international football caps against England, Holland and Wales, and clubs were still pursuing him to sign professional forms, with Spurs and Arsenal among them.
A change in family circumstances at this point meant he needed financial help to continue his studies. Torn between economic need and preservation of his amateur status, Freebairn had a difficult decision to make. Despite Dunky Wright, the former marathon champion, trying to dissuade him, he accepted Partick Thistle's offer of a part-time contract, enabling him to follow his studies at Glasgow. Thistle were then a prominent old First Division team and, under the guidance of David Meiklejohn, the ex-Rangers and Scotland captain, he soon established himself as a first-team regular on £14 a week plus bonuses."
His time with Partick was successful and he faced all the top players in the country at the time – and at times they came off second best. In September 1961 Jimmy Miller of Rangers broke his collar bone in a clash with John and in the following week Rangers were playing Monaco at Ibrox, then East Fife in the Scottish League Cup quarter final, and then Celtic at Ibrox. But no matter how well he played against these men, his time at Firhill came to an end, The official story was that he was released when the club signed George Niven , the Rangers and Scotland goalkeeper.
Other football teams sought his services – among them was Portadown who wanted him as soon as he was released by the Thistle in May 1962: the Belfast Telegraph said that the 6′ 1″ Glasgow University student would be looking for employment in or near Glasgow so he might not be available next season. Then it was rumoured that St Mirren wanted his services but we will not pursue the football career – whoever got him on their books, his amateur athletic days were well and truly over.
His record with the Thistle: Arriving at Firhill for the 1958/59 campaign, John took over in goal from Tommy Ledgerwood in a talented Thistle team managed that season by David Meiklejohn and, later, by Willie Thornton. He went on to make 115 appearances for the club, training under Jackie Husband and alongside team-mates including the likes of Joe McBride, Dave McParland and Tommy Ewing. A Glasgow Cup winning medal arrived in season 1960/61.
Part 2: John Freebairn, Professional Athletes 2A John's Professional Competitive Record Part 3: John Freebairn: Veteran Athlete
Part 4: John Freebairn International Coach Part 5: John Freebairn: As Others See HIm