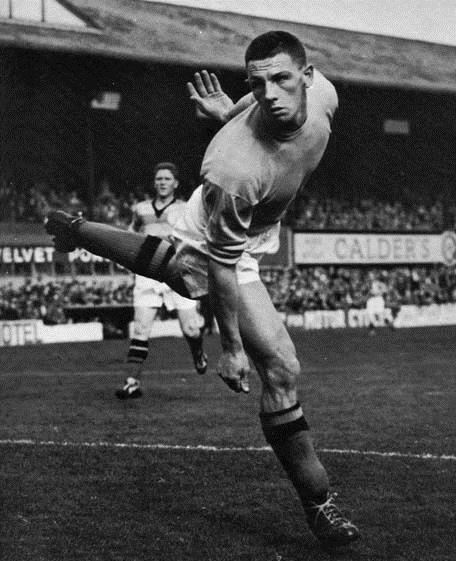 John's career in professional athletics was not marked by a narrow specialism. When I spoke to one of his contemporaries on the circuit he remembered John well. Where many confine themselves to the heavy events and others do the jumps, sprints or endurance events, John could perform well in them all – maybe not in the endurance races though. He could do a good long jump, he was a high jumper and hurdler, and in addition he was good at the throws. The transition from football is described – Davidson again:
That led Freebairn to the Highland Games, the only form of professional athletics then available. Over the next 25 years or so he went on to have a highly successful Games career, mastering the arts of the heavy events – caber tossing, Scots hammer throwing and putting the shot. He also shone in running, jumping and pole-vaulting. Being an all-rounder, Freebairn regularly chalked up more than ten events per day. He would flit from the throwing zone, removing his kilt as he did so, to the jumping area, then back again with kilt restored. Competition at the time was stiff, with Bill Anderson and Olympic shot putter Arthur Rowe standout "heavies" and the MacBeath brothers and John Robertson in the light events.
He enjoyed competing successfully in front of the royal family at Braemar, but also venues such as Pitlochry, Portree and Glenisla. During the Glasgow Fair fortnight, there were Games every day from Dunbeath in Caithness to Luss on Loch Lomond. His highest winnings in one afternoon in the 60s were £40, equivalent to about £500 in today's terms.
There was danger also. Once at Oban Games as he bent over, back facing the hammer throw, a flying 22lb hammer hit him flush on the rear end. Ewen Cameron, of Lochearnhead, the famous Games figure, insisted he have a 'restorative' dram – "the worst thing I could have done" – but, minutes later, he won the high jump. They made them differently then.
Away from the domestic circuit, he competed in Games in Australia, Indonesia, France, Germany and Sweden. Latterly, he has competed in veterans' athletics, winning a clutch of British titles as well as being involved in coaching at national level. He continues to compete and will do so as long as he is able.
He looks back on a sporting career that gave him a lot of satisfaction as well as some regrets. In particular, he regrets being denied the opportunity to represent Britain in the decathlon. It seems anomalous and unfair that, because he was also a talented footballer, access to the higher levels of amateur athletics should have been blocked. That said, he does think that if he had his time over again he would concentrate on football – "with the money they make nowadays!" he laughs."
We know that John became the Scottish National Group Coach for the Throws, was the British National Coach for the Shot Putt, and won many, many throws titles at Scottish and British levels and we will come back to them later. He was also a very good competitor in the other field events – or the Light Athletic events as they are known on the professional circuit. He had to be as the standard in the heavy events was so high with Bill Anderson towering over the others in terms of his performances. There were English amateur internationalists who competed for a couple of years and were also of a high calibre – Arthur Rowe in the 60's had some great duels with Bill Anderson and they drove each other on to some prodigious achievements, John Savidge of the Royal Navy and another Olympian, and the legendary Geoff Capes for example. John won his prizes in these events too but most of his victories were in the other field events. In the pro events, there were usually no landing areas for high jump or pole vault: the competitors were landing on grass.. And the vault was with an aluminium pole with a spike in the end. Remember that when you see the heights reached by the winners in the Games. He had competed in some highland games when a student (in 1958 he won the high jump at the Strathallan Gathering). His versatility was clear right from the start of his pro career- at Braemar in 1962 he was third in the hurdles race, second in the long jump and won the high jump. He won the SHGA Light Athletics championship in 1966 with victories in Pitlochry, Crieff, Aboyne and Auchterarder among others but we should look at his victories over a few seasons. If we take three years in the 60's and take only victories at the principal meetings for 1967, 68 and 69, we see the following:
1967: Pole Vault Balloch, Auchterarder, Luss, Mallaig, Aberdeen
1967: High Jump Lochearnhead
1967: Putting Light Ball or Stone, 16 lbs: Lochearnhead, 40′ 8″, Mallaig, 43′ 7 1/2″
1968: Pole Vault Alva, Auchterarder, Oban
1968: High Jump Alva, Lochearnhead, Oban, Braemar, Balloch, Luss
1968: Long Jump Alva
1969: Pole Vault Blackford, Aberdeen, Alva, Balloch, Lochearnhead, Caol, Oban, Aboyne
1969: High Jump Blackford, Aberdeen, Mull, Oban, Pitlochry
1969: Triple Jump Lochearnhead
These were not the only meetings he contested, nor the only ones that he won For instance, he seemed to like the Aberdeen circuit, travelling there year after year. A few examples from the 1970's –
In June 1970 he was at Oldmeldrum Sports where he won the pole vault and took part in many other events. Bill Anderson won the 8 heavy events as well as the overall points contest and the local paper remarked that his chief challenger for the title was John Freebairn, Kilsyth, who divided his time between the heavy events and the light athletics.
He was back at Oldmeldrum in 1975 where he won the high jump and was third in the light hammer. The competition in the heavy events was serious: apart from Anderson, there were men like Grant Anderson, and in this particular meeting Doug Edmunds and Laurie Bryce both made their debut on the pro scene;
In July 1975 he was at Halkirk where he won the running high leap;
in 1977 he went to the Lonach Gathering in the North East and if we read what the Aberdeen Press & Journal said on 25th August, after it noted that the Australians did well: "With three firsts and a first equal John Freebairn dominated the heavy events and went on to win the high leap and the vault." In all he won the Heavy Stone, Light Stone, 28 lb Weight, and he tied the Weight over the Bar; he then won the High jump and the pole vault. The Lonach Gathering is the one where the pipers march to the event stopping at several big houses for a dram. One of the big houses was Candacraig where Billy Connolly used to live and he delighted in the duty. Still in the North East he was still winning prizes at the Games when he was second in the overall light athletics championship at Tomintoul in 1982
On 10th July 1978 he was at Dingwall where he won the Weight for Distance – and the Wellie Boot Throwing contest which was a Heat of the National Championship.
At the end of August 1979, he was at Braemar where he again won the running high leap.
What do we see from the above: First off, note the distances covered to get to the events: some athletes tended to compete only in the Borders and Lakes, some kept themselves to Fife and the Central Belt and so on, but John was one of the few who travelled the length and breadth of the country. The West Coast was represented by the Balloch, Luss Oban, Mallaig and Caol Games, the North East by Braemar, Aberdeen and Aboyne, and the East Central Games were covered by Alva, Auchterarder and Blackford. Nowhere was off limits. John was also a regular contender for year end honours – for instance, in 1966 he won the Light Athletic Field Events championship, in 1968 he tied for the same title with W McLellan. In addition there were probably Games where he was second or third in several events without actually winning one.
It is also of interest to note that he won long jump and triple jump events on the circuit taking off from dodgy surfaces into sand. Rules for these light field events are below. taken from the official Games Association handbook. As a veteran athlete he was ranked year after year in event after event but seemed to shy away from both these events.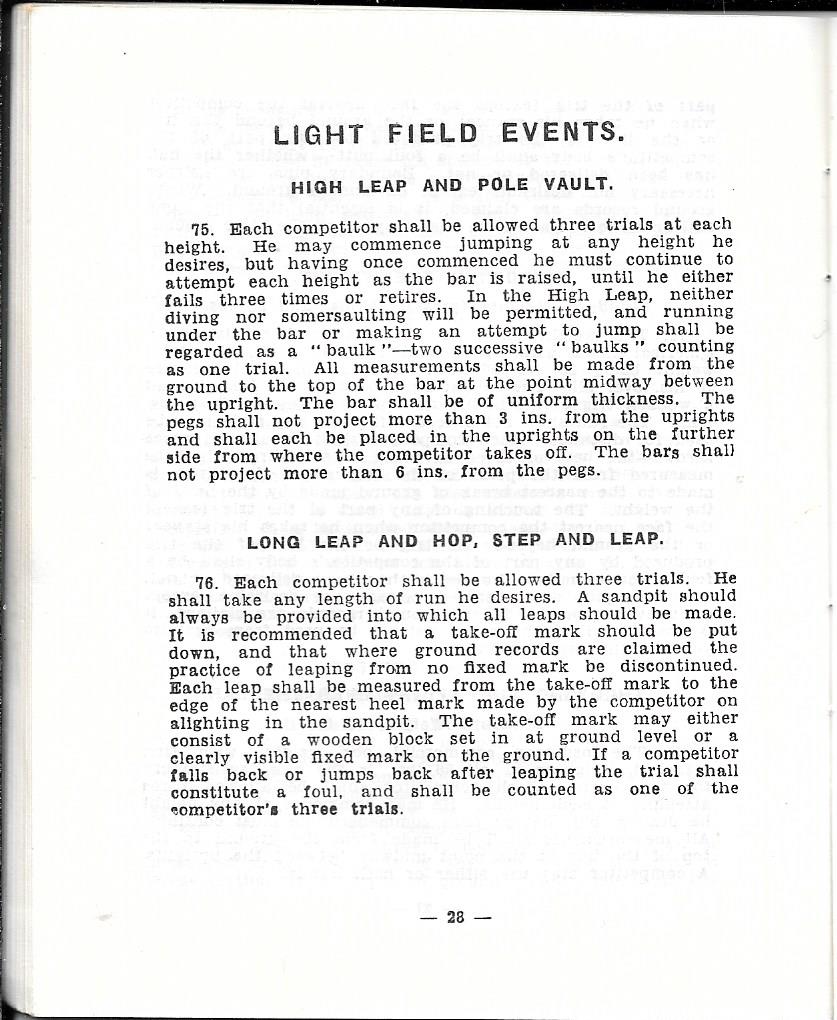 What did his contemporaries among the profession athletes think of John? Sprinter Stuart Hogg has this to say.
"I first met John after his football career was over (prematurely circumstances probably made that decision for him) he turned to take his physical activities to the Professional Highland Games, competing in the heavy events as well as jumps. You would often see him take his kilt on and off several times a day as he switched from throwing to jumping.
I found John to be a really nice, honest guy. A great competitor but at the same time quite laid back: he never appeared to get flustered, he appeared to take everything in his stride. While I do not know all of his feats, I do know that he was a regular winner on the Pro circuit (as a track athlete you did not pay heed in detail how the non- track athletes had done). However we did converse quite often as I had worked in football as well. We exchanged stories as I knew some of the people he had worked with. In these conversations it was a great credit to him that he was not one to disrespect any of the people we chatted about – a true gentleman.
I have no doubt in the present day he would have made a great Decathlete. He was a good jumper, thrower and hurdler and but for the amateur/professional divide of that day, he would have shown that given the opportunity which was denied him.
I consider it a pleasure to know John, a man I am sure who has influenced many young aspiring athletes in his time coaching."
Another story of John at the Games comes from Alastair MacNeill's reminiscences of the Games at the http://www.aniodhlann.org.uk/wp-content/uploads/2017.70.2.pdf website:
"Among those I got to know well was former Partick Thistle goalkeeper, John Freebairn. I had seen him many times at Firhill when, as a student, I had gone to watch fellow Tirisdeach, Johnny MacKenzie, playing for Thistle. Incidentally, the latter is the only fluent Gaelic speaker to have played for Scotland. John Freebairn often nearly caused Thistle fans to suffer heart attacks with his habit of coming well out of his goal area to make a learance. On one occasion at Inverary a young newcomer appeared on the scene in the long jump. At one point during the event my teacher's brain must have taken over and I pointed out something he could do to improve his performance. John came up to me and said quietly, "I don't mind you coaching, but don't do it during the actual competition".