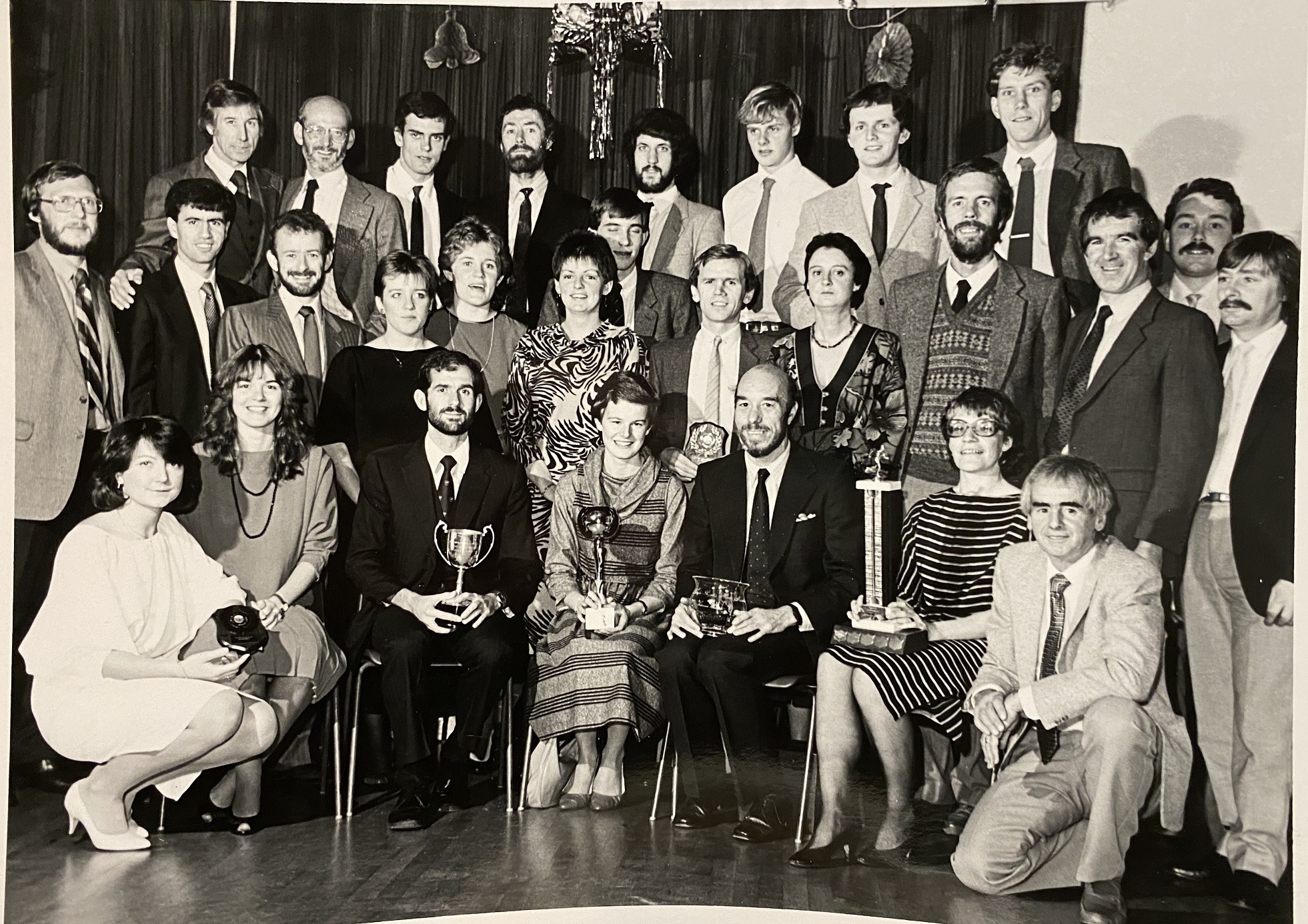 A HELP prize giving with Guest of Honour Yvonne Murray
Almost everyone involved in athletics in any serious way takes on other tasks away from the training track and the racing programme. There is almost always an overlap with club committees and even at times with District Committees, and in exceptional cases goes further yet and into national and international involvement. Haddington East Lothian Pacemakers (HELP) was formed by a group of runners in 1983 as a result of people watching the first London Marathon in 1981. Founding member, Henry Muchamore is the man the old brigade have a lot to thank for. Henry was the main driving force, pushing the club forward in establishing a very well respected, competitive club. The peak years of the club were from about the mid 80's to late 90's. It had athletes winning road, hill and cross-country races. One of the club's early aims was to raise money for charities and they raised a lot when they did a 'Run the World Relay' round the boundary of the town, they raised money from all sorts of local sources. Tens of thousands of pounds were raised by the club.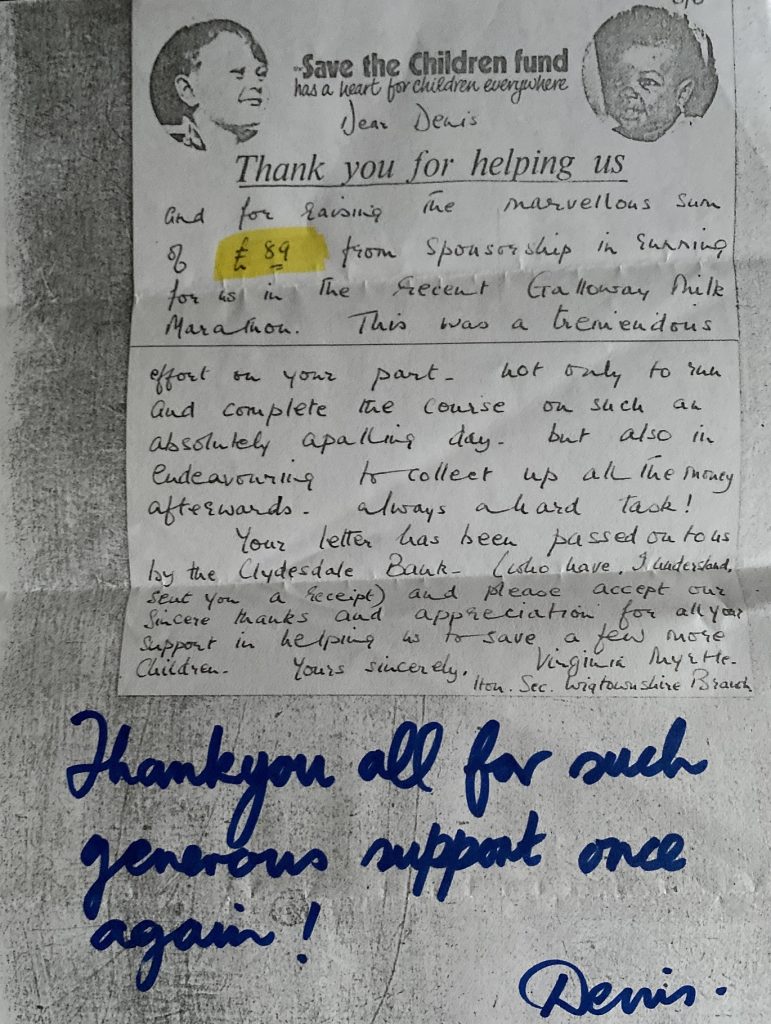 Of the charity work, Denis himself says "I managed personal charity contributions too…my co-workers at Brunton's Musselburgh were so generous on at least 2 occasions, and I think I got another two 'personally collected' amounts from families and friends etc. For doing my marathons especially….our HELP acronym was most certainly rooted so generously in trying to support and help charitable causes." Denis's charity efforts did not stop there however. and among the more notable were the following:
He also did an abseil from Glasgow University Tower when working with Keystone Valves for the Macmillan Cancer Fund.
He did the Corryairack Challenged from Fort Augustus to Kincraig for the Badaguish Respite Centre, near Coylumbridge. This was a duathlon running 17 miles to Garbh Bridge and then cycling a further 10 miles to Kincraig.
Denis was also part of a 10 man team with a support group of three 'whusketeers' that did the JOGLE (John o'Groats to Lands End) on their cycles just 7 years ago in eight and a half days to raise funds for Stem Cell research.
Henry was the club's first Chairman, and when Denis and some other talented runners joined the club they added even more enthusiasm. It is always important when setting up a new club to draw up a Constitution right at the beginning and Denis played a big part in that. A real livewire within the club, he was said to be involved in everything: for instance, the club had a magazine called 'The Chaser' and Denis wrote reports on several issues including reports on hill running. When Henry stepped down as Chairman, he tells me that Denis took over. In about 1986 the club organised the 'Haddington 5' Miles in June. It subsequently organised the half marathon in June which in turn was followed by the 'Haddington 10' miles for August. Henry Muchamore tells us that Denis was very important in setting these races up, maybe especially the 10 miles, and filled many posts in the organisation. He was the club's first Scottish international when he represented the country in hill running doing the Snowdonia Mountain Race and was made a life member. The photograph below shows Denis receiving a trophy (for something!) at a HELP Presentation.
Having started as a club committee member, he had held just about every office – from Chairman to Club Captain – and discovered that he enjoyed the experience, and it was natural that he should continue to be involved when he moved to Torrance. The involvement continued at National level.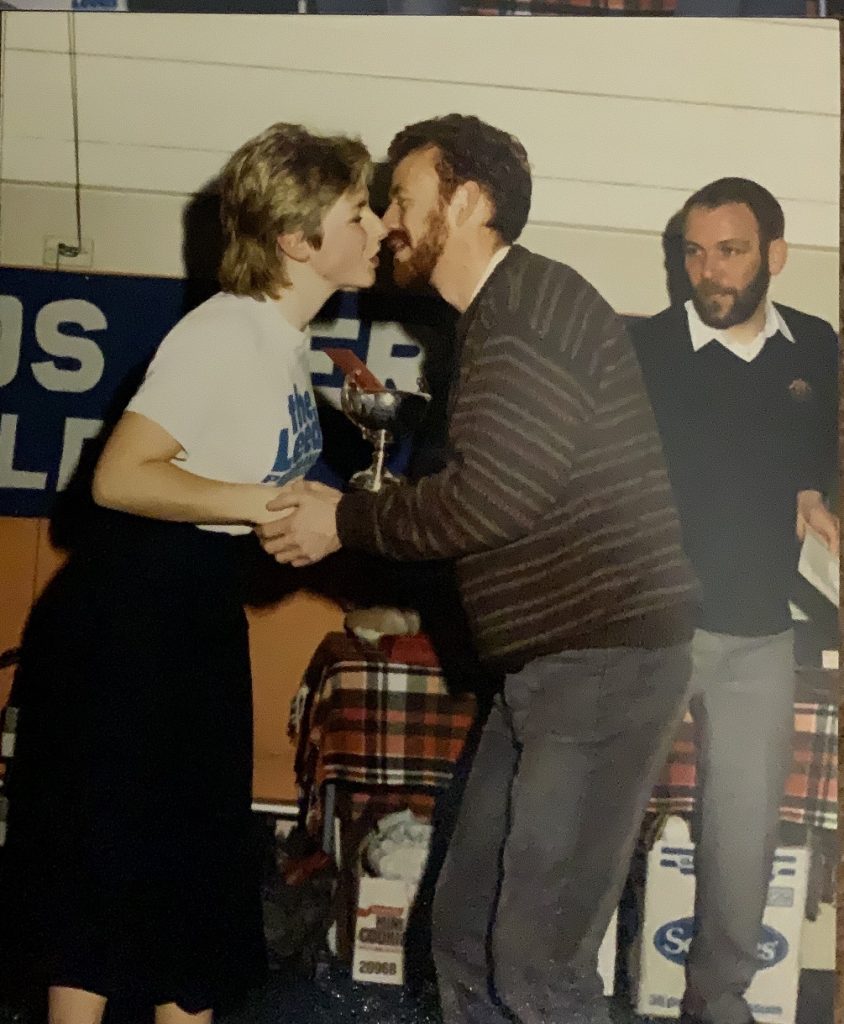 Denis was fairly quickly recruited to the Scottish Hill Runners Association committee and was active on a variety of fronts. In the mid 90's the governing body for the hill runners was one of the seven that came together under the Scottish Athletics Federation banner. He says: "I was active in SHRA committee work and the transition from Scottish Hill Runners Association [aligned to Fell Runners Association] to Hill Running Commission, under direct Scottish Athletic Federation]" This was a serious exercise as the whole structure of the sport in the country was being radically altered. Apart from that, I also did some informal coaching (hunting out Juniors from schools cross-country etc) and facilitating 'Squad development'(really towards the elites, but in practice superbly supported by 'rank and file') under the tutelage of Martin Hyman.. It all developed from there and just grew. Others pitched in from our 'friendly sport' , and took ownership ,led and made things happen, in my opinion, very democratically and inclusively."
In brief Denis
Worked as team manager/ assistant.
Worked in race organisation.
Carried on with administration (committee) work,
He also tried to ensure a continued focus on uphill-only running races (WMRT format 'bi-annual') and
kept working to support juniors entering the sport. " Inaugural Juniors Home Championships were at Grasmere, Lake District, won by our Emma Gorman (Milngavie, straight from Cross-Country at school) and John Brooks (Lochaber). It was a superb set of results too at the later Welsh event in Llanberis.. (we possibly got our 'best ever' Scottish athletics team at a single event.").
Emma's picture is below – a real study in concentration and determination as well as a very good image of the height and nature of the course at Grasmere. Denis commented on the race at Llanberis the following year: rightly so, it was a superb performance by the Scots. In the Under 18 Boys race, Iain Donnan by half a minute from England's Andy Ellis with the other Scots being John Newsom 4th and Graham Bee 6th totalling 11 points to England's 15 and Ireland's 23. The Under 18 Girls were led home by Sarah Blake who defeated England's Katie Ingram by 19 seconds with the other two runners being Marbeth Shiell in 5th, Bryony Curtis 6th giving a team total of 12 points to England's 14 and Ireland's 19. In the Under 16 Boys race, The three counting Scots were Scott Fraser 5th, Andrew McCall 6th and David Butcher 7th – all three within 30 seconds of each other. The team wa second with 18 points, two behind England and six ahead of Ireland. Three teams, two firsts and one second! In the remaining race – Under 16 Girls – Jennifer Emsley was unlucky to be just out of the medals in fourth but there was no team there to back her up. The selectors had done their work well – for a look at the selection race organisation and report just follow this link.
The Fellrunner magazine of February 2003 reported on the race as follows:
"All the home countries plus Ireland made great efforts this year to field full teams for the junior home international which was held on the more gradual grassy slopes of Moel Eilio. This coupled with a relatively flat start and finish was a much faster course than usual allowing those runners with a degree of speed to compete on more even terms with the more out and out fell junior. In the team awards, England shared the team honours with Scotland, with Ireland taking a well deserved third in front of hosts Wales. The competition up front was very competitive with Richard Newton of England winning with the biggest margin of the day. Other notable wins were those of Karrie Hawitt of England who had the company of the new junior England Fell sensation, 13 year old Daniele Walker, all the way to the turn. Scotland had two gold stars in Iain Donnan and Sarah Blake who impressed greatly with their front running and, in particular, Iain's tremendous descending ability. In the Welsh team, Rhodri Buffet had a super run in winning the U/16 bronze medal, as did Colm Turner for Ireland in the U/18 race Eoghan Gill in the U16 Boys race had the best performance from the N Ireland team."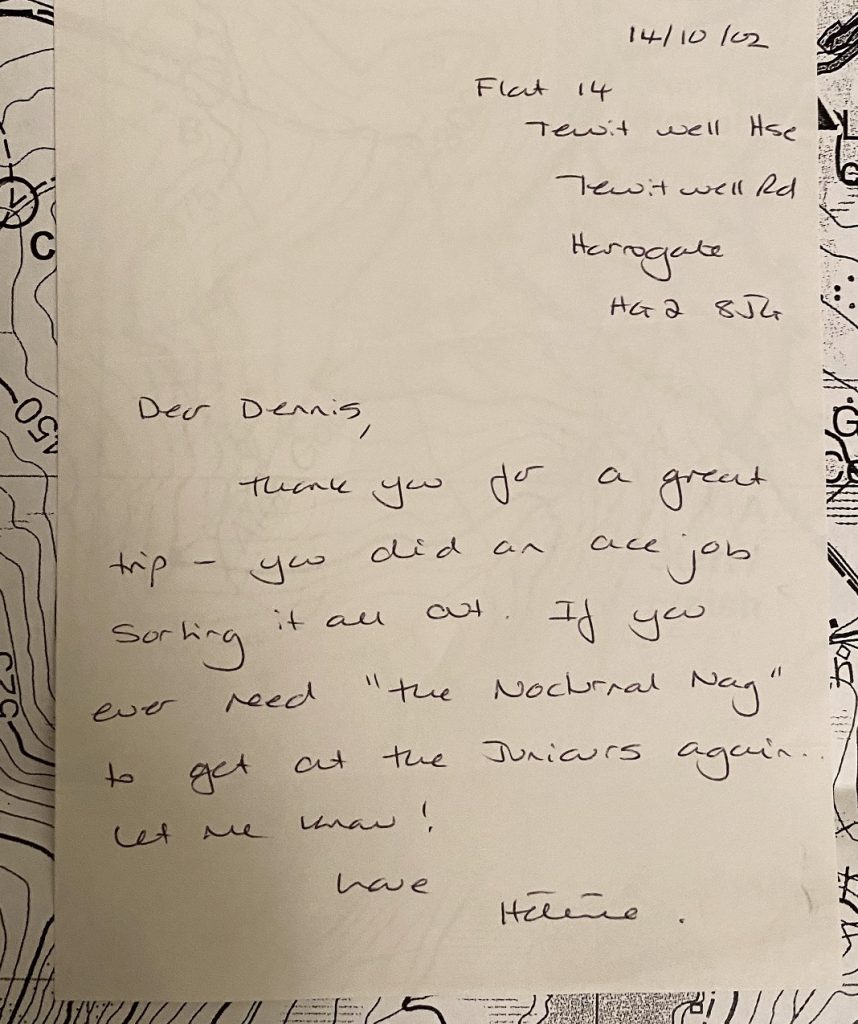 Denis had been a joint team managher with Helen Diamantides who sent his this note attached to some other correspondence after the event.
He continues, "In Committee work, I was also keen to try and give general runners something to aim for rather than most things being for the Elite athletes, so designed a format for 'Alternative Hill Racing Champioships', in 1996, Effectively turning the 'points scored HRC format (21 points for 1st downwards making it easier for stats compilations for the Championships.)' on it's head…so that highest results got the fewest points and overall 'lowest amassed points win'….this accounted for a good few people who went to many events through the year getting credits that were not elitist but results for commitments to 'many races'.
Meantime, whilst still in Haddington, I was busy in committee work there and held the Chair position. I also helped out at our road race series, racing some; and did a quirky lovely event called The Chairman's Challenge. Multi-age team relays around Saltoun Woods, with a BBQ afterwards!! Great fun, serious (seniors trying to get 'best timed legs!) but not so serious with wee kids 'n' wives involved too!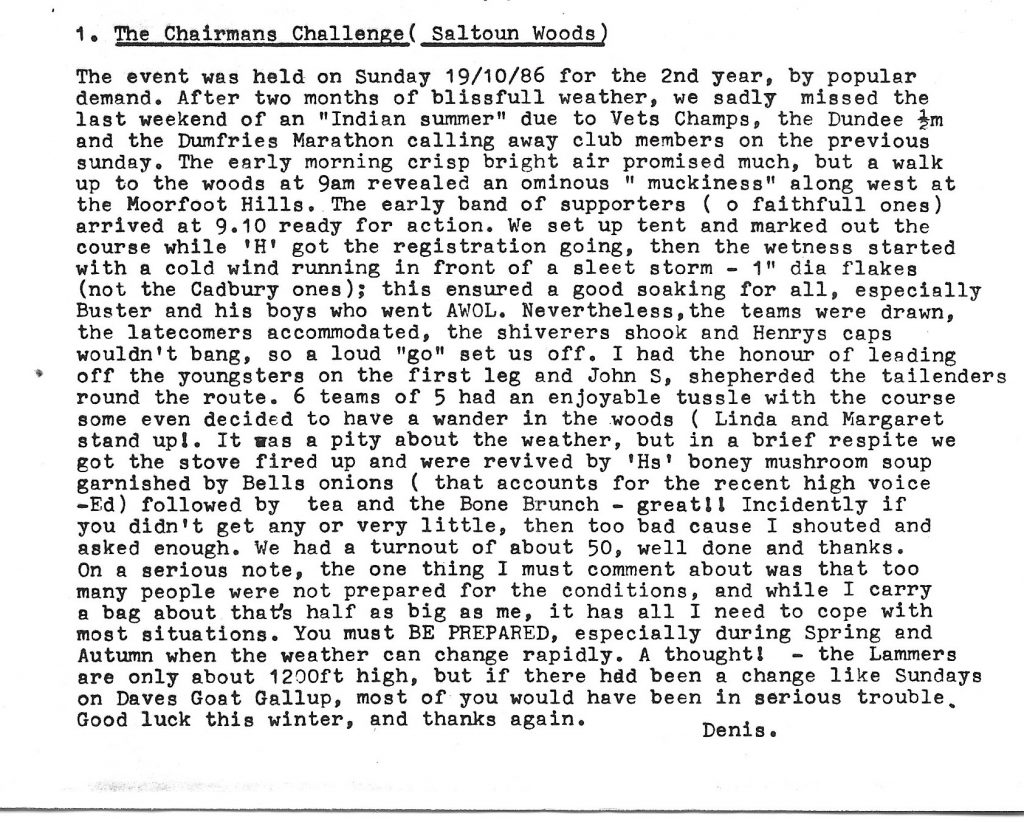 From 'Chasers', Christmas Newsletter, 1986
I was very generously made Honorary Life Member, and was the club's 'first international athlete' ( having been selected to run Snowdonia (when it was an early-doors true international high calibrate race) ).
We moved to Torrance with family (work, redundancy related) when at the tail end of my senior-vet period, and needed the Campsies and Lennoxtown Forest to train on. I only had a couple of years competing as a vet –
Won the Vets silver medal in '94, there were a few after that, in 95. and defo 96 . They included
Eildons Two Hills on 22nd June, 17th, 2nd Vet behind Jim Paterson of NI;
Edinburgh 7 Hills , 23rd June 4th in 1.45.47;
Maybe Dollar, 7th in 43.19…?
That might also have been a year of the reverted Full length Moffat Chase (which has been shortened to about 13 miles for a number of years… I'd personally asked for it to go back, but numbers had been falling away for years and big commitment to marshall the full course…(Gala or Teviotdale?)
After the racing, I then started a wee passion to do big 'runs' (ridge routes..) with great colleague Peter Marshall, and ultimately as solos.
By this time, still active in admin, management and trying to encourage our sport development, I had lost interest in competing (it had been about 12 years very active racing, plus all the overload of the other stuff as well as a busy life) and ended up training for fitness and trying to balance a career (still 45-50 hours per week), growing family, married life and being a 'citizen'!!!!"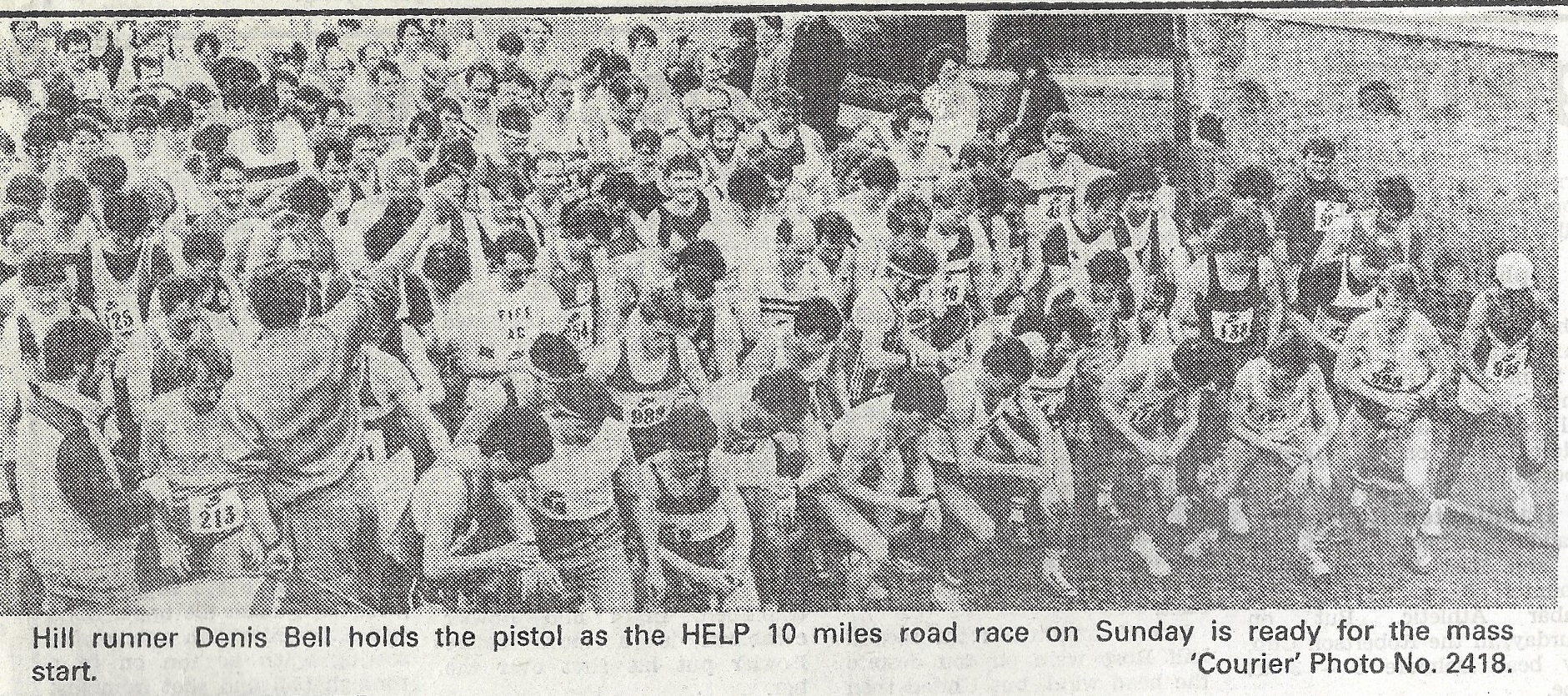 But Denis was still as active as ever. For instance
*as part of his interest in education and the next generation of hill runners, he was involved in a Come and Try day, organised by Christine Menhennet in Clydebank. Just click on the this link for an account of it.
*Then there were the squad weekends at Wanlockhead, Comrie, Lochearnhead, Glencoe, Dalbeattie, and more, which, although aimed at the top level of athletes, were open to all who wanted to come and learn.
*The SAF coaching committee wanted to set up a new type of coach education to replace that which had been in place since the days of Frank Dick and the SAAA in the 1970's and Denis's expertise was wanted on that too.
*As part of his involvement with the SAF and its coaching structure, he was one of the selectors for the World Mountain Championships at Berchtesgaden in Germany in September, 1994 along with Jim Darby (national coach) and Alistair Lorimer.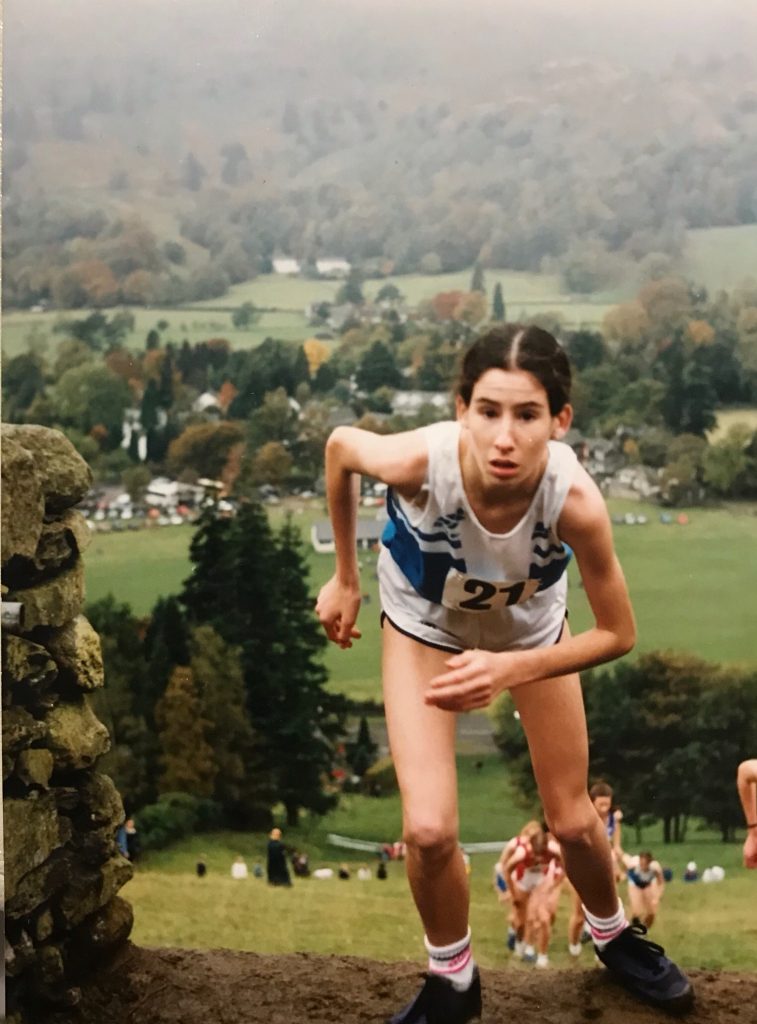 Emma Gorman at Grasmere
Denis was, as suggested at the start of his profile as a runner, very energetic in all that he undertook. He trained hard and then combined the training with starting a career as an administrator at HELP where he is still fondly remembered and highly respected as a hard working and loyal club member. He went on to run successfully on the hills in championships as Senior and Veteran, and in some international races, and managed to combine that with work on the SHRA Committee. Finally there was his participation in a number of serious initiatives dealing with the development of the sport and its athletes and his duti8es as an international team manager. As they said at the end of the movie about 'Gregory's Girl' – "What a Guy!"