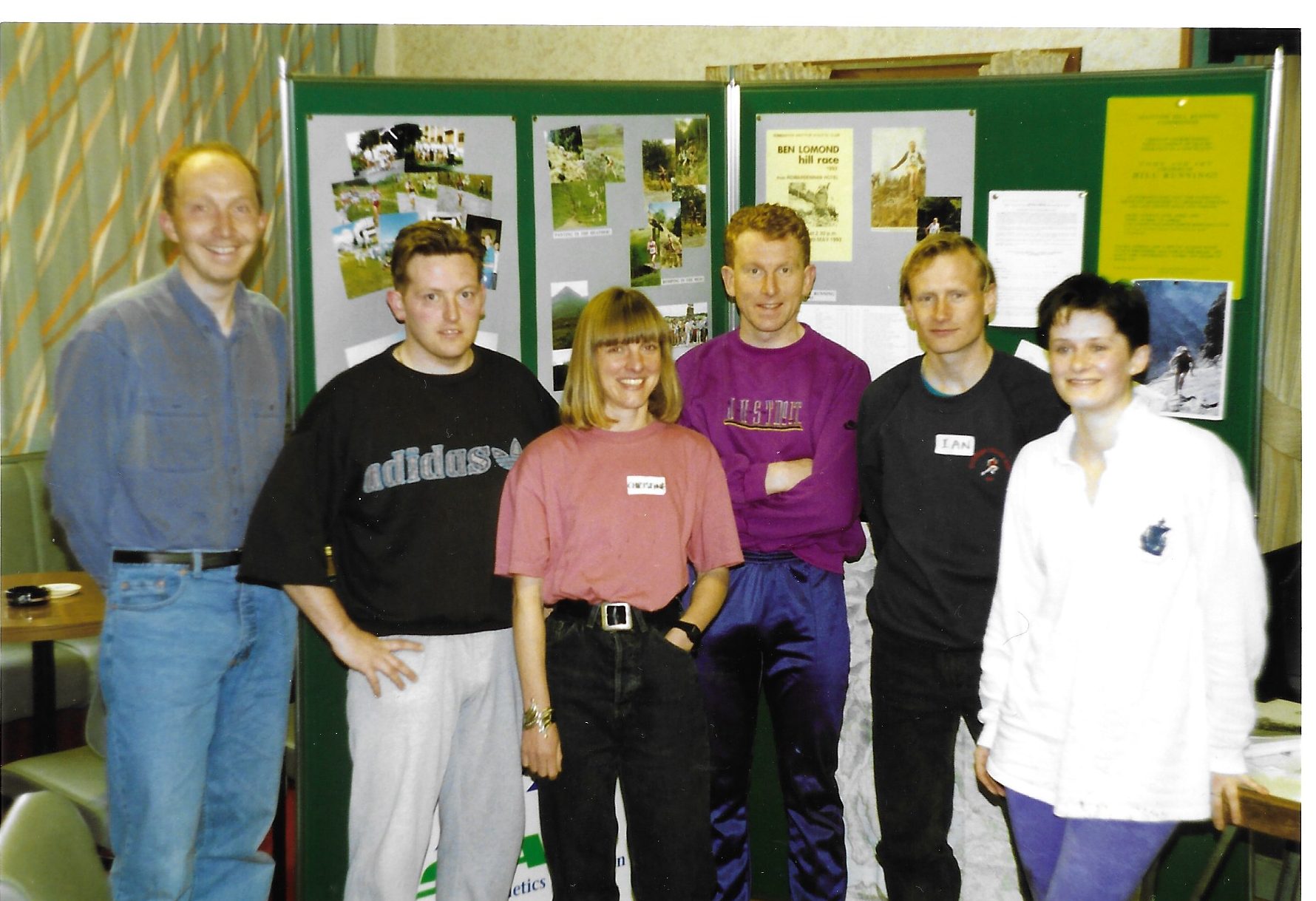 Denis says: Chris Menhennet had the great idea for 'Come & Try' and I helped her carry it off at Old Kilpatrick Bowling Club. As I recall about 15 'turn ups' and about 6-8 of us worthies.
We did basic introductory stuff and explained the concept of hill running and the organisation in place to assist…I cannot remember if it was still Scottish Hill Running Association, or Hill Running Commission (the fully affiliated SAL organisation). We covered stuff like essential equipment ..shoes (PBs really at the time), and bumbag, top coverings, then maps and compass etc…and a few countryside craft hints and tips ( eating and drinking etc) all very low key.
We were trying to enthuse 'new runners' to hill running, and I recall 'most' had some jogging running experience, though generally 'little'. We set off in small groups to do easy runs up into the Kilpatricks and those were very canny 'social' groups ( I remember in mine I got them to do a wee scree run descent for fun).
We had a nice social back at the club rooms and had grub and drinks. I think it was likely a modest £2-3 if I recall We were targeting increasing numbers (Scottish Hill Runners, HRC…) and getting more ladies and youngsters into our sport. At the time we maybe had 250 members across Scotland, few women and even less juniors…
I don't recall if we replicated this anywhere else, but we enjoyed it!
And the SHRA magazine thought that it had been a terrific success too. The report in their magazine was enthusiastic. It read:
Report on "Come and Try" Hill Running: an Introductory Day to the Sport. Date: Sunday, 18th April, 1993. 10:30 – 3:30Organisers Christine Menhennet, Denis Bell and Brian Edridge. Sponsor: Scottish Athletics Federation.
INTRODUCTION:
It was decided to hold an introductory day to the sport of Hill Running, in an effort to spread some knowledge of our minority sport. This would be the first event of its typein British hill running. We are always interested in recruiting new participants and this event was to be organised in such a way as to cater from everyone from the total beginner to the trained athlete. All age groups were welcomed and, of course, both sexes.
PUBLICITY
Publicity for the event commenced three weeks before the day it was to be held. A3 sized posters (apporx35 were placed in sports centres and sports shops around Glasgow;an A4 sized flyer was circulated to most of teh West District clubs (those clubs most distanced from Glasgow were not notified) Adverts were placed in the Glasgow South and Eastwood Echo, Paisley and Renfrew Times, the Clydesider and the Scottish Hill Runner. All publications gave date, venue, content and phone numbers for further information. We received 4 phone calls prior to the day when 20 people attended, of whom 14 were totally new to hill running, and included 2 women, 2 juniors and 10 senior men.
PROGRAMME OF EVENTS
The day commenced with tea and biscuits followed by a brief welcome and introduction given by Christine. Denis then gave a 35 minute talk entitled "What is Hill Running?" covering topics such as the sport's organisation, terrain covered, distances and heights covered , the people involved the hazards involved and the championship structure. Christine followed with a talk of similar length entitled "Shoes and Equipment" dealing with clothes, shoes, safety, navigation and diet.
A run was planned for 12:00 noon but first we wanted to offer some inspiration, and using the Bowling Club's huge video screen, we showed Llesley Kirkwood's video of the 1991 Carnethy Hill Race "Friends in High Places". Everyone volunteered for the ensuing hill runsuitably inspired by the scenes of mud and gore!
Brian Edridge of Clydesdale Harriers led the run with assistance from other members of the same club. The total time out was 1 1/2 hours and the route took participants over the Kilpatricks plateau to Duncombe Hill and back with a choice of two routes, one slightly easier than the other. The terrain offered a variety of tussock, track, bog, scree and heathery path – altogether a good introduction. After a wash and change, runners helped themselves to a buffet lunch, during and after which videos were shown covering a range of events including both short, sharp and endurance events. This led to some general discussion and questions with the more experienced hill runners present offering advice and information. Denis wound up the day's events with a prize draw and concluding comments. Everyone was asked to fill in a "Feedback Sheet" and help themselves to handouts and calendars available at the display boards.
CONCL;USION
This was a friendly, informal event and judging from the feedback sheets was very well received by those who turned up. Future improvements would include advertising to a wider target group eg climbing clubs and orienteering clubs and a possible future promotion in one of the widely read local newspapers. For a fist time event however, the numbers were just about right.
The total cost of the training day was £270. A nominal £2/head was charged. Finally Clydesdale Harriers are pleased to have had 3 of the course attenders , all of whom have since attended hill training sessions and hill races.
ACKNOWLEDGEMENTS
Christine and Denis would like to thank the following people/organisations for their help: Scottish Athletics Federation, Brian Edridge, Shelagh King, Old Kil[patrick Bowling Club, Ian Murphy, Mary Bell, Gavinburn Farm, Jim Shields, Lesley Kirkwood.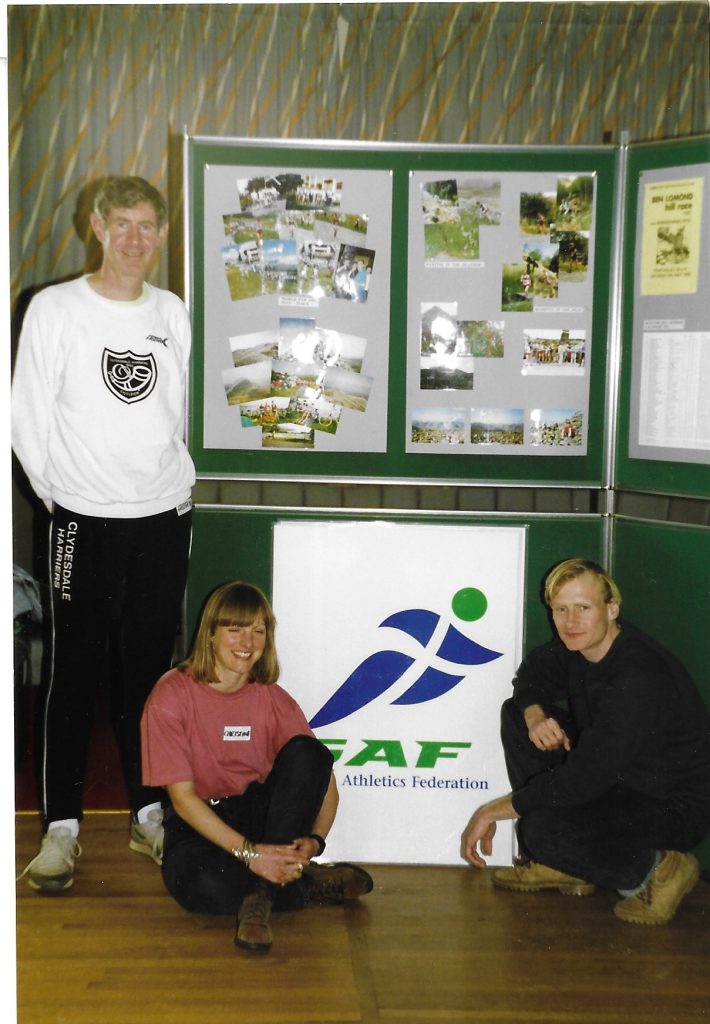 Brian Edridge, Christine Menhennet and Ian Murphy