Kheredine Idessane (1.12.69) Edinburgh Southern, Cambridge University, Arizona, City of Edinburgh, Clydesdale Harriers)
800m: 1.48.62 1991; 15000m: 3.48.06 1991.
Kheredine was a very talented young runner, who became a Scottish International athlete at 800m and 4x400m. In the 1996 Scottish Indoor Championships he won 800m silver and 1500m bronze. He featured in the annual Scottish rankings between 1988 and 1998. Kheredine was more than a track runner – he also ran well cross-country and on the roads. After his racing career, it was a natural sideways step into sports broadcasting.
Robert Inglis, Cambuslang Harriers
Bob was a good club standard runner who represented Cambuslang in all the major road and cross-country races in the programme. winter and summer he represented Cambuslang. In the Edinburgh to Glasgow, he had six appearances – 1970, 72, '73, '74, '75 and '76 being a member of the team that won the Most Meritorious Medals in 1972.
James P Irvine [Bellahouston Harriers] – see full profile
6 Miles: 31:07.1 1960; Marathon: 2:36:52 1969
Jim featured in the annual Scottish rankings between 1960 and 1974.
With Bellahouston, he won Junior National Cross-Country Team medals (1954 bronze, 1955 silver, 1955 gold); plus Senior National team silver medals in 1957 and 1958 as well as bronze in 1959. In the E to G, which he ran 13 times between 1955 and 1974, he secured team gold in 1958 and silver in 1957. As a veteran, he won many medals in the Scottish Masters Cross-Country championships, from M40 bronze in 1974 and 1979 (when Bellahouston finished second team); to becoming M50 champion in 1987 (and adding silver and bronze in that age group); plus M55 silver in 1991. For Scotland in the British and Irish Masters Cross-Country International, he contributed to M60 team gold in 1995; and M65 team silver in 2000.
Leslie Irvine [Cambridge University, Corby Town]
1500m: 3:57.2 1970; 3000m: 8:37.0 1970; 5000m: 14:47.8 1971; 10000m: 31:47.8 1971
Sam Irvine [Glasgow Police]
10000m: 31:54.0 1972
Robert Irving [Bellahouston Harriers] – see full profile
Scottish Cross Country International three times, in 1959, 1960 and 1962. The story was that Bert, who lived down in the far south west of Scotland and trained on his own, ran only three races in the winter: the E-G, the national and the International. As a club runner, Bert won several team medals in the Scottish Senior National Cross-Country: 1957 silver, 1958 silver, 1959 bronze (when he was first home for Bellahouston in third place) and 1960 silver (5th individual). He ran for Scotland three times in the International Cross-Country Championships (1959, 1960 and 1962). In 1959, he was part of the team which won the Midland Cross-Country Relay. In the E to G, Bert won team silver in 1957, gold in 1958 and silver in 1959.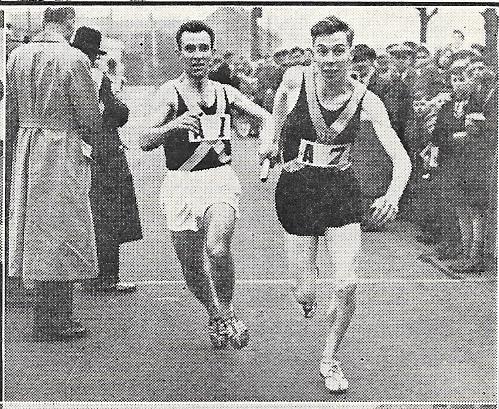 Harry Fenion (A1) to Jim Irvine (A7)
James Jack [Teviotdale Harriers]
One Mile: 4:22.4 1959; Three Miles: 15:18.0 1959; 3000m S/chase: 9:45.6 1960
In the E to G, which he ran three times, James was in the Teviotdale team which finished 6th and won 'most meritorious' medals in 1959.
George Jackson (Forth Valley, St Modan's)
George was a good athlete but never seemed to reach the heights for which his talent suggested he was destined. A hard, tough runner he ran for Forth Valley in the summer and St Modan's in the winter, later changing to Falkirk Victoria.
Adrian Jackson [Edinburgh University]– see full profile
Mile: 4:14.4 1959; Two Miles: 9:28.8 1959; Three Miles: 13:52.2 1959
Adrian was a top-class athlete, who ran very well on track, road and country. He wore the Scottish vest twice, racing over One Mile and Two Miles. He won the Scottish One Mile title in 1954 and the 3 Miles championship in 1956, as well as gaining 3 Mile silver medals in 1958 and 1959. In the E to G, his finest performance took place in 1956 when he smashed the record on prestigious Stage Two. In the International Cross-Country Championships, Adrian ran for Scotland three times (1958, 1959 – when he finished 30th – and 1961).
Jimmy JARDINE, Octavians AC, Lochaber AC
Jimmy was a Scottish hill-running legend who completed countless races, including the Ben Nevis Race 40 times. The last time was 2013, when he was over 70. In 1974 he won the first downhill-only race from the summit to the foot of the mountain – beating Bobby Shields and Eddie Campbell in an amazing time of 23 minutes! He acted as race starter; wrote memorable humorous poetry about the race; composed a Scottish dance tune ("Up and Down Ben Nevis"); and in 2006 put together a fascinating book (published in aid of Cancer Research) called "Up the Ben wi' Eddie" (Campbell).
C. F. S. JARVIE Cambuslang, Lochaber
1966 6M 31.12.6
Charlie was a good cross-country and hill runner (including the Ben Nevis Race) who eventually settled in Fort William. Much earlier he put in good performances in Cambuslang club championships. He was Junior club champion in 1964 and 1965 and Senior champion in 1967 and 1969. He ran the E to G in 1970; in 1972, when 12th place won Cambuslang the 'most meritorious' medals; and in 1973.
George JARVIE ,Springburn Harriers
George was one of noted coach Eddie Sinclair's excellent runners at Springburn with many individual and team successes to his credit. He was a team counter (32nd) for Scotland in the 1969 Junior International Cross-Country Championships. This was after two successive team silver medals in the 1968 and 1969 Junior National Cross-Country, where his best finishing position was sixth. He ran the E to G for Springburn in 1968.
David Jeffrey [St Andrews University]
Three Miles: 14:49.6 1961
Archie Jenkins [Mid-Annandale, Morpeth, Edinburgh AC, Hunters Bog Trotters] – see full profile
800m: 1:1:55.5 1976; 1500m: 3:58.2 1976; 3000m: 8:17.6 1984; 5000m: 14:29.3 1976; 10000m: 30:42.5 1976; Marathon: 2:29:37 1982 3000m S/chase: 9:02.95 1984
Archie, a hard-training and racing, very sociable enthusiast, and a fine team man too, appeared in the annual Scottish ranking lists between 1970 and 1997. In 1968 he was second to David Jenkins in the Scottish Schools 440 yards. In the E to G, which he raced many times, he won 1982 silver with EAC – and gold in the 1984 Scottish Six-Stage Road Relay. With the Trotters, he secured a 'most improved' medal in 1990 and bronze in 1996. After moving to Alnwick and joining Morpeth Harriers, he won a bronze medal in the North of England 3000m Steeplechase; then ran his personal best guesting in the England v Spain v Sweden International at Gateshead. He won the 1987 North East Counties track 10,000m title.
Archie had tremendous success as a Veteran (or Master), winning a great amount of Scottish and British titles, as well as European and World medals, breaking Scottish indoor track records, and running the 5 Nations Masters International for Scotland, year after year. In addition he has put a lot 'back into the sport' as a British Masters official and team manager.
Robert C Jenner [Aberdeen University]
Marathon: 2:38:11 1967
Bob, a good cross-country runner, trained hard on his own for the 1967 Shettleston Marathon (in which he finished a very respectable 6th). In preparation, he completed the AU half marathon course twice in a single unaccompanied run, which included a lap of the King's College field (next to the changing rooms) at half way, before dourly heading out again. He was part of the AU 1964 E to G team which won 'most improved' medals.
Alistair Johnston [Victoria Park, Strathclyde University] – see full profile
Two Miles: 9:19.6 1968; Three Miles: 14:24.0 1968; Six Miles: 30:23.4 1968; 3000m: 8:37.6 1969; 5000m: 14:11.8 1972; 10000m: 29:59.4 1970; Marathon: 2:19:31 1970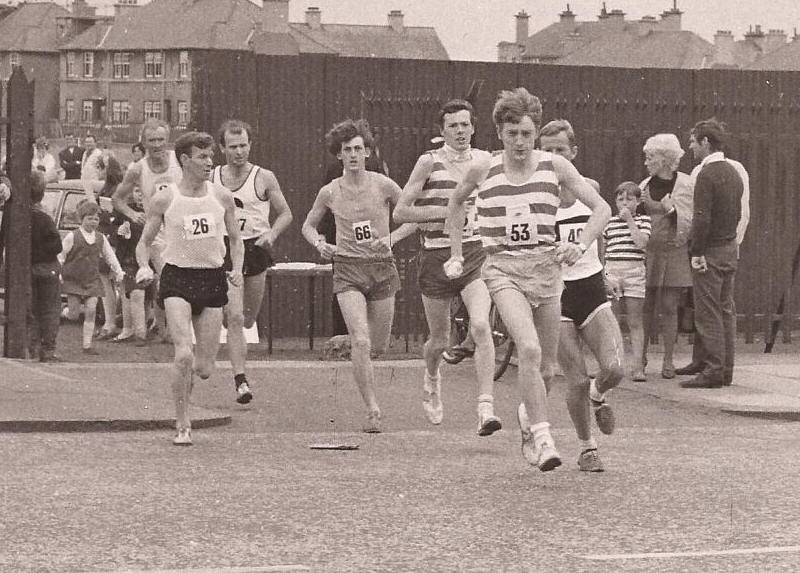 Babcock's Sports: Alastair Johnston (53), leading Bill Stoddart and Joe Reilly, Ian Leggett 26, Allan Faulds 27, then Cyril O'Boyle
Ian Johnston [Falkirk Victoria, Enfield]
800m 1.54.16 1987; 1500m 3.48.3 1990; 3000m 8.13.84i 1991; 3000m Steeplechase 9.31.7 1991; 5000m 14.34.0 1995.
In the 1991 Scottish Championship indoor 3000m, Ian finished second. He was a Scottish International athlete at 3000m and One Mile. In the E to G
Much later he became a very successful veteran athlete.
Victor Johnston [Dundee Hawkhill]
Marathon: 2:37:19 1982
Ian JOHNSTONE
Aberdeen, Cambuslang, Inverness
1977 5000m 14.50.1; 1977 3000 Steeplechase 9.41.0.
Ian ran the E to G for Aberdeen in 1977. He trained very hard and suffered many injuries but made an impressive comeback as a Veteran, winning Scottish age-group titles.
Hamish Johnstone [Heriot Watt University]
800m: 1:56.5 1972; 1500: 3:58.5 1972
James R Johnstone (Monkland Harriers, Law and District AAC]
880y: 1:58.0 1961; One Mile: 4:11.2; Two Miles: 8:58.0 1966; Three Miles: 13:43.6 1966; 5000m: 14:59.2 1969
He ran for Scotland twice in the International XC Championships: 1964, when he was a team counter; and 1966. His highest position (for Monkland) in the Senior National XC was 6th, in 1966. He ran for both his clubs in the E to G; and in 1963 was fastest on Stage One, setting a record. In addition, he was a good long-distance road runner.
RC Johnstone [Greenock Wellpark]
Marathon: 2:49:21 1976
Raymond Johnstone [Pitreavie]
1500m: 3:59.1 1971
Ronald Johnstone [Victoria Park]
Marathon: 2:37:18 1982
Nigel Jones: [Edinburgh AC]
800m: 1:53.59 1982; 1500: 3:46.2 19881; One Mile: 4:03.0 1982; 3000m: 8:25.21 1982; 5000m: 14:23.6 1982; 2000m S/chase: 5:55.6 1977; 3000m S/chase: 8:25.81 1982
SAAA 300m S/chase: 1st 1981, 3rd 1982, 3rd 1983
Nigel was a very talented young athlete who was successful on track, road and country. He won the 1981 Scottish Steeplechase title and, in the same event, two bronze medals in 1982 and 1983.
He ran for Scotland in the 1978 World Junior XC Championships. On the track he ran eight times for Scotland, in 1500m, 3000m, and 3000m Steeplechase.
In the E to G, Nigel ran in eight races and won three silver medals. In the Senior National Cross-Country, he contributed to 1983 EAC team bronze. He was also a valued member of team in other relays, helping his team to gold and silver : in the Scottish Cross-Country Relay and in the Six Stage Relays.
Campbell Joss [Bellahouston Harriers]
10000m: 33:20.4 1978; Marathon: 2:28:34
Consistent 2.30 marathon runner 79-82. A very good clubman he supported the club in every type of race. For instance, Campbell ran in 9 consecutive Edinburgh to Glasgow Relays between 1973 and 1981, then when it looked as though he was out of the team altogether he was picked to run in 1990. A good veteran runner who works hard as an official with SVHC.
Philip Judge [St Andrews University]
One Mile: 4:16.8 1961