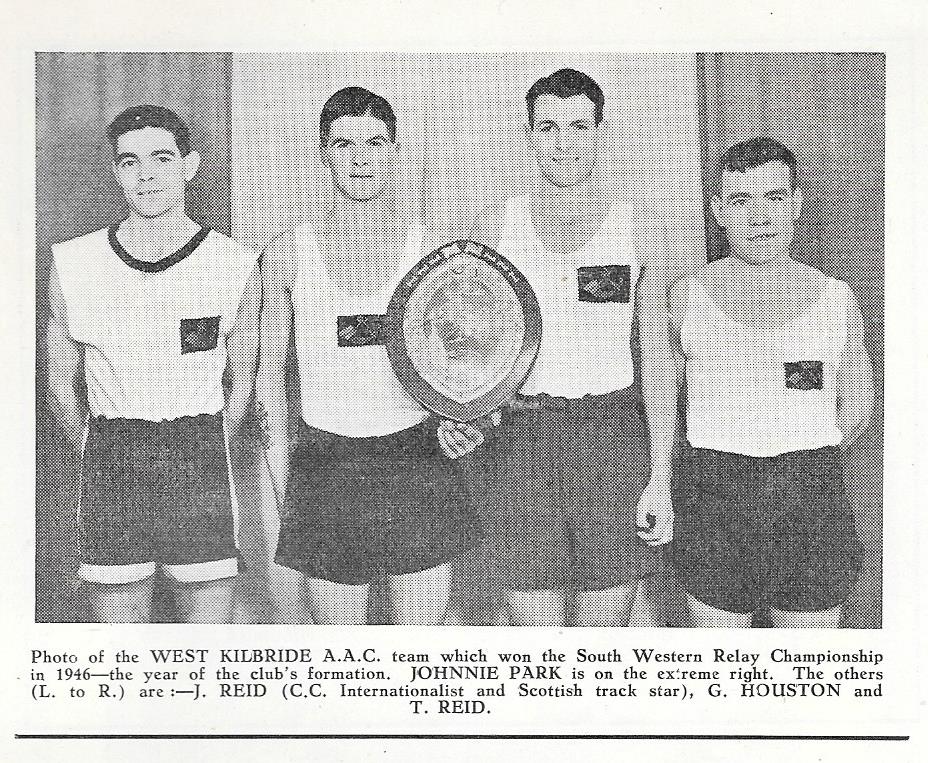 West Kilbride was a good, if very short lived, club from Ayrshire. The picture above shows their first winning of the South Western District Relay Trophy which they were to win again in 1949/50 and 1950/51, they also had a second and two thirds in the period from 1946 to 1954. The reference to John Park should be developed a bit further. John had been a member of a very good Beith Harriers team in the pre-war years but when the club's pavilion was requisitioned for military use in 1940, club activities were paused for a bit. Soon after that, on the invitation of Fred Graham, he joined Maryhill Harriers and he ran for that club for several years. He became a road runner of note being ninth in the UK Marathon in 1946. The youngest of 62 competitors he was timed at 2:56. The same year, he was third in the 17 miles Stewarton to Pollokshaws road race and then a year later he was third in the SAAA Marathon which was run from Falkirk to Meadowbank. An Ayrshire man, he joined the new local club of West Kilbride when it was established in 1946 as one of the founder members. Unfortunately he became ill with a kidney complaint and died on 2nd August, 1948, at the age of 29. As well as being in on th beginning of the West Kilbride club, he was one of the first members of the Scottish Marathon club.
The race mentioned above was held on 6th December 1946, at Johnstone and the 'Glasgow Herald' report read: "West Kilbride, recently reformed, beat the more fancied Auchmountain Harriers in a keen contest – a matter of only 40 yards separated West Kilbride, Auchmountain and Greenock Wellpark. As exoected, F Sinclair (Wellpark) ran the fastest time. Result: 1. West Kilbride (J Reid, T Reid, G Houston and J Park) 47 min 35 sec; 2. Auchmountain Harriers (J McKinven, T Downes, AK McDonald and RG Smith) 47 min 39 sec; 3. Greenock Wellpark Harriers (F Sinclair, J Lobban, J Rippingale and T Thomson) 47 min 42 sec." The team had done well in their first real championship outing. on 1st February, 1947, the South Western District Championships were held at Ayr and Jimmy Reid won the team race after leading from the very start and the club team was second with the counting runners being Reid, Park tenth, T Reid 11th, J McKie 17th, G Houston 15th and A Wentworth twenty first.
In the last championship race of the season, the national championships, there was no team out but Jimmy Reid was sixth and was selected for the Scottish team for the international where he finished 43rd.
---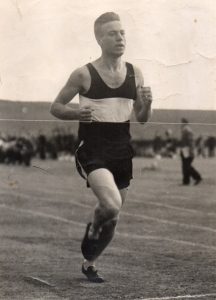 If you want to know anything about athletics in Ayrshire, your first port of call has to be Kenny Phillips of Beith Harriers (above). His comments on West Kilbride ASC were :
"West Kilbride Harriers were started up by Jimmy Reid, who grew early potatoes at Thirdpart Smallholdings. Jimmy and his brother, Robert, originally were members of Beith Harriers before the Second World War. After the War Jimmy became the Scottish Mile Champion and was back marker in many of the half mile handicap races. It was rumoured that, at one of the Scottish mile championships won by Jimmy, the timekeeper had to stop his watch early to allow Jimmy to qualify for the Standard Medal time of 4min 30sec. Jimmy retired to Stewarton to live near his daughter.
Jock Park was a close friend of Jimmy and lived nearby in Fairlie. He too had been a Beith Harriers and persisted in 10 mile and marathon races despite kidney problems which precipitated his early death.
Gibby Adamson became (I think) British and Scottish Junior Cross Country Champion. He was a baker to trade and I had a theory that both he and Ian Harris (another baker) of Beith Harriers benefitted from working in a hot atmosphere early in the morning and being able train over the country during daylight in the winter afternoons. Gibby emigrated to Australia shortly after being fined for poaching rabbits.
Danny Lapsley displayed early cross country talent as a youth.
Trevor Coleman became a Junior Mile Champion. His father was a Police Superintendent and they moved to the south of England.
I think that West Kilbride Harriers owed their success at that time to Jimmy Reid's middle distance and cross country experience and his wily coaching. Janitor Richardson of the Primary School also helped with the coaching."
---
The second season's competition started on 22nd November 1947 at Pollock Estate in Glasgow, where the club took part in the National Novice Championship. They finished 15th of the 27 clubs competing. The runners that afternoon were a young Gilbert "Gibbie" Adamson who was 11th, followed by runners placed 80th, 83rd and 103rd. Then the District Relay Championships were held on 6th December in 1947. Greenock Glenpark won the race in a time of 59 min 05 sec from West Kilbride, the holders, whose quartet of Adamson, T Reid, G Houston and J Reid was times at 59 min 30 sec with Auchmountain fifth. Jimmy Reid had the fastest time of the afternoon with Adamson third fastest. On 20th December that year the club had a home run when the Ayrshire Harrier Clubs Association held their 10 miles relay from their headquarters. The home team won with a team of T Reid, G Houston. Adamson and J Reid won by 12 seconds from Kilmarnock.The first big championship of the season was the South Western District Cross-Country event held on 7th February 1948 from Kibble School in Paisley. In his preview of the race in "The Scots Athlete", Emmet Farrell said: "In the South West District, I fancy Greenock Glenpark have the all round power to win the championship held by the other Greenock club, Auchmountain Harriers, who of course suffer the usual depletion of the winning team rising to senior status. West Kilbride, last year's runners-up, should have a steady team but they will lack the leadership of last year's individual winner Jimmy Reid, now of course a Senior, whilst they may not take the risk of running young Adamson over a testing 7 miles course in view of his youth."
The result for West Kilbride was that the team was fourth, led home by T Reid in 11th with other runners placed 12th, 23rd, 27th, 30th, and 46th. It should be noted that these were called the District Junior Championships, the designation 'Junior' referring not to the age of the competitors but to the fact that the runners had not won any championship. When they won such a championship, either as a team member or as an individual, they were ineligible and could not run the following year. Hence the absence of Jimmy Reid. The next race was the top competition of the year – the national cross-country championship of Scotland held at Hamilton Racecourse at the start of March. Jimmy Reid had run in the international at Ayr the previous year but was unable to run this time round and the club had an incomplete team in the senior race with Paton (68), Houston (70), Wentworth (73), T Reid (89) and Houston (113). However in the Youths race, young Adamson was second finisher, 14 seconds behind Harry Fenion of Lochwinnoch: he was the only club runner in this event.
West Kilbride ASC is regarded as basically a distance events club which had as its main focus the country season but the truth is that they had several very good track athletes who would come to the fore over the next few years. At this point Jimmy Reid was the top man and "The Scots Athlete" had this to say at the end of the 1948 summer season: "Jimmy Reid of West Kilbride, not quite fit at the time of the SAAA championships, reached his season's peak late and scored several victories and places off low marks in invitation and open handicaps. Indubitably his best performance was his win in the Police half-mile off the low mark of 12 yards in 1 min 55.4 sec. Since his return from Paris on the occasion of the cross-country international in April 1947, Reid has been somewhat under a cloud, but he told me recently that he felt he was now running as well as he did in 1939."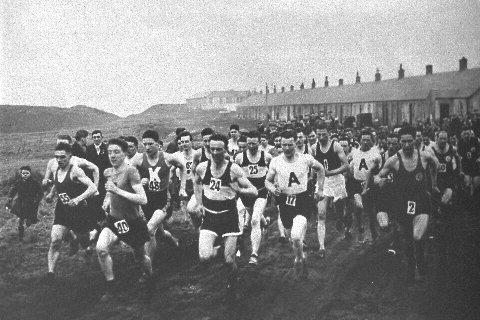 A Typical Ayrshire Harriers Championship race in Benwhat – this one from 1938 but it would not have been much different. The white vest with the black A was Auchmountain Harriers
One of the 'must-run' events of the cross-country season for many decades was the McAndrew Relay organised by the Victoria Park club at Scotstoun, Glasgow. It marked the start of the winter season and almost every club turned out a team. Therefor on 3rd October, 1948, West Kilbride was among the 41 teams taking part. It was a creditable performance with the club finishing 16th and comfortably in the first half of the field. Not only that but young Gibbie Adamson had fourth fastest time of the day. It was another two months – until 4th December – before the next big relay which was the District Championships, held this time at the Greenock Wellpark Harriers territory. The club this time finished third. With T Reid and G Houston on the first two stages, they were well out of the first three teams but then G Adamson and Jimmy Reid came into play and the team pulled up far enough to be a comfortable third. Another two weeks (18th December) and there were 14 teams forward in the AHCA relay championships at Benwhat which was won by Irvine YMCA from West Kilbride by 47 seconds. Individually Adamson had won the prestigious Clydesdale Harriers Youth Race fairly comfortably. Then team- and individual titles were on the line on 5th February in the District Championships at Kilmarnock. The rules said that they could not use their top men but nevertheless the club was third with G Houston 10th, T Reid 11th, R Paton 16th, D Armstrong 22nd, W McCall 32nd and A Wentworth 33rd.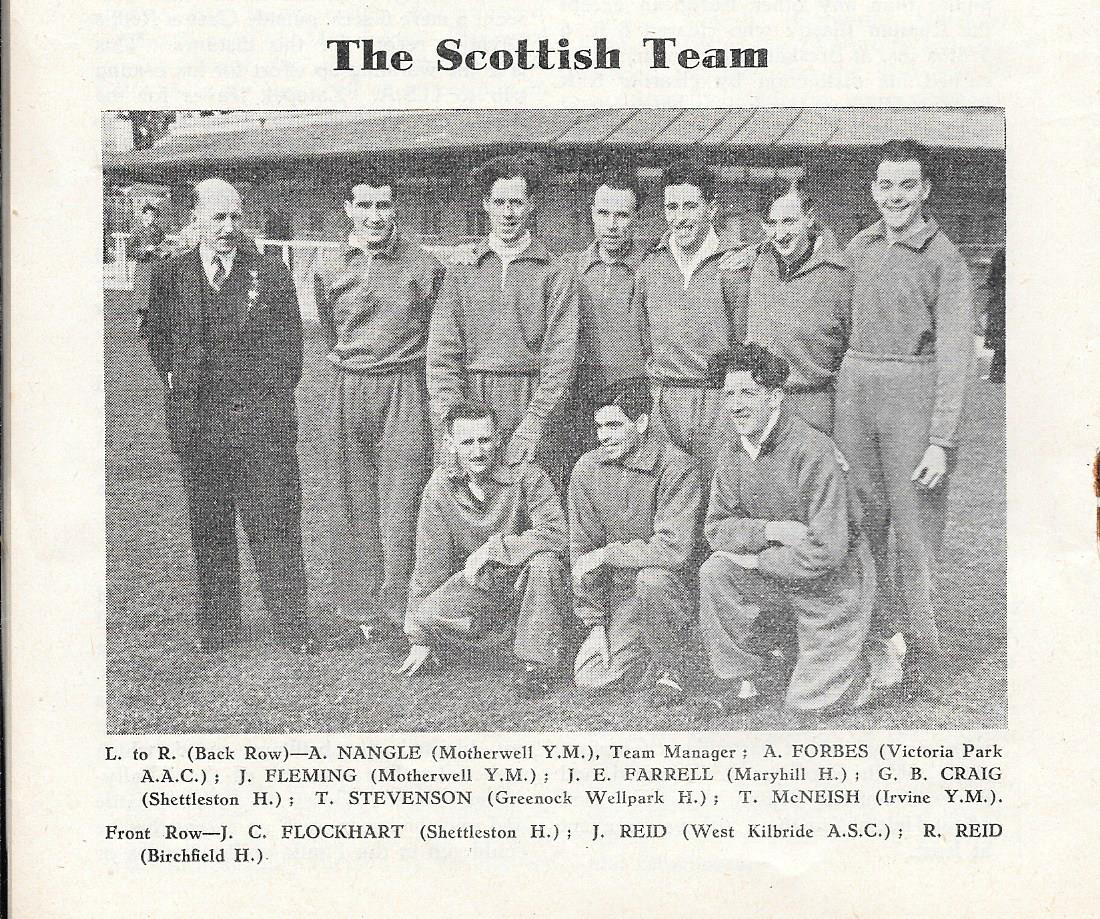 On to the National when everyone was eligible. Gilbert Adamson was the star with a victory in the Youths Championship pretty well how he liked by 40 seconds from John Stevenson of Wellpark Harriers. Better yet, he led the team to first place – the other runners being T Coleman 4th, J Butcher 19th, B McLaughlin 45th. The day was not a good one for distance running: as Emmet Farrell said: "One of the talking points was the gruelling nature of the conditions – acccording to some, the worst in 30 years … there must have been few occasions when competitors finished with so much wear and tear with some bleeding profusely from barbed wire entanglement ….. perhaps if it is impossible to get permission to have barbed wire fences cut they could be liberally covered with sacking …. the stream encountered mid way round each lap ruined the chances of many … swollen and in spate and with both banks a sea of mud from which no take off could be had this natural hazard meant immersion each time." That's enough to give the nature of the course on which the West Kilbride runners performed well. The full story is in the April, 1949, issue of 'The Scots Athlete'. Later that afternoon, Jimmy Reid was one of the large field in the Senior Men's race. He couldn't quite make it a club double first but after a torrid duel with Jim Fleming of Motherwell he had to be content with second place. Emmet Farrell was third and Tom McNeish of Irvine YMCA was fourth. The good news for him was that he had been selected for the international. The senior team finished 8th of the 15 that started. It was probably the best ever performance in the National by the club. "The Scots Athlete" commented on the race as follows. "Adamson leads his team to fine double. After a remarkably close race, Gilbert Adamson of West Kilbride showed that wee bit extra fire to beat J Stevenson of Wellpark for the Youths title and help his team to an equally narrow victory over Garscube. Endowed with a great racing temperament he may prove a senior star of the future with careful nursing. Fonder of country and road running than of the track, it is in the former that he may concentrate." and later "Jim Fleming of Motherwell YMCA ran a splendidly judged race to win the title from Jimmy Reid who ran the race of his life in an epic attempt to bring off a West Kilbride double." The international was held in Dublin that year and Jimmy was a scoring runner for the Scottish team when he finished 48th.
We have already mentioned the track running of Jimmy Reid, but there was more than that to the credit of West Kilbride. Emmet Farrell in his 'Running Commentary' column, wrote as follows under the heading 'West Kilbride Stars' in September 1949. "The Ayrshire club may be modest in numbers, but they are strong in enthusiasm and they have three stars in Jim Reid, Gilbert Adamson and Trevor Coleman. After his epic race and narrow defeat by Jim Fleming in last season's cross-country championship, it was almost poetic justice to find Jim Reid winning the mile championship. Admittedly the time was slowish, but this was hardly Reid's fault as the race was run to suit him. Actually, having trained primarily for the half mile, he employed sound tactics in trailing his field and coming away with a fast last lap. Subsequently he has showed as in his recent defeat of Fleming that he is a much better miler than his Hampden running appeared to show.
Gilbert Adamson ran prominently in the steeplechase championship, just losing second place by a last minute bid from nowhere on the part of W McMillan of Springburn Harriers. In the Rangers steeplechase, where incidentally he was treated over-generously in the handicap, he won with consummate ease.
Trevor Coleman proved himself a strong and tenacious miler by winning both the Inter-Scholastic and Scottish Junior championships at the distance. I have a feeling that he might prove even better over the country. Now that Scotland has come into line with England, with the institution of 3 separate National championships, Youths (Under 18), Junior (18 – 21) and Seniors, I would not be surprised to find Coleman, Adamson and Reid strong contenders for individual titles in their respective spheres."
All three had indeed won medals in their respective SAAA championship events.
SAAA Senior One Mile: 1. J Reid 4:31 ; 2. W Lennie (Vale of Leven); 3. J Smart (Edinburgh Southern).
SAAA Senior Two Miles Steeplechase: 1. B Bickerton (Shettleston) 10:55; 2. W McMillan (Springburn); 3. G Adamson.
SAAA Junior One Mile: 1. TC Coleman 4:44.3; 2. T Lambert (Springburn); 3. AC Ross (EUAC)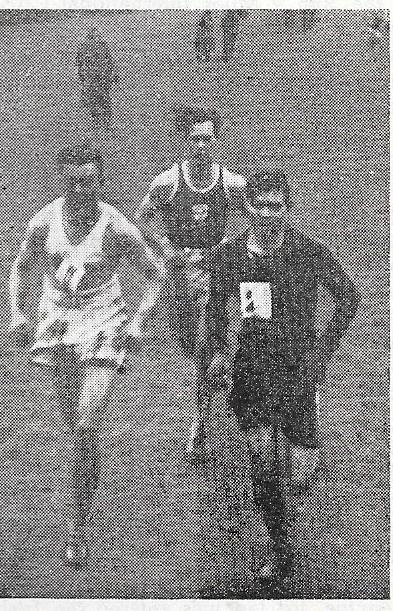 Jimmy Reid in the 1949 National: Tom McNeish (Irvine YM) on left, and Jim Fleming (Motherwell: race winner) centre.
At the start of every winter season, Emmet Farrell had a look ahead to the coming season and as the season progressed he looked ahead to the major championships as they came up. In 1950 he mentioned Trevor Coleman. "The youths will contest their national test over 3 miles country at Stirling on December3rd in and with careful nursing will be a real star of the future. stead of March as hitherto. The field will undoubtedly include some classy runners, yet, I feel confident that Trevor Coleman of West Kilbride can take over that championship vacated by club-mate Gilbert Adamson. Coleman, the present youths mile track champion, ran some judicious races over the distance during the summer, yet I believe that this strong-going runner may prove even better over the country.
In the recent South Western Relay championship Coleman played a prominent part in West Kilbride's victory and returned third fastest time, faster than such established runners as Tom McNeish of Irvine YMCA and Willie Williamson and Ale McLean of Glenpark Harriers, Chief danger to his chances might come from J Finlayson (Hamilton Harriers) who recently 'walked' away with the Lanarkshire youths championship over a 3 mile course at Wishaw having over 100 yards to spare from the much fancied J Lambert of Springburn Harriers who was runner-up in the youths mile to Trevor Coleman."
Further down the column he wrote …
"The West Kilbride club are a remarkable lot. Though not strong in numbers, they are strong in quality and in Trevor Coleman, Gilbert Adamson and Jimmy Reid (champions all) they have a trio with a sporting chance of winning respectively the youths, junior and senior championships of Scotland, Of the three I fancy Adamson's task hardest, even harder than Reid's. For despite his present grand form, as witness his recent fastest time in the South Western relay, he faces Walter Lennie, the brilliant Vale of Leven boy, one of the hottest favourites to win this new junior championship of recent years."
The reference to the District relays refers back to 5th November when West Kilbride won the South Western Relay from Greenock Glenpark, Irvine YMCA and another 14 teams. Fastest time on the day was that of Adamson who was 12 seconds faster than Wellpark's Tom Stevenson who was 13 seconds quicker than Coleman. Jimmy Reid was fifth fastest. The club had three teams out that day – the others finished 7th and 13th. However, we should go to the youths championship for which Emmet fancied Coleman. George Dallas reported on the meeting for the magazine and commented that West Kilbride were not so well placed because one of their number, and he actually named the boy (J Butcher), was failing to keep pace with his club-mate T Coleman. Coleman actually finished fourth, 25 seconds behind the winner, J Finlayson. The team was 7th out of 20 with the runners being Coleman (4), Robertson (34), B McLaughlin (53), and N Roberts (63), H Dick (69) and J Butcher (66) also ran. In the South Western Championships in February 1850, there was no club team out in the senior championship although J Reid won the race and was accompanied by Adamson 5th, Roberts 15th, T Reid 23rd, and J Palmer 51st.
In February 1950, Emmet Farrell was looking ahead to the Junior Cross-Country Championships and he was forecasting one of Walter Lennie (who he really fancied for the title, W Williamson from Glenpark and Adamson. On the latter he commented: "The brilliant Lennie, sound in stamina, devastating in finishing powers and a stylist to boot, is the form horse to win the title, that is, apart from West Kilbride people who declare that their boy can win. Adamson not so stylish but perhaps more rugged in his make up is a real cross-country type and should at least be a worthy contender."
Emmet did not get it right about Trevor Coleman in the Youths title race, nor did he in the Junior event! Adamson won the Junior Championship, to go with the Youths title that he had won previously. Colin Shields in his official history of the Scottish Cross-Country Union simply said: "Gilbert Adamson (West Kilbride) ran a brilliant solo race to become the first winner of the 18-21 Junior Championship, winning by 44 seconds from the pre-race favourite, Midlands Champion Walter Lennie." But the Glasgow Herald gave a bit more detail: "In the Junior Six Mile Championship, the favourite Walter Lennie (Vale of Leven) had to give best to G Adamson (West Kilbride) who put in a powerful last half mile run and raced clear of his rival by fully 250 yards. Lennie, it transpired, had been suffering fom the effects of influena."
Came the senior national and the club had only one senior out on duty and that was Jimmy Reid who finished 13th. The 'Herald' only commented "Two former internationalists who disappointed were J Reid (West Kilbride) and J Flockhart (Shettleston."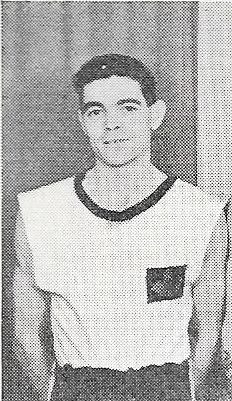 Jimmy Reid
That summer there was only one medal in the senior championships, and that went to Adamson who was second to the quite outstanding Tommy Tracey in the 3 Miles event although he challenged him all the way. His finishing time was 15 min 02.9 sec. In the Junior Championships at Meadowbank at the start of July Trevor Coleman again won the One Mile title from the outstanding AD Breckenridge of Victoria Park who would go on to one of the stars of Scottish athletics setting records and winning titles. Coleman's race was described as being run "with all the aplomb of a seasoned athlete. It is a common saying in athletic circles that trainers can do everything for their charges but run the race for them: but this Ayrshire schoolboy has got everything necessary to the attainment of success, and his conservation of energy in his preliminary heat, and the perfect timing of its release in the final stage evokes the fullest admiration."
The new cross-country season started as usual with a road relay – the ever popular McAndrew 4 man relay: well liked because of the organisation that always went well, the nature of the course which appealed to the runners and to the spectators who wanted to jog around and see the runners at various points, and because it was the start of the new season. West Kilbride had a team out on 7th October, and it finished 12th of 50 that set out on the journey. Adamson was up among the fastest times as usual – equal fifth fastest with Eddie Bannon of Shettleston.
In the South West relays in 1950, West Kilbride were again first team to finish with a team consisting of Coleman, Robertson, Reid and Adamson from Irvine YMCA by a huge margin of 63 second. Adamson was fastest on the day, Reid was 4th and Coleman 6th. For reasons unknown, there were no teams out in the District championships in early 1951 – only Adamson who won the race and R McIntyre in 39th place. There were no seniors at all out in the national but there were teams out in both Junior and Youth championships. In the Junior event, Adamson was second to Eddie Bannon of Shettleston, Butcher was 30th, Reid 82nd and McIntyre 84th. The Youths team was 5th with the very promising Danny Lapsley leading them home when he crossed the line in 3rd place. J Robertson (8), J Butcher (39), H Dick (45) and J McCallie (67) completed the team.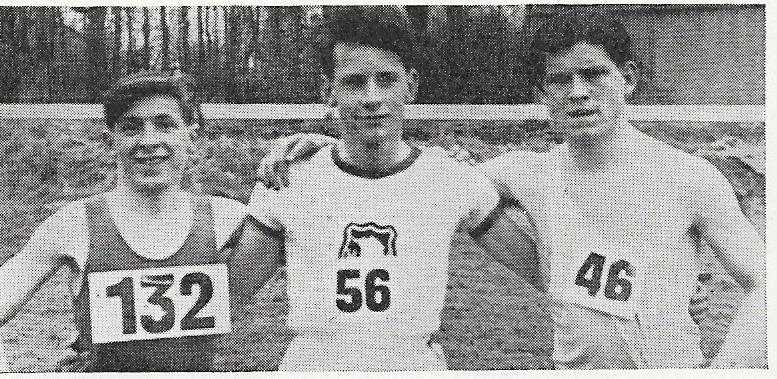 Lapsley, 132, Finlayson, 56, and Connelly, 46, after the 1951 Youths National
Lapsley was a very good runner and even at this early stage of his career was having real head-to-head battles with more experienced athletes. In the Clydesdale Harriers Youth race he finished second to Bob Wotherspoon of Glasgow YMCA who would go on to be stalwart member of Shettleston Harriers. There were only 3 seconds between them. Lapsley was clocked at 15:00 exactly for the course: previous winners had been W Young (VP) in 15:26, H Fenion (Lochwinnoch) in 15:22, G Adamson in 14:57.5, R Steele (Vale of Leven) 15:13 and J Finlayson in 14:50. He was drafted into the club team for the District Relays and running on the third leg of the race, with a team of Butcher, Roberts and Coleman helped them win third place medals.
The South Western District Youths 3 Miles and Senior 7 miles were held at Paisley on 2nd February 1952. In the Youths race, Lapsley won in17:44 from K Alexander Irvine YMCA who was timed at 17:58. The West Kilbride team won the team race with I McKay 4th and B McCreadie 6th. In the senior race, Jimmy Reid was 4th and the supporting cast was T Coleman 14th, C Roberts 17th, but unfortunately J Butcher, H Dick and J Palmer failed to finish. On the subject of Lapsley, Emmet Farrell commented, when writing about youth talent in the country, that surely D Lapsley of West Kilbride must be a remarkable youth to win the Ayrshire senior title recently. The National was as usual the big one but there were very few club members running and those that were were not in the best of shape. In the Junior race, Adamson was 25th and Butcher was 45th; in the Youths race, McCreadie was 22nd, I McKay was 32nd and J McCallie was 65th.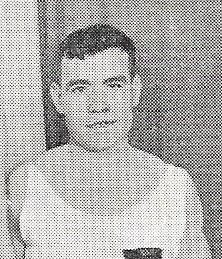 John Park
The Youths 3 mile and Senior/Junior 6 miles championships for the South Western District took place on 31st January 1953 at West Kilbride and the club had teams in both races. In the Youths race, J Barr was second, 22 seconds behind Ian Harris of Beith and the team (Barr 2, A Richardson 16, D Butcher 18) was fifth. Lapsley ran in the senior/junior race and finished fifth, first West Kilbride runner home. That team was also 5th with Coleman 8th, J Reid 25th, J Butcher 23rd, R McCreadie 40th and D Adam 53rd. Came the National on 28th February and, like the year before, there were no senior men from West Kilbride taking part. In the Junior race, Lapsley was 8th , Coleman 10th and McCreadie 38th with no fourth runner. It was an incomplete team. In the Youths age group, there was again an incomplete team. J Barr was 27th, J O'Rourke 40th and A Richardson 74th.
As Emmet Farrell pointed out more than once, numbers were short in West Kilbride and this was most evident in the turnout at cross-country races. The West Kilbride contingent was not as numerous at those races where it normally competed. He District relays on 7th November, 1953, they did turn out a good senior team – Lapsley 16:31, J Reid 17:41, G Adamson 16:20 and T Coleman 17:07. Quite a range of ages represented there. Lapsley handed over a 20 yard lead to Reid, who a few years earlier might have stretched it beyond catching but this time dropped to 8th, Adamson running third pulled the club from 8th to 5th and Coleman dropped one place for the club to finish 6th. Adamson had third fastest time of the day. In the District Championships, there was another incomplete team – Lapsley was 4th and Adamson 6th and that was it. There was a good Youths team which finished third in their event – Barr 3rd, J Bryant 16th, A Richardson 19th and A McLardy 23rd. In the National, there were no seniors, in the junior race Danny Lapsley was 8th and in the Junior race F Barr was 22nd. The following year (1954/55) Danny Lapsley was 2nd in the District championships, in the National he was 14th, the only club runner in any age group in either of them and that was the sum total of West Kilbride involvement that season. The last year that they had a team out in the relays was season 1953/54.
The club seems to have just disappeared after about 1954. It was almost certainly due to lack of numbers: the senior group in 1946 left and were not replaced. The club did prove th truth of Arthur Lydiard's dictum of the 1960's: You can find champions anywhere. When a small club like West Kilbride ASC can produce talent like Gilbert Adamson, Trevor Coleman and Danny Lapsley in such a short period of time, then that club has contributed to the life of these individuals, to the community from which they came and to the wider world of Scottish athletics which is the better for the existence of West Kilbride. Two of the club stalwarts – G Houston and T Reid – are below.