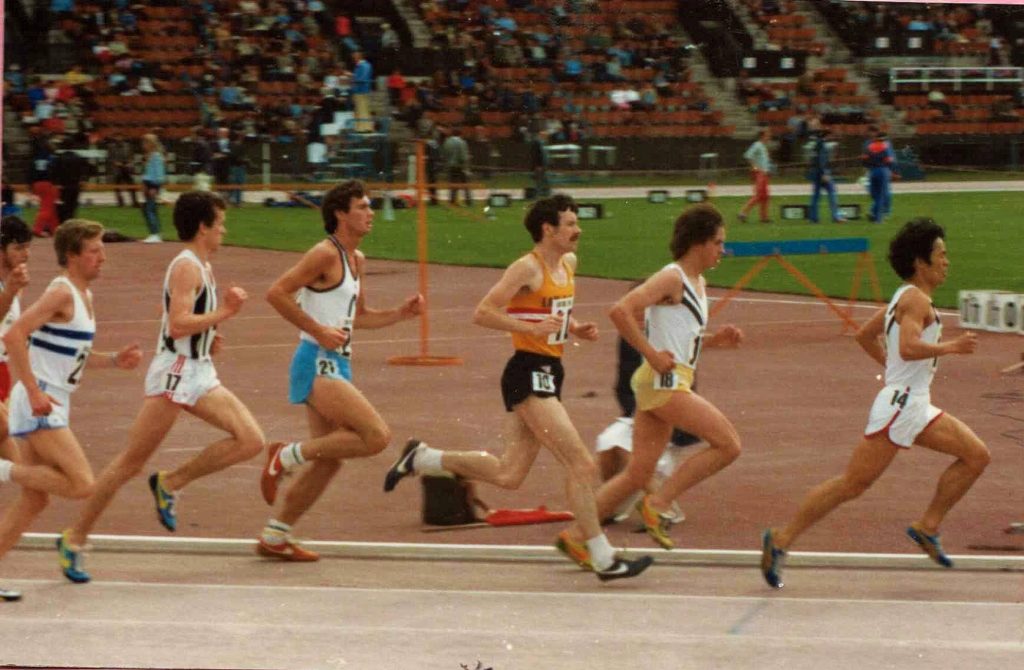 Hamada leading the group in the SAAA Championships at Meadowbank
Hamada first came to the attention of the Scottish running public on 17th January, 1981, at Livingston where he ran in the District Championship. The individual race was won by Fraser Clyne of Aberdeen with his former teammate Colin Youngson – running for Edinburgh Southern Harriers – second. Youngson led ESH into first place but a very short way down the field, Hamada was eighth and first Edinburgh AC runner to finish. The team was third with the other runners being Doug Hunter (9th), Nigel Jones (11th), Steve Laing (23rd), Lindsay Robertson (24th) and Robin Morris 25th. It was a good run and a fairly successful introduction to the Scottish scene.
He was further up the field on 7th February when, in the Edinburgh District League, he was second to Ian Elliott (Edinburgh Southern), 50 yards up on Evan Cameron of ESH, to lead the team home again – this time to second place behind Southern. A week later and Hamada was representing the club in the Edinburgh University 10 Miles Road Race against some of the best that Scotland could put forward. Nat Muir (Shettleston) won the race in a new record time from Jim Brown. Hamada ran in third place for most of the race but had to settle for fourth after Jim Dingwall finished strongly. In the team contest, Colin Youngson in fifth again led ESH to team victory.
These races were leading up to one thing: the national cross-country championships of Scotland to be held on 28th February at Callendar Park in Falkirk. In a race dominated by the duel between Nat Muir and Allister Huttn (two seconds between them at the finish) with Jim Brown and Lawrie Spence not far behind at all, Hamada was 17th, and third scoring runner for EAC: Alder 8th, Weatherhead 14th, Hunter 20th, Gourley 24th and Robertson 38th were the other counting runners for the team that won from Edinburgh Southern Harriers with the relevant points totals being 121 and 133. Had Hamada not been running, EAC would have had to add another 42 points to the total and they would have been second to ESH. As for his finishing position – the two runners immediately in front of him were Dave Logue (15th) and George Braidwood (16th) and following hard on his heels were Rod Stone (18th) and Colin Youngson (19th). All considerably good athletes.
*
The last major team race of the 1980/81 season was on 14th March and was the Six Stage Road Relays Edinburgh AC was second team. Hamada ran on the fourth stage, the second of the three long six mile stages. He ran very well to turn in the fastest EAC time for the stage and fourth fastest overall behind Muir, Hutton and Spence but ahead of all the others including such talents as Jim Dingwall.
Some of us are never clear whether the Tom Scott 10 is the last race of the winter or the first race of the summer but Hamada ran in it on 4th April, 1981. Hamada ran in the classic Tom Scott 10 miles road race at Motherwell and it was reported under the Glasgow Herald headline of "Jap pips Brown for Treble" as follows: "Despite a brave effort to score his third successive success in the Tom Scott Memorial 10 Mile Road race from Law to Motherwell on Saturday, Jim Brown (Clyde Valley) was outpaced by Japanese 10000m champion Yasunori Hamada of Edinburgh AC. The race quickly developed into a two man affair, with the leaders breaking clear of the 185 man field early in the race. Each took a turn of leading and they were under the course record at half distance but the hot afternoon took its toll of the tiring runners and the pace dropped on the hilly approaches to Motherwell. As the runners turned into the final 200 yard straight, Hamada was fractionally ahead of Brown. The Scot sprinted to be repelled by the leader, and the lead changed hands as the rivals passed and re-passed each other. Hamada's final lunge gave him the verdict in the closest finish in the 23 year old history of the race.
Results: 1. Y Hamada, Edinburgh AC 47:39; 2. J Brown, Clyde Valley AC 47:40; 3. C Farquharson, Clyde Valley AC, 49:46. First Veteran: R McKay, Clyde Valley, 54:43. Team: 1. Edinburgh AC 14 pts; 2. Cambuslang Harriers 32; 3. Bellahouston Harriers 36." It would be his best ever performance and listed as such on the ARRS website.
*
His summer season competition diary was also a very full one with competitions at club and championship level. On 26th May he was in serious action at Grangemouth where he was third in the 1500m in 3:49.5 ( only 9 Scots were faster that year); and two days later at the same venue he was third in the 3000m in 8:07.0 (only Robson, Hutton and Clement were quicker in summer 1981). In that particular race the winner was Nat Muir won in 8:00.9 and Frank Clement was second in 8:07.0.
*
Then only two days further on, on 30th May, he stuck to Allister Hutton like the proverbial limpet in the East District Championship 5000m at Meadowbank. Hutton's winning time was 13:59.5. It had been a very hard race and Hutton speeded up considerably in the last four laps – one in 62 seconds – to shake his rival off. He eventually did so to good effect and Hamada's own time was 14:13.19. Nevertheless it had been a terrific week's racing with season's bests at 1500, 3000m and 5000m.
*
Of course the biggest championship of the summer was the SAAA on 20th June. Hamada was there, and in the 5000m against some very good runners. It was not a day for particularly good times but in a good field, Hamada finished third in 14:16.61 behind Lawrie Spence (14:14.51) and Allister Hutton (14:15.06).
*
The winter season began again in October and Hamada seems to have left the country by then. He had run well, added to the Scottish scene although it was quite late in his career it did give him one of his personal best times in career terms. We can finish with some statistics. First of all, the figures for his year in Scotland.*
Yasunori HAMADA [JAP] (25.03.46) Edinburgh AC
Scotstats
1981 15003.49.5
1981 30008.07.0
1981 5000 14.13.19
CR: Sco: 3 5000 '81.
There is no doubting his quality. The ARRS website lists his pb's and venues as
| | | | | | | |
| --- | --- | --- | --- | --- | --- | --- |
| RD | 10 mi | 47:39 | a | Motherwell SCO | 04 Apr 1981 | |
| RD | 30 km | 1:32:48.2 | | Sapporo JPN | 11 Jun 1978 | |
| RD | Marathon | 2:13:04.2 | | Beppu JPN | 03 Feb 1974 | |
| OT | 5 km | 14:03.0 | | Tokyo JPN | 01 Jun 1974 | |
| OT | 10 km | 28:27.6 | | Tokyo JPN | 29 Oct 1977 | |
After his running career was over, Hamada stayed in the sport as a very successful coach in his native Japan.