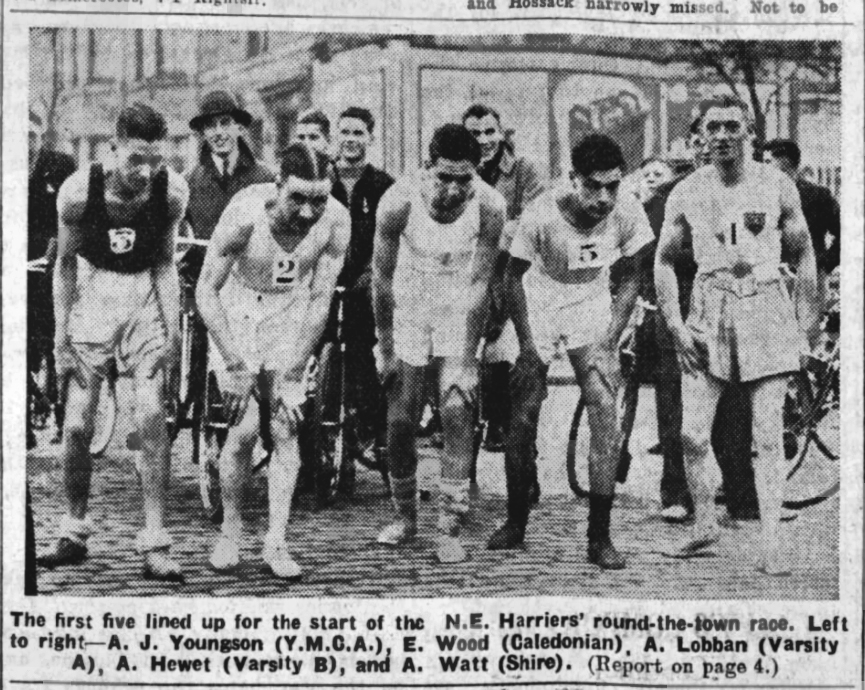 From the Press & Journal, 2nd December, 1935.
16th February, 1935: HARRIERS RACE FOR CALEDONIAN CUP. Six teams to compete in stiff test. The fifth annual race for the Caledonian Cup will be held inder the auspices of the North Eastern Harriers Association today at 3:00 pm. The competition is open to all amateur clubs within the area covered by the NEHA. Teams are of twelve runners each with six men home counting for places. Teams are forward from 'Vatsity, 'Shire, Aberdeen YMCA, Gordon Highlanders (2 teams) and Elgin YMCA Harriers. The course is from South Esplanade West to Craiginches to Harper's Works, striking off to the left to take the fields over to the road at the railway cabin, and thence back to the finishing point in South Esplanade West." Club teams were listed, with the Aberdeen YM squad being J Youngson, J Young, J Findlay, S Kennedy, J Crombie and G Duthie.
18th February, 1935: "TEAM TITLE FOR 'VARSITY. YMCA Man first home in Harriers Event. Varsity won the NE Harriers Association three mile junior team championship which was decided over a course at Torry on Saturday afternoon. A field of sixty runners took part. … From the start AR Hewitt and NR McLean (Varsity) forced a stiff pace with J Youngson (YMCA) five yards in the rear. Taking the country, McLean went to the front with Hewitt and Youngson on his heels. Midway over the country the three leaders were having a tousy duel, the Elgin team being well bunched together for the team award. Coming on to the road again, McLean was clinging to a three yard lead from Youngson and Hewitt, with H McDougall (Varsity), J Riddell (Elgin) and M Grant ('Shire) ten yards behind.
In the last 200 yards Youngson came away with a terrific burst of speed to pass McLean and carry on to win his first individual honour by twenty yards in the good time of 16 min 35 1-5th sec. An exciting duel took place between McLean and Grant for second place, the former just getting the verdict by inches at the tape." The result of the team race was a victory for Varsity from Elgin YMCA with Gordon Highlanders A team third. The YMCA did not have a counting team. There is also a very good picture of the start of the race in that edition of the paper.
7th March, 1935: Not strictly relevant but at an Elgin YMCA fund raiser, the speaker "congratulated the Elgin branch on their enterprise and sportsmanship in sending a Harriers team to Aberdeen for the first time in their history. They had – to the honour and glory of themselves and the city of Elgin – taken second place."
13th April, 1935: "The YMCA Harriers will decide their four miles handicap for the vice president's cup this afternoon. The start is at 3:00 pm and the course is:- Start on the South Esplanade West, and out to Bridge of Dee via Abbotswell Road, and in Riverside Road to finish at Victoria Bridge. The following are the runners and handicaps:- A Milne (scr), G Milne (2 sec), A Walker (13 sec), A Lobban (15 sec), Geo Brown (20 sec), F Warman (25 sec), JA Walker (48 sec), G Smart (1 min), W Craig and J Meldrum (1 min 32 sec), G Mathers (1 min 54 sec), K Gray (1 min 56 sec), S Kennedy (2 min 30 sec), Wm Brown (4 min 5 sec). Officials:- Starter and Timekeeper: CG Howie; judges: A Silver and D Yule; Handicapper: D Yule."
23rd May, 1935: NE HARRIERS MILE TEAM RACE AT LINKS. Duncan M Annand of the Aberdeen University Hares and Hounds created a new record in the North Eatern Harriers One Mile Team Race which was decided at The Links last night. Annand's time was 4 mins 30 4-5th secs, compared with the previous record accomplished four years ago by HM Gray, University Hares and Hounds, of 4 mins 33 1-5th sec. From the start W Whyte, WE Fraser and DM Annand forced a hot pace. At half distance they were joined by the brothers Milne and F Yeoman who were running with grim determination. About 400 yards from the finish, Annand went to the front, being closely pursued by A Milne and Yeoman. In the last 100 yards, Ananand came away brilliantly to create a new record. There was a great duel between Milne and Annand for second place with the former winning by a yard." The team race was won by 'Shire from Varsity with YMCA in third (2, 4, 11, 14).
30th May: 1935: "Teams from Aberdeen University Athletic Union, Aberdeenshire Harriers, YMCA Harriers and Aberdeen City Police took part in a series of inter-club track and field events at King's College Ground last night. The outstanding men were WG Brown (Gordonians), AR Hewit ('Varsity) and JA Robbie ('Varsity). The best event was the two miles team race. Four men , WE Fraser ('Varsity), G Milne (YMCA), L Davidson), and J Youngson (Gordonians), ran neck and neck until the last 300 yards, when Youngson took the lead, and although stioutly challenged by Milne and Fraser, won by three yards from Milne with Fraser a similar distance behind for third place.." The results followed and YMCA runners placed were 880 yards: T Craig 3rd; two miles team race: G Milne 2nd, Team Race YMCA – Milne, A Walker and G Mathers; hurdle race: R Riddell 2nd, F Warman 3rd; high jump: A Lobban 3rd; Relay Race: YMCA 2nd.
13th June, 1935: NE HARRIERS ONE MILE RELAY. 'Varsity retain Coronation Trophy. The 'Shire Harriers won the trophy, contested over a 4 x 440 yards relay, for the ninth time in succession with the YMCA team third.
19th June, 1935: Athletic Meeting in Polo Park, Hazlehead. Placed YMCA athletes: 100 yards: 3rd D Yule; 220 yards: 2nd J McFarlane, 3rd D Yule; 880 yards 2nd C Raich; Two Miles: 2nd team. Relay Race 2nd team;High Jump: 1st J Findlay, 2nd A Lobban.
20th June, 1935: "A large crowd attended Boroughbriggs Park in Elgin last night when the Elgin YMCA held their first sports meeting since the inauguration of the club. The feature of the sports was the five-a-side tournament in which five Highland League clubs took part. Runners from Aberdeen University, Aberdeenshre Harriers, Shamrock and Aberdeen YMCA also played a prominent part in the success of the sports. WG Brown, Aberdeenshire, won every event for which he entered." In addition to the five-a-side and the cycling events there were seven running events and the YMCA placed athletes were as follows:- Inter club relay race: 1st Aberdeen YMCA; Two Miles Race: 2nd J Youngson.
1st July, 1935: "It was rather unfortunate that the competitors for the first and second class standard awards in the NEHA trials meeting at King's College Grounds on Saturday had to contend with a strong headwind. Only three men gained first class standards – WJ Brown (Aberdeenshire Harriers), WJG Meldrum (Aberdeen Grammar School) in the 440 yards, and JA Robbie (Aberdeen University) in the high jump. It must have been disappointing to the twin brothers, Alex and George Milne (YMCA) , who in the one mile gave a thrilling display, to discover that their time was four seconds outside second class standard 4 min 45 sec."
22nd July 1935:Forres Amateur Athletic Association's annual sports before a few hundreds. Cycling and heavy events as well as running. There were good performers from Elgin YMCA and Inverness YMCA.
5th August 1935: Just as Glasgow had the Rangers Sports on the first Saturday in August, Aberdeen had the Pittodrie Sports which were also a big occasion. "Annual amateur sports held under the joint auspices of Aberdeen Football Club and the North Eastern Harriers Assoication at Pittodrie Park on Saturday. Stan Johnston (Heaton Harriers gained victories in the 880 yards and mile events. Johnston, who hails from Newcastle, is thefirst English runner to compete in the amateur sports at Pittodrie. In the Mile he had a thrilling duel with A Hay, North of Scotland Two Mile Champion. Entering the last two laps Hay had a slight lead, but 400 yards from the tape, Johnston put in a great finish to win by 5 yards. The meeting attracted and entry of over 100 competitors and, favoured by ideal weather conditions, the sport generally was of a high standard. It was disappointing therefor that the crowd numbered only 4000." The YMCA results were: G Milne two miles 2nd; D Yule 440 yards Final 3rd; Putting the Weight 3rd.
October 1935: "PITTODRIE RACE WON BY A FOOT. Before the start of the football match at Pittodrie Park on Saturday, the North Eastern Harriers Association decided their annual two miles open novice championship. Twenty runners faced the starter, and right from the pistol HR McDougall ('Varsity) forced a hot pace, closely followed by R Milne (YMCA) and AR Kellas ('Varsity). These three held together for over half a mile, when Kellas went to the front with McDougall and A Walker (YMCA) about two yards in the rear. At half distamce Kellas was holding to a lead of 10 yards from Walker, who had displaced McDougall for second place. The latter seemed to be feeling the effects of the gruelling pace he had set in the early stages, and it was no surprise when he retiredshortly afterwards. At the end of the mile and a half stage Kellas was grimly clingig to a3 yards lead from Walker, who appeared to be keeping a trifle i hand for the latter stages. Third place was occupied by W Grant ('Shire) who was 15 yards behind the leaders. Entering the last lap Kellas had a two yeards advantage, and coming down the back "straight" tried desperately to shake off Walker, but the latter was not to be denied, for, coming away strongly, he got onlevel terms with Kellas 100 yards from the tape. It was a thrilling sight to see these two battling for supremacy, the crowd yelling encouragement, and when it looked as if the race would finish with a dead heat, Walker in the final two yards, managed to ease away to win by a foot in the splendid time of 10 min 48 sec."
23rd December, 1935: Unique Event In Aberdeen Five Miles Race. YMCA CHAMPIONSHIP EVENT. For the first time in the history of amateur athletics in the north of Scotland twin brothers – Alex and George Milne of Aberdeen YMCA Harriers – finished in a dead heat in a club championship event. This unique performance was accomplished in the YMCA's five miles road championship which was decided on Saturday afternoon. The course started at the foot of Menzies Road, thence past the prison at Craiginches to Nigg Church, striking off to he road that leads to Bridge of Don, thence to Riverside Road, finishing at a point near Victoria Bridge. .
From start to finish the twins engaged in a grim struggle that ultimately ended in a dead heat. Although their time was over a minute outside the course record, consideration must be given to the treacherous ice bound road that prevailed on Saturday. One of the competitors who competed, RGG Milne, sustained nasty cuts to the hands and shulders when he slipped heavily on the road coming down to the Bridge of Don. Another feature of the race was the welcome return to form of KA Gray who finished 40 yards behind the brothers Milne. Result:- 1. Alex and George Milne; 2. KA Gray; 3. A Lobban."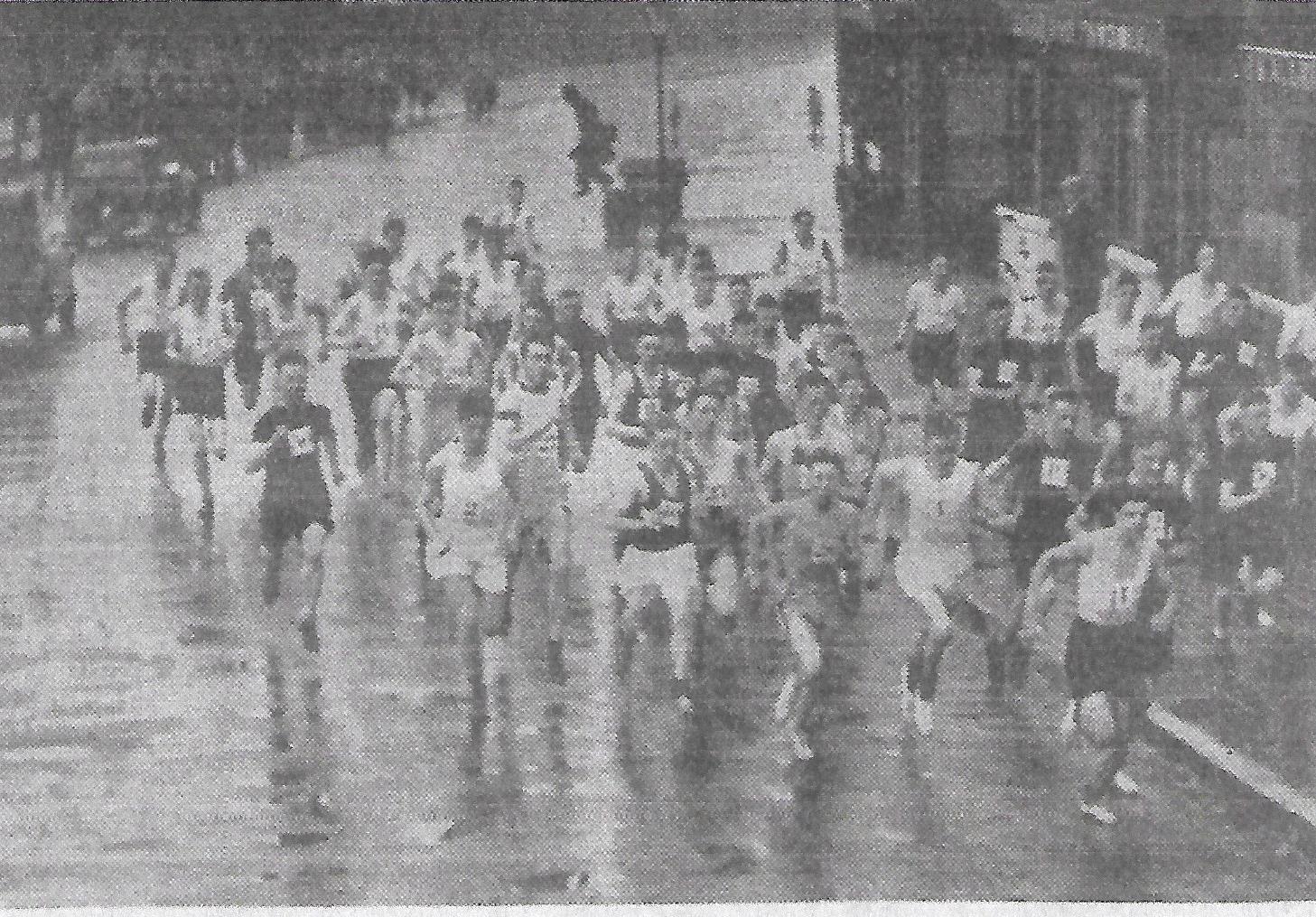 Start of Race on 16th February: See above