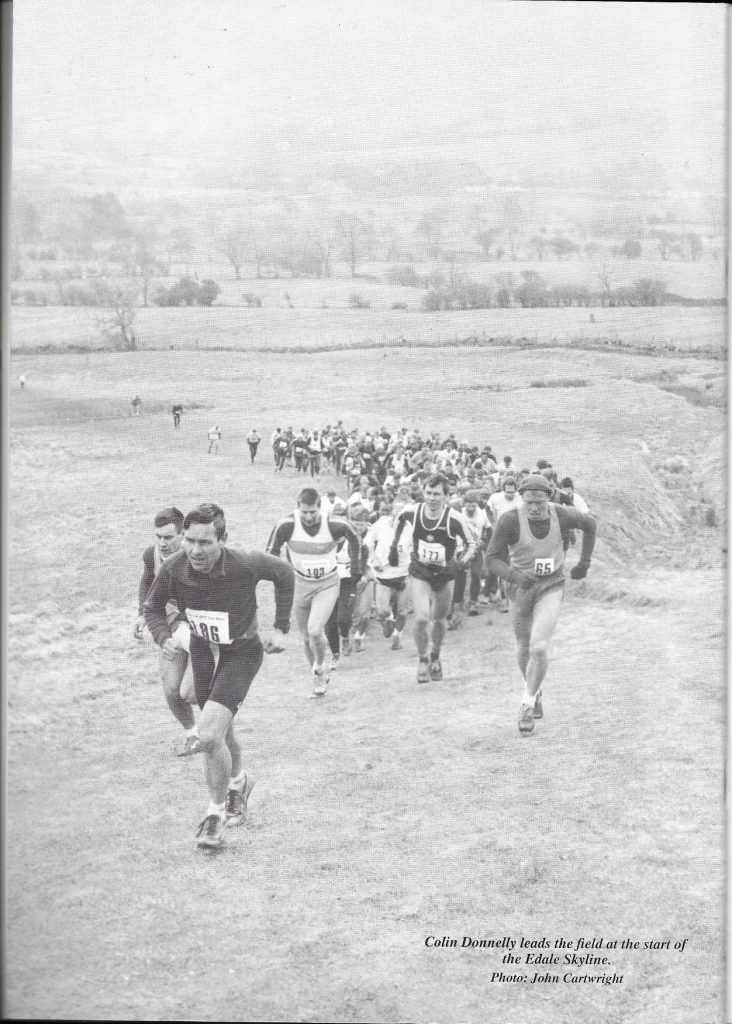 Colin Donnelly leads the field at the start of the Edale Skyline
Colin Youngson has written an excellent account of Colin Donnelly's hill running career. It is a wonderful story of success and of a man's love of his sport. To that, we now add another perspective – his career as seen by his friend and fellow hill running internationalist – Denis Bell – to get another perspective. That of one who has run in many of the same races which will add another dimension to the story. What follows is entirely Denis and has been approved by Colin.
A hill runner about a hill runner
Colin Youngson's record of Colin Donnelly's great athletics achievements is spot on – a great athlete, and a fantastic hill-runner. Yes, but I think there's another dimension, more of the person, the achiever, the multi-skiller. I have known Colin Donnelly for some 40 years. I entered the sport (running) late at 30 years old, came into hill running within a couple of years of marathons, road races and cross-country. Reflection – Jos Naylor, Billy Bland, Kenny Stuart and several more very good Englishmen, but I soon learned of great Welshmen and Irishmen too, and very quickly Colin Donnelly and Jack Maitland. Whilst I was mixing it with the very best Scottish based guys, only two Scottish runners punched at the front (often placed) in the Fell Runners Association (FRA) results in addition to the Scottish Hill Runners too. Colin and Jack it was, and it was WOW! how can these two be so good as to be taking it to and regularly beating England's best? The FRA had approximately 4000 members v. Scotland's SHRA's or the HRC's 250 – 450 latterly. Like-for-like, two of Scotland's finest (Jack based in Leeds, and Colin in Anglesey, North Wales) were taking it to the very best of England's in their own territory. Jack was outstanding, often matching and beating Colin, but he rather soon switched to triathlons very successfully and competed for Great Britain. Colin readily admits that Jack was a superb runner (as well as swimmer and cyclist, about which more later).
Colin kept going at running and tells of his earliest days, working (during his holidays from Aberdeen University) in the mountains which kindled a love of 'the hills'. As Colin Youngson says, Colin Donnelly was a supreme competitor on roads, over the country, in the hills. A member of Cambuslang Harriers, first and last, and a colossal achiever of unique distinction.
Colin freely admits a condition of Asperger's Syndrome. Colin's relationship with his Dad was not simple, but his Dad did recognise that Colin had superb competitive running ability, and subsequently a support and close-aide/companion dad-son relationship blossomed. Colin grew into running and winning or being very, very hard to beat – see the results: British champion three times, Scotland's leading internationalist for many years, especially World Mountain Running Trials, and in all age categories, competing as O/40 and still being placed (three out of four to count).
I reflect that I stopped harder competition at about 42 or 43 years of age as due to life's choices and challenges I felt that I'd competed enough. At some point Colin got to an end point of mainstream racing, enjoying 'rounds' and his own challenges of 'classics where the prep, the setting up, the doing alone all meant an escape from the 'start/finish line' of races. But, my goodness he put himself through the mill to challenge 'huge course achievements'.
There were the well known challenges – Ramsey's Round, Paddy Buckley's Round, etc – where recce-ing the trail, pacing, support, local knowledge advisers and navigators were usual. Colin did none of it, he committed himself and did it himself and gained huge results. The steely man, a bit cussed and to a point disappointed, even miffed with the Ben Nevis Organising Race Committee and the FRA's high-handedness, was driven to be very different. He won, lots. For many years, as Colin Youngson says, Colin Donnelly was a superb team member, never mind 'lone runner achiever.' Colin still runs superbly at 63 years old and recently in Ireland (Coomera) was second O/60 in the 'World Masters', and gold medallist in the team race with Stewart Whittlie and Des Crowe.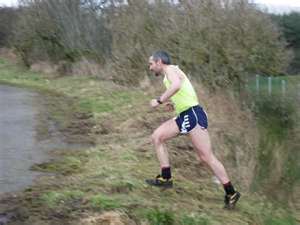 We have now seen a raw young lad of 16 or 17 years old who had found himself with a love of running, progress to be a 'top 3 internationalist' at World level, and still running and racing competitively nearly 50 years later. Can anyone show me better than this? Longevity …. yes, but …. In later years there have been serious (and even career threatening) injuries such as torn cartilage. Colin worked his way through them all. Although he had pretty well lost much of a couple of separate years, he had the ability to come back strongly and very quickly. I think he was surprised but also very relieved and simply kept going at being 'great'!!!
In our chat he told me of his routines and some outline of training regimes which are pretty easy to say. Quality, commitment, routines, being smart, tough on himself … but also focused on getting results. I'll say that today as a supervet, retired, Colin does basically a cycle of 15 – 20 miles (not too often much more) at a reasonable pace of 10 – 15 mph (17 -25 km/h) and runs country (not roads) for maybe 5 – 7 miles during the cycle or after it. This is a daily routine. So we can see a superb base of continuity and strength building exercise, sustained by the classics of eating, drinking, resting. Based in the Scottish Borders, Colin knows the land as well as wherever he has lived and worked. He is a typical, classical, outdoors person. He loves trails, tracks, and even pathless running but hates tarmac with a vengeance. He knows it knackers his system so just doesn't do it. Without doubt Colin is an avid patriot of and for Scotland – so we share several passions and also a few beers and drams!
Summing up, I'll say Colin is very much his own person; very studious about where he is on the map; very interested in different places (we visited and discussed a few wee quirky places in or near East Dunbartonshire); a planner; an adventurer; a man who loves doing and achieving personal targets; a truly committed runner who will support the team by default, by doing his very best – every single time; opinionated and passionate about his own strong beliefs; a character who listens; compliments and criticises; a man who wants better and who is frustrated by 'less than good and reasonable'; a man of considerable power and commitment; a man who has a legacy but who will not boast but a man who has real pride in what he has achieved and how he has done it; a courageous and forthright competitor with extra pride in the Scottish vest. Colin is a unique character, a true son of Scotland that we can all be seriously proud of. What's next? I'll state there's much more to come and superb results as a 70+year old (some 55 years after his awakening) – how glorious will that be?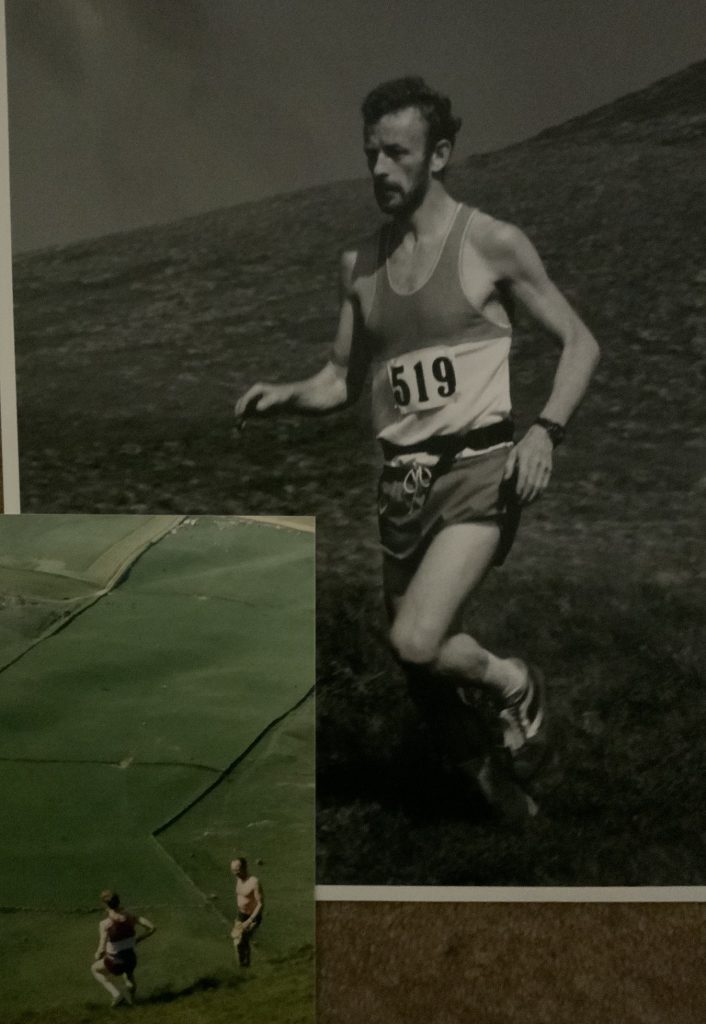 Above is Denis Bell, author of this piece who adds
After my personal running career sketch, and having then written about Finlay Wild's, John Hepburn's, Angela Mudge's and now Colin's, it is apparent that for all of us "the hills" is the place to be and the love of and drive to be in the cold, open high places is an ultimate. The range of characters and attitudes is considerable, as are 'the results', but what shines is the ability to compete, year on year, managing the best of our bodies (even given some setbacks by injuries and serious ailments) doing an utterly marvellous and very, very complex form of athletics. My opinion is that there is no other sport as complex and possibly the camaraderie could not be bettered either."
And that is where Denis's assessment of his fellow hill runner ends. It is a remarkable tribute by a contemporary and friend to a man that everyone rates highly – cross-country runners have huge respect for him and he must have one of the best collections of medals in that discipline in the country, but I suspect that that, though a source of pride, would not be of great consequence to him.