DOUG GUNSTONE – BRIAN McAUSLAND – ALISTAIR McFARLANE – BILL RAMAGE
1969 – 1980
My wife and I moved to Craigenbay Crescent in Lenzie in June 1966 and at the time I was the only runner in the Craigenbay estate. Not long after, Alistair McFarlane moved in to Craigenbay Road and then Doug Gunstone arrived, also to Craigenbay Road, to complete the trio. We all lived within a few hundred yards of each other and a lot of good running was done. Bill Ramage of Springburn lived just off Gallowhill Road and he was a stalwart until 1977 when he moved to Durham. It was a well known group and Colin Shields had an article in the 'Sunday Post' under the heading of 'The Lenzie Lopers' which inspired the title here. This is a simple account of the group.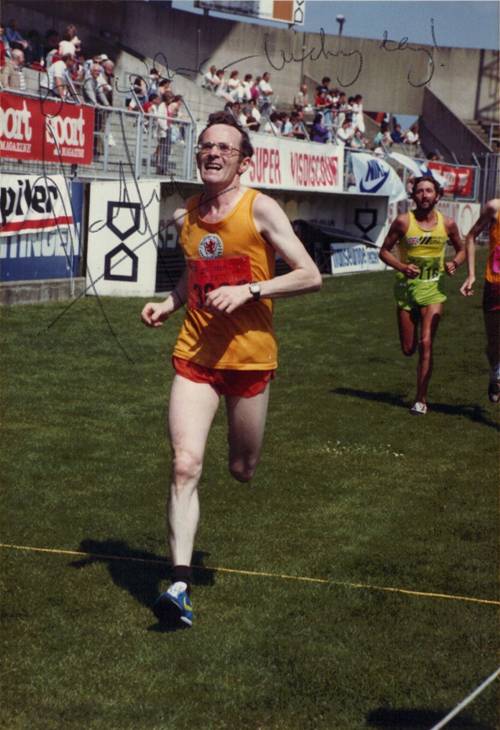 Bill Ramage beating Ron Hill – who even signed the photograph
When I arrived in Craigenbay Crescent, the first thing to do was sort out some trails – every runner has a couple of trails that he uses to check out fitness and for the bread-and butter daily training. The about-six-miles loop started as they all did from the front door and I quickly set check times for the first mile or so so that I knew the pace was right – the end of the Crescent was 40″, the junction with Garngaber Avenue was about 1'15", the top gate for Woodilee at the Spider Bridge Road was about 3′ and the junction with the main road at the foot of Bothlyn Avenue was just outside 5′. As time went by the time for the trail was whittled down but the starting check marks were usually kept. Everyone has a 10 mile trail – mine went round by the Gadloch, Lowmoss, the Torrance roundabout and back in past the Rob Roy football park and over Hillhead. There was also the run out along the main Cumbernauld road from Kirkintilloch as far as St Agatha's School then the long loop round the back to Woodilee Farm Buildings then straight home through the hospital. I enjoyed the running on my own and only made it across to Clydebank once a week – no car and relying on the train was not easy. I was also running quite well with the club team having Ian Donald, Doug Gemmell, Phil Dolan, Allan Faulds, Ian Leggett etc. In fact, according to my training diaries, I hardly ever ran less than 3000 miles a year and many years covered 5000 miles in training and racing while living in Lenzie. Bill Ramage was the nearest athlete that I knew and we started running together. The Scottish Veterans scene had just taken off under the enthusiastic drive of Walter Ross and Bill was one of the top vets in the country. For instance in the Scottish Veteran Harriers Club seven and a half mile road race /at Ballahouston on 29th February 1976 he won by almost two and a half minutes from Graham Stark (ESH) a former Scottish One Mile Champion with other Scottish Internationalists such as Gordon Eadie, John Milne, Bobby Calderwood, Ben Bickerton, Gordon Porteous, Ronnie Kane and Andy Forbes behind him. He told me that a guy called Alistair McFarlane, an ex-professional was moving into the area and joining Springburn Harriers.
When Alistair moved into Craigenbay Road it added a lot with Bill now coming across from Gallowhill on a Sunday morning for the long run instead of meeting on the road. I was running marathons in the 2:30's/2:40's at that time but when Alistair ran one, I was second fastest in the estate! He was a seriously good athlete who had run for St Modan's in Stirling, become a professional athlete and then returned to the amateur ranks with Springburn Harriers. When Alan Simpson set a GB Professional record for Two Miles, Alistair paced him through the first mile. Then I returned from holiday one year to find a note from him behind the front door saying I was now the third fastest marathon man on the estate – Doug Gunstone (SAAA 10 mile and 10000 metres champion) had just moved into Craigenbay Road as well. That was the start of a wonderful running scene – whatever you wanted you could get. A 7 – 10 miles any night? Someone would come along. A set of 300's on the old railway line? Somebody would join in. Fast 200's on the grass inside Woodilee? Again there was someone or even two someones quite keen to take part. I was far and away the slowest of the bunch with Alistair having a marathon pb of 2:18 and Doug also being inside 2:20. Bill, I think was slightly slower than my 2:30+ times. Didn't matter, we all got along really well and enjoyed running each other's company. As I remember it, Doug was the statistician with times and distances at his fingertips. Virtually every Sunday, he would have the times and places certainly of the first twenty finishers and the first half dozen club teams and they would be dissected, compared with last week's/last year's times and just as significantly what it meant for future races. Doug also tended to push the pace along a bit right at the start of the runs but when he tobered up a bit, Alistair was just limbering up and kept the pace going nicely. I was just the ham in the sandwich.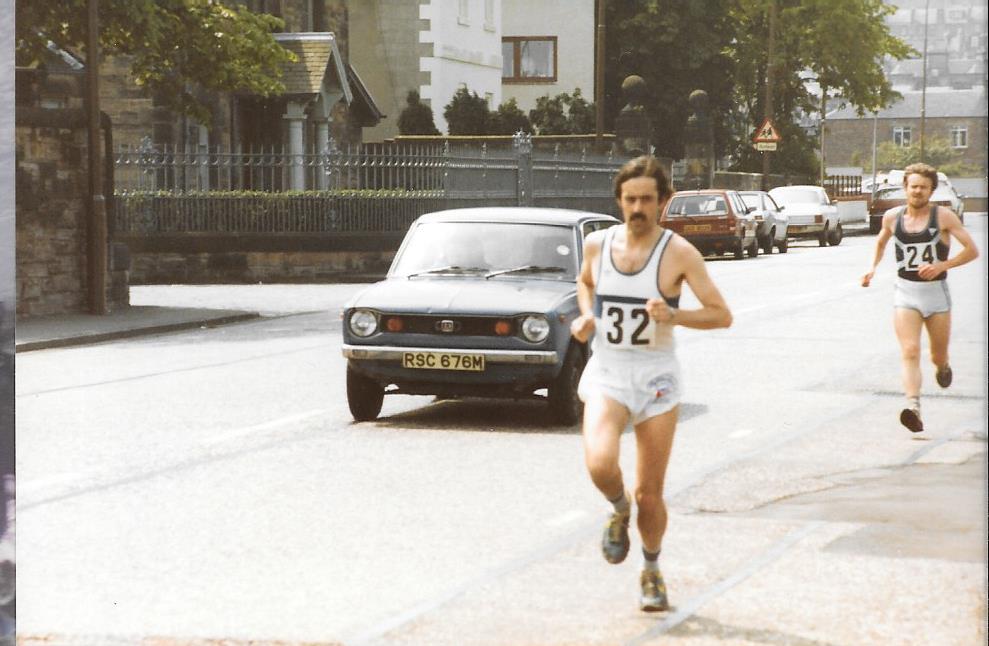 Doug Gunstone in the SAAA Marathon
Apart from the runs, the abiding memory is of the conversations on Sunday about last night's 'Two Ronnies' or even 'Scotch and Wry' with Bill Ramage being very enthusiastic about 'A Bouquet of Barbed Wire'. He was also I remember the first of us to see 'Blazing Saddles' and we were regaled with the plot – or selected highlights – on that particular Sunday. We kept the Sundays going even on Christmas Day when we were maybe a bit later (10:00?) and kept it to an hour so that we could enjoy the day and know that we had not lost any training ground to the opposition. Virtuously self indulgent is maybe the phrase!
We educated each other on these runs – analysing races before they happened, dissecting them afterwards, talking about training methods and so on as well although none of us had a coach as such – and there is a bit about coaching and the Lopers' more mature thoughts, plus the pb's at standard distances and a bit about their backgrounds at the links below.
The Sunday runs were legendary. We met in Alistair's house in time for an 8:00 am start. I had a poached egg on toast with a cup of tea beforehand, Alistair had an egg switched up in milk and I don't think Doug had anything. Tracksuits were left in the front room and off we jolly well went. The runs were never less than two hours and on occasion three hours were done. We went as far south as Barrachnie to do a bit of the Allan Scally trail and back via Coatbridge; we went as far North as Fintry (!) with the cattle grid in the Campsies causing an anxious moment; as far West as Springburn and Petershill and as far East as the far side of Cumbernauld.
There were guest runners of course: when the Irish marathon man John McLaughlin stayed with Alistair, he was in the pack, we also had Don McGregor when he was with Doug and Phil Dolan turned out when he had overnighted with us. Other 'guests' included Bob Lunnon (a 2:15 marathon man), Rod Stone (Irish internationalist), Jim Lawson, Eddie Knox (World Junior Cross Country Champion) and Bill Scally of Shettleston. There were other regulars at various times. David Lang of many clubs – Shettleston, Glasgow Police, Cambuslang, Forres, etc – moved in to Woodside Crescent on the other side of Garngaber and he became a regular for a short time. Then we started heading to Bishopbriggs every Sunday to meet up with Hugh Barrow of Victoria Park and Tom Donnelly of Bellahouston. Several Springburn Harriers including Jim Martin and Graham Crawford joined in from time to time Word got out about the group and at one time, probably about when Colin wrote his article, a photographer from the 'Sunday Post' came out one Sunday for a picture of the threesome but that week of all weeks, Doug had a very bad cold and couldn't cross his threshold even for the picture. It was a pity because as far as I know there is no picture of the group at any time.
The scariest runs before Doug came along – aye and maybe after – were when Bill took us out to Cumbernauld and then back along the Stirling motorway. The hard shoulder seemed safe enough at that time but it is a wonder that we were never accosted by a passing Police Car! Talk about dicing with death! I know what I'd say if I were driving along a motorway and saw some guys running gently along the edge of the road. One of the best runs was the one where we went over the four golf courses from Crow Wood to Lenzie. Hayston was another that we frequented from time to time. If we were running in a Championship or open meeting at the track at Coatbridge, Palm Gunstone would drive us out, we'd warm up, race, cool down a bit then run back the 7 miles or so to Lenzie. Prior to Hugh and Tom joining the Lopers, the runs began with a run up through the grounds of Woodilee Hospital and off out in the direction of Twechar, Cumbernauld and Kilsyth. After we started the runs by heading out past the Gadloch and in towards Bishopbriggs that way and a whole new swathe of country and roads was opened up. Tom worked as a Physiotherapist in a hospital in Glasgow and one Sunday he spoke to me about an old Clydesdale Harrier in the hospital who had both legs amputated. His name was Willie Howie:. I knew Willie and was quite shocked and as soon as I returned I phoned another Harrier in Clydebank who was equally concerned. He phoned Willie's wife and asked if he could speak to Willie – and was told he was out for a walk! It was a different Willie Howie from the one we had in mind who is alive and well at the age of 94!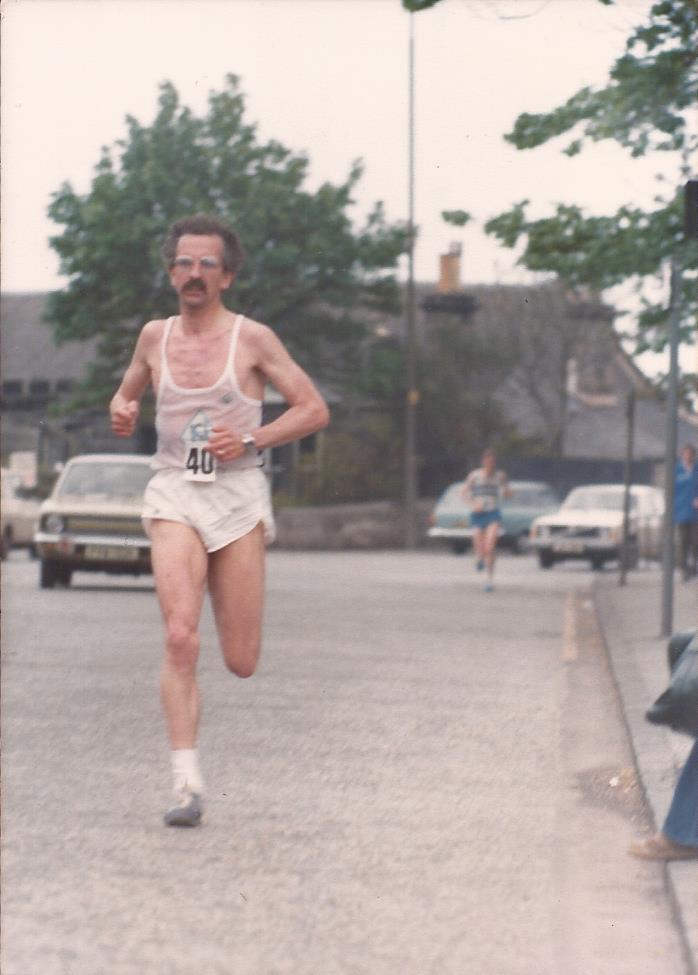 Alastair winning the SAAA Marathon
We very often travelled to races together despite being in different clubs and the longest trek we made was to Rotherham in 1976 for the AAA's Marathon Championship which doubled as the Olympic Trial…What a trip that was! We hired a car and took turns driving down the day before the race but after the race, Palm, who had come along did all the driving. The night we got there we were allocated 'digs' with locals so Doug and Palm and I settled our kit at our separate billets and then I accompanied Bill and Alistair to the one they were sharing. We should have suspected something when we got in and there was a fur coat and high heels behind the front door where they guy was living on his own. "I had the meal ready for half past seven and it's now almost nine o'clock, don't blame me if it's spoiled!" It was kind of tough and when he enquired if I found it hard I commented that it was fine, I just had a weak right wrist. "We all know what causes that!" was the comeback. Anyway, Alistair and Doug ran well, Bill ran OK and I didn't (I was about 2:57 or something) before throwing up on the pavement. We were given a questionnaire to complete which included a query about when we first urinated after the race. We stopped at Harry Ramsden's in Leeds on the way home and when we returned to the car Palm who was in charge of all four forms had to ask each of us in turn whether we had or had not! I was never asked either before or after as often by any woman when I had last had a pee! I'll restrict the story telling to that and say nothing about the shag pile carpeting or the floor to ceiling mirror or the giant jar of Vaseline in the guy's bathroom! Or his choice of reading material!
Where are they now? Well Bill went to Durham, courtesy of his employers, I moved to Killearn when the children came of secondary school age and continued my athletics career as a coach rather than as a runner and served as President and Secretary of Clydesdale Harriers: Doug's employment took him back to Fife and in 2009 he ran his forty first consecutive National Senior Cross Country Championship and was also President of Fife AC. Only Alistair remains in Lenzie where he has moved across to the posher side of the tracks. Alistair also did some coaching of Senior athletes and was Captain of the 'Scottish Marathon Club' and editor of its magazine for many years and is currently President of the Scottish Veteran Harriers Club.
[ Bill Ramage ] [ The Lopers Miles ] [ Their pb's ] [ Their Antecedents ] [ Training at Springburn ] [ Kirkie Race Trails ] [ Springburn, 1966 ]