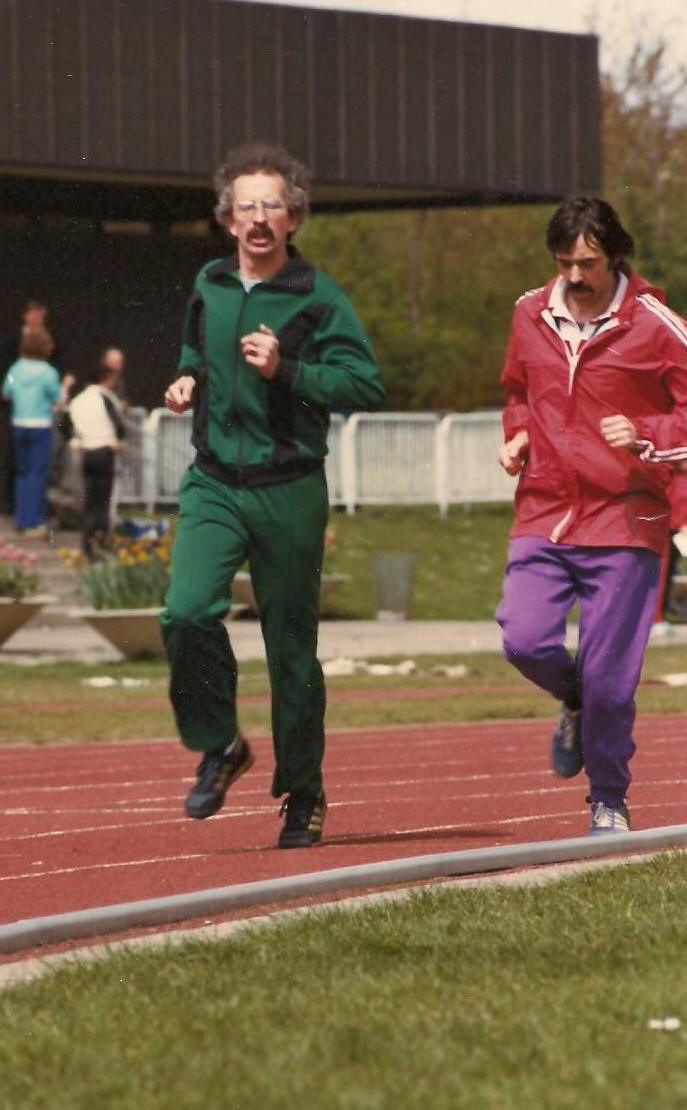 Alastair and Doug warming up at Coatbridge
The issue of how many miles to run for a good endurance career is a thorny one and one that is raised a lot these days.   At Scottish level, Ian Stewart and Liz McColgan are both saying folk don't run enough.   In the pages of 'Athletics Weekly' Ian McMillan and many others write frequently on the topic and of course old farts go on ad nauseam if you stop long enough in their presence!   So what did the Lopers do about miles?    Abilities ranged from Alistair's 2:18 and Doug's 2:19 to Bill and I running in the 2:30's.   Since Alistair was the quickest over the distance and also fastest 800 metres runner then we should start with him.
Coming from a track background where 7 miles was a 'long' run, he arrived in Lenzie and in his own words "Things changed when I arrived in Lenzie and Mr Ramage must take some credit for that….. Looking back at my diaries I see that during the years 74, 75,76 I averaged 70 miles a week for the three years and these laid the foundation for any future achievements."   So we are talking about 70 miles a week for three years: 52 x 3 x 70 = 156 weeks at 70 miles = 10, 920 miles!   Almost 11000 miles in three years.   That was the groundwork for the years of very high performance.   He won the 1979 Scottish marathon lifting the scalps of guys like Colin Youngson and Don McGregor and his run in included the following average weekly mileages:-
January  62 mpw; February 74; March 62 (missed three days because of injury); April 91; May 69 (including easing down and recovering for the marathon in June.)
Some statistics: he only missed 3 days training in that five month period; From 1st January to 25th May he did 173 sessions in 145 days then ran a pb.    He ran 13 races in the period ranging from 3000 metres on the track to the Clydebank to Helensburgh 16+ which he won.   His longest run was 2 hours 10 minutes (19.5 miles) which he did the day after winning the Helensburgh race.   He says "It sometimes concerns me when I hear about people doing 12 week marathon preparations that they have read in magazines when it is really a year round preparation and probably several years that are required."  
It should of course be noted that when he talks of the preparation required he is talking about the preparation required to RACE marathons  and not just to run them.   I would think it is probably possible to run a marathon inside 3 hours on a 12 week prep if you have a serious running background.    I know that three Clydesdale Harriers ran in the Shettleston Marathon about this period and Allan Faulds who was doing about 45 mpw was fifth in 2:41, I was doing 65-70 mpw and was seventh in 2:45 and Bobby Shields who was doing about 100 mpw was outside three hours.
Doug was very similar to Alistair in his approach to his athletics – the only real difference that I would note is that Doug seemed to race much more.   He says:
"I agree with most if not all that Alistair says – especially about the need to have the pace if not the speed.   My background  was very traditional at least for the time I grew up in in that I started at about 16 running cross country in winter and track (which meant 800/1500) in summer.   The country built up your strength and the track your speed.   This meant that you soon found easier days running at 6 minutes a mile came without any difficulty.   By the time I was running marathons I was not doing a huge mileage averaging 70 miles weekly.   The split between the days was easy: 16-18 on Sundays running steadily but not slowly, approximately 10 miles per day Monday to Thursday with a shorter recovery run on Friday.   A race on Saturday with a warm up and cool down (where did warm downs go?)  would make up the 70-ish.   Of the mid week sessions one would be on the track eg 20 x 400 in about 70 seconds with 50 seconds  recovery.   One of the other nights would be a fartlek or an acceleration run.
The races would vary in distance.   In winter the cross country/road racing season which involved races from 2.5 miles up to 7.5 .   I feel strongly that the short races maintained your speed over what were sometimes challenging underfoot conditions and the fast short road races eg the Nigel Barge, the Glasgow Uni 5, the Springburn Cup kept you running fast on good road surfaces before you started your build up to a Spring marathon.   Spring would include a couple of longer races  probably a couple of  10 milers and one a bit longer but some of my best marathon preparations included a few track 5000's.   I also believe longer track races are good not only for developing/maintaining speed but also mentally strengthen you.   Ask today's marathoners how many track 10K's they have run in the past three years (I'm still very proud of my track 10K record!)
To summarise, I was always prepared to run shorter distances at faster than 5 minute miles – I'm not sure this is the case nowadays."  
I was a lot slower than that but I think I did what I could and have no 'if only' moments about the marathons I ran.   In 1981 as a 43 year old vet I ran a 2:41 in April and a 2:45 in June.   My miles that year were averaging 73 mpw in January, 69 in February, 69 in March, 74 in April, 88 in May and 67 in June including the easing up before the race.    I had first done 100 a week in 1964 but in the 70's the highest I reached was 92 but the average was high overall.   My own miles in 1973, 74 and 75 were as in the table below.
| | | | | | | | | | | | | |
| --- | --- | --- | --- | --- | --- | --- | --- | --- | --- | --- | --- | --- |
| | January | February | March | April | May | June | July | August | September | October | November | December |
| 1973 | 51 | 58 | 57 | 61 | 63 | 75 | 62 | 60 | 49 | 61 | 45 | 51 |
| 1974 | 77 | 73 | 74 | 83 | 81 | 75 | 76 | 68 | 63 | 63 | 43 | 60 |
| 1975 | 77 | 60 | 66 | 81 | 82 | 77 | 71 | 71 | 69 | 62 | 43 | 46 |
Allied to the miles as a method or aid to preparation was ….THE DIET.  This was called either the Carbohydrate Loading Diet or the Glycogen Depletion Diet depending on your point of view.   It was a way of organising your diet in the week before the race to gain maximum benefit from it that had been used by Scandinavian skiers and adapted to marathon running by Ron Hill among others.   If you were a Glycogen Bleedout  follower you had the usual 20+ miles run on the Sunday before the Saturday race to deplete the body's stores of glycogen and the kept them artificially low by not consuming any sugars or carbohydrates until the Thursday of the week when you went back onto the NORMAL diet.   The body having been starved of them, stored carbs and sugars in big quantities which were at their peak on the Saturday of the race.    If you were a carbo loading man you simply ate loads of carbohydrates in the days immediately before the race.    I did the Diet in its seven day purity several times and thought that it worked although you felt pretty dire at times from the Sunday to the Thursday.    Bill also tried it a couple of time as did Alistair.   Alistair has this to say of the Diet: "I did the diet and remember it being horrendously difficult during the low carbohydrate phase.   It was difficult to know how much the Diet affected performance and how much was down to good preparation.   Later on instead of doing the full week's diet I would stay off carbs for maybe 36 hours  and then load for the last couple of weeks before the marathon.   This seemed to suit me better."     As I remember it Doug also did a three day version of the diet.