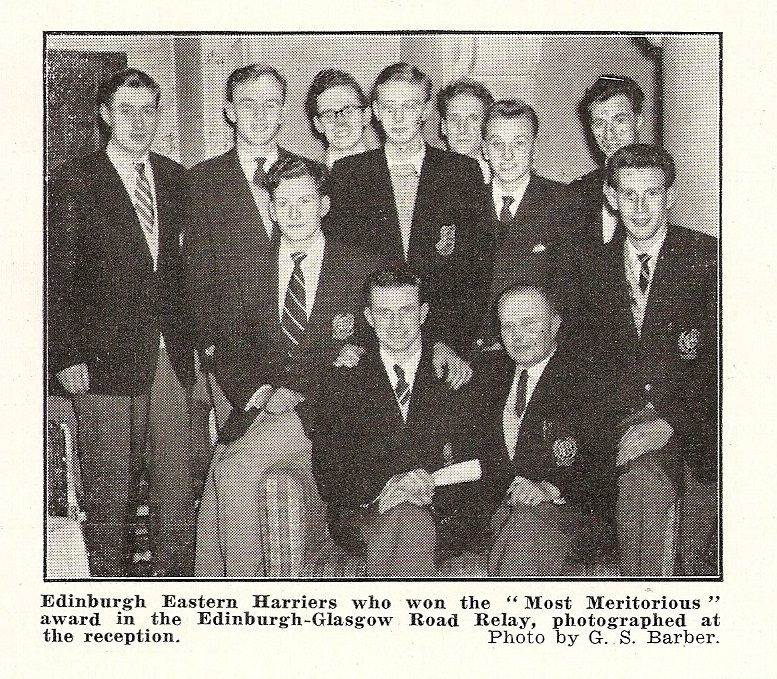 The Lopers obviously learned a lot from each other.   What they learned from past experience was put into the mix of conversations on the hoof and qualified, modified, altered and added to as a result.   Where had the information come from?    Each has said his bit on the page about Coaching but we have to look at the clubs that they came from.    There are, to my mind at least, two kinds of runner that Scottish harriers respect:   there are the one club men like Bill Scally of Shettleston, Colin Martin of Dumbarton and, dare I say it, me at Clydesdale, and there are those who love the sport and always join the nearest club to where they live at any point.    If we look at the Lopers we get differing pictures.
I have been a member of Clydesdale Harriers since 1957 but was also a member of the British Milers Club, the Scottish Marathon Club and the Spiridon Club of Great Britain.   The club had the benefit of input from Ian Donald whose Shettleston background added to everybody's store of information, Allan Faulds whose experiences in Stirling and Exeter increased the info bank and Bill Wheeler from Portsmouth also gave a new dimension to training.    So, although a one club man, there was a variety of perspectives to be included.
Bill had a longer experience of athletics than any of us and a variety of clubs had contributed to his education.    In his own words: "I started with Edinburgh Eastern Harriers and moved to London where I did not run for a while.   I later joined Cambridge Harriers who trained at Bexleyheath and because I worked as a civilian for the Metropolitan Police was allowed to train at the Duke of York track at Chelsea.   (This was a real hotbed of athletics and it was one of the tracks favoured by Franz Stampfl's group which included Roger Bannister, Chris Chataway, etc and must have been a real learning experience.   BMcA)     I moved back to Edinburgh and rejoined EEH where Charlie Fraser and Jimmy Devlin were the leading runners at the time (the early 50's).   We trained on the old Meadowbank with runners from most of the other Edinburgh clubs.    I had started the long Sunday run with Cambridge and introduced it along with 400 metres rep sessions on the track.   I then moved to Newcastle and joined the Gateshead Congers Harriers, not to be confused with the Gateshead Harriers.   It was a tiny club but a good training group and with a nucleus of three won lots of team prizes around the North of England.   The Road Runners Club had a good North East Branch and organised plenty of races around Tyneside and Teesside.    With Gateshead Stadium as a track base and thriving track and cross country leagues it was a great place to be.   The club eventually ran out of members and folded.   Rather than join the mighty Gateshead I joined Gosforth Harriers.   While in England I had run for Edinburgh AC in the Edinburgh to Glasgow.    I moved to Cumbernauld in 1966 and then to Kirkintilloch where I joined Springburn Harriers.   I moved to Durham in 1977 and after initially rejoining Gosforth  which was 20 miles away, transferred to Durham City Harriers."
Despite racing in the Edinburgh to Glasgow for Edinburgh AC and Springburn he only ever had the one medal as a member of the most meritorious club performance outside the first three teams.    That was in 1956 and the picture that appeared on the cover of the 'Scots Athlete' magazine for January 1957 appears above with Bill third from left in the back row.
Lots of clubs but lots of travelling and always it was the local club that he joined.   The athletics education that he picked up must have been considerable.   And all this was put in to the mix between 1966 and 1977 on the long Sunday runs, on the shorter midweek runs and in cars travelling between races.   Bill of course went on to become a Senior Coach – I would suggest that he had learned at least as much from this wide range of experience as he did from the coaching courses!
Alistair's experiences were different and added another dimension to the discussions.    Alistair had an interesting background in that he was initially a member of the St Modan's  club in Stirling who became a professional athlete for a number of years before coming back into amateur athletics and joining Springburn Harriers when he moved to Lenzie.
In my book of biographies of Clydesdale Harriers from 1957 – 2007 I say of Allan Faulds that there are two kinds of athlete that other Scottish athletes respect – those who are one club men who stay with their first club throughout their career and those who make a point of joining the local club wherever they happen to be at any time.   Allan always joined the local outfit and that included Stirling, Exeter, Clydesdale, Perth Strathtay, Fife and of course the University clubs.   oug was also in this group and ran at various times for Dundee Hawkhill Harriers, Highgate Harriers, Edinburgh Athletic Club, Springburn Harriers and Fife AC as well as several University clubs.   What a wonderful range of experiences on which to draw when organising his own training!
As far as I was concerned, I was always a one club man but mixed with several original thinkers on athletics from the excellent but unorthodox Cyril O'Boyle to the thoughtful and considered David Bowman via such as Jock Semple within the club and also talked to anyone who would stand still long enough.   The range of experiences within the Lopers group was vast – and then you count in the conversations with the 'guest' or 'honorary' lopers!   You couldn't have found a better group to work with or learn from.