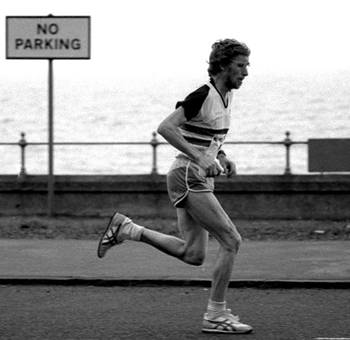 Stage One: Striding Out.
You're a skinny young boy who really enjoys all sorts of sport. Yet, no matter how hard you try, genuine sprinting speed, robustness and agility are lacking – so you're rubbish at football (a natural hacker) and too fragile for rugby. Never mind. Every opportunity is taken to rush down to the park and rush around enthusiastically with your friends. At weekends or in the school holidays, apart from running home for lunch, before hurrying back to the park, it can be virtually non-stop from dawn to dusk. Cricket, rounders, football, tennis, putting. What else? Table tennis, hockey, golf, cycling, climbing hills. Everyone walks everywhere. No lifts from parental taxis in the self-reliant, unafraid 1950s. Pity you never do well in the annual school sports.
Dad says that he had some success in mile races before the war and afterwards in cycle time-trials. He's even thinner than you, with boundless energy. So you make a real effort to impress in the primary school hundred yards, clawing the air desperately as everyone else sprints away from you. Too slow, alas. Then, one summer, boys from your street are taking on lads from another in what, nowadays, might be termed a multi-events challenge. After hours of competition, the score is tied at three-all. What trial can be devised to decide the champion street? Someone suggests a 'marathon' – running twice round the outside of the park, an enormous, ridiculous distance! (In retrospect, maybe one and a half miles.) Everyone must start and whoever finishes first will clinch the glory for his team. They charge away as usual, while you trot along behind. Then something mysterious happens – they all slow down and, keeping the same steady pace, you pass every single one. In fact the second lap is a solo performance and your mates shout, "Well done!" or "You must be mad!" as the imaginary tape is broken. You have never heard of genetic inheritance, but at nine years of age, certainly have something to think about.
At Secondary School, the Sports deserve a capital letter. There is a properly-marked 440 yards grass track and a wooden mini-grandstand for guests and posher parents. Several days before, heats are run, and you manage to battle through to the First Year 880 yards final. Sadly, you finish eighth and last on the great day. In Second Year, your time is fifteen seconds faster, but the result exactly the same. Third Year, however, will be different. At 15, you are permitted to enter the Junior Mile. Dad race-walks from his work in the city centre and spectates on the final bend, upwind of grandstand gentry. The gun is fired and you launch into full racing stride! Yet a crowd of athletes and rugger heroes barge away from you. It is impossible to go any faster, but you bash on regardless, despite being last after one lap. This position is maintained at half-way, goading your exasperated father to bawl "Come on, you lazy sod, you can do better than that!" causing shock and chagrin amongst the seated select! Miraculously, one-pace runners can make progress: most of the strongly-built optimists crumble and you plod through to a respectable third place in five minutes five seconds. Dad forgives you and strides back to work. Maybe, one day, you will be a proper runner!
Before subsequent Sports, "sneaky training" is discovered. You are already fairly fit, from regularly taking part in a range of sports, but decide to build up for the school mile. Early diaries note remarkably brief sessions: ten-minute jogs on the playing field; a few hardish laps; and sometimes, before the evening meal, flat-out pavement time-trials round the block, using a normal watch, starting on the minute then, about four minutes later, gasping under a street-lamp, trying to squint at the moving second hand to see if the record has been broken. Add an occasional competitive two-mile road run with school athletes and there is a feeling of increased fitness: leg muscles supple, breathing controlled – a general glow. In both Fifth and Sixth Year, you actually win the Senior Mile and do well in track races against other schools. You find more pleasure than pain in pre-event nervousness, the warm-up routine, the hard effort and thrill of racing, the satisfaction of success derived from coming first or setting a personal best. Then you discover cross-country.
This is a much tougher prospect. You have to cope with mixed terrain, bumps, mud, obstacles: bad enough at training speed, over three or even four miles, but horrendous when you try to run fast. That lack of agility does not help. Initial experience of championship racing is gruelling, as you slip, stumble and pant while trying to overtake at least some of the faster starters and strain to maintain effort to the temporary exhaustion of the finish. Close rivals identify themselves, some of whom will be uncomfortably competitive for years. School awards 'full colours', which transform you into a peacock in a fancy blazer. Some girls admire this.
Coping with disappointment must be learned, although resentful outbursts cannot always be suppressed, even if you feel ashamed afterwards. But there is enough progress to keep you hooked. Running potential should be explored further.
Motivation so far: curiosity, testing yourself, beating others, improving times, prestige.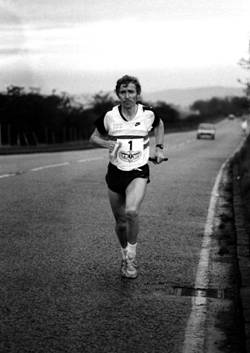 Stage Two: Gaining Speed.
You glean so much information about running during five years at university. For a start, the cross-country men form a proper club, with first and second teams, hopefuls and older chaps. There is a real tradition, a history. Previous members ran for Scotland or even Britain. Ahead stretches an excellent programme of races against different pairs of universities, culminating in championship events: Scottish Unis, BUSF, East District and the National itself. Plus the amazing Edinburgh to Glasgow Road Relay. Train or bus travel is fully subsidised.
By the mid-1960s, there are complex recipes for training (but which ingredients will prove healthy for you?) For example, aerobic and anaerobic running; sand-hill sessions (soon discarded as a form of torture which fails to improve fitness for anything else); and weight-training (similarly dumped since skeletal older guys remain much faster). The training week takes shape around academic studies. You gradually start to get out every day of the week, if only for a wee jog.
Wednesday afternoon is the club run (six or ten miles), and as fitness increases, you manage to hang on a bit longer to faster men and to outpace other 'freshers'. Tuesdays or Thursdays might be the day for reps: either twenty times 220 yards (brisk but controlled) or four times 660 (lactic acid up to your brain). There are races nearly every Saturday, over many types of terrain. You discover that easier courses suit you, while mudlarks enjoy sticky, tricky land. Yet to gain a 'blue' is an achievable aim, so you try hard anyway. Giving up is a crime. After races, whatever the result, it is time for beer-drinking and badinage. Nonchalance is mandatory; swollen egos will be satirised mercilessly. By the end of First Year, you feel strong enough to take your Sunday morning hangover along to the long run, which is organised by the city's best distance athletes. This pack session is fast from the start, and the normal loop is fifteen miles. Devil take the hindmost: when you are dropped, don't expect anyone to wait for you. More sarcasm than sympathy is offered, which hardens resolve for future improvement, until you can be the revengeful, merciless, sadistic one!
Only about forty miles per week is averaged, but as the months pass, you do get better, as is proven during the short summer track season, when you concentrate on doubling up (one mile and three mile races) and post new best times. Then you enjoy the track events at Highland Games before going camping, youth hostelling and earning cash by working at a summer job. Due to the resilience of youth, injuries are seldom encountered. When they do occur, you simply rest a couple of days and then try to jog back to fitness. Physiotherapy is unavailable (and will continue to be absent or ineffective until the 1980s or later).
Your university first team is friendly, determined (in a cavalier fashion) and quite successful, but certainly not the best. You decide to increase training, hoping to compete properly with stars from bigger cities. Progress is not ceaseless. Sometimes you overdo the training and pick up some infection; or fall over in the mud; or hurt some muscle or pull a hamstring. You produce good, bad and average performances, goodness knows why. It is all experience and your training diary is frequently reviewed, to locate the magic formula for guaranteed success …..
By Third Year, you are a senior university runner – full blue, SU representative, club captain. Apart from the usual competitions, you take part in longer track races (including the Track Ten) plus occasional Highland Games road or hill races. Then, at the age of 21, it is legal to attempt your first marathon, which you complete cautiously but quite well. It is clear that road is your preferred surface; and it may be that in future the marathon may be your best event. But you are well aware that fitness over 5000m (yes, race distances have gone metric) is key to speed at everything from 1500m to 26 miles 385 yards (sorry, 42 kilometres 195 metres).
Swotting for that degree stalls athletic improvement but during your final, post-grad year the trend becomes favourable once again. When you leave university and start work, can you really produces what some call 'lifetime bests' (as if these can happen some other time) or have you run these already?
Motivation: ambition, improvement, achievement, targeted rivals, trying very hard not to let the team down (especially in the E to G), exploring different events.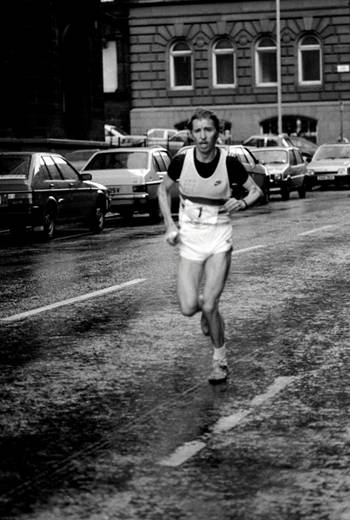 Stage Three: To the Peak.
Work/Life balance is always hard to achieve. 70 (or more) miles per week can be an awkward factor to include, on top of marriage, a young family and work. Teaching is difficult (as with running, years of experience will improve your effectiveness) but you start building fitness with a new team in a big city.
Pack runs are shorter but harder. This is a top Scottish club, with several very serious and successful runners. Can you keep up? After a year's increased training, you can. They drink less real ale, but sarky banter continues to be a survival skill.
You enjoy trying many local races for the first time, especially hilly Highland Games road races, over odd distances like fourteen and a quarter miles. The team wins championship medals and so do you, despite 'hitting the wall' (a strange, weak, slo-mo sensation) for the first time.
Then you move abroad for ten months, accidentally choosing to work in a country with fewer decent runners compared to Scotland. Self-motivated, you discover that training alone is no barrier to improvement. Many victories are recorded, including marathons.
Once you return to Scotland, a different city and the best club in the land, personal bests continue to get faster. Eventually, after a year of serious, good-quality training, which includes repetitions (short, long and hill), fartlek, steady recovery sessions, many races and seriously competitive long Sunday runs, you break through and win a significant marathon in a fast time. You will always rate this performance the best of your career. International vests ensue. Ambitions are achieved. Then you train too hard and get sciatica. Physiotherapy is ineffective and you are never quite as good again. So it goes. Get over yourself.
Nevertheless, over the next ten years, despite having to train more cautiously, you maintain a good level and run well enough in most races in several countries. You move back to your home city and continue to train mainly on your own. Club success there is especially sweet. Then marathons start to give you up, as battered legs cannot keep up high mileage. You concentrate on shorter distances but occasionally try out slower 'adventure' events like the Lairig Ghru race. In the National CC, you try to ensure that no one in front is older. The veteran category approaches, as your fortieth birthday looms. Can you be successful in a different way, against age-group rivals?
Motivation: Addiction. Appreciating the privilege of fast, co-ordinated motion, often in pleasant countryside. Masochistic enjoyment of ridiculously tough races. Championship success. International experience. Fulfilment of potential. Improved self-image. You have become a real runner, still nervous before races but tactically aware, bolder, stronger, more confident, better able to cope with the highs and lows. These are life skills.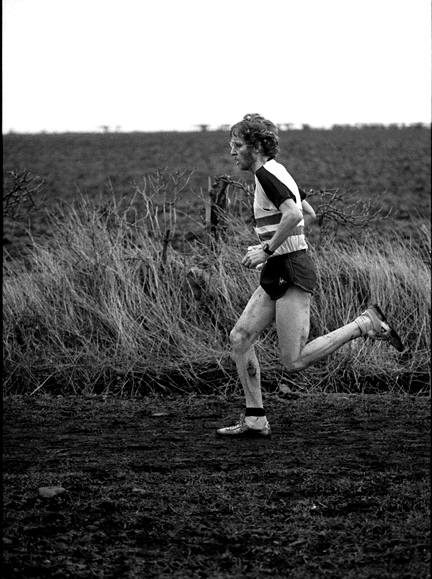 Stage Four: Young Veteran to so-called Master.
This summary of your running experiences was meant to be like a four-stage relay. Perhaps the final leg should be divided into several sections, as you get dramatically slower and eventually require the use of a zimmer. Some day you will drop the baton. In "Watership Down" by Richard Adams, when a rabbit dies, the others say, "One of our friends stopped running today."
As a new vet, you find fresh championship challenges exciting. Maybe you can be a Scottish or even British champion? Possibly win European or World medals. Better late than never.
The marathon makes its final appearances. You race everything over track, country and road, from 1500m (outdoors and even indoors) up to 25k. The medal collection expands to a vast, rusting phenomenon. You try to treat age-group success with irony and a sense of proportion but it is fun and rather satisfying. Better than bowls. According to your flattering friend the age-graded results calculator, you are almost as good at 45 as you were at 28. Then the slide gathers speed.
Injuries affect worn-out limbs and tendons. The answer is reduced mileage, which means reduced stamina and speed. Eventually you have to change your running 'style' consciously, to a lower-impact patter. Avoidance of injury is paramount. Yet the marvellous British and Irish Masters International CC, every November, just after your birthday, often allows you to wear some sort of a Scottish vest in different age-groups. Baron de Coubertin was right – merely taking part is very important.
Never compare current times to real personal bests. Run as well as you can every year, setting short-term, achievable goals and trying to get round new courses. Do what you can on the day and laugh about it with younger runners. Match strides with medium-fast women!
You may not live extra years, but you will have enjoyed better health and explored your physical limits most thoroughly. Running continues to be the finest sport in the world. Enjoy your luck.
Motivation: New championships to chase; age-group rivals become friends for life; even older guys are role-models; continued adrenalin and intensity in races, despite much slower times; keeping fit enough to drink beer; the joy of still taking part; just being able to get out in the open air every day, in all weathers; spotting birds, squirrels, deer, flowers; living in the moment.