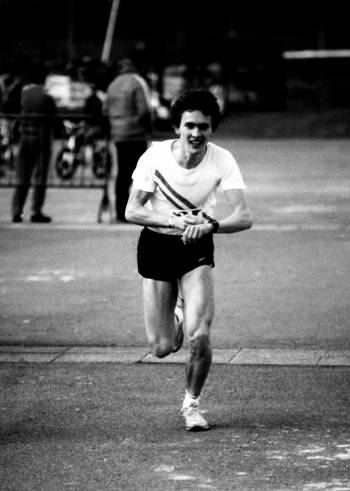 Some great tales from Lindsay from the Sea of Galilee and NYC marathons!   Bottom of the page.
This page has a straightforward purpose: to share stories and incidents that Scotland's endurance athletes, teams and coaches have experienced in the course of their athletic carers.   Given the amount of travelling, the number of miles covered in training and racing, given the rather broad range of competitors and 'hingers-oan' then these tales are legion.   Send in your own and we'll add them to the page.   For example, if you want the humorous anecdote, there is the story of a runner in the West District cross-country relays at King's Park, Stirling, who while running in third place hurdled a barbed-wire fence near the end of the race.   Unfortunately he caught his under-carriage (I hesitate to refer to them as 'crown jewels) on the fence.   One of the runners beside him at the time said, "You should have heard the language he used – and he's a BB officer tae!"    Barbed-wire and male appendages feature in several such tales – the one about the runner who caught the latter on the former in the County Championships and was taken to the hospital A&E Department where he was received by the woman doctor but he refused to tell her what was wrong – too embarrassed – but fortunately he was accompanied by a less squeamish club official and he just had to grin and bear it!
Then there are the stories about particular incidents during races – the chap who was knocked down in the Edinburgh to Glasgow and immediately picked up and taken into a house at the roadside from which he escaped through the window to carry on with his leg of the race.   The National used to be held at Hamilton race course and most times consisted of a long straight with a huge loop at one end with a massive hill involved and a small perfectly flat loop at the other end.
 One runner was caught stopping at the start of the small loop (just before actually turning into it) bending down to tie his shoe lace but turning through 360 degrees while doing it so that he was facing back the way he was going and trotting off to continue the race having gained 20 or 30 places and had a wee breather into the bargain.
I'll start with some already contained in the website and use one from the Maryhill Ladies AC page about the time when a young PE teacher called John Anderson was taking four girls down to the British cross-country championships in the early 1960's.   They travelled in a dormobile type vehicle and after they had set out it started snowing and the snow got thick and it became evident that they would have to pull over and spend the night in a lay-by.   No motorways and no service stations at that time.   John, beingan enthusiastic type, let the women have the inside of the van and he said he would take his sleeping bag and spend the night under the vehicle.   It wasn't a good idea and eventually he had to knock on the door and ask if he could get inside the van.   Far from being in PJ's or anything, the runners were all in overcoats, it was so cold    Eventually they all dozed off for a couple of hours or so.   In the morning Leslie Watson and Cathy Kelly jogged off for help and came back with a tractor and the van was towed clear and they set off for the championship.   Eagle-eyed John saw a cinema with a queue outside it.  He immediately decided that they were going to the pictures!   He disabused them of the notion that they were going to see the film: the walls of the cinema would be lined with heaters and they were only going in long enough to be properly warmed through.   He paid for them to get in, they warmed up and then back into the van and off to the race where they acquitted themselves nobly!    Hugh Barrow has another John Anderson tale.   In his own words, "I remember sitting in the middle of a packed mini bus driven by John Anderson heading over Shap towards RAFCosford in the 60s.   In the front as ballast Doug Edmunds, in the back for music Moira Kerr, also The likes of Dunky Middleton and Hamish Telfer I think.   John never known for his conservative driving had the foot to the metal and this was making big Doug nervous.   As John took the shortest route round a blind bend Doug asked him what would happen if we met his brother coming in the other direction– to which John answered it would be ok as he would also be on the wrong side of the road.
Alistair Lawson:     Alistair was a good runner who for a time was a member of Dumbarton AAC and ran in the Glasgow to Fort William Relays in the 60's and 70's.   He travelled the world climbing in the Drakensbers, the Andes and various other mountain ranges and is a committee member of the Scottish Rights of Way Society.
Once upon a time, when the world was still young, I was with a bunch of hikers up in the Peruvian Andes. We were making our way into the heart of the mountains by following a "quebrada" (= glen, in Scotland). The floor of this glen was around 13,000 feet above sea level, though we were still very much at the foot of the amazingly high surrounding mountains. During the day, a couple of members of the party, who were suffering from the altitude, had dropped further and further back and, by the time we were thinking of stopping and setting up camp, had not been seen for some time. The rest of us felt someone should go back and accompany them the rest of the way, and, as I was known to be a runner, I was "volunteered". Going down the glen seemed, of course, as though it should be a dawdle, so off I went at a modest jog. Within half a mile, I was puggled, short of breath, gasping, and the oxygen-starved leg muscles were ready for a walk. The moral of the story? "Altitude beats Attitude". Needless to say, I have been puggled on many other occasions, before and since, most of them at sea level, in Scotland, with the benefit of 100% atmospheric pressure. Well, there you go.

Jim McLatchie who was a first class track runner and quite early in his career he was talked by Dunky Wright into running on the road in the Nigel Barge Road Race.   The Motherwell YM runners were there in strength and Jim was running with them well into The race.  As they belted along, Andy Brown turned to Bert McKay and asked, "What's McLatchie doing here?"   Bert's reply was "I think he's going to kick our arses."   Andy: "But he's no a road runner."   Bert:    "Today he is!"
Allan Faulds tells of the time before he and Liz were married and he went out for a run from her parents house in Scone.   As he disappeared round the corner, Liz heard one wee boy say to the other, "There's a man running."   To which his pal replied, "Aye, fancy that, he's got a car!"

I remember travelling to the AAA's marathon in Rotherham with Alastair Macfarlane, Bill Ramage and Doug Gunstone and we were put up in accommodation provided by ordinary householders.   I was in a teenage girl's room which was more sweetly secnted than any I had ever experienced but Bill and Alastair were in the flat above a newsagent's shop.   When I went round with them to drop off their luggage before going for a meal we were met by a chap who asked where we had been and said that the dinner had been ready for 7:00 pm and it was now nearly 9:00.  Behind the door was hanging a fur coat and not far away were a pair of high heels.   Now women around.   We went up to their room, with en suite, to clean up and get ready.   In the middle of the room was a pile of men's magazines (eg 'Playgirls' – big girls for big boys!).  I went into the bathroom and was amazed – lilac shag pile carpeting and the throne of mercy was in a corner facing a floor-to-ceiling mirror with a family sized jar of vaseline on the shelf at the side.  You can probably imagine the comments passed (like a Bessarabian brothel was one) before went down for the promised dinner.   The last word I will say about this was when I had trouble getting the fork through the pastry, I had some difficulty and in reply to his comment that it was tough because we were late, I wriggled a bit and said no, the difficulty was down to my weak right wrist.   His comment was "Well, we all know what causes that!"
Jim Russell sent this one about the Edinburgh to Glasgow.
"In the 1974 Edinburgh to Glasgow Bellahouston had built up a gap over Aberdeen of 3 minutes 33 seconds by the third changeover. Aberdeen then started to close the gap on each of the following stages till they got to the final changeover. 18 year old Graham Laing took over chasing a 64 second gap to Jimmy Irvine 39 year old and running his 16th and final E-G. Graham gradually closed the gap along the Edinburgh Road and Alexandra Parade till as they approached the Wills factory he was on Jimmy's shoulder. Instead of going straight past Graham who must have been feeling the effort he had put in to close the gap ran with Jimmy and as they turned off the Parade he asked "How far to go". The reply from Jimmy was silence. Down the hill they went together and as they reached the corner at the bottom Graham asked again "How Far". Again the reply was silence. On they went and as they turned on to High Street Graham again asked the question and again the reply was silence. Down High Street they went and as they started to turn the final corner onto Ingram Street Jimmy sprinted as hard as he could and told Graham "600 yards". Having taken Graham by surprise Jimmy opened a gap and hung on for all he was worth along the busy street eventually coming home 3 seconds ahead. A case of experience and craftiness over youth."    [Incidentally when Jim read this story his comment was that he remembered it well and he should not have run in it at all.   He had been feeling ill all week – and he was ill for two days after it!]
I remember one of the trial runs for the 1970 Commonwealth Games marathon when Bobby Lochead of Springburn was looking for some diluting orange juice to make up his bottles for the race.   At that time the runners in the SAAA Marathon could provide their own bottles of drink and write the stations at which they wanted them left.   The usual practice was to make up a pint of concentrated orange juice with water, add a tablespoon of sugar and a teaspoon of salt.   Bobby was a qualified so when he came back with lime juice saying he couldn't get orange but the main thing was 'the sodium ions' I didn't argue.   The first mouthful he got during the race was spat out – it tasted foul apparently!    So much for chemistry and marathons.
Incidentally I attended a British Endurance seminar before the Atlanta Games where an American nutritionist was talking about the official drink for the Games.   Because of the US Food & Drug Act it couldn't contain salt: eh?      Then when I described to her the old drink (juice + teaspoon of salt + tablespoon of sugar) and asked how it was different from the official drink, her reply was simply, "It's cheaper!"
Another from Hugh Barrow: "On a beautiful sunny March afternoon in the late 60s the VPAAC Cross Country Championship was taking place over the traditional course in Milngavie.   As the field meandered over the fields near Milngavie Golf Club they had to traverse several stone dykes where behind one a romantic couple were making the best of the good conditions.   Such was the endeavour of the runners they didn't break stride as they vaulted the dyke and the couple — and such was the intensity of the moment, neither did they".
More from Bellahouston, this time from Iain Burke.   "Andy Daly and Peter Fleming meet up on a Sunday morning in the 80's leading up to the Glasgow Marathon.   A long run is planned – 20 mile plus at race pace or faster.   After about 18 miles they get to East Kilbride and Andy keels over.   No worries, he tells Peter, "My granny lives just up the road."   They head up to Andy's granny's where she puts him to bed with tea and biscuits.   Peter heads off and carries on back home.   A couple of hours later, Andy's up out of bed and finishes the run.   You couldn't make it up!"
Another Andy Daly tale:   We had booked a trip to Essonne in the mid-80's.   I was coaching George Carlin and took my daughter over to watch the race.   Andy had run in Barcelona for a Scottish squad the week before an done 2:20 for the distance.   When he turned up I asked if it was not kind of close to be doing another 26.2 miles.   But he had paid Stuart Easton for the trip and he was going.   We eventually got to Essonne and on the morning of the race I was talking to George about the race and how he was going to run it when Andy came in and asked if I would pull him out after the first of two laps.   I just refused – even at that time of the morning, hours before the race, there were gendarmes with whistles and batons keeping cars off the route of the race.   Looking menacing they were.   So the race started and after the first lap Andy was running third, when I shouted at him going into the second lap, he replied that he was fine, no worries Brian.   The winner won, second and third came in, then fourth, fifth and sixth and my daughter (aged 12) was concerned about Andy.    He eventually came in looking all in – in 2:24!   Two marathons in 4:48 just seven days apart.     He went for a run the next morning though and then the boat coming home was up-and-down all the way across with just about everybody on board being physically very sick.   George was talking about a prize for the Golden Huey Bag Award.   When we got to Dover, t
 the only guy picked by customs to be searched was Andy.    He came back on to the bus looking awful and I asked if they had found anything to be told, "Brian, I wasn't even smuggling the contents of my stomach back in."
We used to go warm weather training in the early and mid 90's, usually to Alfa Mar.   One year we had arrived and were in the front of the hotel when Ewan saw this guy and recognised him immediately as world record holder Wilson Kipketer.   He went over and asked if he could get his photograph taken with him and Kipketer obliged.   It turned out that he was there n his own with his coach and he started to talk to the guys regularly and became quite friendly.    I was only there for ten days although the squad were there for a fortnight and the night before I left I was packing bags when two of the group came to the door and invited me down for a drink.   We went down and joined the whole group at the table and there was Wilson K sitting next to an empty chair which I grabbed.   he wasn't drinking so I just offered to get something for him, to which he replied, after reaching to a distant ash tray and picking up a fag end, "Not until I have finished my cigarette."   A wee bit later and the conversation died down to be ended by Mark saying to the world record holder, "Have you heard of Cambuslang Harriers?"   He was, I am sure, joking, but he was given a bawling out just the same.
Colin Youngson has replied to a specific request for his own running memories with a typically wonderful essay which is a bit long for the page here but you can get it by following this link   For now, this extract from running at University will have to do.   He has served his apprenticeship at school and is starting to take the sport seriously:
"Only about forty miles per week is averaged, but as the months pass, you do get better, as is proven during the short summer track season, when you concentrate on doubling up (one mile and three mile races) and post new best times. Then you enjoy the track events at Highland Games before going camping, youth hostelling and earning cash by working at a summer job. Due to the resilience of youth, injuries are seldom encountered. When they do occur, you simply rest a couple of days and then try to jog back to fitness"
You have to read it!
Now one of the best tales I've heard for a long time come from Mel Edwards who sends this one.
"One of the most exciting and satisfying days of my life was back in October 1967.
I had just won my debut marathon in Harlow, Essex in 2.18.24 which was a course record and would place me 4th in the UK rankings for the year, and was heading for the train to Liverpool Street en route to Southampton where I was working at the time.    The train was packed except for one carriage which had a solitary occupant who was staring gloomily out of the window, chin on hand. I think this is what put passengers off selecting this one because every other one was full.   So I bit the bullet and entered to be met with a glower. I sat down and read my AW. Finished it and decided to say something. "Been up to much today?" Response, with a gloomy look "I've just done a marathon". "Oh" I said "I did that one as well. How did you get on?" Reply " I was last".
Back to the window, chin on hand.  I thought, what a blooming shame. You've run 26 miles and you're depressed.   Then I had a brainwave. "What position were you?"    "Last, I told you".  "No" I said "What actual position were you? They posted the results on the board" "98th…last"  I thought "Got you!"  "Do you remember Tom Dradey the race organiser gave us a briefing on the course on the start line?"    "Yes".  "And do you remember he said he was delighted he had a record field registered and on the line of 110 runners?"   His next words were "Eh, Ah, Ooh"   "Yes" I said "12 dropped out. You had the guts to finish"   Well, I couldn't get him to stop talking all the way to Liverpool Street. All about his family, his work, his running. He'd had a fraught week because he was worried about the marathon AND his budgie was off it's food!    We said our farewells at Liverpool Street, and I wished him and his budgie all the best. My lasting memory of him was him going "Tsk, tsk, 12 dropped out" and raising his eyes to the heavens.
I never met him again, but he put the seal on one of the best days of my life."

Mel winning the Junior National 1963: best cross-country race I ever saw!
Jim Russell sent three more – the first two are Andy Daly tales.   The first one is about a holiday mishap.   Jim says: "Andy was on holiday in, I think, Majorca and on the day before flying home he was out for a training run.   He turns a corner forgetting that in Europe they drive on the other side of the road.   He is caught a glancing blow by a car and sent flying.   He is then taken to hospital where he is X-rayed and told that he has only suffered bruising to his foot and elbow.   After flying home the next day he goes out for a 10 mile run.  Nearing the end of the run and going along Barrhead Road he has a couple of blackouts from the pain in his foot and elbow.   Arriving home he goes straight to hospital where he is again x-rayed and told he has fractures in both foot and elbow which must have been hidden previously by the bruising.   Only Andy would have thought of going for a run after being knocked down by a car.   The time for his run was 58 minutes!"
The second one is about training nights.   "Club night during winter and we're going out for a road run.  It's cold, raining heavily and most are wearing some sort of waterproofs.   I have a full waterproof tracksuit and others have waterproof jackets, but not Andy.   Stating that it's not cold he is just wearing shorts and a string vest.   Then on another club night, this time during the summer, we are out in Pollock Estate (now they call it Pollok Park) and going along the side of the River Cart when we run into a swarm of midges.   A few of us get some in our mouths and there is a spate of coughing and spitting to clear our throats, I even throw up.   But again Andy has to be different and swallows them saying they're pure protein!
And finally for now, Jim has one of his own involving Jim Brown.   "While still Juniors a 2000m steeplechase was arranged at Scotstoun to help get qualifying times for the AAA Championships at Kirkby Liverpool.   When we got to the first water-jump, Jim, who was running in his first ever steeplechase, had a few metres lead on me.   He got on to the barrier OK but came down into the water on both feet and came to a complete stop.   Meanwhile I was in mid air trying to avoid coming down his back with half-inch spikes.   Luckily he got going again before I could hit him.   Later on we were both running in the steeplechase in the Inter Counties at Dam Park in Ayr.   Before the race I jokingly said to Jim could he make sure he landed with one foot at the water-jump so that I did not rip his back open.   Needless to say, we came to the first water-jump and again Jim had a few metres lead on me, and yes, again he landed on both feet, coming to a stop while I frantically tried to avoid him.   Luckily he again got going before I hit him or a great career might have come to a sudden end!"
A really good one now from Lindsay Robertson (abpove) who won the Sea of Galilee Marathon twice.
At the 1985 SOG, a couple of days or so before the race a guy came up to me and asked if I would like to go jogging with him the next morning. I casually checked out what sort of standard he was – I had never heard of him. 'So, what's your best time.' '2:10'.
Internal expletives!!!!    The next morning we duly met before breakfast and after cheerful greetings set off for a jog. A minute later I was thinking 'You look like you're struggling' so enquired again 'What did you say your best time was again?' '3:10′.   Huge sigh of relief!!!
On the way out to Israel in "84, on the El Al plane I saw what I thought was an extremely boring film. On the return flight, I was in fine spirits as the Captain announced a lunch was about to be served, followed by what sounded like an exciting, all action film. The meal lived up to expectations, but after the lights dimmed and the film started, I was horrified to find the film was the same stinker I endured on the way out!   I often can't be bothered complaining but I was straight out if my seat and up the aisle in search of a steward. An impasse was quickly reached, I was told this was the the first time El Al had screened this film. I said they had shown it on the way out, it was absolutely rotten and in any case, they had announced they were going to show the block buster. A man seemed to appear from the shadows and said Excuse me Sir, you are Robertson? Yes' 'you won the race?' Yes' 'Just sit down sir, we'll sort this out'
Soon after a Jumbo load of people saw the film screen suddenly go blank followed shortly thereafter by the start of a completely different film!
At Heathrow I just missed a shuttle to Edinburgh, but the captain of the next one turned out to be a runner I had met a couple of months previously. He had said to me if I was ever on a flight he was piloting to let him know via a stewardess. I did, and spent the rest of the flight in the cockpit. I was glad I had missed the earlier flight!
Also from Lindsay is this one from the Sea of Galilee in 1985.   "The day before coming home I arranged to go out with a couple I had met the year before.   Jim Doig went to bed early because he was going home early the next morning.   I waited ages in reception, I think a road had been closed due to an accident.   Eventually, well after midnight, the phone at reception rang and the guy at the desk said it was for me.   A groggy sounding Jim as at the other end, asking whait Wanted.   I asked him what he wanted because he had called me.    He said he hadn't called me he had been woken by the phone and here was I at the other end.   Never got to the bottom of that!    My friends eventually turned up and out we went.   In a pub/club Eli spotted someone he knew, a former winner of the Eurovision song contest.   Eli called across for the man to come over.   I remembered the singer and the winning song and asked him if he was still singing.  He sort of coughed and sprayed a mouthful of his drink before explaining that he was a big star!"
Thanks Lindsay, and for this one which comes from the New York City race in 1986.   "At the NYC Marathon post-race party, I got talking to a girl who initially said that she wasn't sure if she knew me well enough to dance???  Later however, as the evening was winding up, I was cordially invited to follow her.   Not wanting to offend, I duly tagged along, intrigued by the prospect of a nice hot chocolate or even an interesting stamp collection.   Out into the lobby, into the lift, up, up, up.  The lift stops, she gets out, then suddenly someone appears at the lift entrance, dressed as a US football player.   Gary Fanelli, a celebrity figure who ran the race dressed in New York Mets uniform and played catch with spectators on the way round, seemed to take up the whole doorway.  I can't remember if he got in, but by the time I had thought what's this?   Oh, it's Gary Fanelli, etc, the doors closed and the lift took off."
And he never did get to see the stamp collection!
Colin Youngson has also written a piece to add to the 'Experiences' page called 'Running Every Stage:   How do yours compare?'      Link to Colin's experiences    here