After the Games, the Team Managers, John Brown and Hilda Everett, were required to submit reports on the Games. Both reports were much better than might have been forecast given the problems with money and the boycott that were faced. They are reproduced below.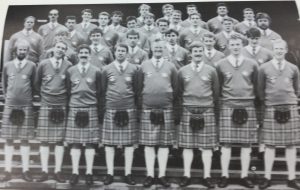 Men's Team: John Brown, centre front
THIRTEENTH COMMONWEALTH GAMES
EDINBURGH, SCOTLAND
26TH JULY – 13TH AUGUST 1986
Scottish team performance is summarised below:
3 – 1st places 12 – 2nd places 18 – 3rd places
SECTION MANAGERS REPORTS
ATHLETICS (Men) – John Brown – Section Manager
Travel: All athletes assembled at the Games Village under their own arrangements and no difficulties were encountered.
Accommodation: In contrast to the previous Games held in Brisbane in 1982, the accommodation provided in the Edinburgh University Pollock Halls of Residence was ideal. Team members shared, two per room, but with the athletes being allowed to determine their own extent of residence in the Village, and by making appropriate pairings, many enjoyed almost single room accommodation and this was very much appreciated by the athletes.
Training Facilities: The training faciities provided by the Organisers were found to be adequate for our requirements.
Medical Support: The mdical team of doctors and physiotherapists can only be described as superb. They were always on hand to provide expert care and atention in a very warm-hearted way, and on behalf of the athletes I would like to pay them a special tribute. Of the many athletes who consulted the Medical Team only Lindsay Robertson (marathon) was unable to compete.
Discipline: No member of the team required to be spoken to regarding discipline or behaviour in general, and all supported the various functions and meetings with Royalty.
Boycott: It was most unfortunate that the Games suffered from the boycott with a third of the competitors being excluded. In athletics very few potential medallists did not take part. The depleted fields however meant that a number of our athletes who would have benefited from an earlier round, were being thrown into semi-finals or finals of events. A number were unfortunate not to qualify for further rounds by the narrowest of margins.
Results * Aditional Event
100 metres
Bunney 5th 10.37; Henderson 8th 10.68; Sharp eliminated in semi-final 10.62
200 metres
McCallum eliminated in semi-final 21.39; Whittle eliminated in semi-final 21.69
400 metres
Whittle 5th 47.10; Johnston eliminated in semi-final 48.57; Nicoll eliminated in semi-final 50.07
800 metres
McKean 2nd 1:44.80; Forbes 7th 1:51.29
1500 metres
Currrie eliminated in heat 3:44.82; Hanlon eliminated in heat 3:50.57; Robson 9th 3:57.20
5000 metres
Muir 8th 13:40.92
10000 metres
Hutton – 30:16.50
3000 metres steeplechase
Charleson – 9:21.73; Hanlon – 8:53.56; Hume – 9:05.40
Marathon
Graham 4th 2:12:10; Clyne 10th 2:17:30; Robertson withdrawn on medical grounds
110 metres hurdles
Wallace eliminated in 1st semi-final 14.23; McDonald eliminated in 1st semi-final 14.37; Fraser eliminated in 1st semi-final 14.28
400 metres Hurdles
Fulton eliminated in 1st semi-final 57.90; McCutcheon eliminated in 1st semi-final 53.58; Hardie eliminated in 1st semi-final 55.68
Pole Vault
McStravick 8th 4.45m
High Jump
Parsons 2nd 2.28m
Long Jump
McKay 8th 7.39m
Triple Jump
Duncan 7th 15.68m
Hammer
Black 8th 63.88m
Shot
Irvine 9th 16.73m
Discus
Patience 52.54m
Javelin
Maxwell – 62.34m
Decathlon
McStravick 4th 7563 pts
4 x 110 Relay
Henderson, McCallum, Sharp, Bunney 3rd 40.41
4 x 400 Relay
Johnston, Forbes, McKean, Whittle 4th 3:18.43
Women's report and results are on a separate page which can be reached here