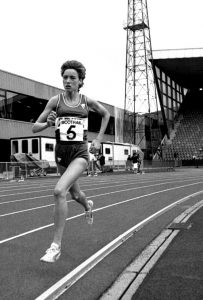 Liz Lynch first appeared in the national rankings in 1979 but she had been running for a long time before that having been spotted at School and then coached by Harry Bennett at Dundee Hawkhill Harriers. By 1986 she was studying at Alabama University and her times were such that there was no doubt that she would be selected for the 1986 Commonwealth Games in Edinburgh. She could have been picked for the 3000m (there was no 5000m for women at that time) but instead the selectors felt that she would do better in the inaugural 10000m race. So it was that she lined up for the race on 28th July, 1986, against thirteen other athletes from five countries – Scotland, England, Wales, Canada and New Zealand.
When the Commonwealth Games returned to Edinburgh, 16 years after the Scottish capital had last staged them, one of the new events was the women's 10000 metres. It was a stage ready-made for a Dundee Hawkhill athlete who had made her first steps to world class while at the University of Alabama for whom she won the NCAA indoor Mile that same year. While the weather had been typically Scottish for the championships, rain and gloomy conditions never being too far away, Lynch brought rick emotion to the occasion with a tremendous and emphatic victory. What made her stand out, and it remained such a glorious trait throughout her career, was this bloody-mindedness to dominate races just how she wanted. If the rest of the field wanted to follow, then they knew they would be in for a tough afternoon, as the Commonwealth's best women long distance runners discovered. Cheered on by a packed crowd at Meadowbank Stadium with the blue and white flag of Scotland turning the event into a spectacularly colourful occasion. Lynch ran to victory in 31:41:42, a British record and a triumph by nearly 12 seconds, with Anne Audain of New Zealand second in 31:53:31. It was was the first of four times that McColgan would break the British record for this distance, and the lap of honour was something to behold, as Scotland celebrated their only gold medal winner of the Games.
The result as shown in Wikipedia looks like this. She was twelve seconds clear of second
In a profile published in the Scotsman in 2006, 20 years after the event, she said that she still remembered every step of the race. She was quoted as saying
"It certainly doesn't feel like 20 years ago, and I remember it as if it was yesterday," said McColgan. "I was something of an unknown quantity, but I knew I was in great shape, running for the first and only time without any pressure on me, and I knew I had gold in the bag with 800m to go.
"I was conscious of the huge crowd chanting, 'Liz Lynch, Liz Lynch,' and that carried me home, and the fact the entire stadium waited the 20 minutes of so for the presentation ceremony was amazing, and it was all very emotional."
Asked where her gold, won in a time of 13mins 41.42sec fitted in the pantheon of Lynch/McColgan achievements, she was clear. "Athletically, it wasn't my best by a long chalk, but it got me known, got me top races at world class meets, so that was important, and it was certainly the emotional high point of my career."
You can read more about her wonderful career at this link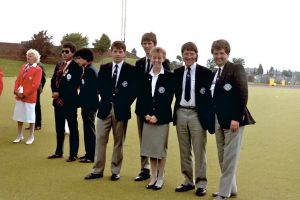 Liz with some of the other Scots at the Games