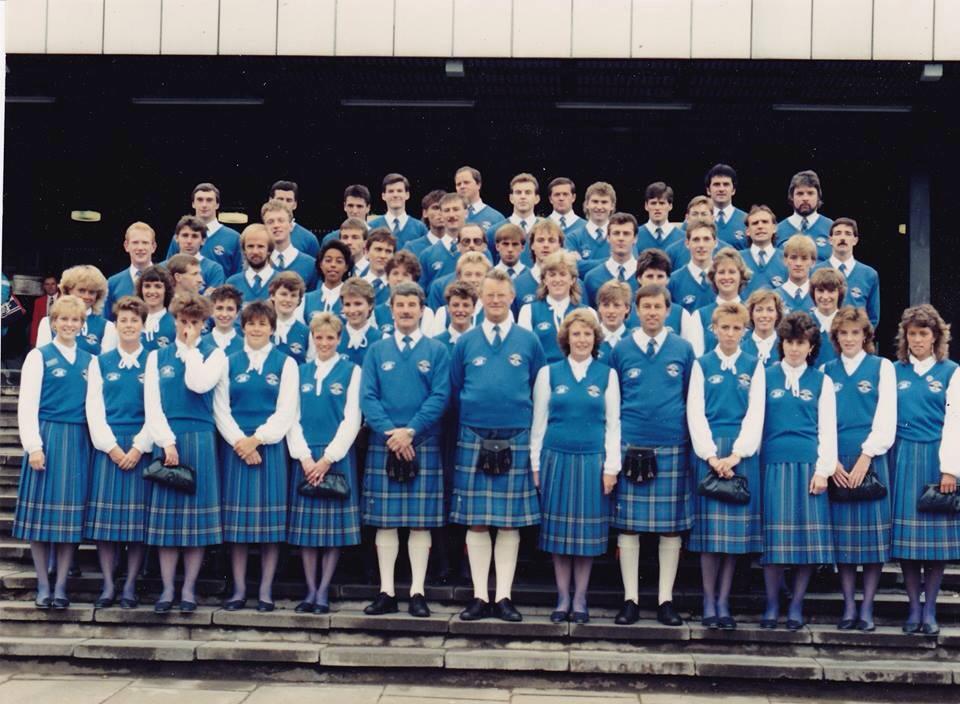 Complete Team with assistant manager John Hamilton, John Brown, Men's Manager, Hilda Everett,Women's Team Manager and David Lease, National Coach.
ATHLETICS WOMEN – Mrs Hilda Everett – Section Manager
Preparation for the 1986 Games has been ongoing since Brisbane with a yearly warm weather training camp in Portugal, event squads during the winter months and international competition. A commonwealth games squad was selected two years prior to the Games, each athlete in the squad achieving standards set by the Association in conjunction with the national coach. This squad was the basis of the Scottish women's team for the Commonwealth Games.
Accommodation: This was provided at the Pollock Halls, Edinburgh, five minutes from the main stadium at Meadowbank. All Scottish team men and women were housed in Baird Hall. The rooms were small with bunk beds in each. Tea and coffee facilities were available as well as washing, drying and ironing. There was a TV lounge with colour television. As we were competing on home ground, the girls were given the opportunity of staying at home if they wished, thus giving them as near a natural environment as they were used to. This did, however, present some problems for the Team Manager. Food was plentiful, good and available when required by the athletes, packed lunches were also available when required.
Training: This took place at Meadowbank and Saughton and the coaches under the direction of the national coach attnded training sessions.
Illness and Injury: After the selection date, Janis Neilson sustained a pulled hamstring during a club league match and she was seen immediately by the team physiotherapists who advised that the injury was not as serious as we had at first thought, and would be healed by the timeof the Games. When she arrived in the Village she was seen by the physiotherapists daily. However during a relay practise session, Janis pulled her achilles tendon and had to be withdrawn from the relay team.
Team Matters: Diane Royal had to be withdrawn from the team at the eleventh hour for technical reasons and had to be replaced by Elizabeth McArthur. Christine Price was an excellent captain and I thank her for the help she gave.
Weather: It was not too kind and towards the latter part of the Games it became rather cold ……. typical Scottish weather.
Behaviour: All the team behaved and co-operated well and were a credit to themselves and Scotland. It was a pleasure to have been Team Manager to such a dedicated team.
Results:
Event, Name, Semi-Final, Final, Place
100m, S Whittaker, 11.60s, 11.59s, 5th,
-, K Jeffrey, 11.55, 11.59, 6th
-, J Neilson, – , -, –
200m, S Whittaker, 23.41, 23.46, 3rd
-, A Bridgman, 24.13, – , –
-, J Neilson, -, -, –
400m, D Kitchen, 55.52, – , –
-, F Hargreaves, 55.76, -, –
-, L McDonald, 58.26, – , –
800m, A Purvis, 2:02.47, 2:02.17, 4th
-, E McArthur, 2:04.40, -, –
1500m, Y Murray, 4:11.82, 4:14.36, 5th
-, L McDougall, 4:13.07, 4:17.25, –
– , C Whittingham, 4:33.01, – , –
3000m, Y Murray, – , 8:55.32, 3rd
-, M Robertson, – , 9:51.33, 9th
10000, E Lynch, – , 8:41.42, 1st*
-, A Everett, – , 33:56.43, 9th
-, C Price, – , 33:59.90, 10th
Marathon, L Irving, – , 2:36:34, 5th
100m H, A Girvan, 13.60, – , –
-, P Rollo, 14.00, – , –
400m H, M McBeath, 64.03, – , –
High Jump, J Barnetson, – , – , –
Long Jump, L Campbell, 5.65m, – , –
Discus, M Bremner, 47.06, – , –
Javelin, S Urquhart, 48.04, – , –
Heptathlon, V Walsh, – , 5420 pts, 8th
The two relay teams were both placed fourth. The sprint relay team of Girvan, Kelly, Bridgman, Kelly was timed at 45.84 seconds, and the 4 x 400 squad of Whittaker, Purvis, Kitchen and Hargreaves recorded 3:42.86.