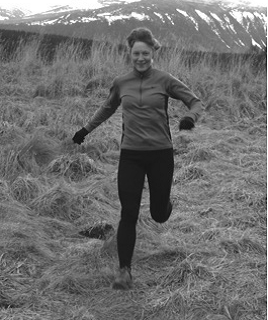 .SONIA ARMITAGE
Sonia has been a very classy athlete for many years, having run for Scotland as a senior: in the World Cross-Country Championships; five times in the World Hill Running Trophy; and three times in the European Hill Running Trophy. In 1996, Sonia won the Scottish Hill Running title. She has been a World Masters Champion in Mountain Running and both Outdoor and Indoor track.
"I have had many good runs in the Scottish Senior Hill Running Team, running in both World Trophy and European Trophy races; including finishing 13th in the European Trophy at Snowdon, and 3rd team at the World Trophy in Malaysia in 1999. It was very exciting finishing 24th in the World Trophy race when it took place at Arthur's Seat in Edinburgh in 1995 in front of an enthusiastic home crowd. Another memorable run for me was the International Snowdon Race in 1998, which was my first international race back, following suffering a pulmonary embolism in February 1997; I finished second in my fastest time ever, in 1.22. Lastly, but not least, one very special run has to be winning the W40 race in the World Masters Mountain Running Championships in Poland, in 2001.
My best ever Masters performances, I would have to share between three. Firstly, winning the W40 race in the World Mountain Running Championships in 2001, as I mentioned above. Secondly, my W45 1500m gold medal at the World Masters Indoor Track and Field Championships in Clermont Ferrand, France, in 2008. Thirdly, W45 gold in both the 800m and 1500m at the World Masters Indoor Track and Field Championships in Kamloops, Canada, in 2010."
SUE RIDLEY
"I love running. I have been lucky enough to have competed all over the world (often accompanied by my family) and met some terrific people many of whom are now great friends. Nothing beats going out for a run in the countryside, whatever the weather! I have also had the honour of: carrying the Scottish flag at the World Mountain Running Championships in Sauze d'Oulx in 2004; and of reading the Athletes' Oath at the Opening Ceremony of the European Masters Mountain Running Championships in Nowa Ruda in 2014."
(Sue Ridley has represented Scotland on the track, in the country, on the road, and also in the hills! She ran the European and World Mountain Running Trophy championships several times. Sue won the W35 European Masters 10k road title in Portugal and then finished second in the Half Marathon. She was also victorious in the 2009 W40 European Masters cross country championship in Ancona.
Naturally, umpteen Scottish Masters wins have been secured. The British and Irish Masters XC has been a special favourite, which Sue has run successfully on many occasions, including individual W35 gold at Croydon in 2004.)
Sue Ridley wrote:
I'm probably not recognised as a "hill runner". Due to family and work commitments, I was never able to compete in the Scottish and British Hill Running Championships series, but I do love hill running so I raced whenever I could.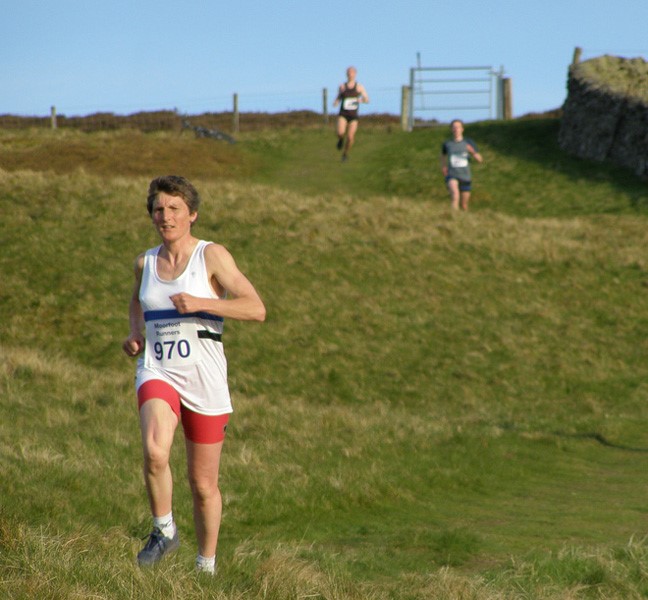 Gypsy Glen
One race I have enjoyed for over 30 years is the Gypsy Glen Hill Race in Peebles. It began as a 5-mile hill race organised by Mike Pearson as part of the local health week. It attracted around 25 runners, but has evolved into a popular fixture on the SHR calendar, attracting over 75 runners from all around. In the early days, the race began on the road in the centre of town and headed out for about 1 ¼ miles, before reaching the steep grassy climbs of Gypsy Glen. After negotiating a couple of gates, you veered off onto a narrow stony track which meanders its way through the heather up the steep climb to the cairn. You continued down a grassy track on the other side and could let yourself go down the grassy trail which skirted round the side of the hill before joining the original route. A steep grassy descent and bridge crossing led to a short, steep climb, before the route returning to the road. The last 1 ½ miles was all road with a short killer climb about 1 mile from home, half a mile descent and the last ½ mile slightly undulating. This mix of terrain really tested your legs! Following police restrictions and costs, the course has altered over the years and now begins with a 1km loop around Victoria Park, resulting in a much faster start and ends in the Park too, which is much kinder to my "old legs"!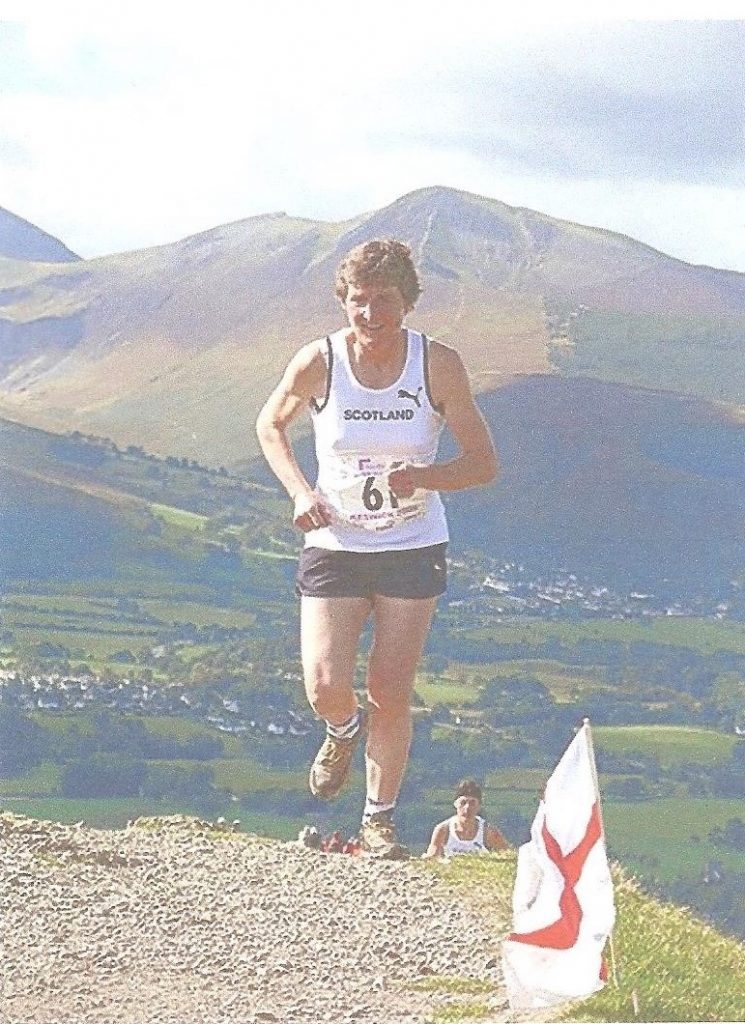 Up and Down 2009
Racing in Sauze D'Oulx in 2004 holds dear memories. My family and I were there for the World Masters Mountain Running Championships. It was a beautiful place sited higher than Ben Nevis and the first time I'd experienced that altitude. Going for a jog sent my heart racing! On a hot, sunny, cloudless day, the 8.5km course wound its way up the ski slopes of the Piemonte Mountains, climbing 862m through grassy fields and forest trails. It took me a while to get going, probably due to the very hot conditions and the altitude but, as the race progressed, I felt stronger and stronger. Approaching the finish hearing shouts of "Come on, Mum!"; "Come on, Susan!" and "Come on Scotland!" made this race a truly memorable experience as did the bronze medal I won in the W35 age group.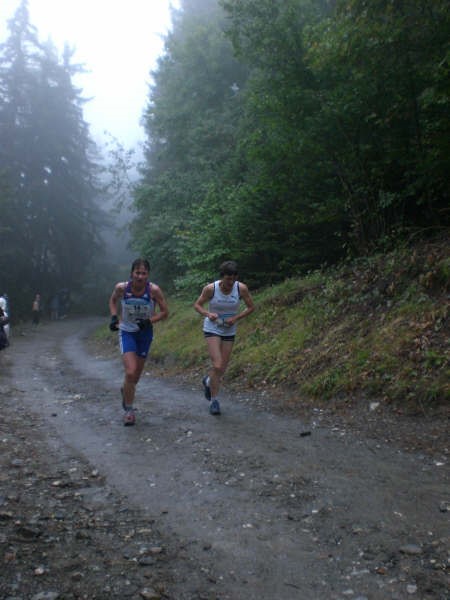 World Trophy 2008
We returned home for my eldest daughter's birthday (and party). A couple of days later I was flying back out to Sauze D'Oulx with my great friend Sonia Armitage, her husband Dave (both team managers) and some of my Scottish team-mates for the World Mountain Running Trophy. There, I was given the honour of carrying the Scottish flag at the Opening Ceremony and I remember feeling immensely proud. Tackling the same course in very similar conditions, I felt so much stronger and completed the course over 3 ½ minutes quicker than the previous week to finish 27th overall and 2nd Scot behind Tracey Brindley (who I discovered loves Nutella!). As our 4th team member hadn't arrived, Sonia Armitage, in addition to her team manager duties, ably stepped in to complete our team.
Brief reflections on Hill running
To sum up:
GREAT PEOPLE
CRACKING COURSES
STUNNING SCENERY
And don't forget the FUN SOCIAL SIDE!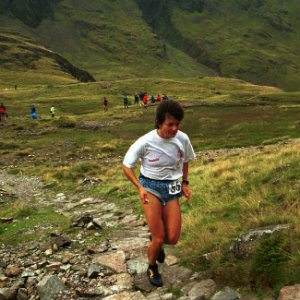 Scotland has been very fortunate in the quality of our hill runners – the women no less than the men. There are several more covered here if you would like to just click on Helene, Tricia, Tracey, Lyn and follow the careers of four more extremely talented hill runners.