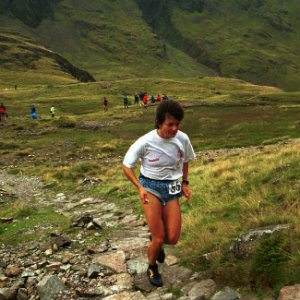 HELENE WHITAKER (nee DIAMANTIDES)
The Carnethy Hill Runners Hall of Fame lists some of Helene's main hill running achievements (others have been added here):
Diamantides, Helene:
In 1988 she won both the women's events in the 31 km Mount Cameroon race and the Mount Kinabalu race in Borneo.
Bob Graham Round 1988: Woman's record set.
Paddy Buckley Round 1989: Outright record set (2 hours faster than the Men's)
Charlie Ramsay Round 1989: Woman's record set.
GB Mountain Running International 2003 (team bronze medal)
Scottish Hill Running International
Scottish Ladies Hill Running Champion 1993 (for Westerlands CCC)
Lakeland Classic Ladies Champion 2006
Former holder of Everest base-camp to Kathmandu record 1987
Overall winner of first Dragons Back race in 1992; first Woman in 2012
In 1964, Helene was born in North Yorkshire, but lived in Ghana and then Greece (where, as a teenager, she competed internationally in the pentathlon) before returning to England and Durham University, where she took up fell running.
In 1996, she graduated from Glasgow Caledonian University as a Bachelor of Science in Physiotherapy. While studying in the city, Helene raced for Westerlands CCC at cross-country and hill running. She trained more seriously, influenced by GB international triathlete and hill runner Jack Maitland and especially Martin Hyman, a former British 10,000m international and excellent orienteering coach. Consequently, Helene became a much better athlete. She won the 1995 Scottish West District cross country title and felt honoured to run for Scotland at cross country.
Naturally, she was selected to race for Scotland in the 1995 World Mountain running Trophy in Edinburgh.
For Great Britain, she contributed to two team bronze medals (1996 and 1997) in the IAU European 100 Kilometres Road Championships. She said later, "At the time, I was running for Fife AC, and the club supported me brilliantly. On Sunday runs, half the runners would come out for the first couple of hours with me and we would meet the other half at my house and they would do a couple more hours training with me. I fed them all afterwards."
In 1987, Helene and fellow fell-runner Alison Wright went to Nepal to attempt to break the record for running from Everest Base Camp to Kathmandu. This is a 188-mile (303 km) route which includes 42,000 feet (13,000 m) of ascent. Both women completed the route in a record of 3 days, 10 hours.
How far were some of her longer hill events? Like 'The Big 3 Rounds' she completed in 1989. Here are details from Wikipedia:
The Bob Graham Round is 66 miles long, over 42 Lake District Peaks. Helene's time was 20 hours 17 minutes
The Paddy Buckley Round is just over 100km long, over 47 summits in Snowdonia, Wales. Helene's time was 20 hours 8 minutes.
The Ramsay Round is 58 miles long, over 24 summits (including 22 Munros) with a total climb of around 28,500 feet. Helene's time was 20 hours 24 minutes
In 1992, with Martin Stone, Helene Diamantides entered The Dragon's Back Race a new 220-mile (350 km) five-day race across the length of Wales; she and Stone won the race in 38 h 38 min. This event was held again in 2012, and Helene Whitaker finished fourth overall and First Woman.
Helene won the Borrowdale Fell Race four times; set a course record in the 1990 Wasdale Fell Race; and set another record in the 1992 Langdale Horseshoe.
Representing Scotland, she raced in the European Mountain Running Trophy in 1999 and 2000, finishing second Scot on both occasions.
In the World Mountain Running Trophy, for Scotland, she was first Scot in 1993 (29th overall) and 1994 (25th). She finished second Scot in 1995 (21st), 1997 (17th) and 2000 (38th)
In 2003, she ran for Great Britain in the World Mountain Running Championship (held in Trento, Italy) and contributed to team bronze medals.
Helene has said the following (in her chapter of the excellent book 'It's A HILL, get OVER IT' by Steve Chilton):
As to inspirations, Helene cites Ros Coats, mostly for the way she broke down boundaries and her attitude.
Helene admits to being desperately competitive: "I am glad I found a sport where that is okay in females. Anyone in front of me I would have a go at. The pleasure is being out there, if I can win so much the better. If I do my best, that is better than winning."
She admires and is impressed by Angela Mudge: "Her statistics impress me. She is so far under any other woman's percentage off the men's records, which is absolutely outstanding.
Helene reckons that her ability to run uphill and downhill has changed over time. She was definitely a downhill demon. She used to love hammering down the hills, and could catch most people, men included. Now she counts on being able to climb past people.
Physiological testing proved that, although her VO2 max was not high, she could sustain a high level of performance, close to the threshold, for very long periods of time. "I was just incredibly efficient. I use a Heart Rate monitor now to keep close to the maximum but not to go over it, to get the best out of myself."
Her greatest achievements? "Dragon's Back certainly is what I am built for, physiologically as well as psychologically. The strategy of trying to get yourself from A to B in good nick day after day, that suits me, I enjoy it. I really enjoyed my solo unsupported Bob Graham Round. It was probably the best day out in the hills I ever had. I was running at my pace, I didn't feel pushed really, I could eat when I wanted to, not when the pacers wanted."
"Getting a Scottish vest at cross-country was a real honour. I am old-fashioned in that when I put on a vest I will kill myself as it is such an honour to be selected. Even being selected by Yorkshire at the age of 47 was a real thrill."
*
TRICIA CALDER – HILL RUNNING CHAMPION (March 1990 interview)
Tricia Calder, a farmer's wife from Duns, is establishing herself as one of the best all-round women distance runners in Scotland. Her recent performances on the road and at cross-country have been outstanding, but it is on the hills that Tricia really excels. She is the current Scottish Women's Hill-Running Champion, having scored the maximum possible points in the 1989 Scottish Championship races. She was also a member of the Scottish Women's team at the World Cup Hill Races in France last summer. (She contributed to Scottish team bronze medals in the 1988 and 1990 World Mountain Running Championships and finished first Scot in this fixture four times between 1988 and 1992, with a best position of 6th. She was also Scottish W35 XC Champion in 1989. Racing for Scotland, she won the Snowdon Mountain International in 1990 and 1992. Tricia was British Fellrunning Champion in 1990; and won the Scottish Hill Running title in 1989, 1990 and 1991.)
Tricia tell us about herself and her running career:
"I ran a bit of cross-country and school sports, but the thing that started me running again at the age of 30 was the challenge of the marathon. A friend of mine had already completed one and I thought, like hundreds of others, that maybe I could do it. My first marathon was Edinburgh, which I finished in a time of 3 hours 25 minutes in 1983. My longest training run had been about 11 miles, which then I thought was a long way. Crossing the line after my first marathon was the greatest feeling. Mind you, an hour later I couldn't have run for my life. But I was hooked. The next year at Edinburgh the times was 3 hours 2 minutes; and my PB for the distance is 2 hours 48 minutes set in Dundee.
My training would be a coach's nightmare! I don't keep a diary. Although I can see the benefits, I just don't seem to have time. I never run with a stop-watch (don't have one). I try to keep some sort of schedule to my training, although it can be difficult between everything else. I know my fellow women athletes will know what I mean. I used to stop completely between November and February. The reason for this was a horse called 'The Divider'. My father bred him and I broke him in as a two-year-old. I have always been involved with racing, having ridden point-to-point when I was young, free and had no brains. I'm now old, married and still have no brains, so I run on the hills instead.
I have had a permit for the last 6 years to train racehorses under National Hunt rules (over jumps, not on the flat). If any of you have ever had anything to do with stock, especially racehorses, you will know that they take a lot of time to look after. They are four-legged athletes. It was quite handy being fit, particularly going to Ayr Racecourse. The odd time the horse did have a bad run, I could be found running in the opposite direction to the angry punters. Ask Danny Wilmoth about that one!
Getting back to running, Peter Marshall persuaded me to start running in the hills. I don't know whether to be grateful or not. 1988 was my first season and I found the hills very challenging and never boring. You are usually trying to stay upright in a Force 10 gale or find a checkpoint in pea-soup fog. There are a few bonuses though: great friendships and some of the best countryside to run over and enjoy.
Having never been great at planning ahead, the only think I would like for the future would be to stay injury-free, to run in the World Cup hill-running team again – and I would like to run the Everest Marathon."
(Racing for Scottish Veterans, Tricia was the leading Scot in the first two British Veteran International Cross-Country events. In 1988, she won individual and team silver; and added another individual and team silver in 1989. In 1992, Tricia Calder (Edinburgh AC) ran as a Senior for Scotland in an International 10k road race in Cardiff, when the Scottish Women's team won, defeating England, Wales and Ireland.)
TRACEY BRINDLEY won Individual Silver in the 2011 Commonwealth Mountain Running Championships.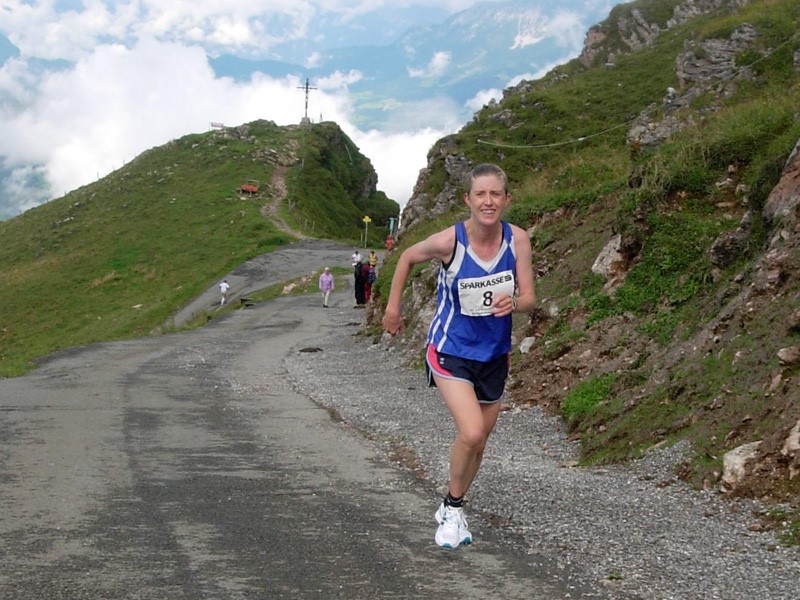 Tracey Brindley (Ochil Hill Runners)
Racing for Scotland, she won Individual Gold in the Snowdon Mountain International in 2002.
She won the Scottish Hill Running Championship in 2005 and 2011.
Between 1997 and 2004, Tracey Brindley (Aberdeen AAC and Carnethy HRC) ran for Scotland four times on cross country and once on the road.
In the World Mountain Running Championships, racing for Scotland, Tracey Brindley won Individual Bronze in 2003 and Individual Silver in 2005. Along with Angela Mudge and Lyn Wilson, Tracey Brindley contributed to Team Gold in 2003.
In the European Mountain Running Championships, competing for GB, Lyn Wilson and Tracey Brindley secured Team Gold in 2005; they had already won Team Bronze in 2004.
WIKIPEDIA:
"Tracey Brindley (born 25th August 1972) is a British runner who has been a medallist at the World Mountain Running Trophy and a national fell-running champion.
Racing for Scotland, Brindley won the individual bronze and a team gold medal at the World Trophy in Girdwood, Alaska, in 2003. Once more racing for Scotland, she improved her individual result to second place at the 2005 World Trophy, which was held in Wellington.
Racing for GB, she won the over-35 Women's race at the World Masters Mountain Running Championships in 2007 and (for Scotland) finished second in the mountain race at the Commonwealth Mountain and Ultra-distance Running Championships in 2011.
Domestically, Brindley's fell race wins include the Three Peaks and Snowdon. In 2004 she was both British Fell-running Champion and Scottish Athletics Hill-running champion.
She has also competed in road running, winning the Morpeth to Newcastle Road Race in 1999 and the Inverness Half Marathon in 2001."
Tracey Brindley seems to have specialised in hill racing from about the year 2000. It is interesting to discover earlier running successes.
Tracey A. BRINDLEY (born 25.08.72) Aberdeen
PBs: 1500 – 4.44.95; 3000 – 9.53.2; 5000 – 16.44.63.
East District: 5000 gold 1997 and 1998.
Senior National XC Championships: AAAC: team silver 1994 (TB 21st); 1999 team gold (Tracey Brindley secured individual silver).
National 10k Road: 2004 Tracey Brindley (Carnethy HRC) won individual gold; for AAAC, a silver medal in 1997.
East District XC: Individual bronze 1997 and 1998. AAAC team gold in 1998. AAAC also won East District XC Relays in 1997 and 1998.
Scottish International appearances 1997-2004.
Road: 1. 2004 Brussels Ekiden Relay: TB ran 10k. Scotland finished second to Ireland but beat Belgium and France.
XC: 4. 1997 Home International at Margate. Tracey finished 15th (first Scot). 1998 Home International at Margate. Tracey was 27th (first Scot). 1999 Home International at Belfast. She finished 23rd (third Scottish counter) and Scotland lost to England but beat Ireland and NI. 1999 International Match at Margate. She was 23rd (second Scot). Scotland lost to England and France but beat Wales.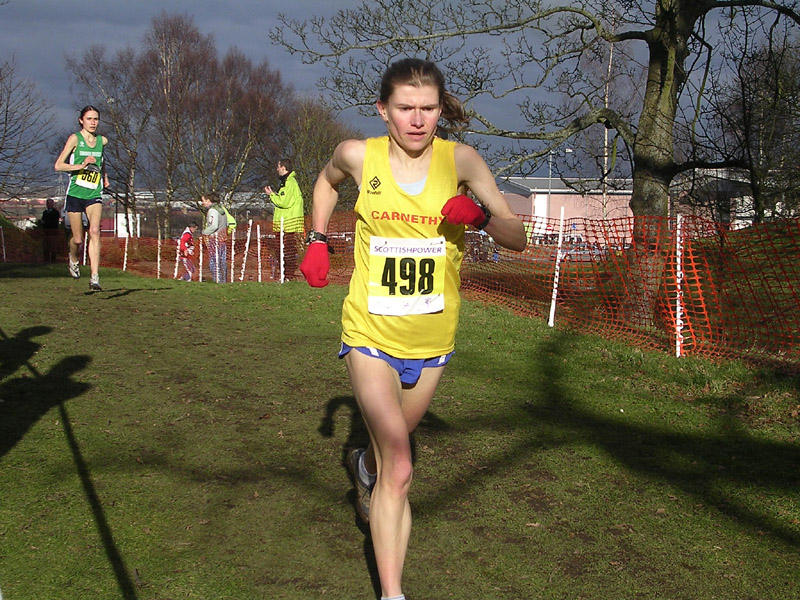 Between 2004 and 2008, LYN WILSON (Carnethy HRC) ran for Scotland once on the road and once on cross country. She ran for Scotland in the World Mountain Running Championships and for Great Britain in the European event. In the 2002 Snowdon Mountain International, Scotland (Tracey Brindley, Lyn Wilson and Jill Tate) won Team Gold.