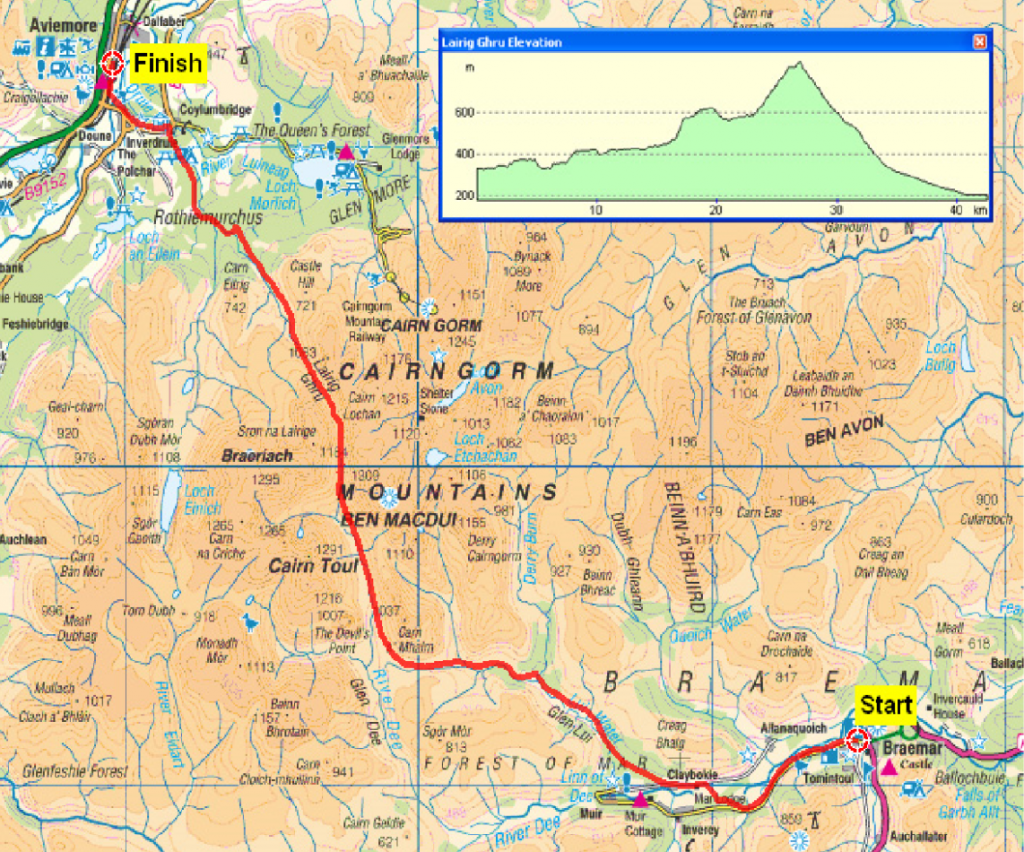 THE LAIRIG GHRU HILL RACE by Alan Lawson
I am sometimes asked to recommend races to overseas runners who are going to visit our shores. Assuming they aren't 100m specialists but REAL runners, The Lairig Ghru race (which is nowadays organised by the Deeside Runners Club) would be my top pick. It really IS a classic, being a point-to-point – from Braemar to Aviemore – which follows a famous old route / drove road, and is well known to hill-walkers and mountaineers. Although it's described as a hill race, it's not one of those events where you have to ascend and descend vertically like some (old) mountain goat; rather it's a long-distance trail race, 28miles in total, with some tarmac on the first and last stages, and 640m ascent.
The first 4 miles being on tarmac ease you gently into the race. But for the rest you're running through some of the highest mountains in the country, and the scenery is spectacular. Admiring the scenery has to be balanced against watching your footing, though, as the path is narrow and awkward in many places, including the famous boulder-field at the highest point, the Pools of Dee… but you're probably needing to take it a bit slower by then, being just past half way.
The weather (June) is very important, as it can get seriously hot in the pass. (It can also get seriously wet of course.)
Two of my three attempts were in hot conditions: the first time I took on too much water from the many burns and got water-logged; the second time I drank too little, got dehydrated and tired, and took a fall which smashed my dark glasses (which I really need). Times were very poor.
My third – and final – attempt (2006) started ominously, as the sun was melting the pavements when we drove out from Dundee, but as we passed the Glenshee ski centre the weather changed, bringing cloudy conditions and a temperature of only 14C. This time things went well, despite a spectacular flying fall into the heather on the way down, where a large rock made a nasty and long-lasting impression on my chest. Although the temperature was rising noticeably by this stage, I carried on okay to finish in 3 hours 54, which I was pretty chuffed with (aged 59). I then had to persuade the race staff to sell me a race T-shirt on tick, as I was locked out of our team car and had no money and no dry clothes! But it's a very nice shirt and I still wear it.
About 15 years ago the field-size had dropped to only 60 or 70 runners, which was rather low for such a great race, and which increased the chances of having to run on your own for much of the route… a tough gig.
These days things are much healthier, with 220 in the 2017 race, 25% of them women. (Special note for Vets: 60% of the field this year were over 40.)
In summary, this is an event that every long-distance runner in Scotland should do at least once. Even if you don't get the time that you were hoping for, just to reach the other end seems such an achievement that you feel entitled to bore your friends with the tale for ages afterwards!
Mel Edwards from Aberdeen wrote "In 1975, a classic race was born – Eddie Campbell's Lairig Ghru, 28 miles of the roughest, toughest terrain around. Eddie (a great character who was a legendary Ben Nevis racer) had been telling us about his plan at other hill races. It turned out to be a beautiful day and thirteen bold heroes lined up outside Braemar police station, just after 11 a.m. on June 19th. Eddie's race briefing went like this, "Thanks for turning up, lads. Now this is the start, and we're going to run through the Lairig to Coylumbridge, turn left and finish at Aviemore Police Station. It's about 28 miles. Ready? GO!" We all thought, "Hey, wait a minute, what about marshals, drinks, race numbers…" but off we set. Andy Pratt won in 3.12.40 with me a minute behind, and Andy's time remained a record for almost 20 years."
Colin Youngson added: In 1986, somewhat miraculously, I actually finished first (by four minutes from Lochaber AC's Peter Brooks) in this adventure race, despite a) going off course after Derry Lodge and b) hitting the 'wall' before Coylumbridge, due to the temperature in the Lairig reaching 83 degrees Fahrenheit. The Police Station in Aviemore was at the far end of town, after a long gradual rise. I plodded painfully slowly up the right-hand pavement until opposite the 'finishing line' and was so knackered that some kind person had to escort me across the busy road and let me slump over a fence in the shade! I stayed there for some time but, after a couple of pints, recovered….Must have been about half an hour slower than the record, though.")
Another great mountain race, one of the real classics, is the Mountain Peaks Race. Read Tom O'Reilly's account of his participation here