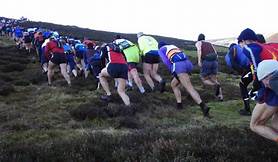 How is this great sport managing in locked-down 2020 Scotland?
Athletics: Banchory's world mountain bronze medallist Robbie Simpson picks up first senior Scottish hill running title by Fraser Clyne, September 2020 (from the Aberdeen Press and Journal)
Robbie Simpson (Deeside Runners) picked up his first Scottish senior hill running title after an intriguing battle with Great Britain team-mate Andrew Douglas (Inverclyde AC) in the national championships at Comrie Croft and Fordie Estate, Perthshire.
The duo have picked up numerous awards on the international stage over recent years with Robbie Simpson earning bronze at the world mountain running championships, while Andrew Douglas is a two-time World Cup winner.
These overseas commitments meant they have missed the Scottish championships until now.
But with overseas travel opportunities – and races – currently in limited supply, they were more than happy to take part in the home-based competition.
It was Douglas's second race since February and the Edinburgh-based Highlander set off at a brisk pace, building up a 30-second lead over Simpson at one point.
But on the final steep climb over the 12k course, Simpson sensed Douglas was beginning to fade and the Banchory man seized the opportunity to reel in his opponent before powering clear to secure what was ultimately a clear-cut victory.
Simpson, winner of the 26-mile Lairig Ghru mountain marathon a fortnight earlier, was obviously pleased with the outcome.
He said: "I didn't think I was going to win as Andy was still well ahead at 10k. But he seemed to struggle on the long climb towards the finish and I was able to catch him then pull away.
"I'm happy with my run. It was fairly intense as I haven't raced over such a short distance for so long.
"It was far too fast for me at the start so I throttled back and settled into second position for most of the way. But everything seemed to click at just the right time."