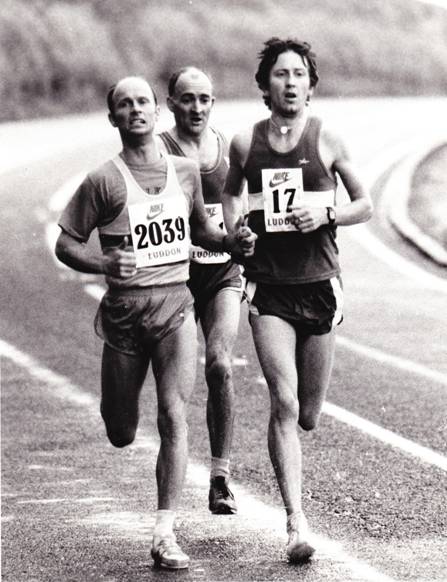 Hammy Cox, Alex Gilmour and Graham Crawford
Hammy Cox was a very talented athlete who defeated almost every runner of quality in Scotland at one time or another. His father Bertie ran for Greenock Glenpark and was a respected member of the Scottish Marathon Club and his daughter Jill was a Scottish champion and internationalist in her own right. Hammy however always called it as he saw it. If you wanted to hush up any injustice, Hammy was never your man.
It was 1991 and the West District Championships. Tommy Murray of Glenpark Harriers after being entered by that club for the race, had resigned and joined Cambuslang Harriers. He refused to wear a Glenpark vest, had not been entered by Cambuslang and so wore a neutral vest. He also won the race and was disqualified. It meant that Alaister Russell who was second was moved up to first – a position he was reluctant to accept because he was beaten fair and square by Murray. Hammy had been third, was unhappy with Tommy's dq and said so, refusing to accept his medal.
It had been a good year so far for Hammy who had been second to John Sherban in the Nigel Barge Road Race and then won the Jimmy Flockhart Memorial Cross-Country race at Coatbridge. However none of his hoped for Scottish selections had come to pass, mainly I suppose because he ran mainly on the road. The March 1991 issue of the "Scotland's Runner" carried this under the headline "Cox Snubs Officials." Despite heaping abuse on Scottish Cross-Country Union officials, the confused Greenock Glenpark runner Hammy Cox was offered an olive branch then snubbed them again! Cox, citing his road form, had ranted at international team manager Jim Scarbrough and his fellow selectors when he was passed over for national cross-country teams this winter. He stated categorically that he would not compete again for Scotland. A week later he complained that the selectors had the nerve to believe this when they read it in the papers. "They should have checked with me," he said.
Then, after having finished third in the West District Championships behind Tommy Murray (later disqualified) and Alaister Russell, he yelled at Scarbrough, "You couldn't pick your nose!" He declined to accept his medal. "I wouldn't shake hands with any of that lot," he said. But he confided he wouldn't mind running in the Inter-County Championships. "I can get plenty of road races on my own but I need to be selected by Scotland to run in the Inter-Counties," he told me.
All credit to the long-suffering Jim Scarbrough – when he heard this, he phoned Cox and offered him a place. You've guessed it, Cox turned him down!
Just to confirm their good faith, Cox was named as a reserve for the Scottish squad which competed in the UK trial for the World Championships. "
In the National at Irvine on 24th February Hammy had one of his best cross-country races and finished fourth. Doug Gillon in the "Scotland's Runner" for April 1991 commented as follows: "In fourth place Hammy Cox, passed over by Scotland this winter, cocked a gleeful snook at the selectors as he pointed out that several of the men preferred to him had finished in his wake. "
Hammy went on to have a superb career in athletics as a distance runner, maybe especially as a road runner and outstanding marathon man. You really should read his profile at the link above.