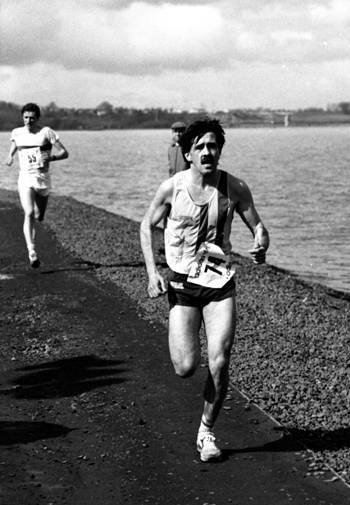 It is difficult to tell people nowadays just how good Jim Brown was as a Junior Man. He was a very good Youth runner and a top class Senior of British International standard. But as a Junior he took the Scottish cross-country world by storm. You would think that having seen him come up through the ranks with Ronnie McDonald, everyone would know what he could do. Having started his career at Bellshill YMCA he had become friends with Ronnie who ran for Monkland Harriers and they were both coached by Tommy Callaghan of Monkland. Since the latter club had a good senior squad it made sense for young Jim to join that club.
He started the winter in the traditional manner: an outing in the McAndrew Relay Race hosted by Victoria Park at Scotstoun. All the very best runners turned out at this, the first race of the winter. track men upped their distance for it, road runners sharpened their pace. All the way down the field there were personal duels being fought and for just about every runner in the race it was eyeballs out all the way. It was on the first Saturday in October over a well known trail and in 1970 Jim Brown toed the starting line for Monkland Harriers. At the end of the stage he led the field home, well clear of the Shettleston Harrier who followed him in. Not only that, he had the fastest time of day being faster than Lachie Stewart (Commonwealth Games 10000m runner, Norman Morrison, Donald Macgregor, Jim Dingwall, Hugh Barrow, Gareth Bryan-Jones, etc, etc. But there was a wee snag. In the words of the Glasgow Herald:
"The revelation of the day was the run by 18-year-old Jim Brown the former Bellshill YMCA member who has moved to Monkland Harriers. That change of club however automatically brings a 14-month suspension from team competitions on an individual, and Brown's time is nowhere near served. And so, despite leading home a record field of 83 runners on the first leg and unbelievably finishing up the fastest man in the whole race, Brown was rightly discarded from the official results and his team disqualified. Nevertheless this cannot detract from his great run." Jim had gone straight to the front and handed over 30 yards up on Norman Morrison, his final time was two seconds quicker than Don Macgregor who received the award. "
Team race result: 1. Shettleston Harriers; 2. Victoria Park; 3. Edinburgh University; 4. Clydesdale Harriers; 5. Springburn Harriers. Monkland was nowhere to be seen.
But he had laid down a marker: no one would get an easy race when the boy from Bellshill was around. An example? The Glasgow University Road race:
"Jim Brown, the Monkland teenager who shook all of us six weeks ago by running the fastest time in the McAndrew Relay, came back on Saturday in the Willie Diverty Memorial Road Race with a reminder that his initial claim for attention was no seven-day wonder. The eight-stone stripling with the broad Lanarkshire accent audaciously forced the pace against the world-travelled schoolmaster from Fettes College, Fergus Murray, ten years his senior, as the pair of them battled over the closing stages they presented a picture of two runners poles apart in so many departments. For anyone looking for a fairy-tale ending there was a disappointment. Murray controlled matters over the last three-quarters of a mile of the five mile course and entered the gates of Westerlands having at last subdued this youngster at his heels. The Edinburgh man completed one lap of the track finishing in 24 minutes 41 seconds which takes an enormous 35 seconds off Lachie Stewart's record of three years ago. Brown was a mere three seconds behind in recording his most satisfying performance since taking up the sport. Afterwards he said he hadn't expected to beat his more experienced opponent but was delighted at having come so near. "
Brown had arrived!