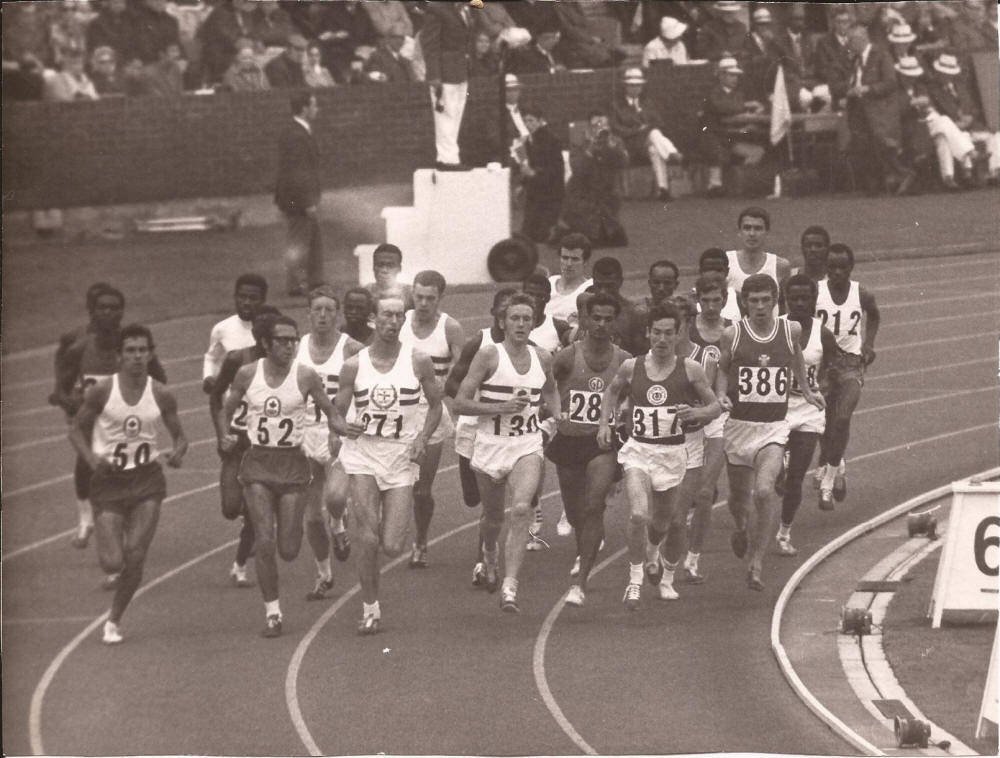 For many the 1970 Commonwealth Games was one of the highlights of their entire lives watching athletics in Scotland.    For endurance buffs in particular with Lachie on the first night, and then Rosemary Stirling in the 800m and the three marathon men doing so well and ending with McCafferty and Ian Stewart on the last day it was a Games to be savoured.    Before going on to cover the Games, This is Colin Youngson's 'preface' to the actual proceedings: his story of how he carried the baton with the Queen's message.
NINTH COMMONWEALTH GAMES – QUEEN'S MESSAGE RELAY
Instructions were strict. At all times runners must obey Police Officers! White shorts must be worn by all runners and escorts, though club vests may be worn! Girl Guides may wear uniform! On our section, we saw neither Police, Escorts nor Girl Guides!
The Scottish Association of Boys' Clubs organised the relay. Several formal letters were sent out to ensure it all went smoothly and to thank us afterwards. On Wednesday 15th July 1970, Aberdeen University Amateur Athletic Club runners were assigned a stretch from Holburn Street at Ruthrieston Road, past Aberdeen City Boundary to Balquharn Dairy, before Boys' Brigade, Sea Cadets and Aberdeen AAC carried on to Montrose, en route for Meadowbank Stadium, Edinburgh on Thursday the 16th of July, when the Games were to open.
 We were to take over at precisely 14.16 hours and maintain seven-minute miles for five miles. Easy!
 Someone took eight photos of our participation. Bob Masson, Ian Hughes (the driver) and I posing in AUAAC gear, displaying a split-new Commonwealth Games kitbag. Taking over from stern-looking runners from a boxing club. Bob, Mike Partridge and I running along, brandishing the beautiful shining silver baton, a streamlined stylised thistle. Staging a hand-over at walking pace. Me grinning as I dodge up a side-street and pretend to abscond with the baton, unscrew it and steal the Queen's message. Mike laughing as he watches me disappear off-route. More immature giggling as I pass the baton to him. After the next volunteers took over, the three of us (wearing regulation white shorts) getting our breath back while leaning on Ian's car. If only all the relay runners had such fun!
 Right after that, in time to watch nearly all the athletics, Donald Ritchie and I travelled down from Aberdeen on the train and stayed with a former team-mate in the AU Hare & Hounds Club, Paul Binns, and his wife Ceri. They lived in Corstorphine, so Donald and I took the bus right across the Edinburgh to Meadowbank every day.
 I have a first-day cover with the three 'British Commonwealth Games' stamps, featuring running, swimming and cycling. My cheap camera took only three action photos of the Commonwealth Games athletics: a distant shot of some race; Mike Bull's winning pole vault; and the joyously chaotic closing ceremony, when athletes of all nations mingled and celebrated together. All the way round the track, spectators could get very close to the action. Tickets were inexpensive and we could often get into the grandstand. I do not remember any officious types or security killjoys.
Every day, fresh programmes in booklet form were on sale. I still have three and must have seen lots of events, since the results are handwritten. Most Scottish fans had the same highlights. Lachie Stewart's victory in the 10,000 metres (as the last lap bell rang, I just knew that his famous (only in Scotland!) fast finish would ensure a gold medal for his country, although my heart sank for my hero Ron Clarke, who had achieved so much throughout his career, but was always to be denied first place in a major championship.) The 5000m: incredible that Kip Keino should be beaten; the wonderful sight of two Scots battling for supremacy (but once again, I was secretly supporting the second man, Ian McCafferty – could he not have maintained his sprint rather than, apparently, easing over the line behind the skinhead Anglo-Scot, Ian Stewart, who battled every step of the way to victory?) The marathon: Ron Hill's white string vest 'miles' in front, setting a European Record, topping the 1970 world rankings and probably running the fastest marathon ever, over a properly-measured course. But what I remember most is the head-shaking exhaustion of our Scottish hero, defending champion Jim Alder, as he struggled for breath and forced himself round the track to salvage a silver medal, while young Don Faircloth of England swiftly pursued him to finish only fifteen seconds behind and win bronze. However I also possess a copy of 'The Victor', which was published at the very same time, to read that the winner of the CG marathon in Edinburgh was actually Alf Tupper, who set a new British record after eating a big bag of chips at half-way!
 There were only cheers for every competitor from every corner of the Commonwealth – no insults or booing. It was friendly, enthusiastic and the greatest of occasions for spectators. Athletes who were determined to take part and tried to fight through injury received only support and sympathy. Rainbow memories. Although I have been a spectator at one European Indoor Athletics Championship (1974, in Gothenburg, Sweden) and the three International or World Cross-Country Championships held in Scotland (1969, Clydebank; 1978 Glasgow; and 2008 Edinburgh) I have never bothered to travel to the Olympics. Too much hassle; better on television; and anyway, it could never compare to Edinburgh 1970!
*
.