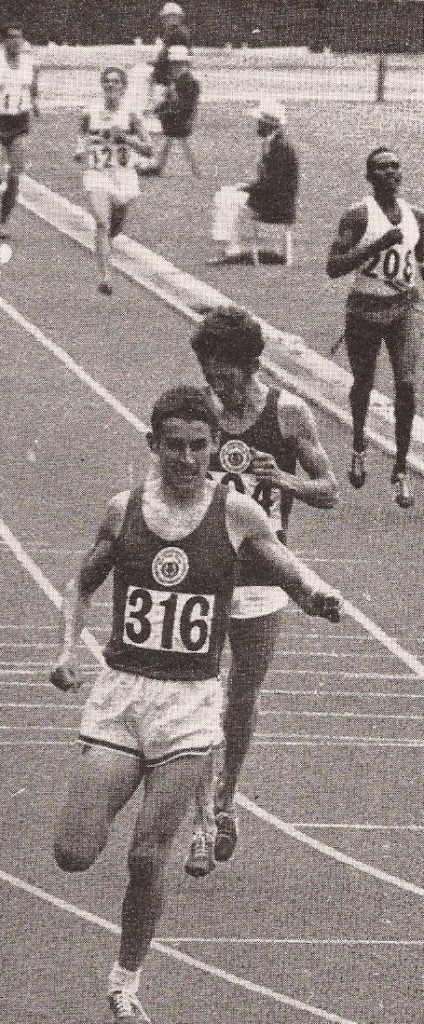 Ian Stewart leads Ian McCafferty over the line with Kip Keino third
Of all the races in the 1970 Games, the one that raises the same talking point time and time again is the 5000 metres.    The question is, "Could Ian McCafferty have won it in the finishing straight and did he just settle for second?"   Every time I see it, I still think that it doesn't matter what happened last time, THIS TIME he's going to make it!   McCafferty was as well known in Scotland as Lachie Stewart was, he ran in the same races – Scottish Championships, cross-country races, open road races, highland games two mile team races, etc – used the same changing rooms and although, immensely talented as few are, he was one of us.    Each of them, Lachie and Ian, looked back in the home straight but each look back was different.   Lachie looked back over his shoulder to check that he was clear, then had a wee smile and ran on through the tape; Stewart and McCafferty were well clear of Keino, McCafferty was closing on Stewart with every stride, when McCafferty looked back to see where Keino was, seemed to breathe a sigh of relief and settle for second.   You can see it on youtube – check for yourself.    And Lachie Stewart was also in this race – he finished eleventh in 13:51.8 to complete an excellent week.   The official report on the race, held on 25th July, reads:
"The 5000 Metres provided a story-book finish on the last day of the Games.   There were 34 runners who had bettered 14 minutes at one time or another, and eleven of those qualified for the final.   The only notable non-qualifier was Dave Ellis of Canada whose personal best was 13:44.2.  
The race started rather slowly. with A Rushmer and Ian McCafferty taking the lead reluctantly for a cautious first lap in 70.8 seconds.   After the first lap, Dick Taylor took the lead, immediately followed by the two Scots, Ian Stewart and Ian McCafferty.   These positions were held until six and a half laps had been completed, when Kip Keino and Ron Clarke moved into the leading group.   With 900 metres to go, McCafferty jumped into the lead as the pace increased to a lap in 63.6 seconds.   Taylor dropped back, and Ian Stewart took the lead followed by Keino.
The three battled furiously around the last lap.   McCafferty overtook Keino and looked as if he would pass Stewart, but the European Champion gritted his teeth and hung on to his lead to take the gold medal in 13:22.8, a European, Games, UK All-Comers and National record.   McCafferty took the silver in 13:23.4 and Keino the bronze in 13:27.6.   Only Ron Clarke has ever run a faster 5000 metres.   Allan Rushmer of England nosed out the flagging Ron Clarke to finish fourth.   Ron Clarke and Dick Taylor deserve full marks for their courageous effort, and it was unfortunate that they had to be left out of the medals."
There had been two heats with a total of 27 runners taking part but I will limit the result here to the final in which there were fourteen competitors.   All three Scots qualified for the final plus three Englishmen, two Kenyans, two New Zealanders and one each from Australia, Canada, Wales and Northern Ireland.
| | | | |
| --- | --- | --- | --- |
| Position | Name | Country | Time |
| 1. | Stewart, I | Scotland | 13:22.8 |
| 2. | McCafferty, I | Scotland | 13:23.4 |
| 3. | Keino, K | Kenya | 13:27.6 |
| 4. | Rushmer, A | England | 13:29.8 |
| 5. | Clarke, RW | Australia | 13:32.4 |
| 6. | Taylor, R | England | 13:33.8 |
| 7. | Quax, TL | New Zealand | 13:43.4 |
| 8. | Ng'eno, J | Kenya | 13:44.6 |
| 9. | Finlay, R | Canada | 13:45.2 |
| 10. | Tayler, RG | New Zealand | 13:48.8 |
| 11. | Stewart, JL | Scotland | 13:51.8 |
| 12. | Graham, D | Northern Ireland | 13:54.0 |
| 13. | Plain, BJ | Wales | 14:02.0 |
| 14. | Baxter, M | England | 14:03.0 |
Stewart and McCafferty turned in two of the fastest three times of all time
In 1972, a paperback book called 'The Ten Greatest Races', written by Derrick Young was published by Gemini.   In it he dramatised the ten greatest races – in his opinion, because opinions vary – and one of them was the 1970 Commonwealth Games 5000 metres race.   I have scanned it in and a link is provided here .   It is written for the general public with an interest in athletics and is a good read although the remarks about Scotland and the Scots raised a hackle or two!   If you can get the book, from the library or from Amazon or wherever, it's worth a look – among the races with particular interest for Scots is the one on the Vancouver Marathon in 1954.