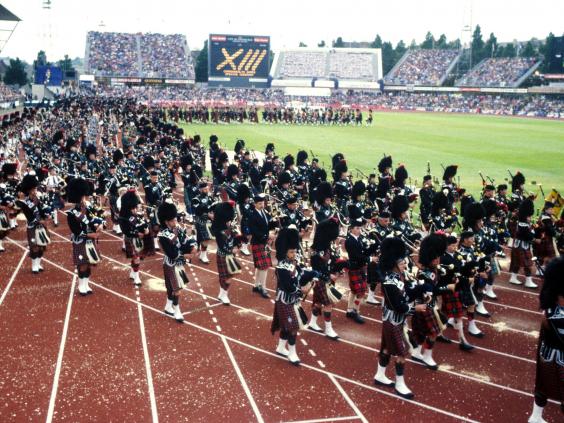 We can't really talk about Meadowbank in the abstract without hearing what it meant to those who trained and raced there. What follows are comments from some of those who benefited from the stadium and look at it with affection. First up is Donald Macgregor.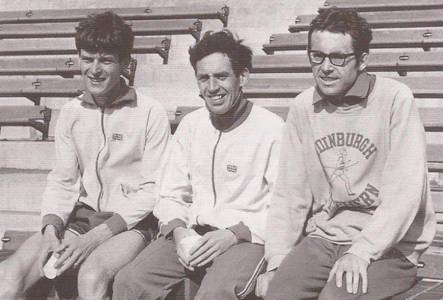 Donald on the right with Jim Alder and Fergus Murray
[Just click on Donald's name for a career profile: best remembered for the Munich marathon where he was a close-up seventh to Ron Hill and for his amazing domestic record on the track, over the country but mainly on the roads of Scotland.]
It is hard to think of an apparently more stupid decision than that of Edinburgh City Council to close Meadowbank. My memories go back a long time. Perhaps the first significant event was when I won the SAAA six miles championship in 1966 from Pat McLagan and Dick Wedlock. Then I was a spectator in 1970 when reporter Jack Dunn missed Lachie's victory.
Of course there were also marathon victories in 1973, 1974 and 1976, the first for Fife AC. In 1972 I was presented with a silver-plated tray by the late Ian Ross, and went on to come 3rd in the 5000m in my best ever time, 14:09.6, first lap in60 seconds. It will be a sad day indeed when the stadium closes – all too typical of the city which almost voted to refuse the 1970 Games.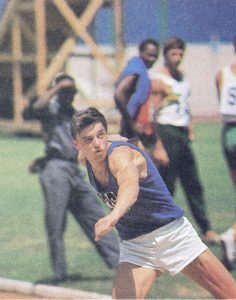 Norrie Foster
(Norman was a member of Shettleston Harriers who was a superb decathlete – two Commonwealth Games appearances with fourth in the decathlon in Christchurch plus many medals of all colours at Scottish and British championship levels)
Although I too was a paying spectator on the cold night when Michael Johnston clocked his 19.85 for the 200M I think the real value of Meadowbank to Scottish Athletics was not the big set pieces but as a centre of excellence, as they call it now.

I brought my squad through from Glasgow every Sunday during the off season. Not only could we use what were at the time the best facilities available but as a coach it was good being around all the best coaches of the day. I would often chat with John Anderson, Bob Inglis, Sandy Robertson, Bill Walker, Alex Naylor etc., etc. Who knows how many gems were passed on casually.

The athletes got used to being around the best in Scotland without being overawed. I am sure the other sports catered for at Meadowbank shared these positive attributes. Official centralisation such as that employed by the British Olympic Cycling team paid dividends. Without being planned that was the benefit of Meadowbank.

I hope that Scottish Athletics have a substitute. Meadowbank was a vital part of the pyramid, one step up from the clubs, that produces a constant flow of good athletes. Coaches working in a vacuum can produce great athletes but in the long term results in boom and bust cycles.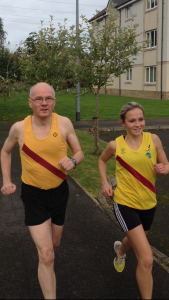 Charles Bannerman
In the early 70s, Meadowbank was the place where this Highlander, as a student member of Bill Walker's training group which also included stars like Paul Forbes and Peter Hoffmann, learned a vast amount that set me up for life about training and coaching.
However not all Meadowbank memories are happy ones. At the 1986 Commonwealth Games I had to sit impotently in the stands watching one of my athletes, Scottish high jump record holder Jayne Barnetson, being carried out of the arena with a broken ankle sustained in an unfortunate plant on her first attempt at 1 metre 83.
Meadowbank played an absolutely central role in what many regard as the most successful period in the history of athletics in Scotland. Its function as a venue for the 1970 Commonwealth Games, the origin of the success of the succeeding decades, placed it at the very centre of what unfolded. Also of major importance is Meadowbank's legacy as a major training venue and the prime competitive venue during the years that followed, which also included its unique second hosting of a Games in 1986.
Its recent decline has been painful to watch and it is essential that as crucial a facility as this is restored as a major and accessible venue for our sport in Scotland.
*
Willie Robertson
[Willie was ranked in Shot, Discus and Hammer in Scotland from 1969 to 2008, winning championship medals in particular in the Hammer. British wrestling champion in 1971, '72 and '74 and represented Scotland in the 1974 Commonwealth Games.]
I did several sports with varying levels of success. Having a sports centre like Meadowbank was essential. It is interesting to compare the sporting facilities in Edinburgh before 1970.
The weight training club was an air raid shelter in the Meadows. The Dunedin club was the most widely venue for weight training. In one section the weightlifters trained. The larger section was for body builders. I remember pictures of body builders up on the wall. They included Sean Connery who had won one of East of Scotland championship.
Tbe weight training at Meadowbank was a complete contrast to the old, unheated air raid shelter. Several sports trained in the same venue. There was a definite interaction between the strength conditioning of the various sports.
The multi sports venue allowed you to do two or even more activities on the same night. I would throw, then weight train: an option which wasn't possible at the old venues. There was a equipment store where you signed out the throwing equipment. The storeman would also allow you to store overweight and non-standard implements. I kept my games equipment there and had a caber.
Another sport I did was wrestling. Pre 1970 the wrestling club in Edinburgh trained at a spare room at a social club in London Road. The club moved to Meadowbank. I would regularly do a throw, weight and wrestling session on one night.
It was 1975 when the International Track Association circus came to Meadowbank. One of the stars of these competitions was Brian Oldfield. They were looking for officials. I was asked by George Halley from Blackford Games if I would help with the throws. In addition to the shot there was a little exhibition of Highland Games throws: Bill Anderson, Lawrie Bryce and Doug Edmunds were involved in that.
It is hard to explain the effect Oldfield had on the shot put in the mid 70s. He had a best throw of 75 feet. This was a metre above the, then, world record. The other notably shot putter was Randy Matson. He was the 1968 Olympic champion and the first man over 70ft in the shot.
We watched Oldfield warm up. He had some massive warm up throws which were fouls. After the competition we measured them at over 80ft, 24.4m. He won the event with a throw better than the existing World record but not close to his 75ft.
Oldfield joined in the Highland games events, He had competed at Braemar the year previously: so he was acquainted with Bill Anderson.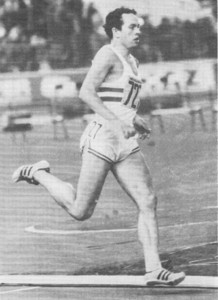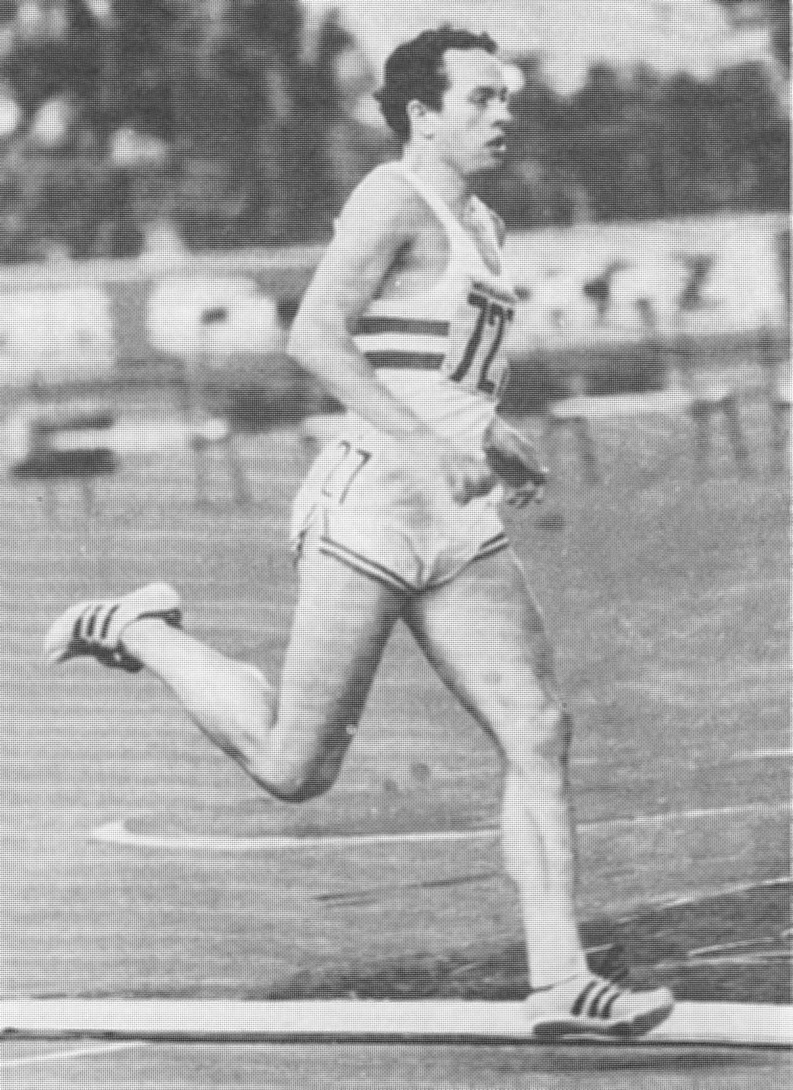 Peter Hoffman
[Peter was ranked nationally at 100m, 200m, 400m and 800m; won SAAA and AAA titles and competed at Commonwealth and European Games]
Peter felt that his views were best expressed by Aidan Smith who wrote an article on him when his book was published in September this year. He said:
You cannot tell Peter Hoffmann that Meadowbank was ever a thumping, grim, grey brutalist blot on the cityscape. After the (1970) Commonwealth Games at the start of that decade, the good people of Edinburgh got to play in the stadium, even scruffs like him from the Oxgangs scheme on the southern fringes. Meadowbank almost certainly saved Hoffmann, who had a difficult childhood …the first photograph in the book, A Life In A Day-A Postcard From Meadowbank, is of his Junior Membership card – No.2491 – for the tartan track and the rest of the swish-for-the-era facilities. "A life-changing moment," reads the caption. For Hoffmann the card was the equivalent of a rich banker's laminated pass to the VIP area of the most exclusive nightclub. Funnily enough, he ran with a future master-of-the-universe back in the day (Roger Jenkins)…Hoffmann's story, is a love letter to 1970s Edinburgh, to Meadowbank and to the friends he made in the athletics community which met under the breeze-block structure. "Meadowbank was everything to me," he says "Meadowbank transformed my life,"
*
Noted coach Eric Simpson says ~
To me Meadowbank was athletics in Scotland from racing there in the New Year Sprint to watching my training partner George McNeil breaking the World Professional Sprint record . When I turned to coaching and the many great memories of my young athletes breaking the mould by producing championship performances in the colours of Fife Southern Harriers, a small but highly successful provincial club. The Edinburgh Highland Games to the many and varied Championships that took place their. All taking place in Scotland's capital city where the pride of Scotland had performed over the years. My sadness is in the appalling way the The City of Edinburgh allowed the decline of the fabric of the building to continue to follow their own plans for profit by building houses. I was around ,working for the council during the property boom and indeed lost my place of work which was knocked down to make way for "town houses" just around the corner from Meadowbank.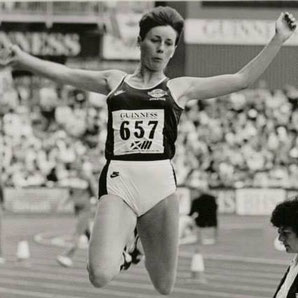 Lorraine Campbell
[Lorraine was a multi national championship long jumper and competed 25 times for Scotland]
Used to travel through to Edinburgh and train there Saturdays and Sundays with Norrie Foster, Rodger Harkins and Craig Duncan. Ann and John Scott were great at letting me stay over at theirs so I could make both my training sessions on Sunday. Won a few of my Scottish championships and competed in the Commonwealth Games there, among other internationals. Very happy memories.
Lorraine also sent the link to this excellent article by Doug Gillon:
http://www.heraldscotland.com/sport/15538543.Farewell_field_of_dreams______/?ref=fbshr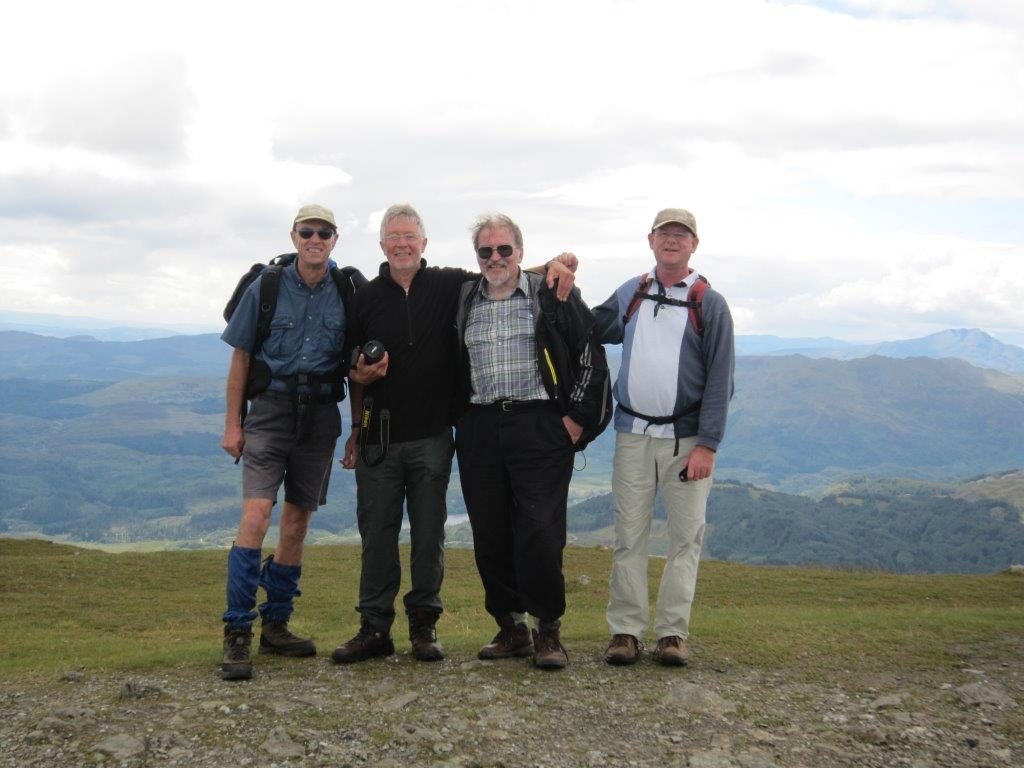 Norrie Foster, Russell Walker, Doug Gillonm and Ross Hepburn
From Russell Walker, Glasgow University; Stirling University; PTT Montpellier; Shettleston Harriers; Kilbarchan Harriers:
I first went to train at Meadowbank when I moved to Edinburgh in 1974. I had competed there as early as 1970 when the Scottish University Championships were held in the stadium as a "warm-up" for the officials preparing for that year's Commonwealth Games. Our Glasgow team captain, the all-Ireland sprint champion, Ignatius O'Muircheataigh, won the 100 metres and may have been the first name on the electronic scoreboard – an innovation for us and for Scotland. When, later that day, he won the 200 m as well, his name was reduced to "I Moriarty"!
In 1974 I found the stadium still alive with athletes and sportspeople. Anyone looking for a coach, or a team, or a quality place to train knew that was the place to go in Edinburgh, indeed in Scotland. I found my coach – Donny Cain – and a new group of athletes, many of whom remain as friends more than 40 years later. At Meadowbank I had the privilege of training with a (later) Olympic Gold Medallist for a number of years and a young man who would be a world record holder within a few years – I even persuaded the latter that good high jump training involved running to the top of nearby Arthur's Seat as a warm up. Other friends went on to become District and Scottish champions and international competitors.
Meadowbank was unique in Scotland as a place that brought such a wide range of athletic talent together in a friendly and welcoming atmosphere. Although it was hard work, it was also fun. I recall the end of training football kick-abouts where Commonwealth games medallists would join in with the many 9 and 10 year-olds who also trained there. Young athletes thrived through the Meadowbank experience which allowed them to see what they too might achieve. It will be a sad day if the Stadium should now disappear into history.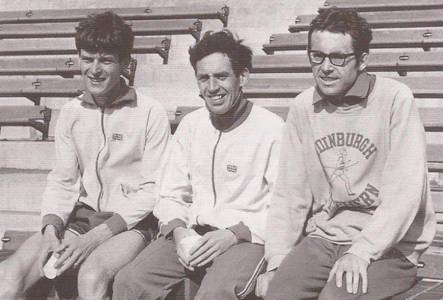 Fergus on the left
Fergus Murray , Olympian, Scottish international runner on the track, on the road and over the country, Scottish champion many times over, says:
By the time Meadowbank was completed, my running had started to decline from a track aspect and more concentrated on "road".
Clearly the abiding memory is the Commonwealth Games in 1970 with Lachie Stewart's epic 10000m win. Competing in the Marathon along with Jim Alder and Don McGregor, I had hoped to be along with the front of the race for some distance but Ron Hill's amazingly fast pace made this a suicidal option (several well-known named did suffer this fate). He did 2hr9min which 50 years on, is still a significant time.
Another race. this time on the track, was the Scottish 10,000m Championship in, I think 1972, when at the shoulder of Alistair Johnston when the hammer came out of the circle and broke his leg……….needless to say, this rather took my mind off the race !!
I attended/participated in some evening meets under floodlight and the spectacle was very enthusing……………I had some great memories of running similarly at White City. There is something different about a floodlight meeting.
An amusing anecdote from this time, although with potential to be far graver today, was at track meet when a team-mate arrived late and gave a welcome shout of "Bomb" to one of us (we all had nicknames in those days……….this one refering to a reference to food).
Ross Hepburn (below) was a very talented and successful young high jumper who set world age bests at age 13 (1.88m) and 14 (2.04m) and represented Scotland at the tender age of 14 years 334 days, and then went even better and represented GB when he was 15 years 316 days.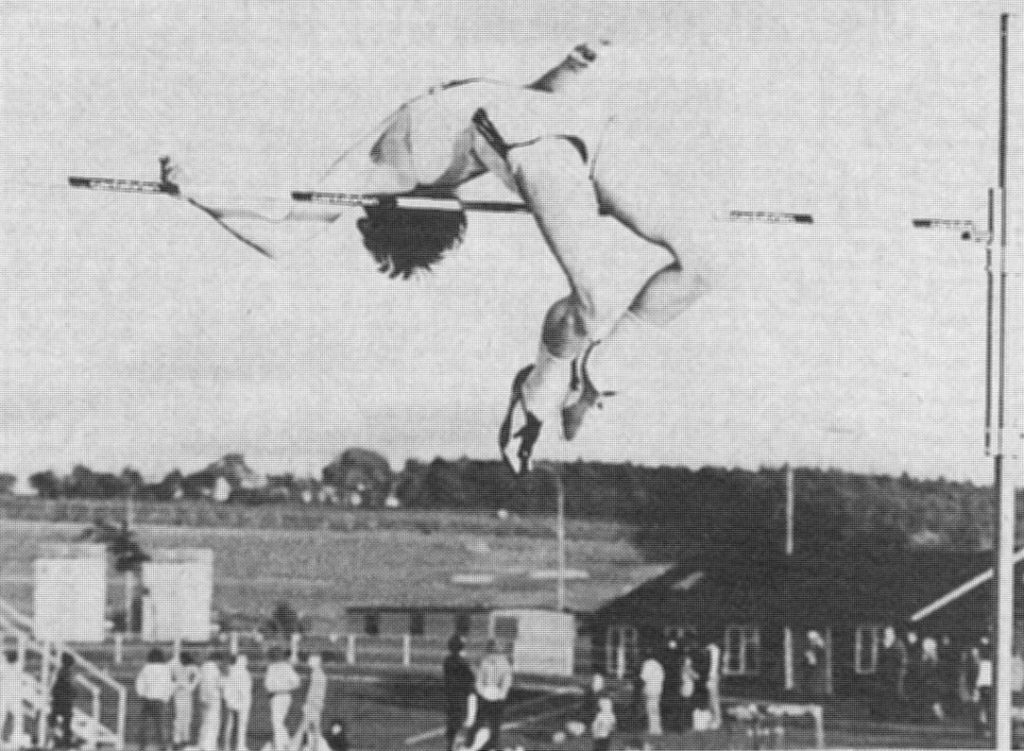 He says:
"Although years ago now, l spent probably the most intensive years of my life at Meadowbank Stadium (aged 12 – 17), from winter 1974 until winter '78. I left Scotland in March '79.
Whenever I returned to Meadowbank, roughly every 1-3 years, echoes of my time there always revolved around in my head. My few years of intensive athletics have followed me all my life, and I imagine it's the same for everyone else who trained there to. That's one reason why this great loss of the place, and all its facilities for 20-odd sports, for the people of Edinburgh who did them, simply hurts!
Many interesting Meadowbank contemporaries flow through my head, people lost and missed from time to time. In no particular order – for they are all one: Tom Drever, Anne Clarkson, Stuart Togher, Willie Robertson, Ian Duncan, Paul Forbes, Allan Wells, Bill Walker, Andy Bull, Mike Bull, Brian Hooper, Brian Burgess, Stuart Gillies, Moira Walls, Helen Golden, Norman Donachie, Peter Hoffman, Eric Fisher, Donny Cain, Peter Little, Elaine Douglas, Chris Black, Paul Buxton, Sandy and Liz Sutherland, Gavin Gilliot, Russell Walker, Tom Woods, Wattie the grumpy storeman, Dick Williamson, doorman Tom Evans, Anne Littlejohn, Roger Jenkins, Fiona and Catriona McAulay, Drew McMaster, Jake Hynd, John Rush, Andy Pollock, George McNeill, Bruce Livingston, Berty Oliver, Cameron Sharp, the cantine staff, John Scott, Frank Dick, Colin Sutherland, Hamish Davidson, Gus McKenzie, Niall McDonald, Bill Gentleman, Margot Wells, Doug Gillon, Faye Nixon, Daley Thompson, Barry Craighead, Meg Ritchie, Claude and Nigel Jones, Colin and George Sinclair, Jim Alder, Norman Gregor, Liz and Janet Leyland. And, sadly, some faces I can still see but can't put a name to.
Having now lived nearly 40 years in Germany, it is incredible to count 16 Tartan tracks in Stuttgart city alone, near where I live, not to mention the vast number of other sporting facilities.
We were lucky in Edinburgh with our one Meadowbank. It fired determination in many, brought pleasure to all, created success and changed the lives for the better of probably all who used it. And that including people who lived outside the Edinburgh boundary! This loss needs to be recaptured, and not only with a scaled down model!
Our society needs such facilities – simple! We shouldn't accept what's told and sold to us by point-collecting vote-obsessed politicians who have never "hand on heart" recognized the incalculable loss and destruction that will be caused when Meadowbank is gone!"
And below is one of Ross presenting the winner's medal at the Scottish age group championships on a visit back to Scotland.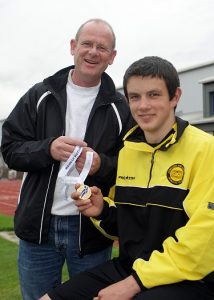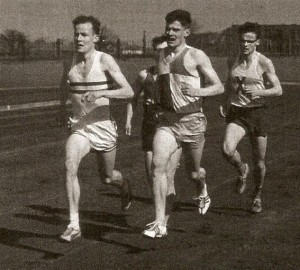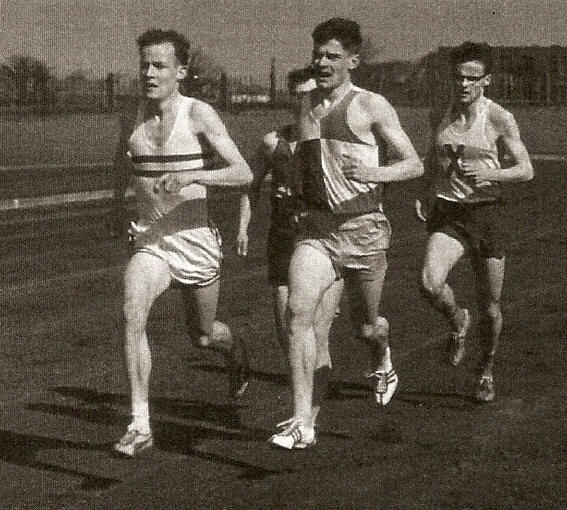 Scottish internationalist and highly esteemed all round endurance runner Steve Taylor (leading above) spoke about his memories of the arena to Colin Youngson, who says:
Aberdeen's Steve Taylor, a Scottish International Athlete on track and cross-country, raced frequently at Meadowbank Stadium. Between 1959 and 1966 he won seven SAAA Championship medals there at One Mile, Three Miles and Six Miles, including victories in the Scottish 3 Miles Championship in 1961 and 1962. FOR HIS FULL PROFILE, CLICK HERE.
The journey down from Aberdeen in those days took longer, partly because there was no dual carriageway and mainly because there was no road bridge across the Forth, so AAAC runners had to take the little ferry from North to South Queensferry. The journey took twenty minutes and if a boat was missed, then Meadowbank might be reached too late for the race!
The track surface (before 1969) was composed of very rough cinders. Longer races tended to be scheduled later in a meeting so the track would probably be churned up. Frequently there was a strong headwind, but that was still the case after 1969.. Outside the athletics arena was a motorcycle speedway dirt track, composed of red blaes. Steve recalls that, after a hard windy race, he might be coughing up dust for days!
Friday nights often featured heats for the Mile or the Six Miles final; with the Mile and Three Miles finals on Saturday afternoon. In 1962 Steve ran a personal best time in the Mile, not long before he retained his 3 Miles title!
In retrospect, Steve enjoyed his Meadowbank contests, and Scottish International track fixtures elsewhere, against runners like Graham Everett, Mike Beresford, Kenny Ballantyne, Graham Stark, Bert Mackay, Alastair Wood, Fergus Murray, Lachie Stewart, John Linaker and Bill Ewing, as well as top athletes from other countries, including Derek Ibbotson, Laszlo Tabori, Gordon Pirie, Bill Dellinger and Albie Thomas.
The picture below is Meadowbank under construction