Meadowbank Stadium has had several incarnations but has been a vital part of Scottish athletics for over a century. The local authority has decided to pull it down and provide alternative facilities. This ha not met with universal approval. Colin Youngson comments on the past and present at the Stadium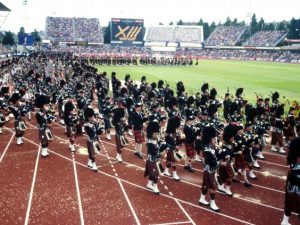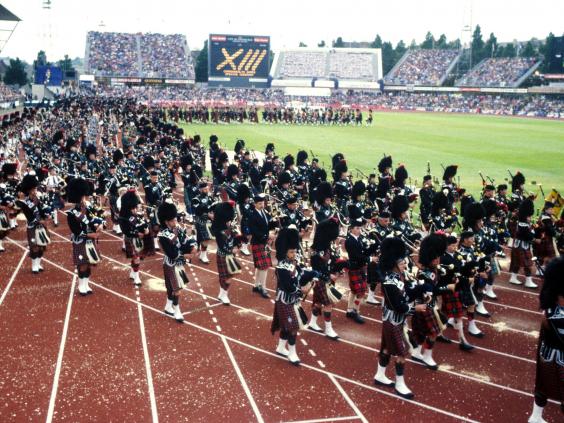 There have been numerous newspaper and internet articles on the future of Meadowbank Stadium as well as many lengthy forum threads on the topic of Edinburgh's Meadowbank Stadium's imminent demise. It is timely then to have a look at what the arena meant to so many generations of runners. Colin Youngson's statement on what Meadowbank meant to him follows.
No need for research on this topic – memories, good and bad, flood back instantly. Apparently, the famous Edinburgh stadium is to: close soon, be rebuilt and modernised and re-open in 2020. The plans sound impressive; but how did the current Meadowbank fare?
Although it hosted the 1969 Scottish Marathon Championship (won by Bill Stoddart, who was to be a World Champion many times as a veteran), the stadium, styled 'New Meadowbank' was only half-completed at the time. The previous track had been 'Old Meadowbank', so the 2020 one should be 'Newest', perhaps.
From 1967 the revolutionary Rub-Kor black track at Grangemouth hosted most athletics championships; and other races took place on a variety of surfaces – blaes, cinders, lumps of coke, smooth or bumpy grass. So the New Meadowbank 'Tartan' track felt great.
'The Friendly Games', as the 1970 Commonwealth Games in Edinburgh was named, was a fantastic, unforgettable event. Don Ritchie (the future ultra great) and I spectated at every athletics session. Tickets were cheap and easy to get (how unlike Glasgow 2014.). The crowd cheered everyone in every event. Scottish athletes did really well. Lachie Stewart out-sprinted Ron Clarke in the 10,000m; and Ian Stewart out-toughed Ian McCafferty in the 5000m. Wonderful races – just a pity that I was cheering for the silver medallists. Rosemary Stirling won the 800m. England's Ron Hill produced a superb European record of 2.9.28 in the marathon, with defending champion Jim Alder (2.12.04) hanging on to second place despite total exhaustion and a charging Don Faircloth closing fast. 47 years later, this remains the fastest marathon ever run in Scotland; and Jim's time the fastest by a Scot in Scotland. The Athletes' Parade as the Games closed was joyous.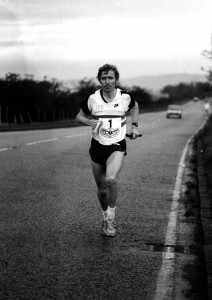 Between 1971 and 1999 I competed at Meadowbank – not every year, but this was the venue for umpteen personal landmarks.
In 1971 the Scottish 10,000 championships took place on the hallowed track and I felt it a real privilege to race there. In the main SAAA champs, I ran the steeplechase, and was in a clear third place with two laps to go, when suddenly my right leg collapsed – since I had pulled the main muscle and every tendon from Achilles to hip – and that was the end of that race, and my one-season steeplechase 'career'!
1972 brought me a silver medal well behind Andy McKean in the SAAA Track Ten Miles. During the GB v Poland international match, the Scottish 10,000m took place. Jim Brown won but my Victoria Park AAC club-mate Alastair Johnston, in the form of his life, was battling for silver when a stray hammer bounced onto the track and smashed his left tibia. I could not believe it, when I ran past not long afterwards and saw my friend in agony. Hammer 'cages' had not yet been invented, alas.
Personal bests for 5000m, 10,000m and marathon were set at Meadowbank. The first narrowly broke 14.30; the second (29.33) led to Scottish selection for my only track international over that distance v Iceland in Reykjavik – my team-mate Allister Hutton won and I was second; and the third was the best performance of my life, leading to my sole GB selection (for a small team at the Antwerp marathon, where I finished second, my colleague third and we won the international team award.)
My first SAAA title was gained in 1974 at Meadowbank – the 10 Miles Track against Martin Craven in a gale. In 1975 I set a championship record of 2.16.50 when winning the Scottish marathon.
In all, I secured ten SAAA medals there – three gold, four silver, three bronze – and ran eleven marathon championships out and back from the stadium. The worst three were: in 1972 when I 'hit the wall', lost second place on the track and Albie Smith timed my last sleep-walking 200 metres at 80 seconds; in 1978, when I was mad enough to try a new pre-race diet by drinking half a pint of cream half an hour before the start, felt sick as a dog and finished eleventh in a personal worst time; and in 1983, when a stomach upset induced embarrassing pit-stops but somehow I finished no worse than second after leading for more than twenty miles. Horrible but definitely memorable!
Especially for Edinburgh Southern Harriers, I ran Scottish and British Athletic League matches there, even winning one 5000m after being tripped and crashing to the track on the first lap. Two East District 10,000m titles were secured at Meadowbank.
The day after my 1975 marathon win, 100 ESH runners each raced one mile in a vain attempt to break the world record for such a relay. I had to shuffle about warming up for ages, trying to get the post-marathon 'concrete' out of aching legs before managing a respectable 4.29.
After I moved back to Aberdeen in 1981, and concentrated mainly on local races, my visits to Meadowbank became fewer. However three further races there stand out.
In 1984 Sri Chinmoy AC organised a road race from Meadowbank to George Square, Glasgow – 50 exhausting miles. One of the organisers was my contemporary (also born 1947) and acquaintance Alan Spence, the poet, short story writer and novelist, who ran a few marathons himself and even wrote a short story about one of them. In September 2017, Alan was named Makar of Edinburgh (i.e. City Poet and Writer). Back in 1984, I finished a distant and knackered third but my brilliant team-mate Don Ritchie won by twenty minutes and Aberdeen AAC were first team.
In 1999, when I was 51 years old, my two final visits took place. The British Veterans Track and Field Championships were held at Meadowbank and I won the M50 10,000m – my only outdoor track success at that level, while my beloved wife Susan spectated by reading a book. The stars that day were the Three Amigos of Scottish Veteran Athletics, World Masters record breakers Emmet Farrell, Gordon Porteous and Davie Morrison, each winning medals in over-80 categories.
To round things off appropriately, I completed my very last 26 miles 385 yards that autumn. The Puma Edinburgh Marathon (which was also that year's Scottish championship) started in Dunfermline and the route went over the Forth Road Bridge and then, via devious small roads and tarmac tracks, emerged near Haymarket before heading straight up Princes Street and down past Holyrood Palace to finish on the Meadowbank track. For me it meant the end of thirty years running sub-three hour marathons.
In retrospect, I have many reasons to be grateful for the existence of Meadowbank. Without it, I would have lost so many experiences and running adventures, plus convivial pints at the Piershill Tavern. Imagine – no Meadowbank – the careers of thousands of athletes would have been spoiled.
Of course, the Meadowbank Velodrome, despite being exposed to the rain as well as steep, slippery, wooden and splintered, played a vital part in the early training and racing of one Chris Hoy, now Sir Chris because of his six Olympic gold medals! The Newest Meadowbank will have a great deal to do, if it is to emulate its illustrious predecessor!
That's what Colin has to say – now read what some other athletes have to add about the Stadium which has played a significant part in their careers. Find their thoughts here
Below: Meadowbank being taken apart. Almost heartbreaking – the site of the first Commonwealth Games to be held in Britain and not a plaque left to commemorate it. Dreadful.