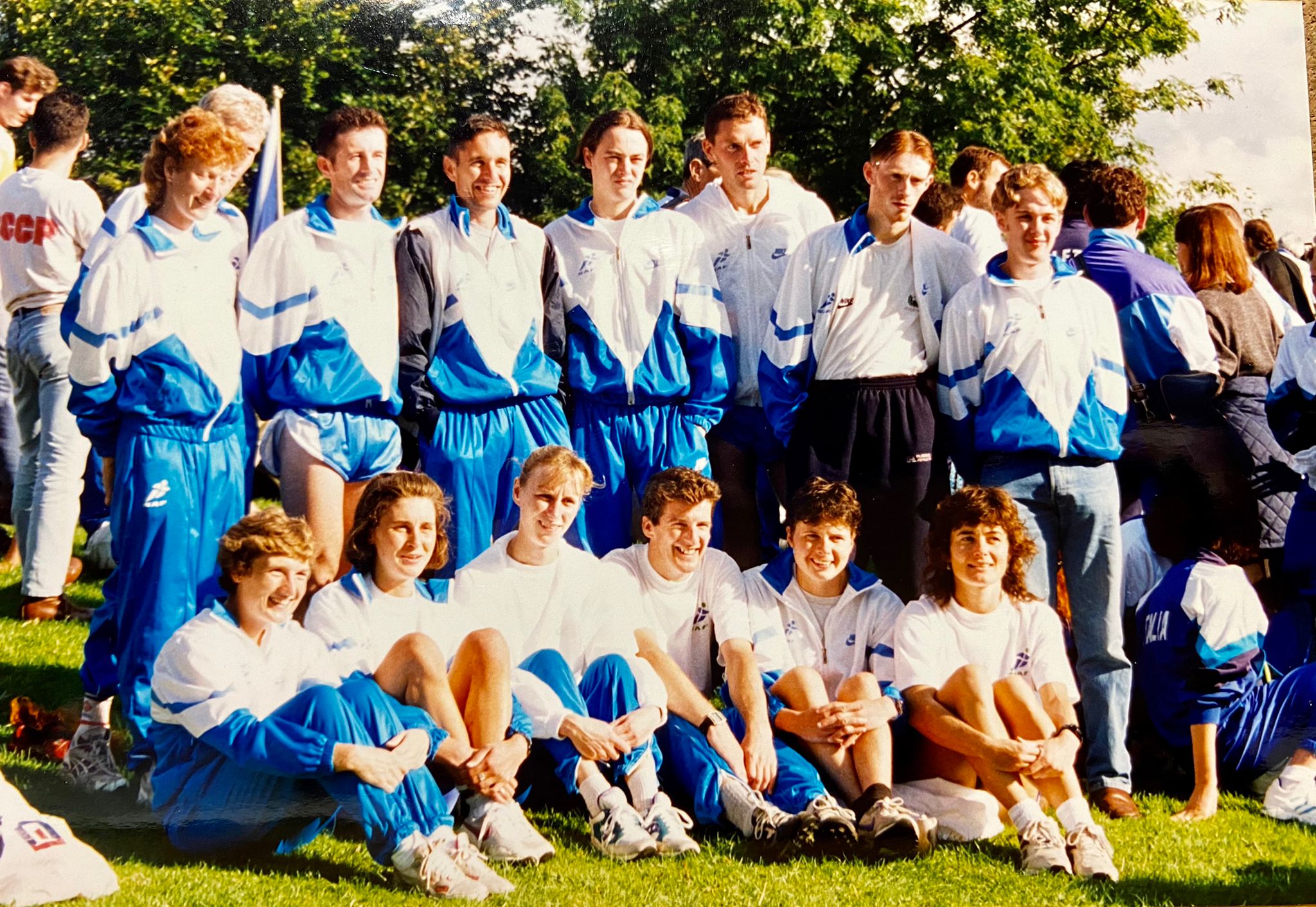 2001 – 2019
Having read and studied the many stamina and character testing events up to this point it must be evident that the skills that must be mastered are many, not the least of which are navigational and which are often to be appied 'on the hoof' and in real time. There are races – even our own Glencoe Skyline Races – which note on the information sheet for intending runners – "Risk of Death." Runners have respect for the hills and the conditions but they also have real respect for other runners on the hills. Denis Bell adds these comments for our information:
"As we have said already, in testing conditions, hill runners need to be competent 'orienteers' or should we say good with map and compass .. Angela ranks herself as 'good-competent' but she acclaims Helene Diamantides and Brenda Boland as truly brilliant., and Angela openly admits to 'several mistakes'…if you are very good, you need to be very honest. Angela is and always has been very true to basics and 'the obvious truths'!!!"
In this context he adds:
" Two lovely wee stories Angela shares are, first, when she was out with her beloved twin sister Janice and on Ben Dorian, it was rough and snowy ( hill runners will get 'that'!) and the map blew away…they were using the attachable grippers called 'Katulas' and they got off safely….!
When hiking Angela will go with 'full Winter gear' …but will not go into the mountains in 'bad' weather and unknown territory….(we talked about a tragedy a year ago and both Angela and I agreed with incredulity, about the 'top racer's choices'….).
The second story, is this one. She winces a wee bit when recalling being on a buttress of An Teallach, in the Winter, with Helene in the lead, and with Mark Johnston and Adam Ward (great hill friends all over many years) and conditions were very, very 'sketchy' ( sketchy?? 'we' 'the readers' need to be considering this as significant risks!!).
Event
2001
2002
2003
2005
2006
2007
2011
2012
2013
2018
2019
note
Euro Mtn Trophu
2nd Slovenia
5 o/a Madeira
2nd Trento
-
-
-
-
-
-
-
-
Trento uphill only
WMRT
5th Italy
-
2nd
20th NZ
2nd
2005
-
-
-
-
-
team 2nd 2003&2005
Berglauf GP
2nd
-
-
-
-
-
-
-
-
-
-
Sierre-Zinal
Berglauf GP
1st
-
-
-
-
-
-
-
-
-
-
Innsbruck
WMRT
3rd
1st Innsbruck
-
-
-
-
-
-
0
-
-
2001 – 6 races/275 pts
KIMM Series
-
1st
-
-
6th
-
-
-
-
-
–
Glas Tuleachain
-
1st rec
-
-
-
-
-
-
-
-
-
7th o/a
Stuc a Chroin
-
1st rec
-
1st. -
-
1st
-
-
-
-
–
Cowal HG
-
1st
-
-
-
-
-
-
-
-
–
Dunyat
-
1st
-
1st
1st
-
-
-
-
-
-
–
Donnard Commedagh
-
1st
-
-
1st
-
-
-
-
-
-
06 GB Champ
Bens of Jura
-
1st rec
1st rec
-
-
1st
-
1st Vet rec
-
-
-
-
–
Event
2001
2002
2003
2005
2006
2007
2011
2012
2013
2018
2019
Note
Traprain Law
-
1st rec
-
-
-
-
-
-
-
-
-
-
–
Seven Hills of Edinburgh
-
1st rec
-
-
-
-
-
-
-
-
–
Carnethy
-
-
1st
-
1st rec 56:19
1st rec 56:09
1st rec 55:13
1st 57:45 FV40 21 o/a
1st FV40 rec 56:03 19 0/a
5th FV40 64:07 83 o/a
1st FV40 60 o/a
-
Mourne Mtns
-
-
1st
-
-
-
-
-
-
-
–
WMRT
5th(Italy)
-
2nd Sco team 1st
20th Wellington Sco 2nd
-
-
-
-
-
-
-
–
World Masters
-
-
-
1st O35
-
1st O40
-
-
-
-
–
GRABS Uphill GP
-
-
-
1st
-
-
-
-
-
-
-
–
SHI (duathlon?)
-
-
-
3rd
-
-
-
-
-
-
–
Scottish Islands Boat Race
-
-
-
1st
-
-
-
-
-
-
-
w Geraint Florida-James
Pikes Peak
-
-
-
1st
-
-
-
-
-
-
-
4th o/a
Cathkin Braes
-
-
-
-
1st
-
-
-
-
-
-
–
Morven
-
-
-
-
1st
-
-
-
-
-
-
-
–
Kaim
-
-
-
-
1st
-
-
-
-
-
-
-
–
White Tops
-
-
-
-
1st
-
-
-
-
-
-
-
–
Coniston
-
-
-
-
2nd
-
-
-
-
-
-
Lost in Mist!
Moffat Chase
-
-
-
-
1st
-
-
-
– -
-
–
Creag Dhu
-
-
-
-
1sst
-
-
-
-
-
-
-
Dollar (Med)
-
-
-
-
1st
-
-
-
-
-
-
-
Whangie Whizz
-
-
-
-
1st
-
-
-
-
-
-
-
Ben Lomond
-
-
-
-
1st
-
-
-
-
-
-
Sco Champs one-off
World Sky-Running
-
-
-
-
1st*
1st
-
-
-
-
-
*won all races/note below
Event
2001
2002
2003
2005
2006
2007
2011
2012
2013
2018
2019
Note
Aonach Mor
-
-
-
-
-
1st
-
-
-
-
-
-
Ben Nevis
-
-
-
-
-
1st
1st?
-
-
-
-
–
Highland Cross
-
-
-
-
-
1st
-
-
-
-
-
20 mi run/30 mi bike
Tinto
-
-
-
-
-
1st
-
1st
-
-
-
-
Cort-ma-Law
-
-
-
-
-
1st
-
-
-
-
-
-
Anniversary Waltz
-
-
-
-
-
1st
-
-
-
-
-
–
Bergamo Marathon
-
-
-
-
-
1st
-
-
-
-
-
–
Sierre-Zinal
-
-
-
-
-
1st
-
-
-
-
-
-
–
Trans Alps
-
-
-
-
-
1st Mixed Team
–
-
-
-
-
8 day racing across the Alps
w Ben Bardsley
Ultra World Tral Champs/Fr
-
-
-
-
-
2nd
-
-
-. -
-
-
GB Team
Commonwealth Champs
-
-
-
-
-
-
2nd
-
-
-
-
Ultra& Mtn running 54 K
Trans Rockies Ultra
-
-
-
-
-
-
**
-
-
-
-
Partner dropped out so stand-in ran
High Peak
-
=
-
-
-
-
1st
-
1st
-
-
1st team record
Tap o Noth
-
-
-
-
-
-
-
-
1st
-
-
–
Ochils 2000
-
-
-
-
-
-
-
-
1st
-
-
–
Run of the Mill
-
-
-
-
-
-
-
-
1st
-
-
–
Event
2001
2002
2003
2005
2006
2007
2011
2012
2013
2018
2019
Note
Birnam
-
-
-
-
-
-
-
-
-
-
1st
-
Cioch Mor
-
-
-
-
-
-
-
-
-
-
2nd
-
Canter
-
-
-
-
-
-
-
-
-
-
2nd
-
Pen Run
-
-
-
-
-
-
-
-
-
-
1st
International Skyline in Czech
Celtman Tri
-
-
-
-
-
-
-
-
-
-
98th o/a;3rd FV
–
Arrochar Alps
-
-
-
-
-
-
-
-
-
-
1st L/LV 23 o/a 4:07:15
–
The Brack
-
-
-
-
-
-
-
-
-
-
1st 7th o/a 1:03:05
–
Kirk Crags
-
-
-
-
-
-
-
-
-
-
1st 11th o/a 45:00
-
2006: World Sky Running: won all races, broke all records except Kinabalu
Early Years Cross-Country Hard Running Years 1 Injury Troubled Years