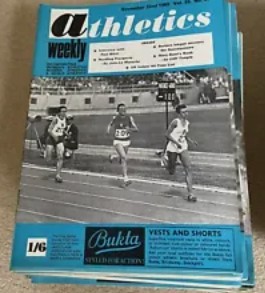 When talking about the avalanche of information that the distance runner was subjected to in the 60's, 70's and 80's , there were many slim paperback volumes published by the Americans, bigger books with more depth from other sources (we have covered van Aaken (Germany) and Arthur Lydiard (New Zealand) and magazines. Magazines such as "Runner's World", Marathon and Distance Runner", "Sports Illustrated", "Jogging" (which became "Running") and so on which all contained fairly detailed articles of variable quality on any and all topics of interest to runners. New obsessions such as 'shoe technology' appeared. But the best of them all was the magazine which pre-dated the Running Boom and which is still being produced weekly is the British "Athletics Weekly", affectionately known as AW.
One of the key features was the "AW Questionnaire" in which a top athlete was quizzed on many topics including his training and racing. Eagerly read they were at times not really informative about training – eg the top athlete whose training was noted as Sunday: long run, Monday Road run; Tuesday: Track session, . . etc – but more than 90% of them gave food for thought, or at least prolonged discussion on the hoof on training nights. These questionnaires did influence both theory and practice. eg When Joyce Smith was quoted in an article as saying that you had to stay relaxed but running fast at the end of a marathon, but it was difficult to simulate in training. Her husband Brian had said that she should do a long run on the appropriate day in the morning, then go out that afternoon, before the fatigue could possibly have left her system and run a short relaxed fast run of about two or three miles. That resonated with lots of runners who adopted the habit for a period of their training for the marathon. She was a wonderful runner and what was good enough for her was more than good enough for many men who had read or heard of the theory.
We reproduce three of the AW questionnaires here as examples of what we had available at the time.
Bill Adcocks Lachie Stewart Mike Tagg
Colin Youngson – a good Scottish International marathon runner with respectable marks at all distance events up to and including the 50 mile Edinburgh to Glasgow road race, in addition to ten first three places in the SAAA Marathon championships (including three victories) and notable runs in marathon races all over Europe, comments as follows.
Two other interesting characters were interviewed in more detail for Athletics Weekly: Don Faircloth in 1972; and Bill Rodgers in 1978. Their training notions are worth examining.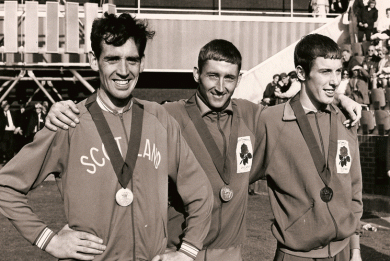 Jim Alder, Ron Hill and Don Faircloth: first three in Empire & Commonwealth Games Marathon in 1970
Don Faircloth was born in November 1948, so he was only 21 when he finished very rapidly to secure third place in the 1970 Edinburgh Commonwealth Games Marathon. In that race, he recalls feeling both strong and fast, due to an intensive training regime.
In early 1970 he raced the Kent 20 miles road race – and was surprised and delighted to win in an impressive 1.43.50. Then, on a very hot day, he won the Inter-Counties 20 miles. Don reckoned that heat did not affect him, since he worked outside as a gardener for eight hours a day! Then he won the classic Polytechnic (AAA Championship) Marathon – and was selected, along with Ron Hill and Bill Adcocks, to race for England in Edinburgh, where he came close to overtaking Scotland's Jim Alder for the silver medal, yet well behind gold medallist Ron Hill. Don's bronze medal was achieved with a very fast 2.12.19.
Don described his 1972 training as follows. On a Sunday, I run up to 20 miles. I do that in one session. It's in the morning – I run as hard as I can for 6 miles, to the track to pick the club lads up; then I do about 6 to 8 miles of relaxed running, along with repetitions and paarlauf bursts with the others. Then I run up to 8 miles home, and push that hard too. Monday is a two-session day: I train in the dinner hour without running to work, so it's a straight hard run, and in the evening I do anything up to 13 miles, most of it with Fred Stebbings – and he pushes it quite a bit – which helps, of course. Tuesday: I run four to work, do a fartlek session in the lunch hour, and take a long way round to do 10 miles home in the evening. I'm home and finished all my training by six eery evening, and this is great for me as I can do other things like odd jobs about the house then. On a Wednesday, I do virtually the same with some changes in route, adding some extra hills and doing some running on the country, but it's always as usual three sessions. Same on Thursday and on a Friday I run to work, run a hard six in the dinner hour and, as I need to get my kit home, I don't run back, but I may do an easy five that evening, depending on whether I'm racing the next day or how I'm feeling. Saturday is usually a tough cross-country race, or anything up to 15 miles with the club boys on Lloyd Park. This is my winter routine, but it doesn't vary that much, except that I train more on the country in the summer, obviously as it's lighter. I hope to get more speed sessions in when it gets warmer but by nature I shy away from speed as it hurts; but it's still something I must get down and work on. I've been on three sessions since the Maxol Marathon in 1971, and really it suits me because I find it helpful to run to and from work.
(In 1971, Don Faircloth raced for Great Britain in the prestigious Kyoto Marathon (Japan), finishing second in 2.14.58.6. Unfortunately, possibly due to such intensive training at such a young age, he was prone to injuries, particularly stress fractures in shin or foot bones.)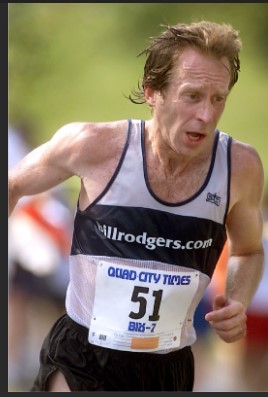 Bill Rodgers ('Boston Billy') was an American marathon-racing legend, who won his local classic Boston Marathon four times; and also won the New York Marathon four times. His break-through came in March 1975 (when his age was 27) when won a bronze medal in the IAAF Cross-Country Championships in Morocco. He raced the 1976 Olympic Marathon. Bill's personal best marathon was 2.9.27, when winning Boston in 1979. He went on to run 2.18.17 as an M40 Master! Overall, he ran faster than 2 hours 20 minutes in a marathon on 35 occasions.
He describes his 1978 training as follows. "I'd say pretty much about 95 per cent is done on the roads and usually around 6.30 minutes per mile pace. In the Fall, the Summer and the Spring, I usually do more track work. I try to hit the track like once a week, unless I race. In terms of the track workouts, they could be stuff like repeat half miles or three-quarter miles or miles usually maybe faster than race pace, with a three-minute jog between the miles. One workout I was doing last summer was run a quarter of a mile, jog 200, run half a mile, jog 200 …. and I'd do six of each. But I've never done really intensive track work like a lot of people do. Ultimately, I might; last summer I did some faster half miles, and I'll try for more this year. I run some times in the woods, trails – stuff like that – and that's pretty much about it. On the road, I generally try to hit around 20 miles a day – in two sessions. Usually, one about 11 to 13 miles, the other 8 to 10. I usually do about 22 miles on Sundays. I think I need 140 miles a week to be competitive. Sometimes, to get ready for a marathon, I think I have to go even higher. I know I'm in good shape if I can go 20 in the morning and 10 in the afternoon, or vice-versa, like once a week for a period of five to six weeks building up to a marathon."