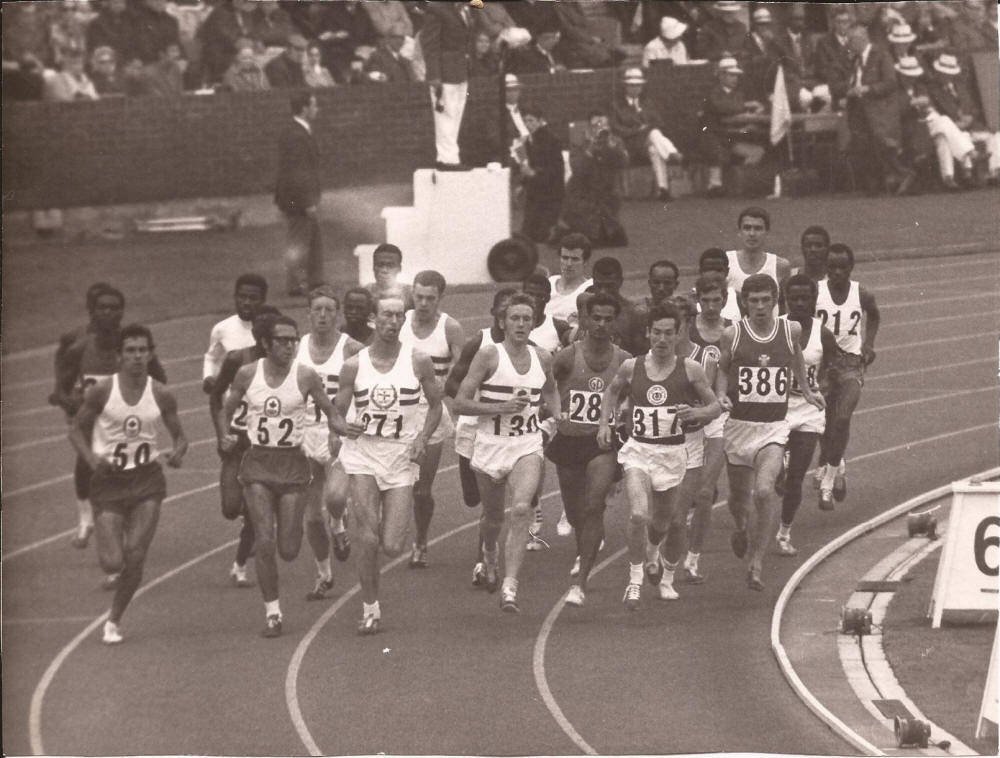 1970 Empire & Commonwealth Games 10,000m start: Lachie is 317
Not many distance runners are known by just their Christian name but runners and aficionados the world over will immediately raise a smile when the name mentioned is "Lachie". Lachie in Scotland is celebrated first and foremost for the victory over Ron Clarke, Dick Taylor and the remainder of a star studded field at Edinburgh in 1970 in the Commonwealth Games. But he was well known as a modest, unassuming runner of real quality over a range of distances and on all surfaces whether country, road or track. He came to prominence as a member of a small club in Dunbartonshire winning Games selection and SAAA championships before moving to Shettleston Harriers. A great individual runner but also a good team man who always gave his best. Some of his achievements:
Cross-Country: 10 International Appearances in what are now the World Championships; 2 Scottish Championships at a time when there was real strength in depth, 1 Midland District Championship. Third in Junior International, second in the English National, fourth in the Senior International.
Track: Scottish 10 Miles Champion 4 times (1966, 67, 68, 71); Scottish Three Miles Champion 3 times (1965, 67 and 68); Scottish Six Miles Champion twice (1967, 68); Scottish 5000 metres Champion once (1969); Scottish Three Miles Champion 3 times (1965, 67, 68). Thirteen titles in all between 1966 and 1973.
Track records: He set track records at 2 Miles, 4 Miles, 5 Miles, 6 Miles, 7 Miles, 8 Miles, 9 Miles, 10 Miles, 11 Miles, 12 Miles and One Hour (He was the first Scot to run over 12 miles in the hour) and at 10000 metres. In all there were 19 record breaking runs.
AAA's Championships: He won the 3 Miles Championship in 1968 in a time of 13:28.4.
Not a bad record at all. We all read – and some cut out and kept the AW questionnaire which we reproduce below the photo of Lachie in his Vale of Leven strip.
The questionnaire: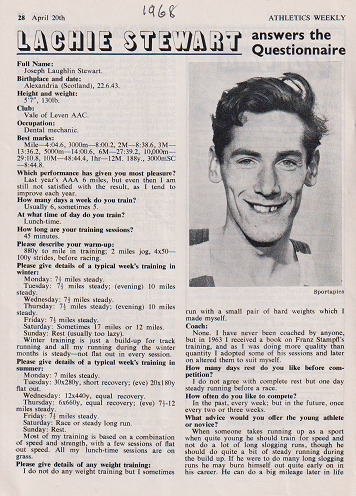 Colin Youngson adds: Lachie's article concludes with "if he wants to – when he knows more about his abilities" – very sound advice. Lachie Stewart (an inductee into the Scottish Sports Hall of Fame) is one of the most admired Scottish distance runners. His greatest achievement was winning the 10,000m in the 1970 Edinburgh Commonwealth Games. In addition, he raced in the 1972 Olympics; did the steeplechase in the 1966 Commonwealth Games; and was an extremely successful cross-country runner.