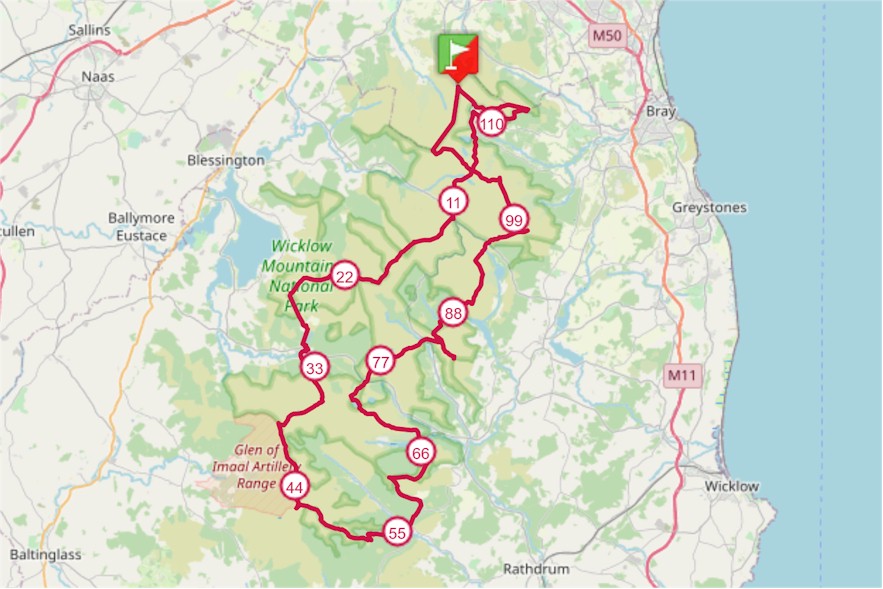 The Wicklow Round is a long-distance hill running challenge in the Wicklow Mountains in Ireland first run in 2008. The route follows a proscribed 100-kilometre (approx 62 miles) circuit of 26 mountains, which must be completed in a fixed order, that total over 6,000 metres (20,000 ft) of elevation; there is some flexibility on route-choices between peaks Rounds completed outside of a cut-off time of 24-hours are not generally recorded. Irish ultra-runner Joe Lalor is credited with the creation of the Round. Unusually the first person to complete the Round was Moire O'Sullivan, in a time of 22:58:30 on 29 May 2008. Unusually in that all the other rounds were first run by a man. O'Sullivan went on to write a book about her experience on the Round called Mud, Sweat, and Tears. The highest point is Lugnaquilla st 3035 feet.
Trail Running Ireland has this to say about the round:
Although the Round's peaks can sometimes be hard to classify as true mountains, it is the repetitive nature of the effort that makes it so tough. All runners who have completed it are quick to mention the navigational aspect as a defining feature of the round. There aren't always perfect peaks to the hills which aren't always linked by decent trails, requiring good portions of off road running. The route an athlete takes can gain or lose precious minutes on each and every peak, minutes which add up over the course of 15+ hours.
The record for the round is 15:04:30 set in May, 2019 by Gavin Byrne; the women's fastest time was 22:37:43 by Karina Jonina in May 2017.