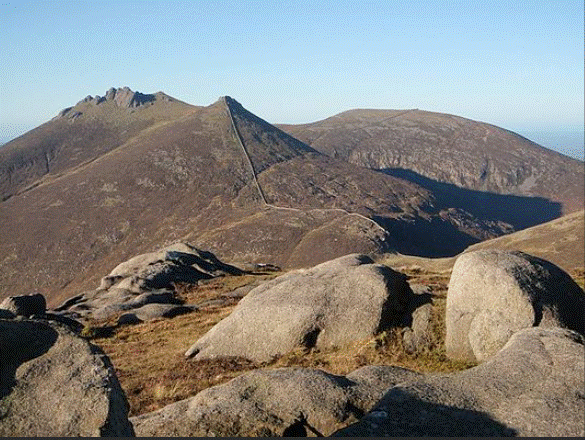 The Denis Rankin Round is a long distance hill running challenge around the Mourne Mountains in County Down, Northern Ireland The route is a circuit of over 90 kilometres, ie 56 miles, covering 26 miles with a total climb of over 6,500 metres, ie 20,000 feet. The Round must be completed within 24 hours to be considered a success. The Ultra-Trail du Mont-Blanc recognises the Round as a qualifying event. The Round is named after Denis Rankin, a pioneer and leading light in fell running and mountain marathons in Northern Ireland since the 1970's, who tragically died on 16th May 2013 competing in a fell race on Slievemoughanmore. This is not an organised event but a challenge open to all who believe they can circumnavigate the beautiful, rugged and demanding mountains of Mourne within 24 hours.
There have been various ways of doing it – eg Billy Reed from Ballyclare in Antrim has done a double round, the only man to have done so. His time for a single round was 20 hours 29 minutes and for the double round 43 hours 17 minutes. It can also be run as a club relay with the following rules:
Standard rules apply plus the list below (See Rules)
Five runners – One per section (no support runners)
Runners must be members of the same running club
One GPS tracker per team which is transferred between runners
Logistical support is allowed between sections
Nominate a team captain. This person will be responsible for registering your team through the standard process
The standard rules referred to are on the Round website and include such as the requirement to register the attempt 24 hours before starting, name, age, nationality, etc as well as start time and estimated finish time, direction (clockwise or anticlockwise) and whether the run is supported or unsupported. There are now 140 members and the round is noted as being first run in 2014.