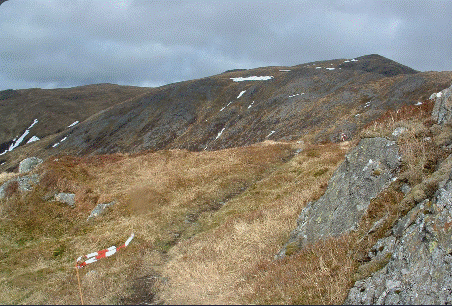 For such a small area, the distance from Callander in the Trossachs to Killin – not much over 20 miles – there are a lot of hill races. There are two Callander Crags races for a start (one in summer and one in winter), then as we head north there is Ben Ledi and nearby Ben Gullipen, heading north again we come to the village of Strathyre. This very small village hosts two hill races – the short, it's only 5K but a steep 5K, Ben Sheann (above) which is notorious for its midges, and the much longer Stuc a Chroin which is 22 K with 1500 ft of ascent. Finally, there are the two short races run from the local Highland Games, one in Lochearnhead and one from Killin. A total of 8 races.
Chronologically, the first of the year is the Callander Crags (Winter) held at the start of January starting and finishing in Tulipan Crescent directly opposite the very steep path through the woods. Short, steep and popular there were 124 runners in January 2020 with Ochil Hill Runners winning both men's and women's races. Ryan McGuire won the Men's race in 24:19 and Catriona Buchanan the Women's in 27:58. The summer version of the event is held right at the start of June with the same start and finish as the winter. Just as popular it is approximately two minutes quicker than the January race. The most recent result to hand is that for 2012 when the winner was Rory Downie of Squadra Porcini in 22:47 and first woman was Ciara Largey of Lochaber in 26:44. It is maybe appropriate at this point to note that local man Prasad Prasad has won all of the races on this page other than Killin – and a few more besides. He has won the Callander Crags winter race in 2013 in 2012 and 2013. As you go down the page you will see his name at the other races and there are victories in the one-off Callander Games Hill Race in 2011 and the nearby Ben Venue in 20:11.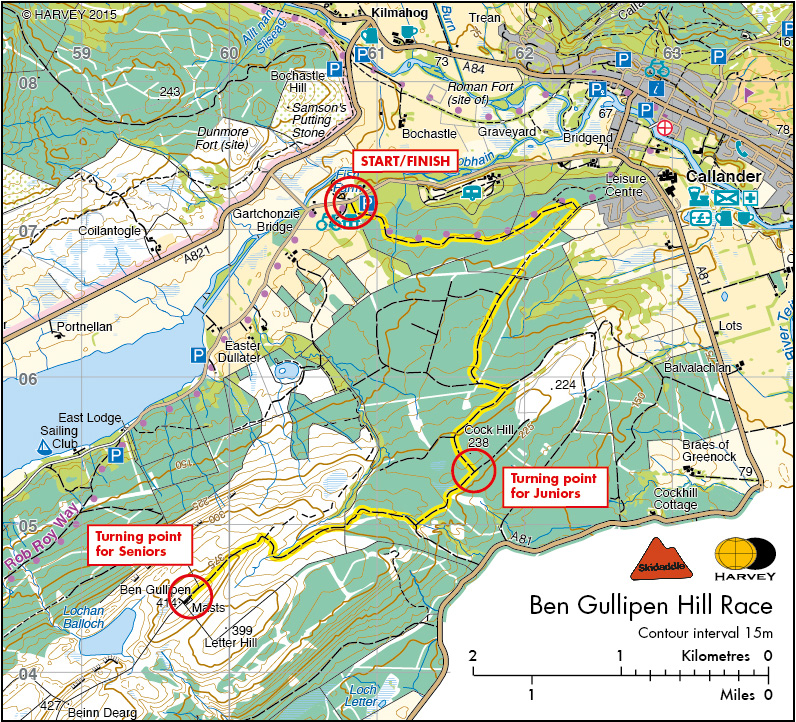 Ben Gullipen, just west of the main road at Kilmahog, is held in the first half of March. Not a steep one but scenically it is worth the trip. Described by some as a race of two halves, starts off with 4 miles up followed by 4 down. Almost all easy running on a Land Rover track with a nice gradient to pull you up the hill. Organised by local outfit 'skidaddle' it's not clear if it is run any more. Donald McPartlin of Garscube Harriers won it in 2017 in 51:12 and Sarah McKenzie of Lochaber was first woman in 67:56.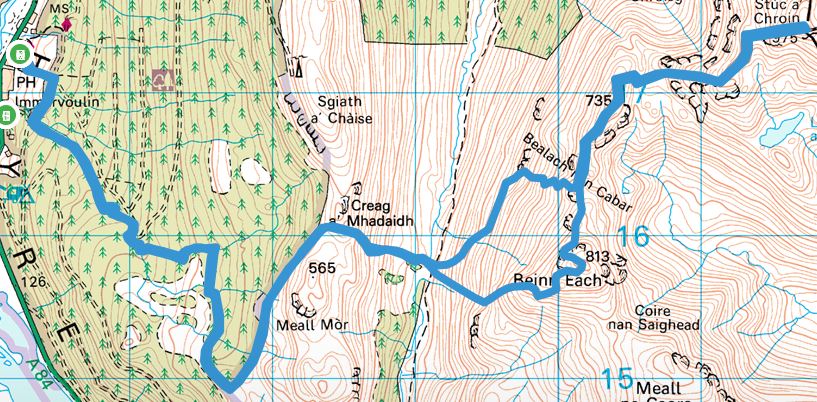 Map of whole course of Stuc a Chroin (from the race website)
Between these two comes Stuc a Chroin at the very start of May and Ben Sheann at the end. It is the Big Daddy of all the hills mentioned here. It is so close to Ben Vorlich that hill walkers often do them as a double Munro in the same day; they could maybe double up as a run too. However, for the present, it has been part of the British Championship and is a hard one. Starting with a climb up to the ridge overlooking Glen Ample, a drop down into the Glen then a climb up to Ben Each and along to Stuc a Chroin (a wee scramble there) and then back to the start. Winners between 1989 and 2014 show the quality of entrant attracted by the event.
Year
Runner
Club
Time
No of Entrants
1989
Mark Rigby
Westerlands
2.14.32
61
1990
Dave Weir
Perth Strathtay Harriers
2.13.26
53
1991
Andrew Peace
Bingley Harriers
2.04.08
235
1992
Dermot McGonigle
Shettleston
2.13.49
91
1993
Mark Rigby
Westerlands
2.03.58
142
1994
John Hooson
Ambleside
2.13.10
89
1995
Mark Rigby
Ambleside
2.00.57
205
1996
Mark Rigby
Westerlands
2.02.58
186
1997
Ian Holmes
Bingley Harriers
1.59.22
276
1998
Mark Rigby
Westerlands
2.05.53
111
1999
Jim Davis
Borrowdale
2.03.52
113
2000
Mark Rigby
Westerlands
2.15.44
113
2002
Mark Rigby
Ambleside
2.11.07
83
2003
Ian Holmes
Bingley Harriers
2.04.41
270
2004
Stewart Whitlie
Carnethy
2.13.41
123
2005
Stewart Whitlie
Carnethy
2.22.04
103
2006
Stewart Whitlie
Carnethy
2.20.30
122
2007
Stewart Whitlie
Carnethy
2.14.24
188
2008
Brian Marshall
H.E.L.P
2.15.32
126
2009
Jon Duncan
Warrior Orienteering
2.05.19
327
2010
Robbie Simpson
Deeside Runners
2.15.41
158
2011
Jim Davies
Borrowdale
2.17.54
143
2012
Prasad Prasad
Squadra Porcini
02:10:34
176
2013
Hector Haines
Hunters Bog Trotters
02:11:11
206
2014
Prasad Prasad
Squadra Porcini
02:13:03
163
Won by Finlay Wild in 2019 in 2:06:20 with Andrew Fallas of Carnethy in 2:11:36, the first woman that year was Jill Stephen of Hunter's Bog Trotters in 2:41:58. There were 168 runners for this one.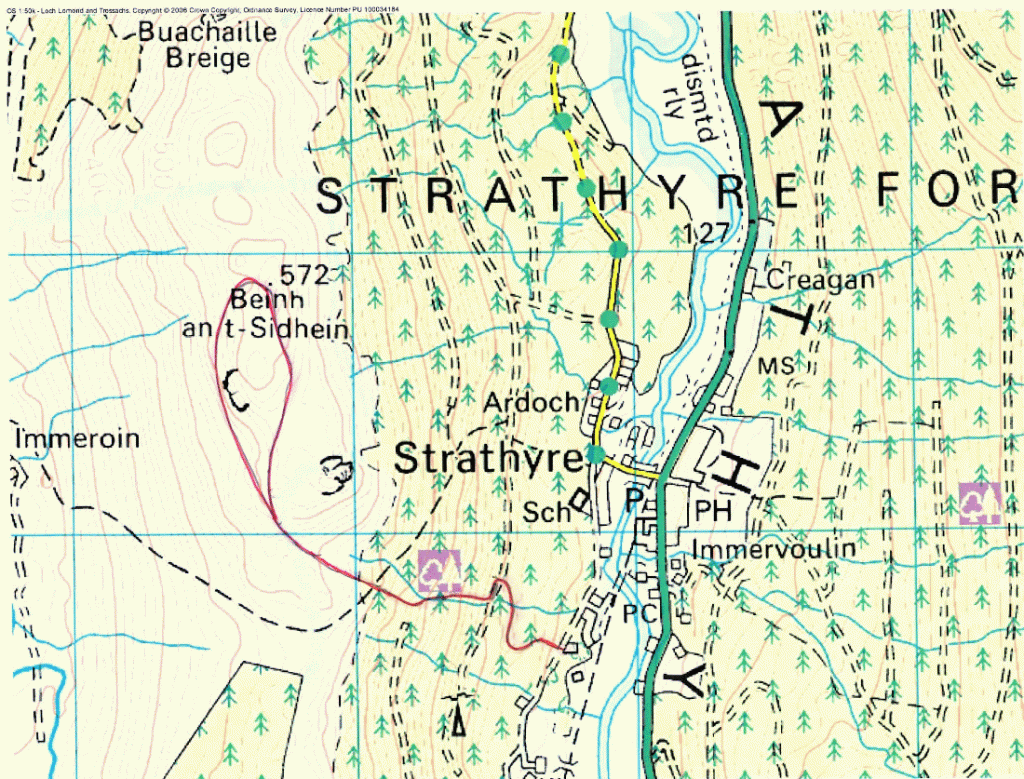 Ben Sheann Route (from race website)
Ben Sheann is a mid-week race at the end of May. The midges are no local legend – one runner was heard hoping that the race would start before he collapsed from blood loss. Scottish Hill Racing describes it as "A micro classic. A small race with a big feel. The race climbs steeply through the forest to the prominent summit of An Sidhean. After the summit, follow a loop around some boggy tussocky ground before lauching back into the forest for the final exciting descent. Expect midge hell. A new course was established in 2010 to replace the old route which has disappeared beneath forestry operations."
Although it only just over three miles, they are steep miles and if your uphill or downhill technique or courage is deficient, be sure it'll be found out. Race results back to 2005:
Year
Winner
Time
First Woman
Time
2005
Prasad Prasad
26:15
Niamh Mooney
34:58
2006
Prasad Prasad
28:52
Jo Whitehead
39:25
2007
Jamie Stevenson
26:16
Angela Mudge
27:37
2008
Prasad Prasad
25:35
Angela Mudge
28:02
2009
Prasad Prasad
24:01
Nicola Meekin
32:11
2010
Adam Gatens
27:48
Catriona Buchanan
31:57
2011
Alasdair Anthony
27:17
Christina Rankin
32:13
2012
James Tullie
26:47
Catriona Buchanan
33:56
2013
Stephen Rawlinson
26:37
Val Houston
35:16
2014
Tom Smith
26:32
Chriatina Rankin
35:12
2015
Dan Whitehead
28:22
Jill Stephen
36:13
2016
James Espie
26:46
Jill Stephen
33:11
2017
James Espie
26:37
Jill Stephen
32:10
2018
James Espie
25:19
Lettie McDonald
37:22
2019
James Espie
25:56
Ella Peters
34:23
The short Ben Ledi is held right at the start of July and is a popular walk with local people as well as those from further afield. The route is a simple one – approximately 10k – a loop which heads up Ben Ledi over the summit and down Stank Glen. It does not normally see as many runners lined up at the start of the race as the others in the years between 2013 and2017 inclusive there were 59, 39, 73, 80 and 53. It is a straight up-and-down with no problems at all of where you are supposed to be running. Recent winners were as follows.
| Year | Winner | Time | First Lady | Time |
| --- | --- | --- | --- | --- |
| 2013 | Craig Harvey | 54:26 | Alison Wylie | 75:16 |
| 2014 | Prasad Prasad | 57:13 | Elke Prasad | 69:12 |
| 2015 | Prasad Prasad | 51:44 | Charlotte Morgan | 64:29 |
| 2016 | Graham Gristwood | 51:23 | Fanni Gristwood | 63:33 |
| 2017 | Jacob Adkin | 50:05 | Ausrine Ward | 82:59 |
*
Later in July there is the very short hill race at Lochearnhead. Incorporated into the Balquhidder, Lochearnhead & Strathyre Highland Games, the race is approximately 3 miles and has 1600 feet of ascent. Usually a small field, sometimes the race has a good runner or maybe two. It is hard to tell since the Games website does not keep results of past races. Not as high profile as Stuc a Chroin, not as scenic as Ben Gullipen or Killin, the hill race is worth doing as part of the series. Still, it is a good challenge for any runner.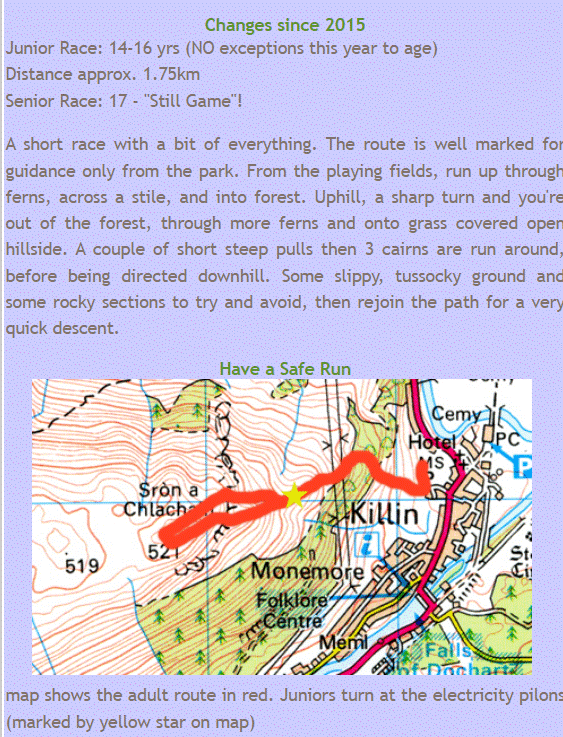 The Killin race is another mid-week one held on a Wednesday in conjunction with the local highland games. It is a short, fairly popular race, probably because of the location, and for a short midweek race often attracts athletes of a good calibre. Recent race results –
2014: 1. Colin Donnelly, 21:55; 2. S Rawlinson, 22:02; 3. A Barrington, 22:25. First Woman: S Heward, 32:30; 2. J Bowman, 37:30; 3. V Lee, 42:19
There was no meeting in 2015.
2016: 1. S Rawlinson, 22:17; 2. C.Donnelly, 22:56; 3. S Fallon, 25:15. First Woman: D MacDonald, 31:50; 2. H Porter, 33:35; 3. S Heward, 34:36.
2017: 1. S Rawlinson, Lochtayside, 21:56; 2. C. Donnelly, Hawick, 24:18; T. Videman, Czech Republic, 25:29. First Woman D MacDonald, Inverness, 27:24; 2. F Wharton, Kendal 30:43; 3. Jen Gane, Lochtayside 32:21
2018: 1. R Jebb, 21:09.5; 2. R Abernethy, 21:12.6; 3. S Rawlinson, 22:55.2. First Woman: S Taylor, 27:59.7; 2. J Turner, 31:07.7; K Sharp, 34:34.6.
2019: 1. A Campbell, 22:19.9; 2. Murray Strain 22:53.0; 3. S Rawlinson, 24:17.3. First Woman: L Knox, 32:34.4; 2. V Thornton, 34:20.3; 3. M Best, 35:16.6.
2022: 1. J Esdie, 22:34; 2. T Knox, 23:57; 3. S Rawlinson, 24:05. First Woman: Esther Hulley, 33:05; 2. Jennifer Hulley, 35:50; 3. M Kuiper, 37:40.
There is also a Junior Hill Race but there are no track events. The Killin Highland Games has an international flavour to it that many other Games lack. Athletes come from all over Europe (France, Belgium, Italy, the Czech Republic have all appeared recently) and the Heavy events have seen athletes from the United States, the antipodes as well as Europe taking part. Of course England and Wales are represented, maybe especially in the hill race where well known fell runners from Kendal and other clubs are frequently in action. A good meeting, an enjoyable race at an attractive venue.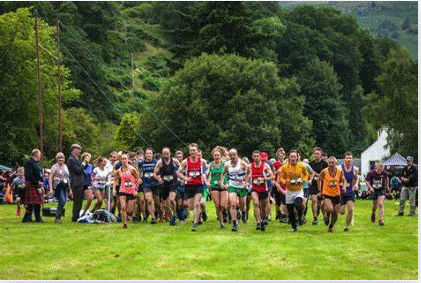 Prasad Prasad has won the Lochearnhead Games mentioned too – unfortunately BLS Games don't have race winners on their website for us to see how often. However, there it is – a whole series of races which are all withing about 20 miles and ranging from 3 miles to the 2 hours+ of Stuc a Chroin. You could have a good summer doing these races alone, or just travelling to see them, enjoying the scenery, the cafes and the races too of course!