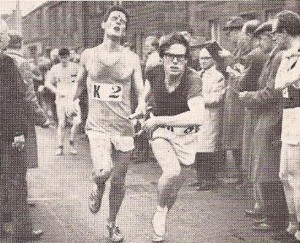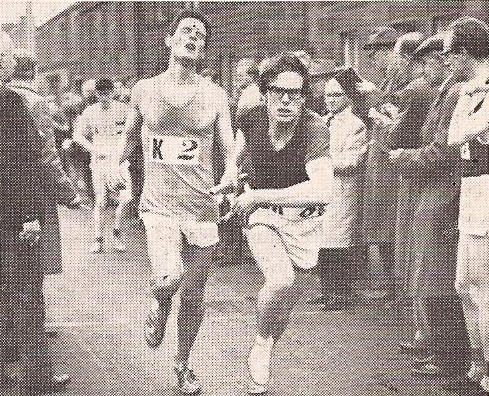 . . .Fergus Murray to G  Evans, 1964
The Blue Riband of the Scottish winter season was undoubtedly the eight stage Edinburgh to Glasgow Relay.   Started in the early 1930's and suspended during the war years, it started up again n April 1949 and the first University teams to take part were Edinburgh and Glasgow.   Other teams to compete were from Strathclyde University, Aberdeen University and St Andrews University.   Both Edinburgh University and Glasgow University took part in 1954 and they were the only two to run in the event until 1959 when St Andrews entered a team.   All three took part until 1964 when both Strathclyde and Aberdeen brought the number of university teams in the race up to five – or a quarter of the total.   When St Andrews finished 20th and last in1965, they dropped out until 1972.    The remaining four teams continued to turn out  until that year when Aberdeen dropped out for a year.
Other than Edinburgh University (17th in 1988, and 17th again in 1991, there were no teams from any of the Universities after 1986 – and the newer establishments such as Dundee University and Heriot-Watt University did not take part at any time.   The respective totals for appearances in the race were: Glasgow University Hares & Hounds  30,   Edinburgh University Hare & Hounds 34,   Strathclyde University 13,   Aberdeen University  9, St Andrews 9.
Medals were won by Glasgow University for third place in 1960 and 1962 and by Edinburgh University for second in 1964, first in 1965, 1966 and 1967 and third in 1969.
The best university team ever to have taken part is universally accepted to be the Edinburgh squad from . . . . . the mid 60s.   The team is profiled by Colin Youngson here   and the Glasgow squad is here
Glasgow University was the first university to win medals in the race.   The 1960 race was won by Shettleston Harriers from Bellahouston Harriers with the students third – Colin Shields in his centenary history of the SCCU commented on the good runs from Douglas Gifford and Calum Laing but the truth is that the whole team ran well.   Jim Bogan was twelfth on the first stage and Calum pulled them up to fourth with the second fastest run on the second stage, only Joe Connolly of Bellahouston was faster and then Ken Rogers (second on the stage) moved up to third.   WS Hunter (third fastest) dropped back to fourth and the place was held by J Gray (seventh fastest) and Douglas Gifford (fourth fastest on the long sixth stage) before Dick Hartley on the seventh stage moved up to third with second fastest and then Tor Denstad ( second fastest on the stage) held that to the finish.   It was a very good team performance to get in among the medals.   In 1962, the performance was again a superb team effort :   Dick Hartley was fourth on the first leg, Calum Laing ran the fastest time on the second stage and moved up to first place with Jim Bogan on the short third stage losing a place only to the day's fastest time to hand over in second.   Gifford held the place with fourth quickest on the stage, followed by Ray Baillie who dropped to third, although he did run the fourth fastest time on his stage.   Allan Faulds (fourth fastest), Cameron Shepherd (third) and B Scott ( eighth) held third to see the bronze medals safely going back to Westerlands.
.*
Start of the race in 1960: Jim Bogan of Glasgow fourth from the right with Robert Clark of Edinburgh fifth from the right
If the GU H&H efforts were good, Edinburgh University was quite outstanding and they were in fact the best cross-country and road team in the country in the mid to late 60's.   Their progress had been steady – 10th in 1960, 9th in 1961, 8th in 1962, 5th in 1963 – and then an excellent second in 1964.   The heroes were Alistair Blamire (4th), Fergus Murray (1st), G Evans (1st), Jim Wight (4th), Chris Elson (3rd), Roger Young (4th), Frank Gamwell (3rd) and Ian Young (2nd).   Murray and Ian Young had fastest times on their stages.   Going in to the 1965 race, they were slight favourites but Motherwell YMCA with the Brown brothers, Ian McCafferty. Bert McKay and Dick Wedlock and many very good support runners had won the race three times in succession and were well capable of winning it again.  However, it was not to be for the Lanarkshire team – it was to be the first time that a University team had won the big race.   The 'Glasgow Herald' said:
Edinburgh University have done it at last.   With a team of eight green-vested, grim faced stoics they hurled Motherwell YMCA's efforts to the ground on Saturday in the Edinburgh to Glasgow relay race, and in so doing set a wonderful race record of 3 hr 36 min 32 sec, more than seven minutes faster than the previous best time, set by Shettleston Harriers in 1961.   In second place were Motherwell, 80 sec behind, and third were Victoria Park, their best performance since 1959.  
How easy it would be to say that Motherwell, the holders since 1962, were beaten because they were weak in two of the stages.   Certainly on the third and fifth legs they allowed the reins to slide disastrously through their fingers such was the lethargic response from their two men.   But the truth is that the students were solid in every department along the course, with perhaps the exception of W Allan on the third leg.  So superior were they that on six of the eight legs they had better times than Motherwell's runners, a fact that gives a more realistic reason for the Lanarkshire team's demise.  
Two athletes were outstanding.   AF Murray (Edinburray (Edinburgh University) and Andrew Brown (Motherwell).  The former, given a lead of 80 yards over WH Barrow (Victoria Park) and one of about 180 yards over I McCafferty (Motherwell)   on the sixth stage from Forestfield to the Airdrie War Memorial (seven miles) wound himself up and pounded over the distance at an average speed of 13.4 miles per hour.   That killed off any vestige of a challenge from the two others and Murray gained another 38 seconds for his club over Motherwell.   At a mile an hour slower, Andrew Brown had given chase earlier – on the fourth leg – to an out-of-sight A Smith (Victoria Park) who had been given a good lead on the field by P Maclagan.   Inexorably Brown gave himself a clearer view of of his quarry and at 1:05 pm, going through Bathgate – halfway to Glasgow – he put Motherwell in the lead.   That had been indeed an excellent recovery by Brown.
Edinburgh University went into the lead on the next stage when F Gamwell caught up with and overtook W Marshall.    Gamwell appeared to be suffering from a stitch about half a mile from the end of his stint but he still managed to give Murray a handsome send off.   "
A good account but maybe a bit harsh on Allan (after all he was third fastest on the stage), Poulton (fourth fastest on the third stage for Motherwell) and Willie Marshall (fifth fastest on the fifth stage for Motherwell.   Given that the Hare & Hounds broke the old record by over 7 minutes and Motherwell were more than five minutes inside that record, no one in either club could have been pulling less than their weight.   However, it was a top class run however you look at it and a first for any University team.
But Edinburgh University was not yet done with the E-G.   They won again in 1966.   This time the reporter is Colin Shields in his fine book, "Whatever the Weather":
"They achieved their second win with another fine display of consistent team running in a time of 3hrs 36min 53sec – just 21 seconds outside their own record.   They produced four of the eight fastest stage times with three of the runs being in record time.   Alistair Blamire equalled his own first stage record; Ian Hathorn set a new record  of 21 min 05 sec on the hilly third stage; Jim Wight was fastest on the seventh stage with his run of 28 min 10 sec and Chris Elson took nine seconds from the final stage record with his run of 28 min 21 sec to bring Edinburgh home to a clear victory.   They finished almost three quarters of a mile ahead of Victoria Park with Motherwell YMCA finishing third, just four seconds ahead of Aberdeen AAC.".  
*
There's an old saying that everything goes in threes.   There is usually nothing to it of course, but in the case of Edinburgh University H&H and the Edinburgh to Glasgow it rang true.   They won it again in 1967.   Ian Hathorn was eighth on the first stage and the team worked its way through the field so that at the start of the fifth stage they were in first position and they never went back at any point.   8th to 5th to 4th to first!   Remarkable.   The 'Glasgow Herald' made it sound a bit harder than that though.
"Edinburgh University, hustled out of their stride by more than one club during the early part of the Edinburgh to Glasgow, finally came through with less assurance – and a smaller margin of victory – than when they won last year and in 1965.   I suppose if it all works out right in the end, then a club's decision on where to run  their men is justified.   But I would have thought that the students might have put  Blamire, last year's record breaker on the five and a half miles of the first leg, on it again.   Instead Hathorn, who set a record on the four mile stage last year, did little towards lifting his team's morale by coming in eighth in the initial leg more than a minute and a half behind the leader.   
Blamire on the second leg wasted no time in overtaking Greenock Glenpark's man and the representative of the race's only non-Scottish club, the 9th Old Boys from Belfast.   Passing the showground at Ingliston the Edinburgh runner padded along for a mile with Johnston (Victoria Park) and then shot clear of him.   Blamire caught no one else after that , an indication of the gap that had developed before he received the baton.
The University moved into third place in the third leg and over the next stage Logue finally put the holders in their accustomed position by covering the five and three quarter miles in exactly half an hour.   Young, Bryan-Jones, Jim Wight  and Elson finished the job for an aggregate time of 3 hrs 44 min 30 sec, about eight minutes outside the record set by them two years ago."
Everybody wants to pick the team, whatever the sport, and it's especially simple after the event.   There is no weak link in a team that wins the race.   If one of your top men – and a guy who set a stage record has to be in that category – is a bit off form, then there is a very good case for setting him off first and then the others at least know the task ahead of them and can work accordingly.   It is also possible of course that a runner who is in very good nick has a bad day for reasons that later become apparent – for instance one year the first runner for a team expected to be among the challengers ran really badly – he had contracted an allergy to some food that he had consumed the previous night and the result was unforeseeable.   The team won, so the selectors and runners had done their job.
The team that finished third in 1969 was a very good one indeed – in running order with their place in brackets it was Jim Dingwall (3), Andy McKean (4), Dave Taylor (5), Dave Logue (3), D Glover (3), Alistair Blamire (3), J McFie (3) and R Hendry (3).   They were beaten by Edinburgh Southern (with at least two former EU runners in their ranks) and Shettleston with Lachie Stewart, Norman Morrion and Dick Wedlock among those carrying the baton.
*
The standard of competition in the E-G was such that it took a very strong team of eight men running at or near their best to get in among the gold, silver and bronze rewards.   The incentive to get a place in the race was great and clubs strove mightily just to be invited to compete.   However, there was another 'prize' there for clubs who would not win any of the precious metals: the award for the most meritorious performance by an unplaced team.   That's what it was for: I quote: "An extra set of bronze medals will be awarded to the unplaced team who gave the most meritorious performance."   At various times these medals have been described as for the most improved team – not so.   The judges responsible for deciding on the 'most meritorious performance' were listed in the programme for the race.   Sometimes it did indeed go to the most improved team (however that was decided (was 19th to 10th better than 11th to 5th for instance?) but at other times it went to a team which in its very first appearance in the race  finished fairly high up, at other times it seemed to go for consistency (eg a team that had finished say 5th, 6th and 5th in successive years).   Whatever, it was much sought after.   Three University teams won this medal:
in 1962 St Andrews won it after finishing eleventh – they had been nineteenth the previous year; in 1964 Aberdeen University won it in their very first year in the race; and in 1967 Strathclyde University won it after finishing twelfth, having been twentieth the last time around.   These teams all had very good runners in them – the St Andrews squad included Donald Macgregor on the second stage, the Aberdeen crew had Bill Ewing on the second stage and the Strathclyde team had John Myatt occupying that position.   And that's the sum total of medals won by university teams in the race.   None after 1969 but that's not the only measure of success: great athletes like Frank Clement, Lawrie Spence and John Myatt turned out for their team regardless of the fact that the team did not have any chance of medals and so gave other students the opportunity of taking part – and incidentally gave club runners an opportunity to race against the stars over a different distance.   The same is true, of course for the others – Bill Ewing for Aberdeen and Don Macgregor for St Andrews and so on.
It was a wonderful, high quality event and the whole standard of Scottish cross-country and road running dropped when it was abandoned.   The University teams all added to the atmosphere and standard of the race and it is interesting that Glasgow and Edinburgh 'old boys' in the form of Westerlands and Hunters Bog Trotters also competed in the race – sometimes alongside the university teams.