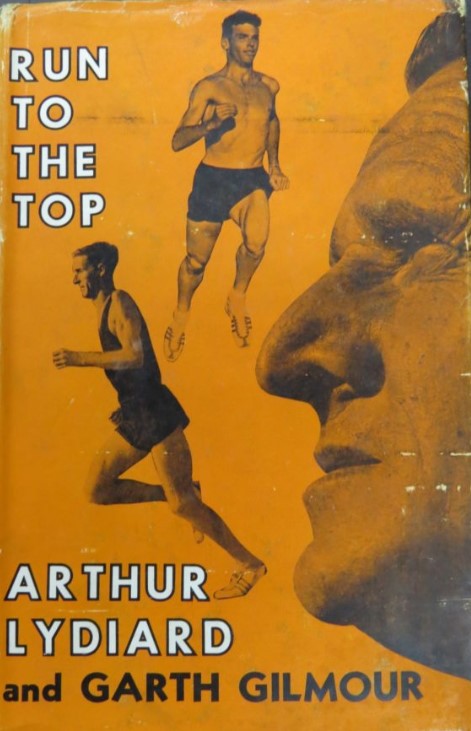 The picture above shows Arthur Lydiard and two of his most famous athletes – Peter Snell and Murray Halberg – on the cover of his best known book which altered distance running training dramatically. This was not just in his home in New Zealand, nor in the several countries in which he worked as a professional coach (Finland, Mexico) but wherever there were distance runners, distance running coaches. He also appealed to people who just wanted to run for health reasons and is credited with starting the jogging boom which was developed by Bill Bowerman. Not all those who know and like and have adopted his approach to training realise that he was a very good runner himself. The photograph below shows him on second place on the podium after the New Zealand National Marathon in 1949. The following year he represented his country in the Empire Games in Auckland finishing 12th in the marathon.
Lydiard presided over New Zealand's golden era in world track and field during the 1960s sending Murray Halberg, Peter Snell and Barry Magee to the podium at the 1960 Summer Olympics in Rome. The rather hackneyed question of "Where were you when …" becomes for us "When did you first hear about Arthur Lydiard?" For most of us it was at these very Olympics when the three already mentioned won medals for the country. Snell was magnificent, defeating Moens of Belgium and the very smooth running George Kerr of the West Indies, Halberg was a source of wonder when he beat Grodotzki of a united German team and Magee? The spectacular marathon in every sense of the word: run in the dark, two Africans shoulder to shoulder for most of the way, the one in bare feet from Ethiopia beating the Moroccan by 25 seconds with Magee third. Times: Bikila 2:15:16.2 (a world best), Rhadi 2:15:41.6 and Magee 2:17:18.2. By the way, Magee had run in the 10,000m where he finished 26th, two days earlier. Marvellous running by all three and that was when we heard of Arthur Lydiard. We were desperate to hear more, that was true whether we ran 800m, 10,000m or 42.195 km.
What did we read before the book appeared on the shelves? The BAAB Booklets on Middle Distance Running or Marathon and Distance Running by such as Jim Alford which were good but nowhere as detailed as Lydiard; at club level experienced coaches followed the Conditioning period over the winter (often just a lot of steady running), a pre-season period and then the summer racing season. These were often of unspecified lengths of time and individual coaches had their own tips and wrinkles. Lydiard's notions of the periodised year and coaches working backwards were revolutionary.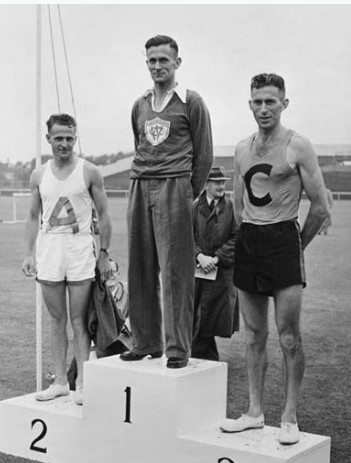 The following brief account of his training philosophy is taken from the Wikipedia entry as being the most succinct overview.
The marathon-conditioning phase of Lydiard's system is known as base training, as it creates the foundation for all subsequent training. Lydiard's emphasis on an endurance base for his athletes, combined with his introduction of periodisation in the training of distance runners, were the decisive elements in the world-beating success of the athletes he coached or influenced. All of the training elements were already there in the training of Roger Bannister, the first miler who broke the 4-minute barrier for the mile, but Lydiard increased distance and intensity of training and directed periodisation towards the Olympics and not the breaking of records.
Periodisation comprises emphasising different aspects of training in successive phases as an athlete approaches an intended target race.
After the base training phase, ie marathon training phase above), Lydiard advocated four to six weeks of strength work. This included hill running and springing. This improved running economy under maximal anaerobic conditions without the strain on the achilles tendon, as it was still done in training shoes.
Only after this were spikes put on and a maximum of four weeks of anaerobic training followed. (Lydiard found through physiological testing that four weeks was the maximum amount of anaerobic development needed—any more caused negative effects such a decrease in aerobic enzymes and increased mental stress, often referred to as burnout, due to lowered blood pH.)
Then followed a co-ordination phase of six weeks in which anaerobic work and volume taper off and the athlete races each week, learning from each race to fine-tune himself or herself for the target race. For Lydiard's greatest athletes the target race was invariably an Olympic final.
Lydiard was renowned for his uncanny knack of ensuring that his athletes peaked for their most important races and, apart from his tremendous charisma and extraordinary ability to inspire and motivate athletes, this was largely a product of the periodisation principle he introduced into running training.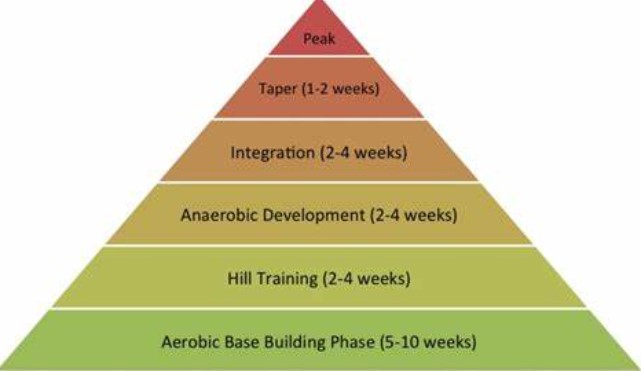 The progressive sharpening towards the targeted race is illustrated in this Pyramid by the 'Running Wizard' ( a site well worth visiting for many reasons – go to
In the base training phase of his system Lydiard insisted, dogmatically, that his athletes—not least 800 metres athlete Peter Snell—must train 100 miles (160 km) a week. He was completely inflexible on this requirement. In the 1950s and 1960s, during the base phase of their training the athletes under Lydiard's tutelage would run a 35 km Sunday training route, starting from his famed 5 Wainwright Avenue address in Mt Roskill, through steep and winding roads in the Waitakere mountain ranges. The total cumulative ascent in the Waitakeres was over 500 metres. After laying such an arduous endurance base Lydiard's athletes—including Murray Halberg, Peter Snell, Barry Magee and John Davies—were ready to challenge the world, winning six Olympic medals amongst them in the 1960 Rome Olympics and the 1964 Tokyo Olympics. "
The emphasis on the word 'dogmatically' is mine. Like all ambassadors or evangelists for a new method he insisted that it was done exactly his way. Many found it impossible to run 100 miles a week – their bodies just could not handle it. But he, and those who had come through his training in person, stood by the dosage: Peter Snell for instance credited it with all his successes including world records and Olympic medals. He was of course, wherever he went, expected to advocate what was in 'the book'. Lydiard wrote several books with the able assistance of Garth Gilmour, but two were pioneering works – "Run To The Top" written in 1962, and "Jogging with Lydiard" in 1983.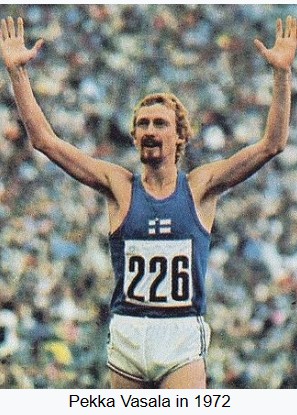 In the late 1960's he went to work in Finland where he enjoyed great success and is credited with the success 0f such as Pekka Vasala who won gold in the 1972 Munich Olympics and Lasse Viren who won double gold in 5000m and 10,000m at both Munich and Montreal Olympics. He then moved on to Mexico where he was again successful in raising the standard of endurance running without emulating international games success as he had done previously.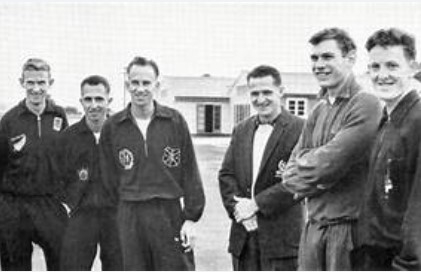 Lydiard with some of his great New Zealand squad – spot Halberg, Magee, Snell, Puckett
In Scotland his notions were adopted with enthusiasm, partly because of the obvious success that the New Zealand group had found with them, but also because it said in clear terms "Here Is What You Do": 10 weeks of this, six weeks of that, etc. But there were difficulties for some in following it through for personal reasons to do with their physical make up. Although it was often possible to work round that, there were also difficulties with the weather. When he said that there were never any reasons not to go out, his runners were out in all weathers, that was fine.
An example: the book was produced in 1962 and reached Clydebank in time for winter '64/'65. Two of us decided to give it a go and working backwards from the SAAA Marathon in 1965 started on our 100 mpw in October. That was a particularly hard winter. Lots of snow – icy pavements and even worse on occasion when it was black ice. If most of your running had to be done on roads, then black ice was to be avoided. There was also at that time serious mist, almost fog. Nothing like the pea soupers of old but dense enough for us to not hear traffic which was going slowly and quietly along the road. Nevertheless, with these minor reservations, his periodised year was adopted in Scotland with a fair degree of success by followers. The joke question was "Aye, but do you do your 100 miles a week fast or steady?"
Lydiard and his five principles remain as possibly the best and shortest guide to endurance running: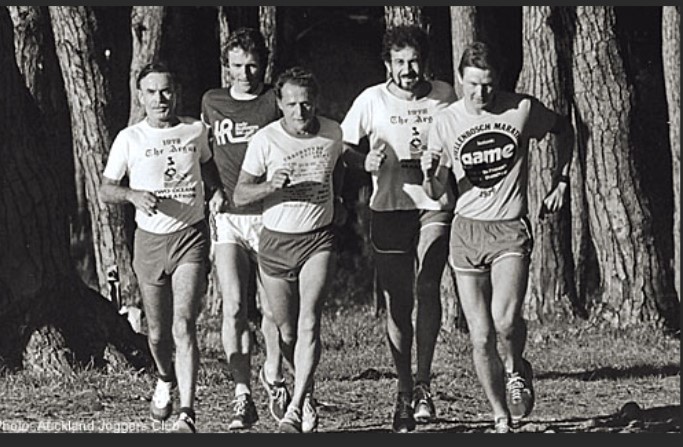 You can read more about the man, his theories and his deeds at the following links (note that the second one is a 33 page document):
Free Starter Plans — Lydiard™ Foundation (lydiardfoundation.org)
ARTHUR LYDIARD'S LECTURE (webs.com)
Training of Peter Snell – SweatElite
There are lots more but don't forget the comprehensive article in Wikipedia at