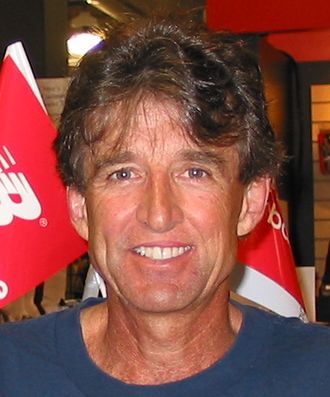 Frank Shorter at Boston in 2022
In the 70's and 80's many of the top marathon runners were approached and were pleased to accept invitations to write their thoughts, opinions and theories on training and racing long distances. Ron Daws and Kenny Moore in America were among the most avidly read. Frank Shorter was probably the most successful among them and we include him here. He is a representative of a group of runners giving advice and examples of his training.
Frank Charles Shorter (born October 31, 1947) is an American former long-distance runner who won the gold medal in the marathon at the 1972 Summer Olympics and the silver medal at the 1976 Summer Olympics. His Olympic success, along with the achievements of other American runners, is credited with igniting the running boom in the United States during the 1970s. He ran and raced on all surfaces: track, country and road but it is as a marathon runner that he is best known. His record there is really phenomenal. We should start by looking at his pedigree as a runner.
First, we'll look at his world rankings
| | | | |
| --- | --- | --- | --- |
| Year | Marathon | 10000m | 5000m |
| 1970 | – | 2nd | – |
| 1971 | 1st | – | – |
| 1972 | 1st | 5th | – |
| 1973 | 1st | – | – |
| 1974 | 2nd | 5th | – |
| 1975 | – | 2nd | 10th |
| 1976 | 2nd | – | |
Domestically, his USA rankings were as follows.
| | | | |
| --- | --- | --- | --- |
| Year | Marathon | 10000m | 5000m |
| 1969 | – | 3rd | 6th |
| 1970 | – | 1st | 2nd |
| 1971 | 1st | 1st | 4th |
| 1972 | 1st | 1st | 10th |
| 1973 | 1st | 5th | 7th |
| 1974 | 1st | 1st | 4th |
| 1975 | – | 1st | 3rd |
| 1976 | 1st | 2nd | 5th |
| 1977 | – | 1st | 7th |
The rankings given are all exceptionally good – remember the standards in the USA at the time and that, in Olympic years, all the top 5000m and 10000m specialists would be 'bustin' a gut' to make the teams. As an all round endurance runner he is ranked very highly among the world's best. His personal best times certainly stack up well in any company:
| Distance | Time | Year |
| --- | --- | --- |
| 2 miles | 8:26.2 | 1971 |
| 3 miles | 12:52.0 | 1974 |
| 5000 metres | 13:26.60 | 1977 |
| 10000 metres | 27:45.91 | 1975 |
| Marathon | 2:10:30 | 1972 |
If there is still any doubt at all of his pedigree as an athlete, look at this extract from Wikipedia for a bit about his competitive record.
Shorter won the U.S. national cross-country championships four times (1970–1973). He was the U.S. Olympic Trials champion in both the 10,000-meter run and the marathon in both 1972 and 1976. He also won both the 10,000-meter run and the marathon at the 1971 Pan American Games. Shorter was a four-time winner of the Fukuoka Marathon (1971–1974), generally recognized as the most prestigious marathon in the world at that time and held on a very fast course. His career best of 2:10:30 was set at that race on December 3, 1972. Several months later, on March 18, 1973, Shorter won the elite Lake Biwa Marathon in 2:12:03. He won the prestigious 7-mile Falmouth Road Race on Cape Cod in 1975 and 1976 and Atlanta's 10-kilometer Peachtree Road Race in 1977. Shorter achieved his greatest recognition in the marathon, and he is the only American athlete to win two medals in the Olympic marathon."
The runner always asks the same question about any top athlete – what training does he do?
"Runner's Tribe" says the following.
Training Specifics
"I've always had a simple view of training for distance running: two hard interval sessions a week and one long run – 20 miles or two hours, whichever comes first. Every other run is aerobic, and you do as much of that for volume as you can handle. Do this for two or three years, and you'll get good" – Frank Shorter.
The magazine comments – Shorter was incredibly consistent. During the entire 1970s decade, he averaged 17 miles per day, every day. Some interesting points of note about Shorter's training:-
He needed 10 hours of sleep per night, otherwise, his training suffered.
He ran 7-10 miles every morning except Sunday.
He listened to his body carefully and trained just below his limit.
Well, there's something there but not a lot. A very good, but not outstanding, distance runner of my acquaintance said training was "two effort sessions a week, long run on Sunday and plenty of steady running." That recipe is the one followed by distance runners the length and breadth of the country. 10 hours sleep a night is difficult for many to fit in. "Every other run is aerobic" says nothing about how many other runs or the length of them. But what training did he actually do himself?
There is a lot more detail in the sweatelite article which you can find at https://www.sweatelite.co/frank-shorter-training/It goes into far more detail than most with theory mixed in with practical information. It is a recommended read if you are interested in what a superb long distance runner was doing in the 1970s. A couple of extracts from the article –

"Frank started out in college as a 5000m runner and he says that this laid the foundation for his training and racing right through his career, continuing to approach his training in a very similar way even when stepping up in distance to race marathons. His training was very polarised. Frank is adamant that he never ran intervals slower than 65s/lap pace – right around 5km pace.

Looking to extend his range and move in to marathoning, he moved to Florida in 1970 to train with Jack Bacheler who was one of the preeminent US runners at the time. Bacheler's Sunday ritual was a twenty-mile long run – Shorter joined the weekly pilgrimage.

Frank was self-coached from his junior year in college onwards but found that seeking out mentors (who often happened to be training partners) was what worked well for him.

These long runs with Jack Bacheler were very slow according to Frank; just jogging, not timing anything, chatting the whole way. He said that he learnt from Jack the importance of going very easy on easy days. One of his mottos was 'never go so hard on your easy days that it interferes with the next hard day'." and further down –

Frank said he would run twice per day except Sundays. He would do two interval sessions per week, as well as a race most weekends. When not racing on the Saturday he would go to the track for speed work – a regular workout being 16 x 200m in 27-28s, float 200m between.

Frank's reasoning for doing such fast workouts relative to race pace (especially when racing the marathon) was that in his mind, the greater the delta between training pace and race pace, the more comfortable and therefore sustainable running at that race pace becomes. Once he was feeling more comfortable running these workouts and was happy with how fast they were, he would begin to shorten recovery rather than increasing the pace of intervals.

Some more example sessions include:

6 x 800 in 2.08 down to 2.00 (jog 200-400 recovery – depending on altitude and fitness)

12 x 400 in ~61s average, finishing under 60 (jog 200-400 recovery)

Shortening the recovery and increasing the speed of the recovery jog in these workouts was used to simulate the surges experienced in races – improving the ability to recover quickly even at a higher pace. Sometimes the 800s would be run as 200 in 35s, 400 in 60s, 200 in 35s… Which Frank used to simulate surging in races."

According to "Running Coach" [ https://blog.runningcoach.me/en/2015/10/06/everyone-can-learn-from-running-legend-frank-shorter/ ] this is what his training weeks looked like:
| | | |
| --- | --- | --- |
| Day | Morning | Afternoon/Evening |
| Monday | 11 km (4:00 – 4:23 min/Km) | 16 Km (4:00 min/Km) |
| Tuesday | 11 Km (4:00 – 4:23 min/Km) | 4 x 1200m (3:06 – 3:12 min/Km |
| Wednesday | 11 Km (4:00 – 4:23 min/Km) | 11 Km (4:00 – 4:23 min/Km) |
| Thursday | 11 Km (4:00 – 4:23 min/Km) | 12 x 400m (1:00 – 1:01) |
| Friday | 11 Km (4:00 – 4:23 min/Km) | 11 Km (4:00 – 4:23 min/Km) |
| Saturday | 11 Km (4:00 – 4:23 min/Km) | Competition 16 Km |
| Sunday | 32 Km (16 Km 4:00 min/Km, 16 Km near 3:07/Km) | |
(Source: Timothy Noakes, Lore of Running, Capetown 2003, 419.)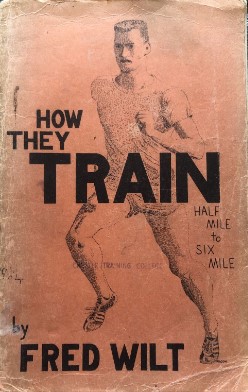 "How They Train" by Fred Wilt was a real mine of information for the dedicated marathon runner: information about all the top endurance athletes of the day, how they trained and raced. As a very good athlete himself he knew what information was relevant and also what aspiring marathon runners wanted. (Not always the same thing). The following page from the above book has been provided by Colin Youngson.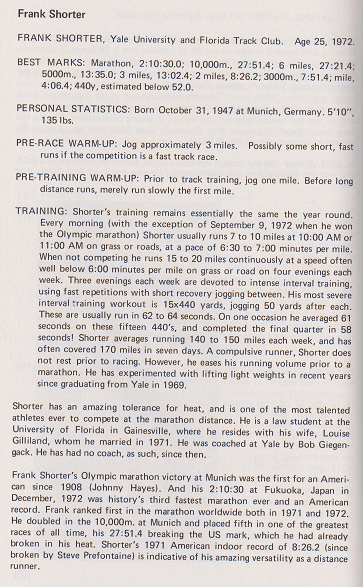 The above sources are all very illuminating with the extract from Fred Wilt being the most comprehensive and illuminating.
NOTE: Unlike Lydiard and van Aaken, he trained the same all year round. That is a comment that has been made time and again in magazines and books. There was no periodisation of the racing year. Yet he obtained results on a year round basis.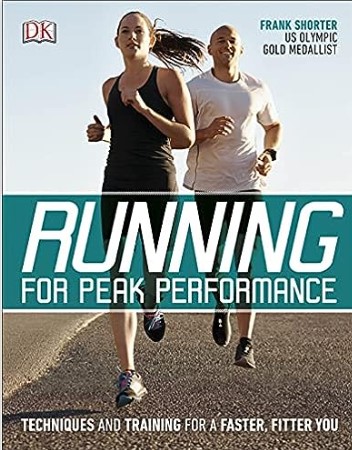 But what did he recommend others do? The book illustrated above is probably the best known of his in this regard. The List of Contents is always a good place to start when examining any book –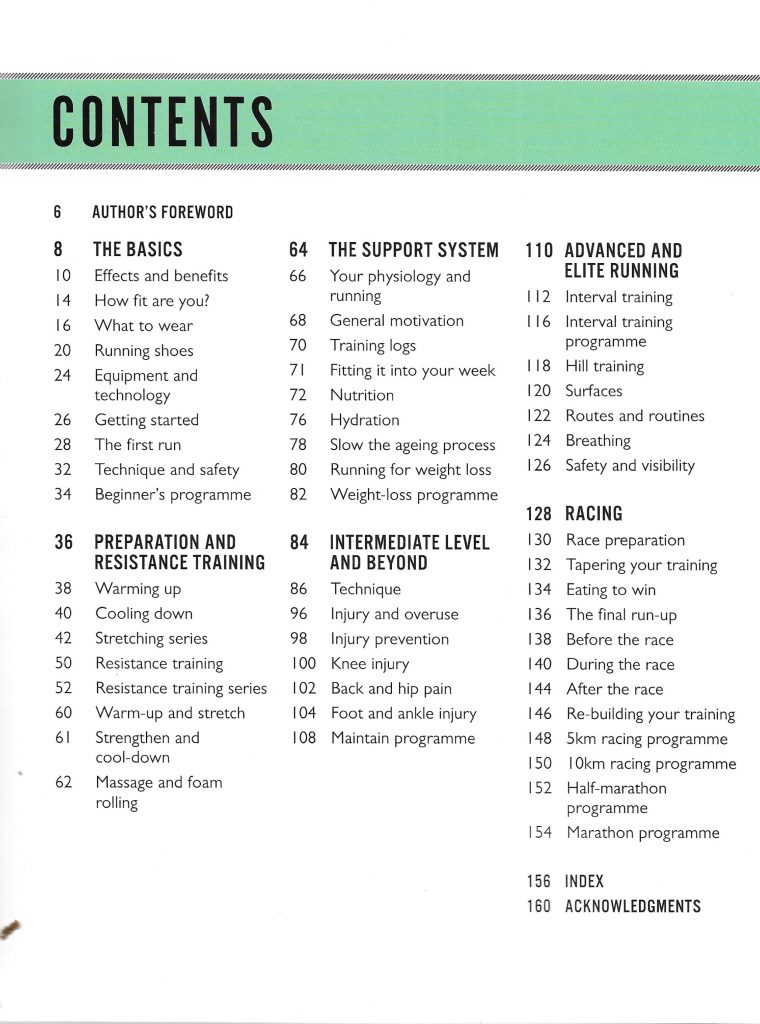 There were many similar books written by top marathon and ultra runners of which this is only one. Looking at the list of contents as printed above may help you decide whether it is for you. Remember that he did his running at the time of the "Running Boom" in the 1970's and this book was first published in 2005. It was written by an Olympic marathon winner with all the credentials listed above. It has been reprinted often and the version that I have was printed in 2018. You will note that he has, towards the very end of the book, racing programmes for 5K, 10K, Half Marathon and Marathon. His Marathon Racing programme is reproduced below: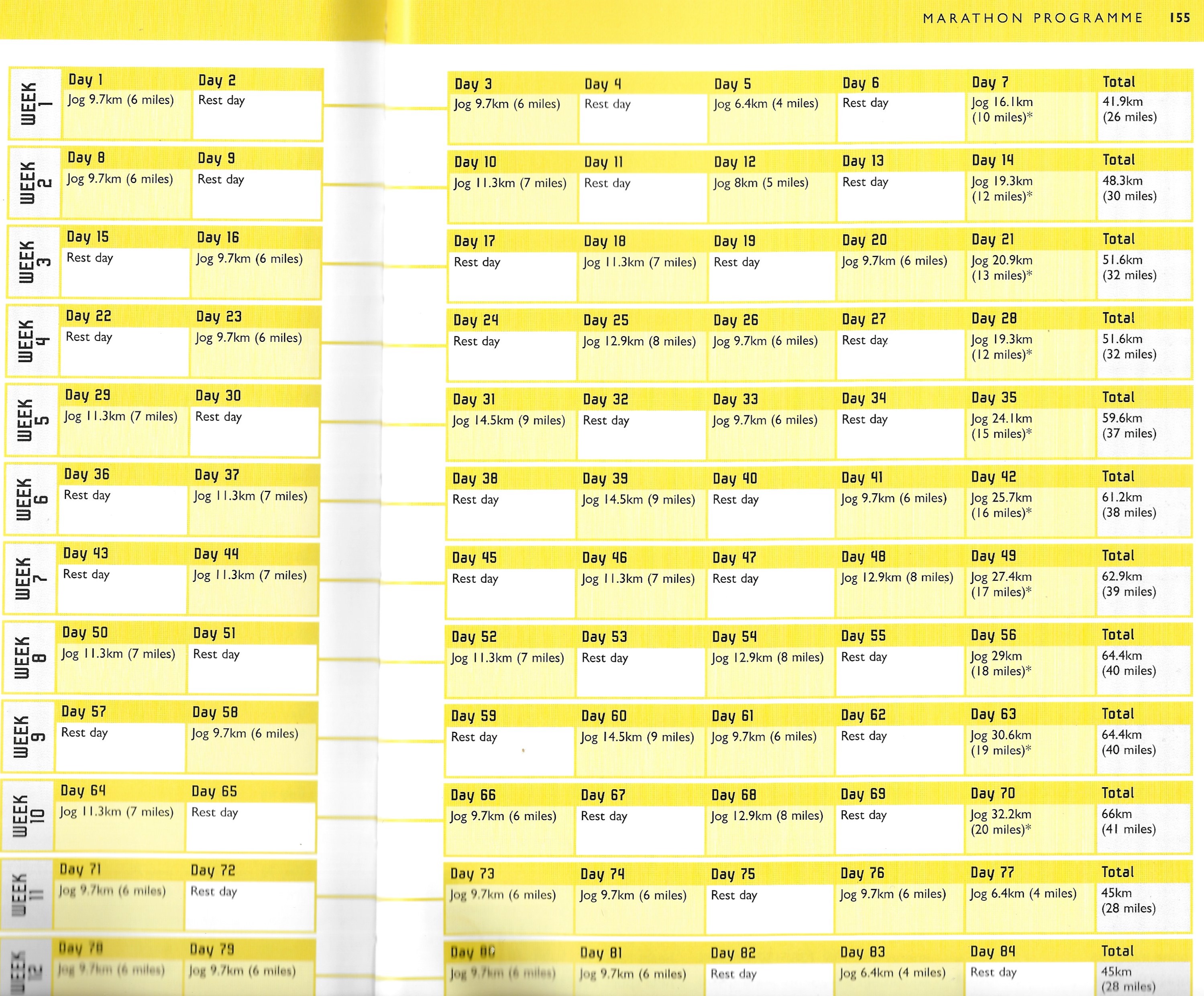 An excellent runner at a wide range of distances (both competitively and time-wise), a good writer and a highly respected figure in the athletics world, Frank Shorter was one of those that people all over the world wanted to emulate.